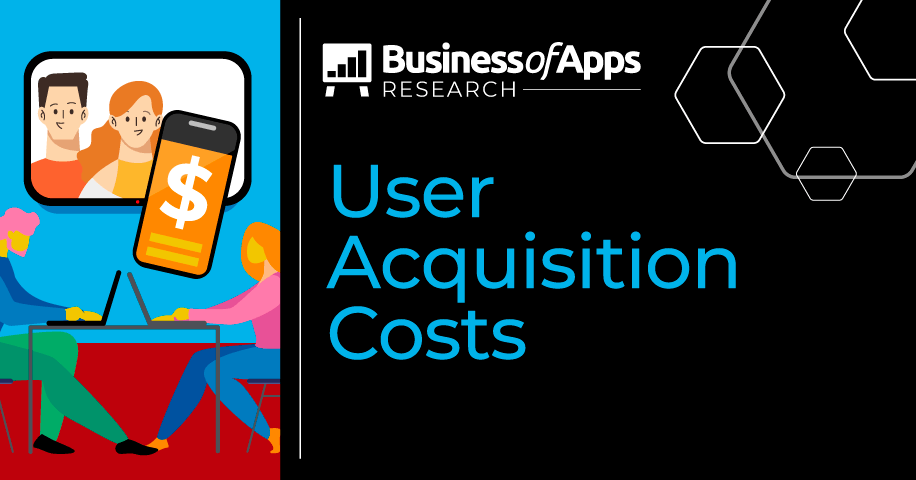 Before addressing mobile user acquisition or customer acquisition costs, let's define what UA (aka User Acquisition) is.
One of the definitions for UA is – the process of increasing the number of users for a mobile app using marketing techniques to raise awareness of a mobile app and connect it with people who need this app. User Acquisition is one of the staples of a mobile app marketing plan and implies defining marketing channels, developing text and graphic creatives, budgeting, and planning to run an app user acquisition campaign.
Now, two major headwinds that directly impact mobile app user acquisition costs are app user churn and mobile ad fraud. Both factors can be mitigated but it's impossible to eliminate them completely. There is a number of marketing techniques to retain mobile app users and mobile tech solutions to combat mobile ad fraud but they are out of the scope of this article.
The thing to remember about the mobile user acquisition channels is that their landscape changes all the time, as the efficiency of some channels begins to decrease and new channels come in to replace non-efficient ones. Broadly speaking, the entire set of channels consists of three major groups – major ad platforms from Apple (Search Ads paid advertising platform), Alphabet (Google Ads, including YouTube), Meta (Facebook Ads, including Instagram), and TikTok, ad platforms from other major social media sites, mobile ad networks, and new emerged acquisition channels such as podcasts, Reddit, Spotify, Twitch, and others.
Featured User Acquisition Companies
Key Data Points
iOS app user acquisition cost – $2.24
Android app user acquisition cost – $3.00
North American app user acquisition cost – $2.59
Finance app user acquisition cost – $2.33
Shopping app user acquisition cost – $3.85
Game app user acquisition cost – $3.19
Facebook Ads app user acquisition cost – $2.35 (2021)
Instagram Ads app user acquisition cost – $2.24
ironSource app user acquisition cost – $2.24
Liftoff app user acquisition cost – $3.2
In this article, we want to address how much it costs to acquire mobile app users for iOS and Android apps, for a number of industries, in various locations, and user acquisition channel-wise.
Mobile User Acquisition Costs, by platform
Let's start with painting the picture of how much it costs to acquire app users' major mobile OS-wise.
For the last 5 years, the Android side of the app user acquisition equation has always been cheaper. The number of Android smartphone users was and still is, much greater than iPhone ones because Android OS became dominant in Latin America, Europe, and Asia thanks to Android smartphones being more affordable to a greater portion of the population.
In 2018 app marketers had to spend $0.53 to generate an Android app install versus $1.24 for an iOS app, in 2019 the pricing for both went drastically up but the big gap between these two remained, $3.6 for an iOS app vs. $1.22 for its Android counterpart. 2020 was an exceptional year in so many ways, COVID had a tremendous influence on mobile apps, the number of mobile app users increased dramatically and it lead to app user acquisition pricing drop. The cost of acquiring an iOS app user was  $0.86 and a half, or $0.44 to be specific, for Android app users.
User Acquisition Cost over time, by platform ($)
Source: AppSammurai, GoGoChart, MobileApps, AppsFlyer, Statista
From mobile platforms to geographical regions, the next up is the analysis of how much it costs to acquire either iOS or Android app users in different countries.
Mobile User Acquisition Costs, by region
Let's look at the numbers for four major regions – APAC (aka Asia-Pacific), EMEA (aka Europe, the Middle East. and Africa), Latin America, and North America. Clearly, user/customer acquisition costs for the United States and Canada stand out from the rest. From 2018 to this day, North American app marketers pay the most, starting from $4.86 in 2018 to $2.59 in 2022. EMEA region comes next with $2.63 in 2018 to $1.03 in 2022.
The APAC region is the most dynamic with the most growth in China, Vietnam, and South Korea, in 2018 Asian app marketers paid $2.62 to acquire a mobile app user and this number went down to $0.93 in 2022. Finally, the cheapest segment is still Latin America, where 5 years ago app marketers paid $1.35 per app install and today it's even less – just $0.34.
User Acquisition Companies
One caveat for these numbers, they represent an average for both iOS and Android mobile platforms combined. Historically, no matter how you slice and dice user acquisition numbers for this duopoly, you always get a big gap that, as we mentioned earlier, is caused by a big difference between the number of iOS and Android running smartphones in the world.
User acquisition costs, by region ($)
Source: Liftoff, Data.ai, Udonis, Statista
Switching the gears from locations to industries, let's see how the price app marketers pay to acquire users for their apps varies with industry.
Mobile User Acquisition Costs, by industry
Among the number of app categories available on both major app stores, there are several significant ones we would like to analyze user acquisition vise, specifically – Games, Shopping, and Finance.
Historically, mobile games have been one of the major drivers for the app industry – people play casual games on their smartphones anywhere they have a couple of spare minutes to kill on gaming. That is to say that this app category was particularly influenced by the pandemic – all of sudden, people got so much more time for game playing.
Looking at the graph, we see that back in 2018, on average, it cost app marketers $3.75 to obtain a single install of a mobile game app, that cost per install rate went dramatically down in 2019 to $1.42. In 2020, the year of the COVID-19 pandemic, the rate remained more or less at the same level – $1.47 / install and last year it shot back to almost the 2018 level – $3.19 / install.
Top User Acquisition Platforms and Agencies
Next up is the Shopping app category which encapsulates eCommerce apps that blossomed over the last several years, thanks to the number of factors that came together, such as the emergence of robust mobile payment systems, bigger smartphone screens, longer battery life, and proliferation of the 4G and 5G mobile connectivity.
In 2018, brand app marketing teams paid $3.17 per shopping app install, just like with mobile games, the customer acquisition cost went down in 2019 to $2.22 / install. People began to spend more time with apps for shopping because they became a convenient environment for purchasing various products, according to Data.ai, between 2018 and 2019, driven by the growth of Amazon, Shopify, Walmart, and others, shopping app downloads grew by 20%. In 2020, when the COVID-19 pandemic hit the world, an unprecedented number of people turned to shop online, including mobile and it caused the shopping app user acquisition cost to skyrocket up to $3.26 per install, in 2021 it carried the momentum and jumped even higher to $3.85 / install.
The Finance app category went through a radical transformation when back in 2018 due number of reasons it was still not easy to persuade mobile users to use a smartphone to do their finances, app marketers had to pay a whopping $6.58 per install. This figure dramatically went down the next year, in 2019 it took only $2.28, that price tag revolves around this price point ever since with $2.45 in 2021 and $2.33 in 2022.
User acquisition costs, by app categories ($)

Source: Liftoff, Gamesindustry, MajoresApuestas, Mapendo.co, Statista, RetailDive
And now from app categories to app user acquiring channels. The landscape of online advertising platforms is dominated by several big players such as Facebook Ads (including Instagram Ads), Google Ads (including YouTube Ads), and TikTok Ads (the most recent and the fastest-growing player).
Mobile User Acquisition Costs, by channel
First up is the Facebook Ads from Meta, before Apple's deprecation of IDFA in 2020, the most effective mobile app user acquisition platform on the planet. Thanks to the number of data points Meta has been collecting for several billion of its users, Facebook Ads was, and to a less degree is, in a great position to provide app marketers with a platform to connect their apps with relevant mobile app users.
Facebook Ads Cost
From 2017 to 2019, the price of acquiring a single mobile app user via Facebook Ads tripled from $1.2 in 2017 to $3.7 in 2019. That trend was dramatically reversed when, because of Apple's deprecation of IDFA and switching app tracking from an opt-out to an opt-in model, Meta (back then Facebook), essentially lost its ability to target mobile app users across multiple iOS apps. With that change, many advertisers decided to move their app user acquisition budgets to other advertising platforms and it caused Meta's revenue to collapse, from $84 billion in Q3, 2021 to just $28 billion in Q3, 2022.
We can see that drastic shift in-app user acquisition rates that in 2020 went down to $2.06 and then slightly up in 2021 to $2.35 per install.
Facebook Ads app user acquisition cost ($)
Source: Revealboat, AdsEspresso
Back in 2012, Facebook acquired Instagram for $1 billion. Initially, Instagram Ads operated as a standalone platform, and then it was incorporated into the Facebook Ads ad platform as an additional option, providing new distribution opportunities by tapping its vast user base with an extremely diverse set of interests. So let's take a look at how much it costs to drive app installs via Instagram Ads today, contrasting with pricing for the last several years.
In 2017, 5 years after its acquisition by Facebook, app marketers had to pay $3.21 per single mobile app install, by 2020 the price tag was halved to $1.57 per install. This user acquisition price drop can be directly attributed to Apple's introduction of IDFA deprecation and the early version of SKAdNetwork. In 2021 Instagram Ads' cpi rate went up to $1.89 and this year it's even higher – $2.24 / install on average. While Facebook's popularity has been on a continuous decline for the last several years, Instagram's user base continued to grow and it allowed it to mitigate the impact on iOS app cross-promotion that got a huge hit by IDFA deprecation.
Instagram Ads Cost
Source: Wordstream, Revealboat, MarkGrowth, AdsEspresso
And the final app marketing channel to analyze app User Acquisition cost is mobile advertising networks. Outside of Facebook, Google, Twitter, and the TitkTok ads (from whom to this date very little information on app user acquisition cost-wise), these are the second tier of advertising platforms available to app marketers to acquire mobile app users.
Ad Network Rates
Let's put together the number for the leading advertising networks such as ironSource and Liftoff (if any other ad networks ever decide to share their research on mobile app user acquisition costs, aka Cost Per Install, they are more than welcome to get in touch with me)
As the things stand in November 2022, the vast majority of advertising networks keep data as user acquisition cost on their platform close to the vest. Hence we can only analyze the numbers from the two aforementioned advertising networks. On average, across multiple app categories, it costs app marketers to acquire a mobile app user $2.24 via ironSource and $3.2 via Liftoff.
2022 Advertising Network Mobile App User Acquisition Rates ($)
Source: Liftoff, ironSource
Final Thoughts
Historically, as a benchmark that was helpful for app marketers to allocate a proper user acquisition budget, Cost Per Install or User Acquisition Cost went through a transition from being instrumental before circa 2015-2016, and after that, it was gradually replaced by Cost Per Action as the benchmark that app marketers shifted their focus on.
Because of this shift, assessing the costs of acquiring mobile app users becomes progressively harder, fewer and fewer advertising platforms are willing to share their data for this benchmark publicly. It remains to be seen what is the average cost of app install for TikTok Ads – the mega-star of the mobile advertising space.
As things stand in 2022, app marketers have a choice of acquiring app users via first-tier advertising platforms such as Facebook Ads, Universal App Campaigns, TikTok Ads, Apple's Search Ads, and or advertising networks such as Applovin, ironSource, and many others.