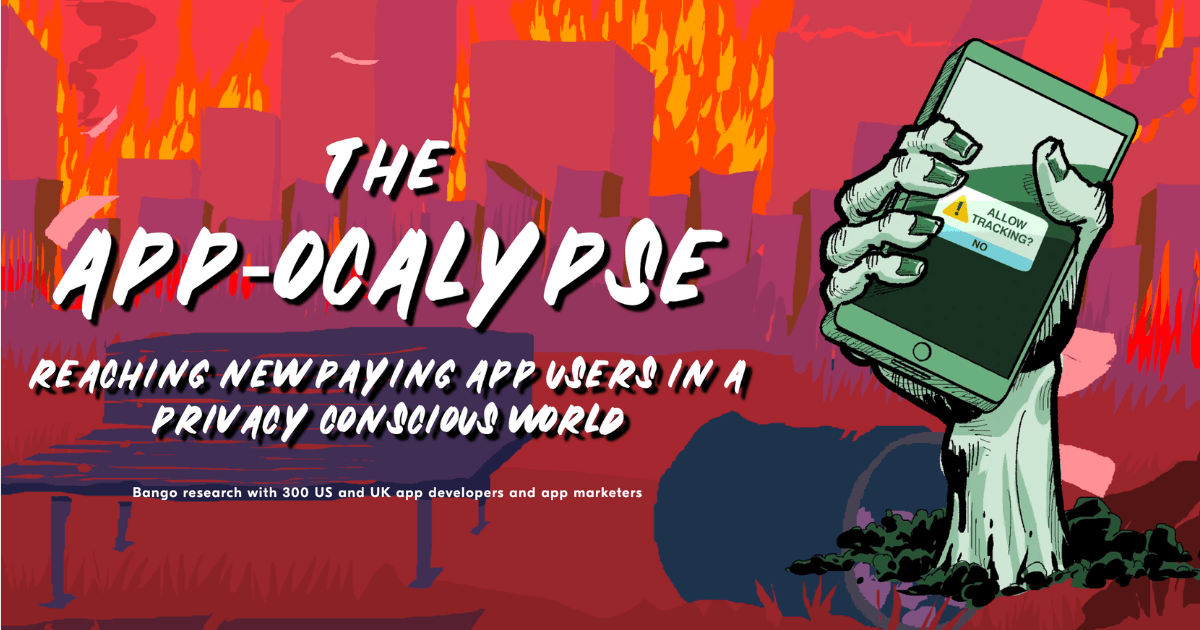 App marketing is in ruins. Google's cookies are crumbling, and Apple is rolling back IDFAs. Governments are introducing new regulations, and consumers are becoming more privacy conscious.
Combine these, and it's clear app marketers and developers are facing down the App-ocalypse — the end of targeted ads, where reaching new paying users is a thing of the past.
At Bango, we wanted to understand what this means for user acquisition. That's why we've surveyed over 300 app marketers and developers from the US and UK on the impact of the App-ocalypse.
Our research shows 61% think using purchase data for targeted ads provides the solution.
Digital advertising has turned into a nightmare, with 65% of developers concerned about Google's removal of third-party cookies and its impact on user acquisition, while 62% are concerned about the IDFA roll back doing the same.
Of course, none of this means app developers and marketers mis-understand the need for change. Most even think privacy should be priority number one in 2022.
But, in this strange new world, app businesses must find new ways to target audiences and build effective, privacy-conscious campaigns.
Enter Purchase Behavior Targeting – the only digital advertising solution built to survive the App-ocalypse. By drawing on purchase data from millions of transactions, Bango Purchase Behavior Targeting will direct ads toward customers who've already bought similar products.
Using this method will strike down the four horsemen and stop the App-ocalypse from breaking your business. No cookies or IDFAs required. No risk of defying privacy regulations and disturbing consumers.
App businesses are concerned about the future, with 62% of app marketers having "no idea" how they'll acquire new users once privacy changes are introduced.
It's about time they had a solution.
Want to find out more about our research, the App-ocalypse, or the power of PBT?
Click here to view our full insights.