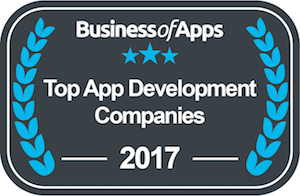 29/09/2017 –  Business of Apps, the app developer news site and directory, has announced its best app development companies around the world for 2017.
The research is divided into six geographic areas: the USA, UK, Europe, South-East Asia, India and Latin America, and features a grand total of 92 companies, including Robosoft Technologies, Leeway Hertz, Fuzz, Fueled, hedgehog lab, Mindinventory and Hyperlink Infosystem.
The list is unranked and the philosophy behind the selection ensured all mobile platforms like iOS and Android, as well as all budgets and app sizes, are represented. Niche experience or a breadth of previous work and industries was highly considered in the selection, which includes both development giants and smaller studios, judged on the merit of their work rather than the volume of their output.
Among the 92 companies QuyTech, Dev Technosys, Konstant Infosolutions, Octal IT Solution, Promatics, Zymr, Zco Corporation, Snap Mobile, and IT Craft are all featured.
You can read the guide on the best app development companies here, and you can find more tools and companies in the Business of Apps developers directory.