Developing an app with an epic design and receiving initial traction is one thing, but what happens when users' attention drifts to other relevant apps, forgetting all about yours?
That's when you want to use app retargeting to win users back again.
So don't think it's a closed chapter when a user leaves. There are always effective methods you can use to re-engage them with your app.
In this guide we will walk you through the many layers of the mobile app retargeting realm and how the best remarketing companies can help you revamp your app, making you the center of attraction in the app market once again. 
What is app retargeting?
Mobile app retargeting essentially describes ad campaigns that are designed to reach people who have already engaged with, visited or installed your app before.
This concept aims to implement bespoke retargeting and remarketing techniques to try and encourage users to re-engage and, this time, fully complete the user journey of your app.
Retargeting previous customers can go a long way, as you already have an idea of what features peaked their interest in the first place.
You just need to figure out what features made them seek similar services elsewhere. Therefore, remarketing for mobile apps involves tailored campaigns and efforts based on previous performance and user behavior data.
But more on this later on.
It's important to specify though that your need to retarget your previous users does not mean that your app services were inadequate or not valuable as much as other apps.
People abandon apps for so many reasons, showing a consistent pattern in the app world of users visiting an app, installing it, engaging with it on the surface just to then leave it be.
Most of the time, all that these users really needed was a bit more seasoning to stay committed to your app.
We know how much effort goes into developing an app, from brainstorming a golden idea to writing the application, so we don't want that to go to waste for you.
And if you are facing some greater numbers of inactivity than usual, app retargeting can get you back in the game in no time.
Why do I need mobile ad retargeting?
Did you know that 25% of users abandon apps after only one use? Despite apps being users' mainstay to effectively engage with a variety of services, developers still struggle to improve long-term user retention.
To hit you with some more valid facts, apps running retargeting campaigns between 2018 and 2019 saw a higher increase in revenue (63%), when compared to apps that did not implement retargeting campaigns (43%).
This means that your focus when developing your app should be to give your users compelling reasons to stay in order to avoid getting canceled, missing out on all that revenue.
The % of users that abandon apps after one use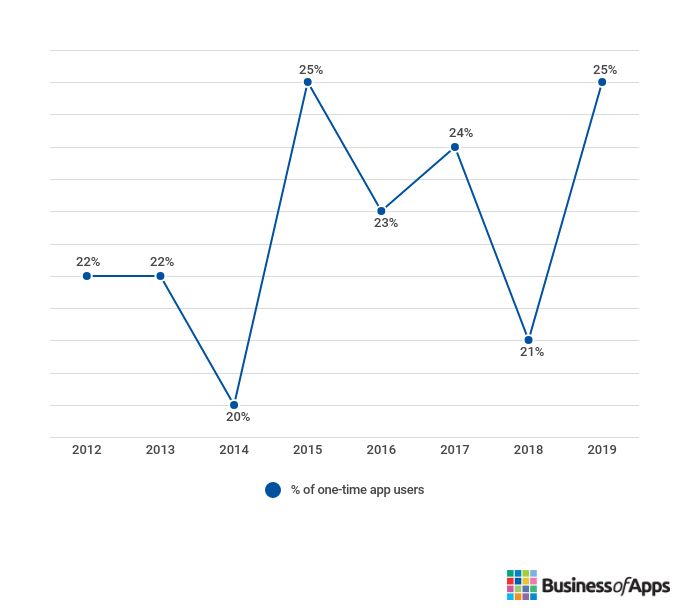 Source: Localytics
The best app strategies mostly depend on one thing and one thing only: getting people to actually use them.
When a user loses interest in your app in the early stages of downloading it, getting them to come back can be a huge challenge.
This is where mobile app retargeting can help you.
Benefits of retargeting app users
App retargeting comes with a range of advantages and goes beyond simply engaging users and motivating them to an initial download.
Because re-engaging users can be a more complex thing, remarketing companies can provide bespoke strategies to ensure you get the best result from implementing the app retargeting concept.
Top Mobile App Retargeting Companies
List of mobile app retargeting companies