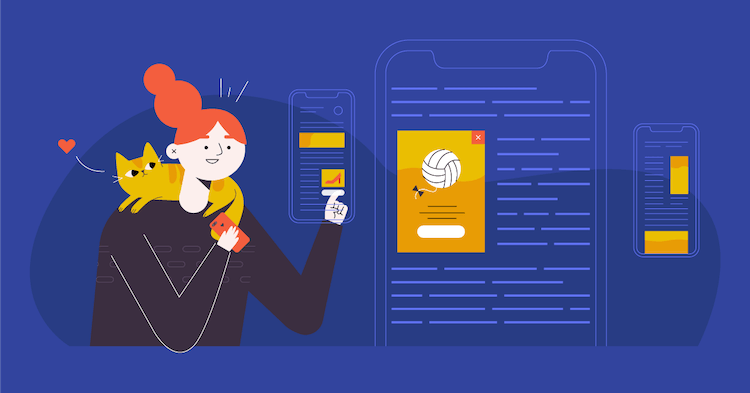 With over 71% of mobile sales happening in-app today, mobile apps are dominating transactions on mobile devices. It is no wonder that app users are one of the most valuable shoppers around the globe, browsing more products and converting at a higher rate than mobile web users. 
Overall, apps running retargeting campaigns between 2018 and 2019 have seen a higher increase in revenue (63%) when compared to apps not running retargeting campaigns (43%). According to research, businesses with a shopping app generate 68% of their transactions on mobile devices, and the global mobile app revenue will amount to $935 billion by 2023.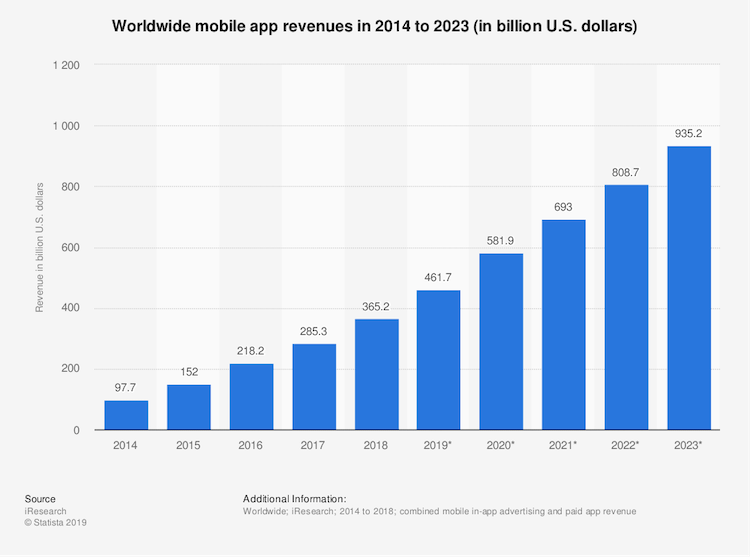 Image Source: Statista
The major challenge of mobile app owners remains in-app retention. A survey carried out in 2018 shows that 21% of users stop using an app after they install it. The average mobile user has over 100 apps on her phone, and that makes the competition to stay relevant so fierce. 
Mobile app marketers now have to look for ways to remain relevant and give users a compelling reason to re-engage with their app. Apps that fail to implement such strategies risk going obsolete and may lose value.
Why Do You Need Mobile App Retargeting?
App retargeting is designed to re-engage your audience and to keep them connected to your valuable offers. With app retargeting, mobile marketers can easily engage users and help them come back to the app.
With only 2% of new users expected to convert on their first visit, 90% of marketers think that retargeting is the best tactic that mobile marketers can use to retract the other 98% back. The importance placed on mobile app retargeting ads is of no surprise, given that it is 13 times more effective than desktop retargeting ads, including the added advantage of having over 46% higher click-through rate than mere mobile retargeting.
Over time, mobile app retargeting has proven to be a good means of driving in-app activity while increasing app retention rate and lifetime value (LTV) of customers.
How Does Retargeting Work for Mobile Apps?
App retargeting works in two ways, depending on whether your audience has your app installed.
 For those without the app, after they visit your website for the first time, your retargeting goal would be to get them to install your app. By placing a pixel from your ad network on your website, first-time visitors are tagged with a cookie on their browser, which will enable your ads to follow their online activities, prompting them to install your app.
For those that already have your app installed, the aim is to get them to engage with it or to make an in-app purchase.
How to Optimize Your Mobile App Retargeting Campaign
Use Deep Links
Deep links help to drive users straight to a specific in-app location that is designed specifically for a personalized campaign with the aim of increasing the conversion rate. 
Deferred deep links are used for users who don't have your app installed. It helps to provide a seamless journey for new users by first taking them to the store to download the app, and then redirecting them to a specific in-app location where they can make an in-app purchase.
Always Personalize
Personalization is an essential criterion when it comes to retargeting. Statistics show that 78% of consumers believe that personalized content from brands enhances their purchase intent. The more personal your mobile app advertising experience is, the higher your conversion rate will be.
Since retargeting allows advertisers to monitor in-app activities of users and use the information gathered to display exact products or other recommendations to the users, personalizing your ads will help to avoid or reduce redundancy and ad fatigue. This will, in turn, improve your app impression and help you gain more opportunities to appear in front of your audience.
An excellent example of how effective personalized ads could be is the rate of shopping cart abandonment. Mobile users have a higher percentage of cart abandonment than desktop users. Advertisers can display personalized ads to consumers, thereby reminding them of their interest in particular products. As soon as the user clicks on the ad, she will be transferred to the abandoned shopping cart.
Invest in Quality Creatives
With so much noise on the internet today, consumers are exposed to over 10,000 ads every day, thereby prompting the need for creativity in your retargeting campaigns. Often, advertisers pay too much attention to user acquisition instead of retargeting campaigns, forgetting that only 2% of new users will convert on their first visit. 
It is important to put in the same effort to your mobile app retargeting ads as you do to user acquisition campaigns because the quality of your creative assets directly impacts the effectiveness of your ad campaign.
Focus on User Retention
A recent survey shows that the app retention rate for users within the first four weeks of using the app slowly reduces from 60.77% to 43.90%. While it is crucial to connect with users who no longer engage with your app, it is equally critical to prevent them from stopping to engage with it in the first place.
This is why the first week after installing the app is the most critical. By retargeting new users regularly, you can easily keep them engaged with your app, thereby increasing your chances of convincing them to come back. After all, retargeting a new user after she just installed your app makes it 30% more likely that she would return without further encouragement.
Always Test Your Ads Before Implementation
To create well performing ads, an advertiser needs to understand the audience and their needs properly. One of the best ways to do so is by testing ad campaigns with a series of different in-app landing pages by using samples of what has worked in the past. 
This will help you to see which ads perform best and why they are performing better than the others. That way, you can start tweaking and adjusting the winning ads to come up with the perfect ad that conquers all customers.
Cap Your Ad Frequency
It makes no sense to run a retargeting campaign that aggressively follows the user all around the web, both in-app and on the mobile web. Funny enough, this is what most mobile marketers do with their app retargeting campaigns. The goal of every retargeting campaign is always to either get users to install or re-engage with your app, not to creep them out or annoy them.
Also, do not forget to exclude users who have already converted, as serving them retargeting ads can quickly become offensive and make your brand look unprofessional.
Always Use Metrics to Optimize Campaigns
By monitoring your ad metrics consistently, you can easily spot what is and what is not converting. This helps you adjust your ad budget toward what is really giving results. Also, you can choose to tweak the ads that weren't performing so badly to further improve and optimize their value.
Bottom Line
Despite its many benefits, marketers still underestimate mobile app retargeting. When deployed correctly, it can retain users and significantly improve return on ad spent (ROAS).
Also, it is crucial to segment your users, as customers will only react to retargeting ads that are relevant to their needs. An excellent way to segment users would be to follow their in-app activities such as types of purchase, location, prior usage, etc.