Want to know who the top mobile app developers and game development companies are in India for Android and iOS?
There are a large number of app and game developers in India, operating on both a freelance and full-time basis. They are available for you to hire in popular cities, including New Delhi, Mumbai, Bengaluru and Kolkata.
India features a significantly overcrowded market for mobile app development, so it's crucial to find the best app developers for the job. We've listed the top Indian mobile app developers in our directory below.
If you're looking to enter the Indian app market or have a mobile app created by an Indian app development company, you're in the right place.
The mobile app market in India is one of the fastest growing in the world – in mid 2015, 52 million more people accessed the internet over the previous year across the subcontinent. Mobile transactions are also driving the movement: In early 2016, some 200 million mobile wallets were open in the country.
The great news is that has led to a large number of mobile app development companies, especially around the cities of Bengaluru and Hyderabad.A large portion of mobile app developers in India focus on Android over iOS, but with India's strong university system providing talented app developers, Indian app devs are spoilt for choice.
Indian app development and software development companies are often the partner of choice for enterprise clients in the US and Europe as they can offer higher capacity and significantly lower cost services.  Frequently agencies in other markets will also use Indian teams to help complete projects.
In this guide, we'll give an overview of the app developers market in India – any company that has an office in India qualifiess – and we'll give  some advice on how to choose an app developer, finally ending with some selected app developers in the final part. We've divided this guide into four main sections:
The app developer market in India
Within the subcontinent Android, thanks to its higher variety of supported devices and cheaper handsets, holds over 90% of the market share, with iOS coming in at a lowly 2% of all smartphone users in the country.
The developer make-up reflects this. The vast majority of app devs list their skills as either Android-only or Android and iOS.
Indian App Developer Skillset, by Platform.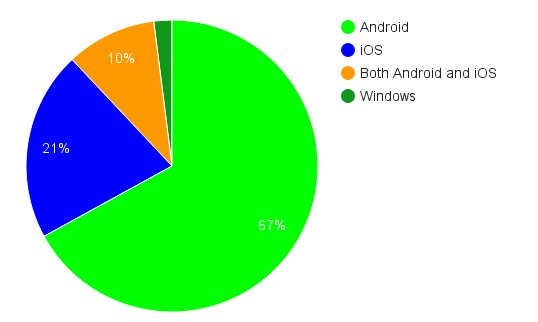 Source: belong.co
Regional universities and the Indian Institute of Technology supply a wealth of app developers to the country's market every year. 24% of Android developers on the market have 0-2 years of experience, while 42% have between 2 and 5 years. Similar statistics in iOS development show not that the country is inexperienced, but rather that its developer population is very young.
Geographically, there are a number of hotspots in India, the top three being Bengaluru, the National Capital Region (as the area around New Delhi, including the metropolis, is called) and Hyderabad, with 55% of all Indian Android app developers found in those three areas. iOS is more spread out, with just over 45% of iOS developers in the triad, according to a report by Belong.co.
India App Developer Hotspots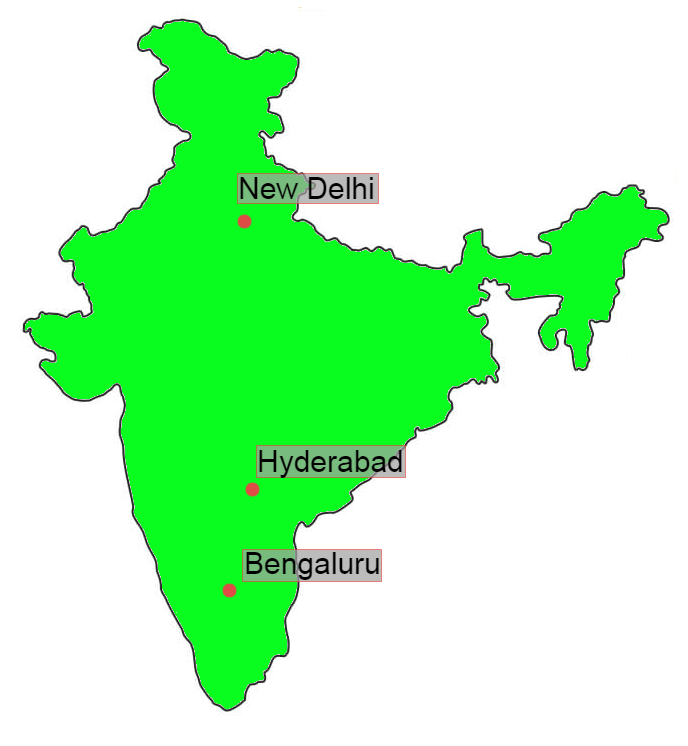 Source: belong.co
As for languages, the most commonly used are JSON, HTML5 and Javascript, with Swift being the classic go-to for iOS developers. The native philosophy to app development is strong in the subcontinent.
In particular, eCommerce development is first choice for many mobile developers in the country, with the sector providing the highest salaries for devs in the country. This is for a number of reasons, such as eCommerce expanding in the subcontinent. As mentioned above, in 2016 there were about 200 million online wallets in India, with more being opened constantly. The "banknote purge" of November 2016 is expected to drive many to resort to mobile transactions and banking for their everyday purchases. The eCommerce sector is riding a very big wave.
Indian app development costs
As of 2016, there are approximately 2 million software developers in India, with about 50,000 of those developing for mobile, and Google is trying to increase the figure for Android specifically. There are also plenty of start-up incubators popping up around the country, with the most successful apps tackling everything from how to wear a Sari to hailing a rickshaw in the more remote parts of Mumbai and New Delhi.
Given the number of app developers in the country, and a relatively low value of the Indian Rupee, app development in India can be relatively cheap compared to American and European prices. On average, globally, it costs approximately $27,000 to develop an iOS app and $23,000 for Android. In India, however, costs are lower:
Median cost per hour, per platform (US Dollars).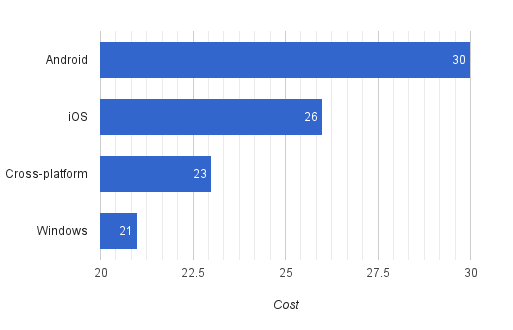 Source: statista.com
The median costs are considerably lower than in other regions of the world (in the most expensive region, the US, media cost per hour for iOS development is well above $160). There's also plenty of choice, with nearly a quarter of all developers skilled in mobile development, and the majority of them clustered around the centres we pointed out above.
Top India App Development Companies:
On outsourcing
A large attraction to India's app development market is the lower cost when compared to American and European agencies. One of the cheapest ways to get an app developed is through outsourcing, which you can do yourself on sites like Upwork, but a lot of companies (some of which we've listed below) act as middle-men, with a pool of freelance outsourced developers which they will select depending on your app's requirements. Contact at this point could be direct with the freelancers, especially if you've picked them yourself, or through the company.
This approach can be cheaper, but it certainly is very different to hiring a company with in-house developers. A few things you should know about the process:
You are often responsible for your own design, especially in the UI and UX sphere. You could outsource this as well, but a lot of freelance developers will just do the app "building". They do not always offer consultancy services.
If attempting to hire a freelance developer on your own, you'll have to keep in mind the time difference (9.5 hours with New York, 4.5 with London, and India does not have daylight saving hours so this changes). This is important because a freelance developer might not offer 24/7 contact hours like companies do.
Language differences are something else to be aware of. A lot of developers in India create apps in one of the country's 22 official languages, not necessarily in English or even Hindi.
Savings on app development costs can be very significant, but freelance devs are unlikely to offer other services like the back-end or maintenance and updates after launch. This may require hiring another freelancer or company, or re-hiring the first one – and they might not be available if they're working on other projects.
While outsourcing your app's creation directly to a freelance developer could net you considerable savings, the process is complicated and, especially if you're creating your first-ever application, also quite risky. If you decide to go that route, we suggest working through an outsourcing company to mitigate some of the risk while still retaining a good level of savings. You can check out the list of companies below, which includes some selected by us which have outsourcing models.
How to Choose an Indian App Developer
A two-stage process. First, there's plenty of research you can do on your own, as well as contacting others in your industry who have published a mobile app:
Review their portfolio: App characteristics can vary wildly depending on the type of application and its function. Often, previous experience in certain sectors, or with certain functionalities, can make a massive difference to the cost and time invested in a project.
Recommendations: Just as in any other business, recommendations can go a long way to finding your ideal app developer and discovering what it's really like to work with them.
Check out our Market Place: You can sort our directory on app development companies and agencies by country: have a look at the Business of Apps Marketplace.
Once you've chosen a few app developers, you can move on to the interview phase.
List of mobile app development companies in India