Developing and launching a mobile app is just one side of the coin. Given mobile is responsible for 70% of screen time and 92% of the time is spent on mobile apps, the other side optimizes the app to keep the users engaged continually.
Plus, one can't deny that competition is fierce! Do you know there are 5.20 billion smartphone users and 8.93 million mobile apps in the world?
No wonder, for mobile app developers, app analytics hold much significance. The reason being, without any data on app user behaviour and app performance, they can't offer an optimal experience to consumers. Their mobile app marketing would tank!
Now that you understand the importance of app analytics let us explore the best practices to ensure efficient analytics tracking.
Best practices for mobile app analytics
Define your user journey thoroughly
This step is vital for tracking all events – right from installation to purchase – to understand where your users churn.
Structure your onboarding experience
No matter how easy the UI/UX of your mobile app is, you need to onboard your users. Simplify your sign-up process and give them a run-down of using the app.
Define metrics that help your goals
Don't get overwhelmed with the number of metrics you can measure. Instead, pick the ones which will help you hone your mobile app performance.
Explore new initiatives via app usage
Leverage mobile app analytics so that the generated insights can throw light on how you can grow your app.
A/B test your app to improve conversions
A/B testing does wonders to test the effects of a shift or change in your user funnel. That way, you would know what works for your app and what does not.
It is clear that if you want to make your mobile app a success, you must know what to measure!
Top 9 metrics to measure on a mobile app analytics tool
Number of app downloads as the primary objective is to garner a broad user base.
The total number of app users to ensure a better engagement with them. This metric can be calculated by Daily Active Users(DAUs), Weekly Active Users (WAUs), and Monthly Active Users (MAUs), and be further broken down by age, geography, gender, device, and so on.
Session interval to track the frequency at which users open and use the mobile app and, in turn, measure the "addictiveness of the app.
Session length to calculate the period between opening and closing the app. Longer sessions mean more engagement.
Navigation pattern to analyze the total number of visits per screen, exits by the screen, and the screen flow, improve problem areas, drop-off screens, and conversion road bumps.
Retention to calculate the percentage of users returning to your app in the last 30 days.
Churn to track those users who close the mobile app and never return. Android and iOS apps have a churn rate of 8%.
Conversion to check the number of users performing a specific goal you want them to perform in your app.
Lifetime Value [LTV] to track the total revenue you earn from every user before they stop using the mobile app.
15 mobile app analytics tools to efficiently understand your audience
Perhaps the best app analytics tool, Google Analytics, comes with a host of features to help you out with in-app analytics, no matter how large your market size is or how many app downloads you generate.
It integrates easily with Google Play to help you track conversions and gives you granular insights on where your users are coming from and what app version they are using.
It is compatible with multiple operating platforms and has a free version and a premium version for enterprises with more detailed insights.
AdMob by Google is one of the leading mobile app analytics tools that helps you earn more revenue from your mobile app with actionable insights on how users interact with it.
It includes advanced monetization technology that allows you to pick from high-performing ad formats and customize your users' in-app ad experience.
It also streamlines your day-to-day tasks with automated tools and helps you grow with in-house campaigns and direct deal support. The use of the AdMob API is free of charge.
This comes at the top in the long line of custom mobile app analytics tools with their dedicated mobile app to track performance on the go.
AppsFlyer supports multiple operating systems and gives you insights such as cost and ROI reporting, omnichannel measurement, rich in-app events, and support for internal business intelligence systems.
Besides, it provides in-depth insights on deep linking, retargeting attribution, and TV attribution. While custom plans are available on request, the mobile app analytics tool has a 30-day free trial period that lets you play around with the basics.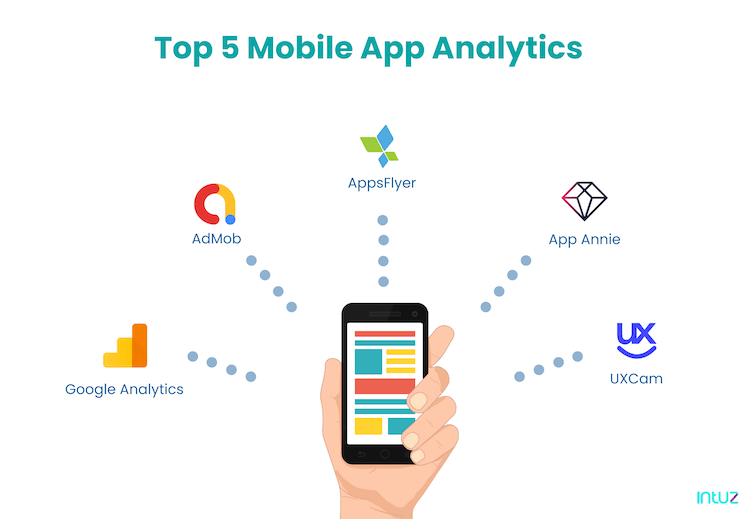 One of the most popular mobile app analytics platforms, App Annie, has carved a niche for itself by allowing users to identify the best-performing app marketing activities and track what their competitors are doing.
It helps you track over 50 different metrics to enhance your mobile strategy, including user demographics, length of user sessions, competitor app downloads, app revenue, and so on.
A limited number of features can be tried out for free, and full functionality is available as a customized plan upon request in this mobile app analytics tool.
This is one of the best mobile app tracking tools for qualitative analytics. UXCam gives you the big picture of how users flow through your app, where they might potentially run into issues, and where they tend to drop out.
You can also track individual user journeys with heat maps and see how users interact with your app using the Session Replay feature. The tool also allows you to enrich your app with third-party integrations.
UXCam has a 14-day free trial, which gives you access to all its features. Custom quotes are available on request.
AppDynamics offers an application performance management tool that helps with application mapping, code-level diagnostics, and dynamic baselining. Like other mobile app tracking tools, it has several useful features, including activity tracking, cloud migration, monitoring, auditing, and DevOps adoption. Pricing plans are available upon request.
Localytics is a famous name in the world of mobile app marketing. This is a cloud-based marketing and analytics platform that targets every customer from retail, travel, media, lifestyle, and business.
One of the highlights of this mobile app analytics tool is the retention feature that provides detailed insights on why business problems such as low conversion rates, drop-offs, and reduced client retention occur.
Like other mobile app analytics platforms, the tool also offers customized recommendations and notifications along with in-app messaging and exciting case studies on their blog. Pricing for this tool depends on data volume and is available upon request.
Kochava is a popular name in the mobile app tracking tools market. It is essentially a mobile app analytics and attribution platform compatible with a variety of operating systems.
What sets this apart is that you will capture all your data points and track the lifetime value (LTV) of each user, thus helping you understand your real return on investment (ROI) much better.
Besides, Kochava comes with real-time data, fraud prevention, funnel view, user acquisition, and engagement tracking. While the app analytics part is free, you get the Unified Audience Platform and advanced attribution analytics for rates starting at $100.
Designed for app marketers, developers, and product managers, MobileAction is considered one of the most intelligent and versatile mobile app analytics platforms.
Its App Store Optimisation [ASO] tool covers all the aspects of keyword optimization cycle, market, and ad intelligence products to give you insights on competitors and market performance across countries.
MobileAction also offers custom alerts to help you tailor your notifications, API integration, and a dedicated customer success team to answer your needs. Pricing comes at $49/month (Startup plan), $299/month (Growth), or $599/month (Business).
This specialized Apple tool shows you how users discover your mobile app in the Apple Store. Among the metrics you can track with it are user segmentation, app store impressions, user engagement sales trends to see which parts of your in-app subscription are the most popular. Apple App Analytics is included in the Apple Developer Program fee, which you can get for $99.
This is part of Yahoo's Developer Network and can be integrated into your mobile app in just a few minutes. With a centralized, easy-to-use dashboard like other mobile app tracking tools, you get detailed insights on user activity such as session duration, new users, and active users, amongst others on Flurry Analytics. It also features crash reporting, which helps you identify bugs and other issues in your app. Best of all, the tool is entirely free to use.
This is one of the most popular mobile app analytics platforms that is jam-packed with useful app marketers, such as Live View, Insights, Formulas, Flows, Retention, Signal, and Funnels. You will love this tool!
The Funnel feature in MixPanel creates a series of step-through events that show you how the customer navigates through your app, indicating which features lead to the most engagement and conversion.
Another exciting feature is the Addiction report that shows you how customer retention works. The Insights feature offers you the top events of the last 96 hours by default, thereby keeping you up-to-date on what your customers are doing in real-time.
The tool is free for up to 5 million data points per month, after which there are the basic and enterprise plans for which prices are available upon request.
This is one of the leading mobile app analytics tools in the industry for applying detailed segmentation and real-time analytics to all of your marketing channels.
With extensive use of machine learning and artificial intelligence, Adobe Analytics allows you to deep-dive into your data with unlimited levels of breakdowns and apply search and segment filters as needed.
Flow analysis lets you understand the customer journey in detail, and the Analysis Workspace feature lets you build custom drag-and-drop analytics projects.
Plus, the tool is user-friendly enough that anyone in the organization can find the analytics they need. Pricing plans are available on request.
This tool gives you analytics across multiple apps and offers a high degree of customization. You can set up your dashboard to precisely provide you with the kinds of data that you want and segment your users based on events, funnels, and cohorts on Apsalar.
It also has a tool to help you measure performance and ROI for your acquisition campaigns. Apsalar is entirely free to use and is compatible with iOS and Android. Developers much love it in the mobile app analytics tools market!
This is an open-source enterprise-grade tool designed for mobile marketing, mobile analytics, and mobile performance management. With a customizable SLA and premium plugins, users can configure the central dashboard to show only the data types they want on Count.ly.
The free version of the tool can be used for up to 10000 sessions per month, after which custom plans can be designed and paid for upon request.
Wrapping it up
The goal of mobile app developers is to turn data fetched from the apps into actionable insights, helping them understand the user journey.
Mobile app marketing guide throws light on various metrics such as churn, retention, and conversions and empowers developers to optimize the app accordingly.