Any sustainable app marketing campaign should go two-fold – driving native traffic and running paid user acquisition campaigns. For the former, App Store Optimization (aka ASO) is the pillar that powers generating up to 70% of any app installs. ASO is one of the oldest app marketing techniques and over the years a number of App Store Optimization strategies were developed. It aims at two major goals – making sure the mobile app can be found via its target keywords and generating native traffic that converts into actual app installs.
A holistic approach to ASO requires app marketers to be prepared for running a long-term app marketing campaign with lots of A/B testing, utilizing ASO tools to track KPIs (more on this later), as well as factoring in seasonality, and more.

Gummicube #1 in App Store Optimization
Elevate your app growth performance with the industry leading experts from Gummicube. Increase visibility, boost installs and reduce acquisition costs. Contact us today for a free consultation.
Contact Us
In this article, we want to cover ASO strategies that are time-proven and will allow you to un-tap the power of the App Store Optimization for your mobile app's success.
We begin the app store optimization checklist with a meta-strategy that deals with combining paid advertising, a purview of Apple's Search Ads, and organic traffic generation, which is driven by App Store Optimization.
Search Ads to inform ASO
Search Ads from Apple is a powerful paid advertising platform launched by Apple in 2016. Over the years, it was expanded to support multiple app markets and according to numerous app marketer surveys, has become one of the major paid advertising tools in their paid marketing toolbox.
App Store Optimization and Search Ads ad campaigns can, and in fact should work together, complementing each other. Running a Search Ads campaign, app marketers can actually measure the relevancy of specific keywords to the app. It helps to make an informative decision on whether to apply these keywords to the keyword set they develop during ASO keyword research or not.
Featured App Store Optimization Companies
Also, a smart move ASO-wise would be focusing ASO efforts on optimizing the app for mid or low-popularity keywords, leaving the popular ones to a Search Ads campaign. By doing that, app marketers can cover both – highly popular keywords that it's difficult to optimize the app for and beat competitors and low, mid-popular keywords that aren't expensive to bid for on the Search Ads platform.
And now the first App Store Optimization strategy we want to talk about – as always with marketing – has to do with audience identification.
Target Audience Identification
App Store Optimization, like any kind of marketing, should always begin with an understanding of who is the app's users, what features these people are looking for in the app, and ideally, what language they may use. Today's app industry landscape is competitive and covers the bulk of people's needs when it comes to what a smartphone or tablet can do. That is to say that every mobile app released on the market has existing competition, other apps that serve a similar function and are already positioned in the search with a similar set of keywords.
It's both a challenge and a boon for the app's brand – it's forced to compete with other apps but it also helps to identify a target audience for the app by looking at reviews people leave on the app stores for those competitive apps, keywords used in those app's title, subtitle, and description.
Having this information in hand is really useful for conducting keyword research, another ASO strategy that will review later in the article. The other benefit is that it helps to identify a proper app store category for the app to be listed in, as well as important markets and regions to reach with the app.
Moving from the app's audience to the set of target keywords for the app to be found by its existing and future users.
Keyword Research
Conducting keyword research for mobile apps implies building a comprehensive list of keywords that reflect the app's functionality. Usually, such a list is divided into core, mid and long-tail keywords that cover the entire spectrum of what words the app's potential users may use to search for the app. App Store Optimization Tools are instrumental in streamlining the keyword research process and making it efficient, especially when it comes to doing ASO for multiple apps.
App Radar Keyword Finder
Source: App Radar
Once proper keyword research is done, app marketers get the basis for further optimization. It's essential to realize that a target keyword list is never static, there is always an opportunity to identify more keywords and see how over time change the landscape of words used by app users to look for apps similar to your mobile application.
Featured App Store Optimization Companies
Switching from conducting proper keyword research to optimizing various parts of the app's marketing copy, starting with its name.
App's Name Keyword Optimization
The very first piece of information people learn about your app is its name. The idea behind the app's name optimization is to combine a brand name, something that makes the app stand out, a memorable, catchy name for people to remember, with one of two core target keywords.
Such core keyword inclusion sends a signal to both Apple's App Store and Google Play from Google app stores' ranking algorithms about the app's relevancy to those core keywords. Unlike the web, app stores' ranking algorithms operate with fewer data points to rank a mobile app for specific keywords. Hence, it is crucial to optimize the app's name along with other components of its marketing copy.
From the app's name keyword optimization to making sure other constituents of the app's marketing copy are optimized.
App's Metadata Keyword Optimization
The entire metadata set that needs to be optimized consists of:
the abovementioned app's name or title
subtitle
keywords
short and long description
screenshots
and the app's video preview
The optimization process implies the inclusion of the core, and possibly mid and long-tail keywords, to all these elements. Of course, the keywords metadata field requires providing the entire list of the target keywords that was built during keyword research.
As we mentioned above, during the App Store Optimization process you need to pay attention to every single piece of metadata that both App Store and Google Play stores require to submit.
Among all the mobile app's metadata, its screenshots and the app's video preview require special attention and this is what we're talking about next.
App Visuals Optimization
One of the ASO strategies that need special mention is optimizing the mobile app's icon, screenshots, and video preview.
A mobile app's icon is what allows the app to stand out on a smartphone or tablet home screen and serve the purpose of visual representation of the app. This is what people recall when they think about the app, it's part of the app's marketing copy that is dedicated to branding and requires careful consideration.
Using multiple screenshots to tell the story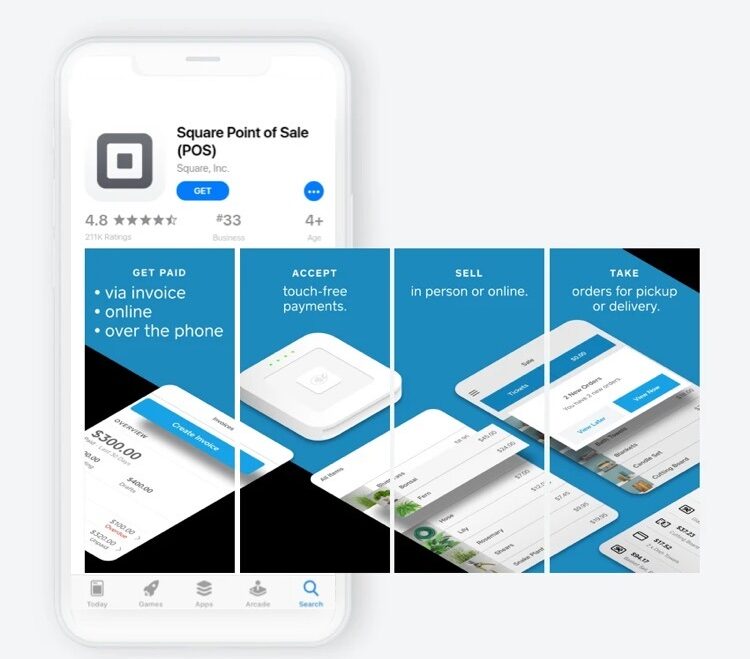 Source: Storemaven
In the case of the screenshots, the optimization process is all about telling the app's story visually, showing the app's core features front and center. With an app's video preview, the optimization process suggests packing major 2-3 features into a 30-second video clip, with a stress on the first 10 seconds to make sure potential app users become aware of what the app is capable to deliver.
Even if a mobile app does offer a trial period for people to try out the app before committing to pay for its subscriptions, screenshots, and video preview are two visual channels that sway your app's potential users one way or the other.
List of Best ASO Tools and Agencies
Next up is Custom Product Pages, a fairly recent addition to the App Store, introduced by Apple as a part of the iOS 15 release in 2021.
Custom Product Pages Optimization
The Custom Product Pages allow app marketers to highlight different facets of the mobile app. Using this tool, it's possible to highlight specific features of the app within the version of the app's App Store product page. The benefits of putting these pages at work are obvious but shouldn't be overlooked by app marketers. The mobile app's audience isn't a monolith, it's a diverse group of people with different interests. Hence to appeal to these people, to speak their language, be able to connect with them efficiently, a Custom Product Page can be a very powerful tool.
Custom Product Pages
Source: Apple
Switching from mobile Product Pages for the app to choosing a proper category on an app store to connect the app with its audience.
App Store Category
Choosing the right primary and secondary category for your mobile app to be listed in is both beneficial the app's users and the app itself marketing-wise. The app needs to be listed in the relevant category so potential users will be able to find it, and, on the other hand, a particular app category competition needs to be factored in when you make a decision on what category to choose.
A complete list of categories
Top level categories
Books
Business
Developer Tools
Education
Entertainment
Finance
Food & Drink
Games
Graphics & Design
Health & Fitness
Lifestyle
Kids (iOS and ipadOS only)
Magazines & Newspapers
Medical
Music
Navigation
News
Photo & Video
Productivity
Reference
Shopping
Social Networking
Sports
Travel
Utilities
Weather
Source: Apple
Your mobile app may be equally relevant to two categories and in this case, you need to choose the one with a smaller number of competing apps. The last thing to remember is that app category relevance should always be your decisive factor.
Switching gears – app reviews, and ratings are coming up. Obviously, the process of optimization of these pieces of mobile app marketing copy on an app store does not imply creating fake ones.
App Reviews & Rating Optimization
The actual app reviews and rating optimization involve the app users' community management and a set of marketing steps to encourage your app's users to review the app. Both Apple's iOS App Store and Google Play store from Google provide app developers with tools to reply to app users' comments and address their concerns directly.
The app reviews and ratings serve the purpose of the first reference point potential users of a mobile app have, once they see a particular app listed on the app stores. At this point, these people have zero experience of using the app and what other people who already have such experience have to see is important to them. It's important to reiterate that the authenticity of app reviews and ratings is paramount, you should always avoid deceiving app marketing practices that involve providing such reviews in return for money. These practices backfire on your app brand's reputation and ruin your efforts to build a sustainable app business.
Moving on from a social proof for your app to launching the app on multiple markets.
App Localization
One of the most common App Store Optimization strategies for a mobile app is to plan and execute the app's release in multiple countries. This strategy implies a number of important steps, from translating the app to a native language to factoring in idiomatic expressions people may use to search for your app in a local app store.
To this day, the US app Store is the biggest market for iOS and a significant part of the market for Android. Sooner or later any mobile app's growth reaches the plateau – there aren't just any more people left who may want to benefit from your app or reaching out to this segment of the market is prohibitively expensive. The remedy is to release your app on other markets and this is what app localization is all about.
Running tests is what informs decisions for all kinds of app marketing and App Store Optimization is not an exception.
A/B Testing
Another must-have-in-place ASO strategy to mention is running A/B testing throughout the entire lifecycle of a mobile app. Initially, A/B testing is needed to define what keywords drive ørganic traffic for a mobile app and actually lead to the app store conversion. Over time, to leverage a seasonal effect or due to new features added to the app that may appeal to different audiences the app may require changes to its original keyword set, and hence A/B testing is the way to figure out what actually needs to be changed.
And finally App Store Optimization tools as an essential ingredient that is required not only for running A/B tests but for every other ASO strategy mentioned above.
ASO Tools
Since both major app stores – Apple's App Store and Google Play market from Google were launched back in 2008, a number of App Store Optimization tools were launched on the market. These tools provide estimates for keywords' demand, report on apps' ranking on the app store, as well as intelligence for competing apps in various app store categories.
App Radar App Store Optimization tool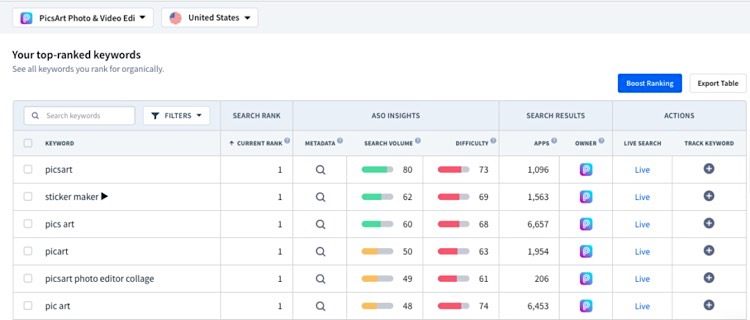 Source: App Radar
It is absolutely essential to power your app's App Store Optimization with data provided by ASO Tools to make data-driven decisions and avoid guessing and bias in conducting ASO for your app.
Final Thoughts
A successful app marketing campaign should include a number of App Store Optimization strategies, presented on this app store optimization checklist, run simultaneously. The same advantage that ASO brings up on the table – when people conduct a search on app stores, they have a high intent to find a specific app – can backfire if you stop keeping close tabs on what keywords are actually driving a conversion rate for your mobile app at any given point. Hence, regular iterations, powered by data obtained via App Store Optimization tools, are crucial.