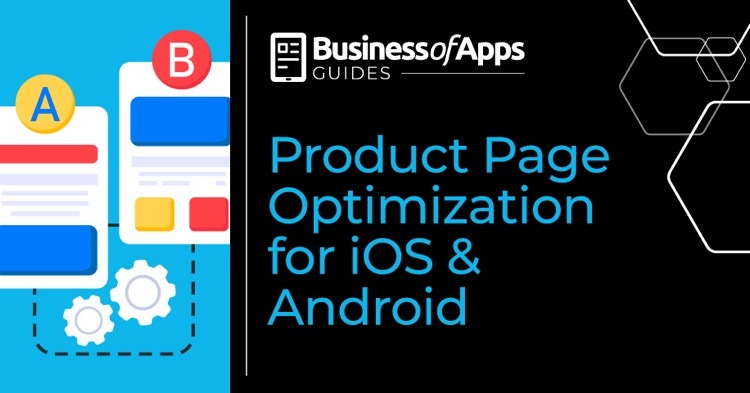 Intro
Nowadays, app marketers are forced to deal with a problem of creating a mobile app for a very diverse user base. And, if that wasn't enough, they need  to advertise various features of complex apps to demonstrate the whole spectrum of information they make available for the users.
In this guide, we want to review a couple of  tools that help Android and iOS app marketers  to address these two big challenges – Custom Product Pages & Custom Store Listings and A/B Testing.
Custom Product Pages are an app marketing tool launched by Apple with iOS 15 to be used with this version of iOS or later. It's designed to create unique iOS app landing pages on the App Store to feature certain aspects of the app.

Now, when it comes to revealing how the app's user base perceive the app, an A/B Testing can be really powerful. With the A/B Testing, app marketers can test multiple ideas for how various elements of the app product page should look like and choose the most efficient combinations of those.
Featured App Store Optimization Companies
Product Pages Optimization
Before introduction of the Custom Product Pages (aka CPP) by Apple, app marketers were limited to a single product page for each iOS app they published on the App Store. Regardless of how many features the app had or the volume and diversity of information it provided, there was only a single page to cram into the information about those features or demonstrate the diversity of the information. The introduction of iOS 15 has changed this situation, and now iOS app marketers can create a set of Custom Product Pages to address the above mentioned problem.
On the Android side, Google provides Android app developers with Custom Store Listings to target specific user segments.
Now let's review this solution for both platforms, starting with iOS.
iOS Custom Product Pages
The Custom Product Page is a unique combination of promotional text, screenshots and preview video with a unique URL to feature a specific piece of content or highlight new features in the app. It allows you to approach different segments of your app's user base with information that will be relevant to them and generate high engagement. It's especially effective if your app's audience is really diverse and hence it's necessary to use a unique approach to communicate with each of the segments of your app's audience.
Custom Product Pages for the App Store
Source: Apple, Inc.
Specifications & Submission 
The App Store Connect supports up to 35 localizable Custom Product Pages – a plenty of options to present specific parts of the app's content or convey a message catered to specific audiences, as well as seasonal or cultural content to appeal different segments of the population. When you create a new Custom Product Page you have an option to begin either with an existing Product Page for your app or with a blank page to add the icon, screenshots and preview video. Once you're done with the page, you can use its unique URL in your promo activities.
Such pages can also be created for apps that are yet to be released and currently hosted in the App Store in the Pre-Order section. The important point to remember is that the iTunes Connect doesn't require submission of a new version of the app to publish Custom Product Pages and hence you can plan their submission regardless of your app's updates cycle. Because each page may have a unique combination of screenshots, promotional text and preview video (note that only one version of the app's icon can be used), you can start with their production in advance of submitting actual Custom Product Pages to the App Store. Each page goes through the App Store approval process which takes time and therefore you need to account for that time in your production schedule.
You can visit Apple's guidelines here to learn more about how to optimize your App Store product pages.
Now, when we've addressed specifics of the apps' creation, it's time to turn to their marketing.
App Marketing with Custom Product Pages
Once you have a set of Custom Product Pages you need, you can incorporate them into your app marketing activities.  A few examples for how these pages can be used:
Apple's Search Ads platform is the most obvious option. You can run a search results ad using your Custom Product Page as a landing one, using messaging and images relevant to specific features or seasonal promotions you highlight on that particular page;
Content Marketing comes to mind next, here you can write a blog post to publish on your app's blog or pitch an article to some publication relevant to your app. The article / blog post should cover a topic that is focused on the same feature of your app  or a piece of content featured in it.
Email marketing is the next great option to consider. A gold standard of this digital marketing technique is to focus its messaging on a single page you invite your audience to visit and a Custom Product Page is a perfect candidate.
Facebook Ads from Meta allows you to use CPP, providing a link to a Custom Product Page as Destination at the ad level.
Apple doesn't index Custom Product Pages, therefore iOS app users can't see them in the search results. That is to say they don't have a direct impact on the app's visibility in search results but they do an indirect impact. Because each page is meant to drive certain traffic that translates into installs the page does impact the number of downloads the app generates and its Conversion Rate. Of course to impact the Conversion Rate, a Custom Product Page should have an effective combination of text messaging, screenshots and preview video and it's your job as an app marketer to build such a combination.
This is just a brief list of app marketing applications for your Custom Product Pages, essentially they can be used for any app marketing activities you have.
Specifications and marketing are covered, it's time to talk about analytics for Custom Product Pages.
Analytics
Once you submit your Custom Product Pages, they go through Apple's review process and then go live, you can track their performance on the App Store via App Analytics in App Store Connect. Just go to the Acquisition Tab to check each page impressions, downloads, and Conversion Rate. In addition, for paid apps, subscriptions apps, and apps with in-app purchases, you can view retention data and proceeds per paying user for each custom product page.
When you check data on specific Custom Product Pages, you can compare it with the app's default Product Page, which is a part of the A/B testing for Product Pages and this is the next topic to cover.
Featured App Store Optimization Companies
A/B Testing
Aside from using Custom Product Pages to highlight certain features of the app or specific piece of content, there is the second use for CPP – A/B Testing. The solution that Apple developed for native A/B Testing on the App Store is called Product Page Optimization and here how it works.
Using Product Page Optimization, app marketers can test ideas for text and visual creatives for specific locations for up to 90 days. They can also narrow down the tests to specific segments of their apps' user base.
Each test implies comparison of a Product Page variant with the default page every iOS app gets when it's published. It is important to understand that when you start using Product Page Optimization, people who will be seeing your app's page in search results will see either the default page or the variant you're testing. This is how it the actual testing takes place – app users interact either with the default page they can see once your app was published or variant of the page you're testing.
The Product Page Optimization tools allows you to test the following creative assets for your iOS app:
App icon
App screenshots
Preview video
iOS app marketing copy elements to A/B test with Product Page Optimization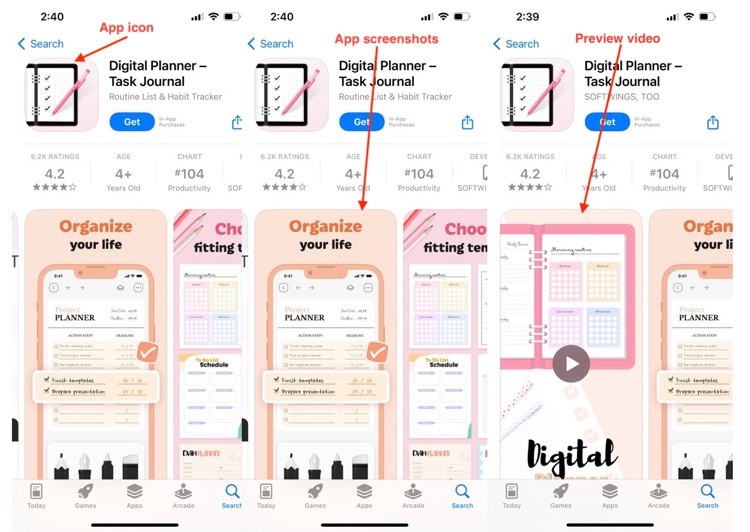 Source: App Store
The App Store Connect allows you to test up to three variations of the product page against the default page right on the App Store.  This is a great way of putting to the test which icon, screenshots or preview video resonate with the app's audience the most and lead to higher engagement. As with any A/B testing, the rule of thumb is, conducting each test, to change only single variable – icon, screenshot or preview video. If two or more variables are changed it becomes impossible to assess the efficiency of each elements that was changed for the test.
Product Page Optimization is the first free tool provided by Apple to run experiments with the app's visual creatives right in the environment of the App Store. To give you just a few ideas for what can be actually tested consider these:
testing of different colors or set of colors to identify the most engaging combination
trying various messages on the screenshots, playing with alignment of the screenshots, applying various styles
trying different approaches to the app's localization for different regions
trying combinations of the screenshots and preview videos or screenshots alone
Summing up this section, it's important to make a distinction between Custom Product Pages and Product Page Optimization. The following table highlights what makes these two app marketing tools similar and what sets them apart.
Custom Product Pages vs. Product Page Optimization
| Attribute | Custom Product Pages | Product Page Optimization |
| --- | --- | --- |
| Number | Up to 35 | Up to 3 |
| Goals | Customizing the user journey to improve the conversion rate | Finding the best-performing version of the default product page |
| Traffic sources | Unique URLs and specific traffic sources, can't be found organically on the App Store | A single equal split between the default page and its testing versions |
As we mentioned at the beginning, Google provides Android app developers with Custom Product Page alternative – Custom Store Listings and this is the topic of the next chapter.
Android Custom Store Listings
Similar to the Custom Product Pages for iOS, Custom Store Listings for Android are designed to appeal to specific user segment and help app developers or brands to convert these people into their loyal users. The range of applications for Custom Store Listings is also similar – to highlight a new feature in the app, showcase specific piece of content, approach the app's audience in a specific country (one country per page at a time), and run a seasonal promotion. Note that the Google Play Console provides Android app developers with a separate option to add translations for the app.
Specifications & Submission 
You can create up to 50 Custom Store Listing pages, customizing the app's icon, short and long descriptions, and graphic assets – app icon, feature graphic, app screenshots, and promo video. Note that the app's contact details, privacy policy, and the app's category are shared across all Custom Store Listing pages.
Unlike with CPP, Google Play Console requires app developers to provide a unique string parameter to generate a Custom Store Listing page URL. You need to specify a default language for each listing since they aren't translated by the console automatically, it's strongly recommended to add all languages spoken in a specific country you're creating a Custom Store Listing page for.
Leveraging the power of its Bard Generative AI, Google provides Android developers with assistance to draft Google Play listings. This is an experimental feature and hence the warning that the tool may generate an inaccurate or inappropriate descriptions, therefore your attention is required to carefully review generated texts and make edits accordingly.
Custom Store Listing on the Google Play Store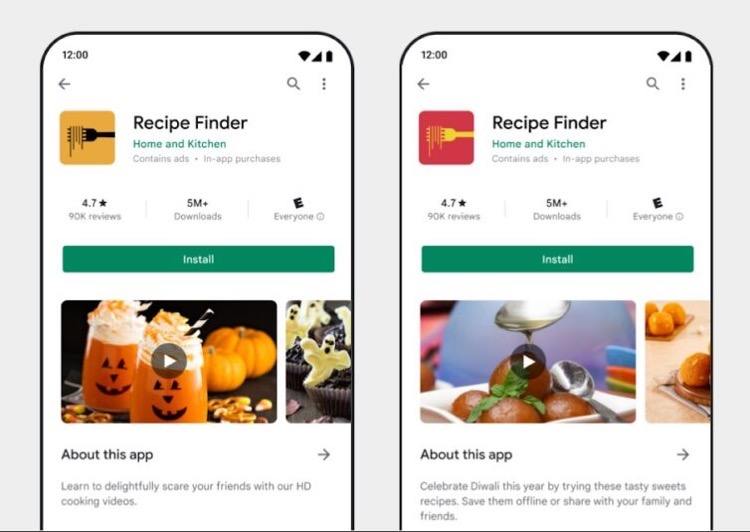 Source: App Radar
Google Play Console provides a detailed explanation for how to create a new Custom Store Listing page. Notice that from the get-go you have an option either to:
create a new listing
duplicate an existing listing
create a new listing within a group of listings.
To help better manage up to 50 pages that you can upload via Google Play Console, in 2023 Google introduced Custom Store Listing groups to help manage such a big number of pages. You can either create a new group or duplicate an existing one, set default language for the entire group, define both text and graphic assets that will be used for the group – app's name, short and long description, app icon, screenshots, and preview video.
Now, let's see how app brands and developers can leverage Custom Store Listing pages to app marketing.
App Marketing with Custom Store Listings
When it comes Android app marketing, just like with its iOS counterpart, the most obvious option is to incorporate Custom Store Listing pages into your Google Ads campaigns. On top of that, here are some more ideas for how you can use Custom Store Listings to market your Android app:
Let's say you know that a segment of your app's user base in a specific country speaks English, or any other language for that matter, and you need to tell to this audience about some features in your app.
One of the powerful features of the Google Play Store is its App Pre-Register section where you can list your app and build anticipation around the app's launch. Creating a Custom Store Listing page is the way to go to build such awareness and adding exclusive offers or value propositions for the future users will make such page a very compelling offer.
Your Android app user base consists of a number different segments – speaking plainly, people with different needs and expectations for your app. Creating a Custom Store Listing page allows you to introduce features that are highly relevant to these specific segments – students, retired, gamers, and more.
Last, but not least, you should always keep in mind that your app users use various Android devices with different capabilities. Communicating about features that relevant to their hardware is important to address all possible questions they may have.
And it's time to talk about analytics to access the marketing effectiveness of Custom Store Listings you've created for your Android app.
Analytics
For all Custom Store Listings pages Google Play Console provides the same analytics as for a default page. You can track the following metrics:
app installs
uninstalls
ratings
reviews
revenue
The console offers great flexibility by allowing you to customize what KPIs to have listed on your dashboard, based on your speciality – Growth, Quality and Health, and Monetization. You can read about Google Play Console dashboard KPIs customizing here.
Featured App Store Optimization Companies
Switching the gears to talk about the second topic for this guide – A/B Testing. As an analytical technique, A/B Testing if highly common in accessing efficiency of visual and text creatives for paid advertising, the App Store and Google Play store default product page listing. Applying this technique for Custom Product Pages and Custom Store Listings is a continuation of this practice.
A/B Testing
Across both the App Store and Google Play, optimization of all aspects of the mobile's app marketing copy is the way to gain more views, clicks, installs, and ultimately sales. Google provides Android app and game developers is with a free A/B testing tool to optimize their apps' marketing copy.
In a nutshell, the A/B testing for Google PLay, and the App Store from Apple for that matter, can be described as the process of running multiple experiments to test hypotheses about what elements of the app's marketing copy actually help to grab people's attention and persuade them to install the app and take the expected action, which is most likely make a purchase.
A proper A/B testing for Google Play allows you to achieve the following:
Identify the best text metadata components (short and long text descriptions) and their combinations to spot the most efficient combination(s) to engage your Android's app audience;
Identify graphical assets such as the icon, app screenshots, and preview video that capture people's attention the best and persuade them to install the app and spend money on it;
Obtain more installs for the app to facilitate its climb up to the top of the charts and get more visibility;
Help to combat the mobile app user churn, help with its retention;
Facilitate with painting a picture of your app's users behavior;
Compensate your lack of expertise for what drives people's interest to your app in different cultures, that helps to engage these culturally different audiences;
Identity small tweaks you can make for your app to account for the seasonal effect;
A/B testing for an Android app can be run on the Google Play store to test:
The app's icon
The Feature graphic for the app
The App's screenshots
The promo video for the app
The app's short and full description
As you can see the Android app's name or title is absent from the list and to test it you should try A/B Testing services like Storemaven or Splitmetrics.
To run testing experiments with the A/B testing tool on Google Play Console you need to be familiar with the following terms:
Target metric – defines how the result of an experiment will look like. Target-wise these experiments allow you to assess what combinations of text and graphical assets allow you to acquire people who have installed your app for the first time and the ones who have kept the app at least a day on their device.
Testing variants – the console allows you to use up to three variants of your app's store listing to test the default app's listing against.
Experiment audience – the percentage of your app's audience you want to see a particular variant of the app's store listing. Given you may have up to three variants of your app's listing and a certain portion of your audience should be exposed to the default listing, you may equally assign as much as 25% to each variant.
Minimum detectable effect – this metric sets sensitivity of your experiments and it specifies a minimal deviation of a test variant performance from the default app's listing.
Attributes – it identifies specific elements of the app's listing to test.
Read this Google's manual to learn more about how to run A/B tests on your Android app's Google Play store listing.
Key takeaways
Finally, we would like to reiterate that mobile an app marketing campaign always requires experimentation. A success of every piece of the mobile app marketing copy requires getting a feedback from the app's users. You need to realize that your mobile app users, just like you, live in a dynamic world where their current preferences and likes may change often. Let this fact stick with you and do your best to avoid assuming you know what your app users like – operate under the assumption that you don't and you need to run tests to assess what colors, fonts, composition allow you to engage with your audience and what don't.
Here are some takeaways for your app's product page optimization:
Do your best to learn the audience of your app, build cohorts of users that collectively constitute your app's user base
Use Custom Product Pages from your iOS app or Custom Store Listings for your Android app to highlight specific features of your app to specific segments of your app's users base
Periodically run A/B tests to assess efficiency of all elements of your app's marketing copy
Monitor Apple's and Google's updates for the product page optimization tools they offer