Since the launch of the iPhone back in 2007, smartphones have come a long way to make Mobile the number one platform for businesses and non-profits around the globe to reach new customers with a product or service, share information, entertain, and so much more. It was a gradual path when more and more people began to use a smartphone for more and more tasks, some of those were previously performed on a desktop computer, and some were brand new.
It's been a few years since mobile took over TV as the number one advertising platform, this is the place that has the most eyeballs and hence the biggest chunk of ad budgets is there as well. The question is not should or shouldn't advertise my product on mobile but on what platform and how much money to spend.

Featured Mobile Marketing Companies
Now, the best way to improve your skills as a mobile marketer, and to build the right strategy is to learn from mistakes made by others. Hence our decision to put a number of mobile marketing case studies together for you to learn from. And we're starting with one of the biggest sports brands – Adidas.
Case Study #1 Adidas
Today Adidas has about 2,000 brick-and-mortar stores for sports and athletic lifestyle enthusiasts around the globe, mobile has been a part of its growth for a number of years. The company was launched back in August 1949 by Adolph (Adi) Dassler, hence the name Adidas.
As of 2022, the total e-commerce net sales of the company reached $1.4 billion but still –  a significant portion of sales comes directly from the company's widespread network of brick-and-mortar stores.
Adidas brick-and-mortar store locator page on a smartphone screen
Source: Think with Google
Mobile Marketing campaign objective
Despite the boom of e-commerce, when people can discover, choose, buy, and get goods delivered to their doorstep, for some products, footwear in particular, many people prefer trying on a physical product before buying was, is, and most likely will continue to be an important step in their product buying journey.
In 2013 Adidas launched a mobile marketing campaign to promote its Originals collection of vintage clothing, retro shoes, and urban wear that blends '70s and '80s designs with sports styles. Adidas was in pursuit of three goals – drive sales to its brick-and-mortar stores, assign a value to mobile to in-store conversion, and prove that mobile channel brings incremental value to their business.
Solution
The company's digital performance agency iProspect launched a mobile marketing campaign to assist in how effective can be mobile marketing in driving brick-and-mortar sales.
The campaign included a number of components such as video ads, banner ads, and a social media campaign.
A video ad that featured celebrities such as Nicki Minaj, Jeremy Scott, Big Sean, and 2NE1 wearing the Originals collection and performing in a colorful and dynamic environment. The ad also encouraged users to scan a QR code or visit a mobile website to access exclusive content and offers.
A banner ad that targeted users within a 3-mile radius of Penn Station in New York City, inviting them to the Adidas' "Light You Up" promotional light show on March 16, 2013. The event featured soccer star Lionel Messi and promoted the launch of the new Adidas Adizero F50 soccer cleat.
A social media campaign that leveraged Facebook, Twitter, Instagram, and YouTube to generate buzz and awareness about the Originals collection and the "Light You Up" event. Users were encouraged to use hashtags such as #allin or #adidasoriginals to join the conversation and share their opinions and photos.
According to the initial assessment model, based on both Adidas and iProspect internal data, it was theorized that 20% of people who click through to the Adidas store locator page actually visited an Adidas brick-and-mortar store.
Based on general in-store conversation data, about 13% of shoppers actually buy Adidas products after locating them via the store locator page, and the average order value was $71. Taking into account the active search on mobile, which showed a clear intent to make a purchase in a physical store, iProspect agency applied a 20% conversion rate and an $80 average order value.
Results
As a result, it was determined a 20% Conversion Rate from mobile store locator page to brick-and-mortar visits. It was also established that mobile ROI brought a 680% incremental increase in Return on investment.
Switching from the world-famous sport and fitness brand beloved by millions around the globe to one of the most recognizable sweet candies manufacturers on the planet – M&Ms.
Case Study #2 M&M
Invented in the US in 1941 by Forrest Mars, M&Ms are some of the most iconic candies on the planet. M&Ms were the first candy in space, chosen by the shuttle astronauts as part of their daily food supply, as of 2022 Mars, the parent company of M&Ms, had a revenue of $45 billion, the level of daily production of M&Ms reached 400 million a day.
My M&Ms uses AdWords-enhanced campaigns to drive sales and simplify campaign management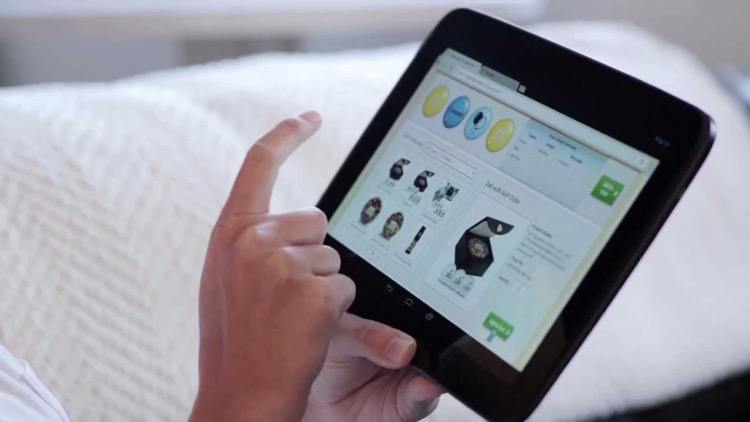 Source: Think with Google
Mobile Marketing campaign objective
The objectives for this ad campaign went threefold – reach on-the-go customers across all devices they use: smartphones, tablets, laptops, and desktop computers increase the number of clicks, conversions, and overall Return on Investment, and target new and existing customers based on geolocation.
Solution
Working with full-service agency The DuMont Project, M&M launched an enhanced ad campaign on Google Adwords. Initially, the agency ran 150 different ad campaigns for the brand, each focused on a different set of keywords but later, when Google launched a new capability to run an enhanced ad campaign that includes multiple sub-campaigns, the campaign management got really straightforward. Such unification allowed the marketing team to spend much less time on campaign management and increase efficiency.
Results
As a result, The DuMont Project agency could achieve a 41% increase in Conversion Rate, M&M's saw a 22% increase in revenue and a 31% spike in return on investment.
From some of the most beloved sweets in the world to a burger familiar to so many people in North America – Burger King.
Case Study #3 Burger King
Burget King is one of the leaders of the fast-food industry in tough competition. The company was founded back in 1953 in Jacksonville, Florida by Keith J. Kramer and his wife's uncle, Matthew Burns. It's the second largest hamburger chain in the US, after Mcdonald, and has around 14,000 stores in nearly 100 countries around the globe.
Source: Simicart
Mobile Marketing campaign objective
The campaign was created by the agency David SP and aimed to promote the BK Express feature, which lets customers order and pay online and avoid lines at the restaurant. The campaign also wanted to show the brand's personality and attitude, as well as challenge its main rival, McDonald's, and on top of that to increase downloads of the app and as a consequence increase revenue.
Solution
To hit a new level of engagement and give the ad campaign a cool vibe, it was decided to utilize Augmented Reality technology. The video ad campaign was launched on YouTube in 2019 in Brazil but it quickly became widespread outside of Brazil as well. The ad introduced the Burger King's app AR feature to virtually set on fire ads of the brand's competitors and get a free Whopper for doing so.
The campaign worked like this: users had to download the Burger King app and scan any ad from another fast food chain with their smartphone camera. The app would then overlay a flame effect on the ad and turn it into a Burger King ad. The user would also receive a coupon for a free Whopper that they could redeem at the nearest Burger King location. The app could recognize any type of ad, such as billboards, flyers, coupons, magazines, or even digital content.
Results
The ad on Youtube generated 99,000 views and 350+ Likes and the ad's popularity quickly spilled over the Brazilian market.  Overall, the campaign reached over 17 million people, generated over 1.5 million interactions, and increased app downloads by 60%. The campaign also won several awards, such as Cannes Lions, D&AD, Clio Awards, and One Show.
From burgers to something more tangible like pizza 🙂 The next up in our series of mobile marketing case studies is Domino Pizza's mobile ad campaign.
Case Study #4 Domino's Pizza
Founded in 1960 by American entrepreneur Tom Monaghan, today Domino's Pizza sells 300 million pizzas a year in the US alone. It's the second-largest pizza chain in the world and serves 90 countries. In 2022 the company generated $4.5 billion in revenue, and global retail sales grew 3.9% in fiscal 2022.
Domino's Pizza "Piece of the Pie Rewards" promo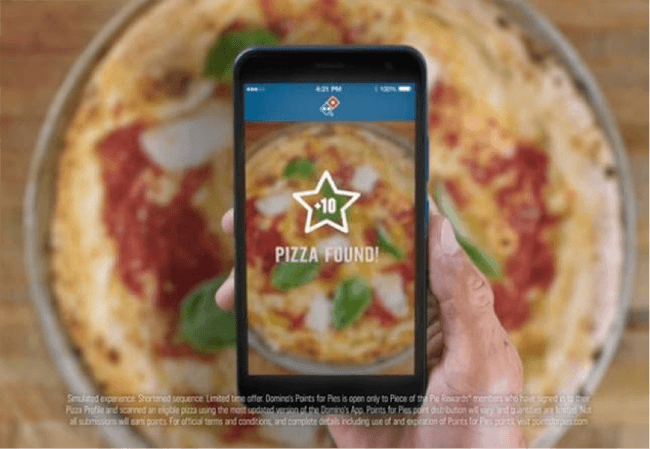 Source: Domino's Pizza
Mobile Marketing campaign objective
Back in 2015, Domino's Pizza was looking for ways to increase sales using Mobile. Trying to beat the competition, the company was on a quest to find a way to encourage its customers to buy pizza more often.
Solution
The Piece of the Pie Rewards program was designed to increase customer loyalty and satisfaction, as well as to showcase Domino's Pizza's innovation and technology.  The program encouraged people to scan every Domino's pizza (as well as the other products), they buy via the company's smartphone app to get 10 points and by the time they'd scanned 6 pizzas, they got a free medium two-topping Domino's pizza.
Results
As a result of the Piece of the Pie Reward program, the company managed to increase sales by 19% and helped the company to increase its customer base. According to the company, the program has over 25 million members and has given away over 150 million pizzas as of 2020.
Featured Mobile Marketing Companies
Moving on, next up on the list is Wendy's brand, one of the top US fast-food chains.
Case Study #5 Wendy
Founded in 1969 by Dave Thomas Columbus, Wendy's is the third-largest fast-food chain with more than 6,000 locations. Wendy's was the first restaurant to offer customers a salad bar, introduced a value menu, and was the first with under 1,000 restaurants to air a national commercial.
A screenshot of  Wendy's character for a computer game
Source: Medium
Mobile Marketing campaign objective
This particular case study is different from the rest on this list, this time Wendy's objective for an ad campaign was triggered by the popularity of the game streaming platform Twitch, where the company saw an opportunity to inject its brand into the gameplay and trigger an emotional reaction to lure more people towards its brand.
Solution
Wendy's marketing team joined a conversation on Twitter, initiated by the Fornite's online poll,  on which fictional Fortnite restaurant was better: Durr Burger or Pizza Pit. The company also created its own Twitch account and live-streamed a story about a red-headed Fortnite character, which looked really similar to the company's logo.
Results
More than 1,000 people replied to the company's tweet, and hundreds of Fortnite players were engaged in helping the character created by Wendy's marketing team in its quest. The financial impact of this campaign wasn't revealed but, given the Fortnite game and Twitch platform popularity, the impact was significant. Overall this campaign is a great example of what is possible for a brand to achieve when it seizes the opportunity to introduce its brand into an online conversation on a big scale and make it relevant.
Top Mobile Marketing Companies
It's time to move away from clothing and food to planes, next up on the list is the Dutch airline company KLM Airlines.
Case Study #6 KLM Airlines
The oldest airline in the world still operating under its original name since 1920, with 35,000+ employees and a fleet of 120 planes, as of 2022, KLM generated 10.7 billion euros.
KLM Airlines mobile app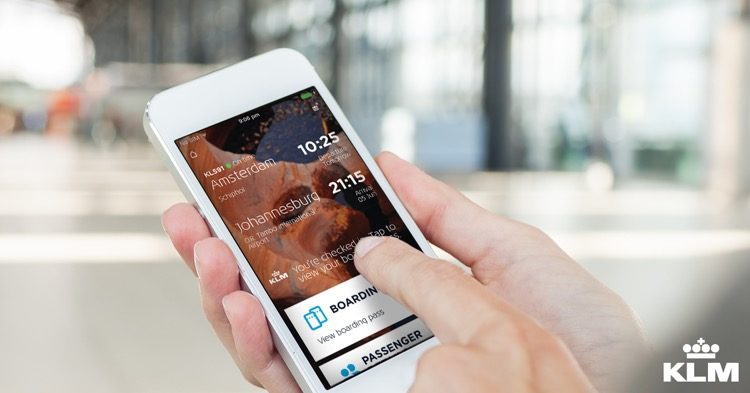 Source: KLM Airlines
Mobile Marketing campaign objective
The KLM's marketing objectives went twofold – to get users to book flights on their smartphones and get them to use the mobile passbook apps on their iOS and Android smartphones for quick onboarding, as well as receive location-based push notifications. To achieve both goals, KLM needed to boost people's adoption of their mobile apps for both mobile platforms quickly.
Solution
During a three-week-long ad campaign, mobile users were given free app access to people who used their mobile booking engine. The access was provided in the form of coupons users could add to their iOS Passbook app or Google Wallet for Android. The push notifications came into play to remind people to redeem their coupons while they're nearby KLM lounges.
Results
As a result of this campaign, KLM Airlines registered a 17% increase in visits to their mobile site, which lead to generating 34% more bookings and 38% more mobile revenue.
Since we've mentioned the airlines on the list, it would be logical to talk about a hotel reservation service next, specifically HotelTonight – a travel agency and metasearch engine to book a discounted hotel room quickly.
Case Study #7 HotelTonight
Launched in 2011 by Sam Shank, Jared Simon, and Chris Bailey, the app helps travelers with last-minute booking of a hotel cheap, it has hundreds of hotels to choose from and doesn't charge its users but rewards users for referring the app to their friends.
HotelTonight mobile app interface
Source: HotelTonight
Mobile Marketing campaign objective
For this campaign, the objective was to raise people's awareness about the app and present its potential users with a number of use cases to demonstrate the app's functionality. The idea for the ad massage was to demonstrate to people how easy a hotel reservation can be.
Solution
The company launched a video ad campaign in which they showed videos of the hotels people could book and all facilities they could enjoy. To spread the message about the app fast and wide, the HotelTonight team came up with a "Tell a friend" referral program, so the app users could invite friends right from the app via email, Facebook, or Twitter. To sweeten up the deal for all people who referred their friends, the company paid $25 for every new user brought to the app via a referral link. Both Facebook and Twitter platforms were used to announce special deals and offers.
Results
HotelTonight managed to achieve an impressive CPI of just $0.20, 60% of customers were brought to the app via word-of-mouth via social media. The number of fans on Facebook went from o to 70k+ within a nine-month period and the app install rate skyrocketed 326%.
Final Thoughts
Today, mobile marketing is a part and parcel of any product or service marketing campaign. In 2022 the total number of mobile users worldwide reached 7 billion and therefore it's quite natural that brands of all sizes use mobile marketing as the primary vehicle to advertise their products or services. We hope that the above-listed 7 mobile marketing case studies can help you to come up with an efficient marketing strategy for your product or service.