Facebook is the world's largest social media site. And reports show over 10 million advertisers carry out Facebook marketing to grow their audience bases. But achieving success on Meta's platform often comes from partnering with Facebook marketing companies. And that's why we've created a list of the best Facebook marketing companies to review.
Online retailers can increase site traffic by as much as 600% when they work with a Facebook marketing agency. And with these kinds of results, it's no wonder many businesses turn to Meta Business Partners, Facebook Ad agencies and digital platforms for help. 
In this guide, we'll share more on how to work with Facebook marketing companies and the benefits they bring. But first, let's look more at what Facebook marketing is. 
What is Facebook marketing?
Facebook marketing is a term used to describe the wide range of marketing approaches a business can take to attract or retain audiences on Facebook – the world's largest social media platform.
Facebook allows businesses to create, manage and distribute content for marketing campaigns using a central hub called Facebook Ads Manager. Here, they can target audiences with paid and organic ads using advertising filters such as income and interests. And this makes Facebook effective for targeted campaigns that reach the right people.
Facebook marketing opportunities include:
Facebook Ads
Facebook Ads usually come in four specs:
Image ads: If your brand relies on visual promotions then sharing photos in customer feeds could be a great way to drive visitors to your website or app.
Video ads: Video ads offer the chance to showcase product features. And they can gain almost 2x higher average engagement rates than static ads.
Carousel ads: These are great for letting people scroll through several images to view a product.
Collection ads: Collection ads are perfect for e-commerce, and let businesses add product catalogs.
Facebook Marketplace
Facebook marketplace is all about buying and selling products. So you don't need a website to sell and the platform is free to use.
Facebook groups
Online communities support increased engagement and higher brand awareness. And businesses can generate this by encouraging interaction and offering exclusive deals in their own Facebook groups.
Business pages
A Facebook Business Page is an online storefront on Facebook where you can publish your feed and share your branding, website and location.
Why is Facebook marketing important?
There are over 3 million apps in the Google Play Store and more than 2 million in Apple's App Store.
And with such intense competition for achieving high download and user acquisition rates, many find that Facebook marketing can help. So while there are plenty of ways to market on Facebook, there are also many reasons to do it. 
One of the world's largest audiences
With almost 3 billion MAUs, Facebook's user base makes up 40% of the global population. And it remains the world's largest social media site.
Facebook monthly active users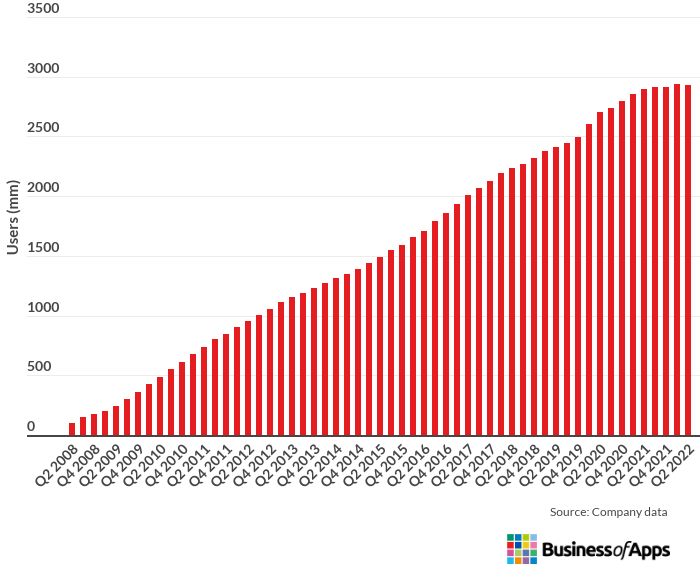 High retail ROAS (Return on Advertising Spend)
Several Facebook agencies suggest the average ROAS for e-commerce retailers is 10.69 via Facebook ads. For e-retailers, a ten-fold Return on Advertising Spend is huge. Plus, Facebook offers the highest ROI of all social media marketing channels. 
Diversity in meeting business goals
Using Facebook as a marketing platform ticks many marketing boxes. And these include lead generation, greater brand awareness and increasing app conversions by up to 250%. 
What does a Facebook marketing company do?
While it's possible to engage with Facebook Ads Manager directly, successful Facebook marketing campaigns tend to emerge through partnerships with marketing companies. Several Facebook Ads strategies have been shown to increase Facebook impressions by over 1500% and app installs by more than 530%.
Facebook marketing companies operate in many forms including Facebook Ad agencies. And marketing partners like these can devise strategies, design exciting creatives and track performance metrics across many types of Facebook marketing campaigns.  Some of these include: 
Facebook Ad targeting
Facebook Ads Manager helps businesses find appropriate audiences to advertise to. But when they engage with a marketing company it can help to refine the focus on core, custom and lookalike audiences. 
For example, targeted Facebook Ads can help a marketing company engage with lead generation via event registrations. And success from the campaign could include metrics such as page likes, volume of post-event engagement, and no. of event registrations. 
So, while acquisition is of course important, retaining customers once they've downloaded an app is equally valuable. And that's where tactics like retargeting can help to drive in-app purchases for those bottom-of-the-funnel app users.
Facebook Ad production
Of course, along with a great strategy, there's also the matter of producing winning advertising creative. And some of the best Facebook marketing companies offer very creative ways to drive conversion traffic. 
Teaming up with marketing agencies, or using marketing platforms, often leads to innovations such as playable ads or time-limited discounts. And these exciting campaigns can drive metrics such as app conversions.  
Whichever route a company takes, it's important to engage in A/B testing the right way. For example, some marketing platforms recommend testing with at least 100 conversions per variation. Doing so can make it easier to understand the impact of any large-scale ads. 
Facebook Ad optimisation
There is, of course, quite a bit more to maximising the potential of a Facebook advertising campaign beyond A/B testing. 
For instance, getting the most out of a campaign requires real-time, continuous improvement. And many app companies employ Facebook marketing firms to optimise their adverts and support ongoing improvements.
By tracking performance data, a good Facebook marketing company can review data on country/location, demographics, and mobile OS. Then, they can tailor creative or strategic approaches to optimise the impact of ads and boost KPIs.
Types of Facebook marketing companies
App firms can leverage a wide range of support to match their goals or objectives. So whether it's creative, strategy, increasing brand awareness or driving UA, different Facebook marketing companies can assist.
Meta Business Partners
Meta Business Partners achieve their status by demonstrating high levels of expertise. And by meeting Meta's criteria, they gain access to privileges on Facebook that other marketing companies don't. 
Once a company is approved, it'll be listed in Meta's directory and given a badge to display on its site. It'll also gain access to partner-specific resources that can assist campaigns.  
Meta categorise Business Partners as:
AdTech:

Advertising Technology Partners support businesses to scale and optimise their campaigns. This may include creatives, scheduling, budgeting and audience reach. 

Agency Partners: Manage Facebook advertising campaigns on behalf of brands and gain access to campaign improvement tools via the Agency Hub.
Commerce Partners: Embed e-commerce products like Meta pixel and product catalogues to help companies boost online sales.
Creative Partners: Provide educational and creative resources to enhance value for clients.
Messenger Partners: Help with building scaled solutions for businesses across Facebook products and services for messaging.
Feed Management Partners: Support merchants to enhance their catalogue quality across Meta's seller technologies.
Facebook Ad agencies
Facebook Ad agencies help app companies to get real traction out of Facebook marketing. Some of them may have Meta Business Partner status. And their services tend to include:
Lead generation:

Facebook Ad agencies often

offer packaged deals

to deliver an agreed number of leads. 

Remarketing:

This works as an effective way to drive conversions. 

Messenger marketing:

Messenger offers

average open rates of 80%

and 20% for CTRs. 
Facebook Messenger rates
Dynamic Product Ads:

For support with optimising product ads on Facebook.

Facebook Pixel:

This helps measure ad effectiveness using a bespoke piece of code.

 
Strategy: Facebook Ad agencies can share strategic insights on industry niches, such as Legal and Retail having the highest average CTR of all industry types.
Facebook Ads average click-through-rates by industry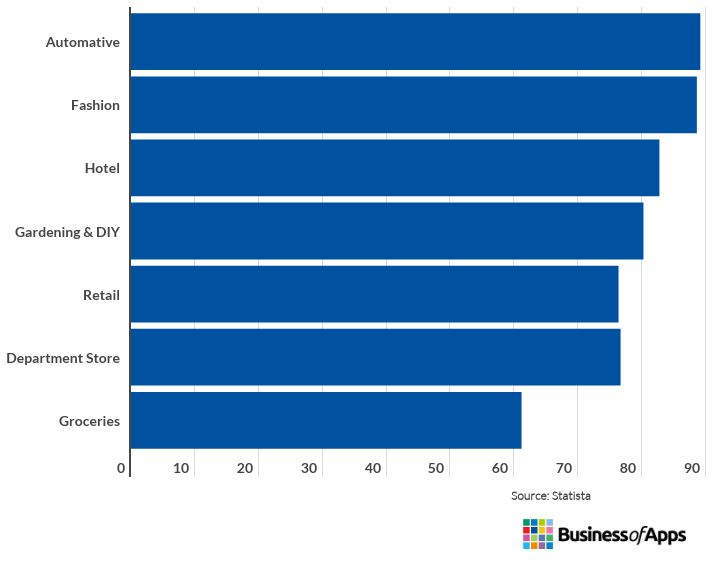 Specialist Facebook marketing companies
Specialist agencies often focus on a particular area of Facebook marketing. Partnering with a specialist can open doors to a deeper level of expertise. Types of specialist agencies include:  
Digital marketing agencies:

Digital marketing specialists

offer support on all aspects of digital marketing – from SEO to PPC to lead generation on Facebook. 

Creative agencies: Successful

Facebook ads need a powerful creative and persuasive copy to achieve campaign goals. And creative agencies can work with brands to devise new, clickable concepts.

Local or international: Some agencies focus on local impact and others have a global reach that can adapt to differences between countries.
Facebook Marketing platforms
App companies and agencies alike can leverage Facebook marketing platforms to aid in designing and optimising campaigns. Often, they can integrate data from existing marketing platforms or sites. 
Key features include: 
Ad Design tools: Facebook marketing platforms enable ad design and offer templates to work from.
Ad Publisher: Most platforms allow you to easily set up and publish your ad.
Automated workflows: These help with maintaining, tracking and updating dynamic ads in real-time. But many platforms also support automation for ad optimisation, targeting, budgeting and engaging in real-time ad-space bidding.
Strategic tools and dashboards: Platform tools can determine target audiences, analyse competitors, maintain campaigns and report on campaign metrics.
Smart filters: Some platforms can review audience data and tailor ads to better target specific subsets or personas.
Should you use Facebook Ads Manager or a Facebook marketing company?
Hundreds of thousands of advertisers bid for ad placements on Facebook every day. So how can app companies get a slice of the pie?
Whether a decision is made to go direct or choose a Facebook marketing company, it often comes down to budgets. But it is possible to check how much Facebook Ads cost. So, whether it's more important to focus on CPIs or CPCs, most app companies who want growth, increased UA or brand awareness are likely to find it best to work in partnership with a Facebook marketing company.
Benefits of a Facebook marketing company partnership
Expertise: Facebook marketing companies offer extensive expertise, strategic advice, creativity and guidance.
Specialism: Marketers with a track record on Facebook can benefit from enhancements or optimisations.
Resource: A Facebook marketing company can take on the weight of resources when it comes to campaign management.
Innovation: Creativity is unbounded when working in partnership with a company. Plus, collaboration can lead to exciting creative campaigns that better address audience needs.
Optimisation: Platforms and agencies can track, tweak and optimise campaigns in real-time.
Benefits of using Facebook Ads manager
Cost: Removing the middle man may reduce costs. But it could also overwhelm internal staff resources.
Stakeholders: Fewer stakeholders in the mix may streamline activity. This could risk internal teams struggling to achieve scale, though.
Control: Running ads through Facebook Ads Manager may provide a better sense of control. However, marketers may come unstuck when faced with the complexities of campaigns.
Partner with the best Facebook marketing companies
In summary, Facebook marketing is a powerful way to grow an organisation's audience base. But since it requires a holistic, birds-eye view to maximise opportunities, most businesses opt to engage with Facebook marketing companies. This way, they'll find it easier to achieve campaign goals and navigate the ever-changing trends.
So, to finish up here's our list of the very best Facebook marketing companies, agencies and platforms that could support your campaign goals.
List of the top Facebook marketing companies