We all know that the app user acquisition game is a challenging one. And while the number of app downloads is just one of several key app KPIs to measure, it certainly is an important one!
To scale your app's growth, paid user acquisition is an essential component of your mobile app marketing strategy—from Apple Search Ads to Facebook Ads and beyond. But budgets aren't unlimited (usually!) so getting the most bang for your buck is typically top priority.
To show you how we did just that—optimized a Facebook Ads strategy to achieve the highest return on ad spend (ROAS)—we would like to share this case study with you. Here you'll find the strategic process we took for our finance app client, Kings of Capitalism, outlining how we made their Facebook Ads campaign such a huge success.
About Kings of Capitalism
Kings of Capitalism is a free fintech app that analyzes the entire stock market and directs users to the top 25 stocks to build a market-beating stock portfolio. The app was started by former Goldman Sachs top analyst and former Legg Mason and Motley Fool marketing specialists.
Highlights from the Facebook Ads campaigns over a 3-month period:
Grew total app installs by 531%
Increased impressions by 1572%
Increased total clicks by 1019%
The Challenge
Since its launch in 2020, Kings of Capitalism wanted to increase monthly app installs and signups. From there, they wanted to nurture new users to upgrade and pay for their newly launched subscription offering called the "Princes of Capitalism."
In order to achieve the first goal (increasing app installs) the client tasked AGN's experienced UA specialists to produce results with paid user acquisition strategies.
Our Approach with Facebook Ads
Part of the strategy implemented to achieve this business goal involved using a robust Facebook Ads campaign. To optimize the client's campaigns, we took a series of well-planned steps as outlined below.
The Process
Audited Kings' past campaigns and determined what performed well and what could be improved.
Created Facebook audiences specialized for the client and determined how many stages were needed to achieve the final objective: highest ROAS.
Ensured proper data tracking was in place by making sure all the conversion tracking and MMP tracking were set up correctly.
Monitored the campaigns daily to get the lowest cost for the best ROAS.
Conducted bi-weekly meetings with the client and Facebook rep to discuss findings and develop next steps and strategies based on the application's new features.
Approach to Facebook ads audiences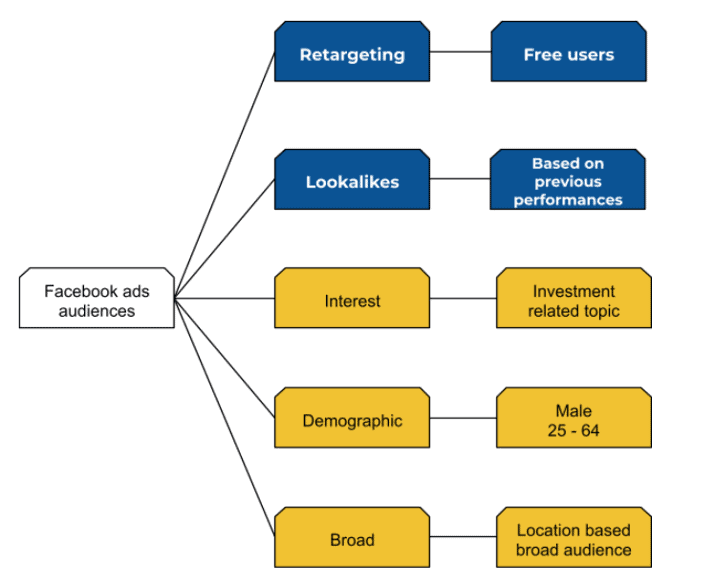 Source: App Growth Network
The Creative
An integral part of the Facebook campaign was also developing strong ad creatives. The goal of the creative copy and design was to communicate the app's unique value proposition (UVP): Kings of Capitalism is the only app on the market that helps users pick the 25 stocks that they need to own to become rich.
With this objective in mind, the AGN creative team developed 30 static banners (15 for Facebook and 15 for Instagram) and 6 video ads for the Facebook/IG platforms.
The Creative
Source: App Growth Network
Results
Here are the results from King of Capitalism's Facebook Ads campaign for the 3-month period between October 1st, 2021 to January 1st, 2022 (compared to previous 3 months):
531% increase in total app installs
1572% increase in total app impressions
1019% increase total clicks
Changes in installs, impressions, and clicks
Source: App Growth Netw0rk
In Summary
Kings of Capitalism is a growing stock investment app in the finance category that wanted to increase their number of app installs within a rather short time frame. By increasing awareness and installs, their goal was to nurture users to pay for their new paid subscription option. With these clear objectives in mind, Kings of Capitalism gave AGN specialists a significant goal to meet via paid UA strategies.
By working closely with the client, developing strong creative messaging, and diligently monitoring audiences and campaign performance, AGN was able to deliver positive results with a solid Facebook Ads campaign.
If you're looking to boost your app's growth through professional app marketing strategies, please don't hesitate to contact our experts at App Growth Network and get your free consultation.
If you want an extensive, in-depth look at best practices to help make apps in the business and finance categories succeed, download our free ebook, "The Ultimate App Marketing Guide for Business and Fintech Apps."