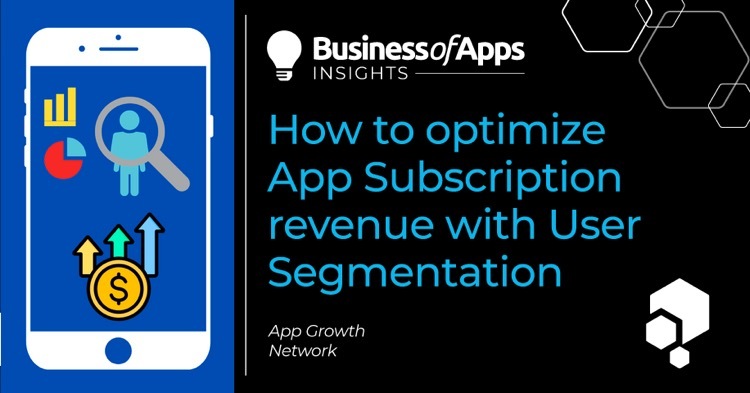 As more and more mobile apps adopt freemium and subscriptions as their main monetization model, most app publishers are finding that they share the same challenge: converting free app users into paid app users. 
That's because generating app subscription revenue is hard! There is simply no one clear path to optimizing revenue and making your app profitable.
But something we do know is that understanding your app user segmentation is a critical piece of the puzzle. 
"Trying to optimize subscription revenue without segmentation is akin to guessing — each user segment has different intent, different user behavior and values your app differently." – Marc Bitanga, Growth Marketing Specialist
So, what are the different types of monetizable app user segments? Here we break it all down for you with definitions, potential problems, and solutions to explore for each. Let's dive in.
Passive-Intent User Segment
Free Trial or Free Tier Users Who Love Your App
The Passive-Intent User segment includes users who are frequently using the app but aren't seeking out subscriptions or aren't triggering paid feature paywalls.
Problem
Users may not know what additional features the app has.
Solution
Optimize the app user onboarding experience by improving first-use onboarding or incorporating passive onboarding.
Most apps these days are free to download. This is a great tactic to get users to perform the first install, but it far from guarantees that they will get all the way through the monetization stage, i.e. pay for a subscription.
The key is to provide a simple and seamless user onboarding experience upon the first app open. The most effective user onboarding process validates why the user downloaded the app and the benefits they can expect to receive moving forward. 
Here is an example from the positive affirmations app, ThinkUp. Just by scrolling through three simple screens, the user knows exactly what the app is for and why to use it consistently. The user is then presented with a paywall that clearly lists the features the user will receive by starting a free trial and the costs they can expect to pay for a monthly or annual subscription. 
Onboarding and paywall example from ThinkUp app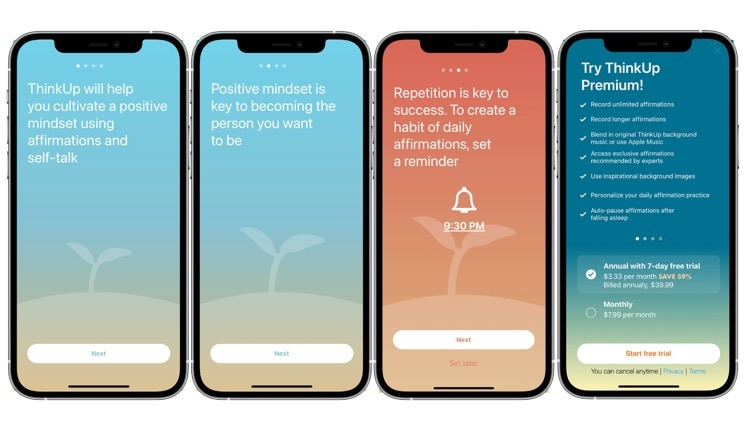 High-Intent User Segment
Highly Engaged Free Trial or Free Tier Users Who Need That Extra Nudge or Incentive
The High-Intent User segment includes users who trigger paywalls by trying to access gated features. 
For a fitness app user, this could mean being presented the app's paywall when they tap on a newly-released workout or a customized nutrition plan that's only available to paid subscribers. 
Problem
Users are interested in gated features but aren't convinced of its value.
Solution
Passively promote the features they are triggering with benefit statements.
One monetization model some subscription-based apps use is offering free access to limited or basic features with premium features that are gated with a one-time cost or paid subscription plan.
If users are triggering paywalls frequently, it's a clear sign that they are interested in these gated features and need some convincing to proceed with the associated payment. 
For example, the coloring book app, Color Collab, allows users to access artwork and start coloring immediately after opening the app. Color Collab's monetization strategy is having premium "tools" and exclusive artwork by celebrity artists that can only be unlocked via payment. 
Actually, the app offers users a choice — they can pay a low one-time cost to get instant access to a bundle (e.g., art by celebrity tattoo artist Chris Nunez and an exclusive brush) or pay a monthly subscription to unlock all of the app's features at one time. 
Example from Color Collab app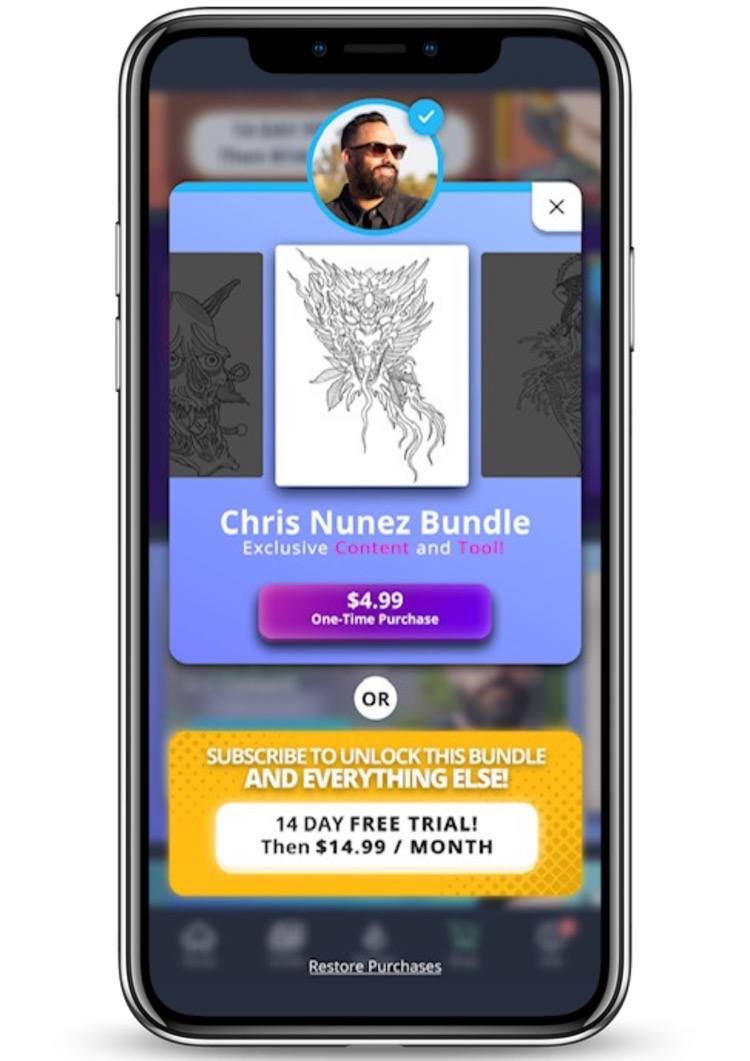 Abandoned Cart User Segment
Free Trial or Free Tier Users Who Intended to Subscribe
Abandoned Cart Users are users who have reached the checkout point but haven't completed the subscription purchase, i.e. abandoned their cart.
Problem
Conversions of the checkout page are low. 
This could be due to a number of different variables. It could be the price, lack of stated benefits, or skepticism about giving their credit card. There are many reasons for why a user drops out of the purchase process. 
Solution
Perform A/B tests using the LIFT method.
Image source: widerfunnel.com
The reality is that there may be several factors that are stopping your app users from converting into paid subscribers. The best way to pinpoint the issue(s) is to A/B test some critical points based on this leading conversion optimization framework.
The LIFT CRO Method consists of six conversion factors:
Value Proposition: Do the perceived benefits that your app product offers outweigh the perceived costs? Users are motivated to act (pay) when they clearly see the value they're getting from what they're paying for.

 

Relevance: Does your app address the user's needs and/or wants? If you're running a Facebook Ad campaign for a health and fitness app, you need to make sure you're targeting a well-matched audience with interests in wellness, exercise, nutrition, and such.

 

Clarity: Does your paywall clearly articulate your app's value proposition and call-to-action (CTA)? Design and content are key for this conversion factor. Your paywall should be compelling, straightforward, and well-designed and address all the questions/concerns your user may have about value.
Urgency: Is there any element or communication that the user should take a specific action now? A sense of urgency can come in two forms:

 

Internal (a pre-existing condition of how your visitor feels upon arrival to your app)
External (an influence that you introduce to the visitor like a time-sensitive offer)
Anxiety: What are the specific elements/events in your app that might be hindering a user from taking the desired conversion action? This is where building trust is key. Adding social proof to your initial onboarding, your app store listing metadata, and ads (e.g., "as featured in the New York Times" and "5,000+ 5-star reviews") is a compelling tactic.
Distractions: Are there extraneous elements in your app onboarding or paywall that may be diverting a potentially paying user away from taking action? This could be something in the copy or in the design, like misplaced product options or competing buttons that are pulling the user's attention away from making a final conversion decision.
Paying User Segment
Paying Users Who Could Be Upsold to Increase ARPU
Paying users is an obvious segment that many marketers overlook when looking to increase revenue. 
Problem
ARPU (Average Revenue Per User) is low amongst paying users, which means that you're leaving revenue opportunities on the table.
Solution
Upsell via passive promotions or upsell to annual plan/higher tier.
If a user has converted into a paying customer, chances are they love your product and have a higher perceived value — and therefore, psychological commitment — to the app.  If, however, ARPU is low, this already-engaged audience is the perfect one to upsell to and get more revenue from.
Start with the lowest-hanging fruit: monthly subscribers. Most subscription apps that offer monthly and annual plans provide an upfront discount for the annual option and clearly show the savings. You can also encourage users to upgrade to an annual promotion via push notification and/or in-app messaging before their monthly subscription ends and communicate again the value of switching to an annual plan.
Example from Madfit app
For users that open your app frequently and have a high session length, you can also consider special programs like:
Developing a loyalty program that offers discounts or bonus content that keeps them interested in staying subscribed
Offering incentives to spread the word and invite their friends to download your app
While the road to successful app subscription revenue optimization is challenging and often not clear, segmenting your app users is a step in the right direction. By knowing what segment your users fall into and what their intent and behavior are, you're better equipped to test growth solutions in places where the most potential upside exists.
Our app growth experts at App Guardians, the mobile marketing agency division of App Growth Network, can assist app teams to identify user segments, as well as tackle other subscription revenue optimization challenges.
Get in touch with our specialists today for a free consultation.