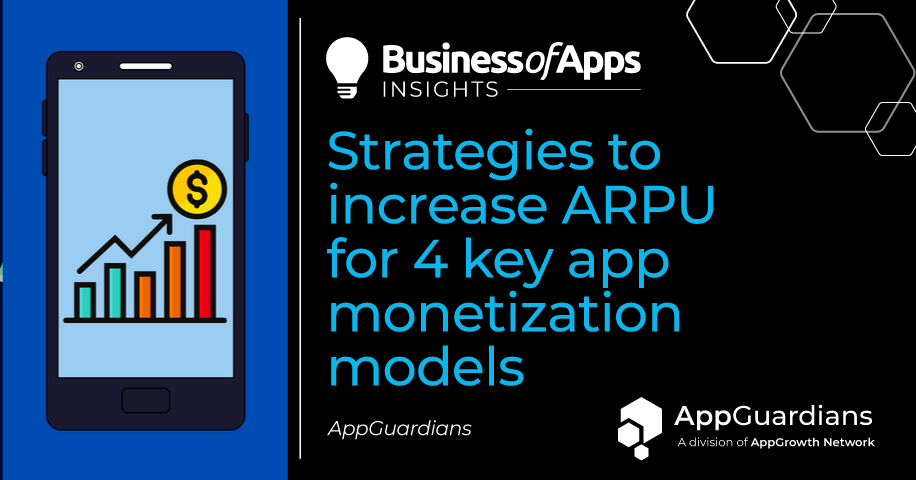 As a mobile marketer, ARPU (Average Revenue per User) is up there with LTV (Lifetime Value) as one of the most important KPIs to track for your app. It's a key metric to work on to optimize app subscription revenue.
First off, what is ARPU? It's the average amount of revenue generated by each active user of your mobile app over a specific time period. It's similar to LTV in that it's a way to calculate the value of your users, but instead of measuring the value of a user over their entire lifecycle, ARPU measures it over a set period of time.
Average revenue per user

Source: App Guardians
To be profitable, mobile apps need to constantly stride towards increasing average revenue per user. This is easier said than done — mainly because increasing mobile ARPU is dependent upon your business model.
This post was first published on appgrowthnetwork.com.
To get you started, here we've outlined some strategies to help you increase mobile app ARPU with the freemium and paying user segment for the 4 key app monetization models outlined below.
Subscription and freemium monetization model
For apps with a subscription and freemium model, the main goals are monetization, retention and increasing the overall CLV (customer lifetime value). Many apps in the health & fitness, education, lifestyle, entertainment, business, and productivity categories fall into this bucket.
Most subscription-based apps either offer a paid tier (monthly and/or annually) for access to a fixed set of features or multiple subscriber tiers that offer more features for a higher monthly/annual cost:
One-tier mobile subscription plan
For mobile apps with one paid tier, like Calm, the goal is to get users to sign up for a monthly subscription or, ideally, an annual plan. For users who are already monthly subscribers, the goal is to get them to upgrade to an annual plan.
Strategies to gain more annual plan sign-ups:
Offer the annual plan at a discount (e.g. 1 month free or the equivalent).
Paying less per month when signing up for an annual subscription is now a benefit users are not only used to seeing but is one they've come to expect.
The important thing is to communicate this savings/value clearly and succinctly. This 30% off deal from Calm is attractive and compelling. The dark background in their brand colors is clean and uncluttered and their carefully-selected blocks of white draw the user's eye to the most important information: the discount and the CTA button.

Annual subscription discount example from Calm app
Source: App Guardians
Offer a limited-time discount to a paid subscription after the free trial period.
Ideally, after a free trial period, users are so hooked on your app that they become instant subscribers. But if they're not, they most likely need an extra nudge or incentive to pull the trigger. Offering a compelling discount that clearly communicates a sense of urgency with an expiration countdown, as we can see in the Madfit app example below, is an effective tactic to explore.
Limited-time subscription discount example from Madfit app
Source: App Guardians
Multiple-tier mobile subscription plan
For mobile apps with multiple subscription tiers, like LinkedIn, the goal is to get users to sign up for the most expensive package possible and, ideally, for an annual plan. For users who are in the lower subscription tiers, the goal is to get them to upgrade to a higher tier.
Strategies to increase upgrades to higher-priced tiers:
Upsell monthly users to the annual plan for their current tier by offering a discount on the annual plan (e.g. 1 month free or equivalent).
Upsell lower-tier users to a higher subscription tier by offering a free trial of that higher tier for 14 to 30 days.
Getting users to sign up for a subscription plan with the highest price tag is challenging. It's essential that users see the value in order to have this happen. The good news is that even lower-tier subscribers are still paying customers and, hopefully, already love your app. Giving them a chance to experience what more they could be getting with a free trial is one way to convince them to upgrade.
In this example from the LinkedIn app, the benefits of each tier are listed clearly and lead with a CTA to try a free 1-month trial.
Tiered subscription example from LinkedIn app
Source: App Guardians
In-app advertising monetization model
You'll find most apps with in-app advertising monetization models in categories like games and news. The main goals of apps with in-app advertising are to acquire as many users as possible organically and to retain those users over time to increase CLV (customer lifetime value).
In-app advertising example from BBC News app
Source: App Guardians
Strategies to add an additional revenue stream for an ad-supported app:
Monetize by offering users ad-free subscriptions (while free users remain monetized via ads).
Many app users don't mind sitting through ads as long as they get to use an app for free, but for many, it's a distraction and annoyance they're willing to pay for to avoid.
For example, the Reddit app has a Reddit Premium option that offers ad-free browsing plus other benefits for just $6.99/month (with a 29% savings for an annual plan). For frequent Reddit users, the low cost to receive these benefits is worth paying for.
Ad-free browsing with premium subscription example from Reddit app
Source: App Guardians
In-app purchase monetization model
In-app purchases are common in many mobile apps, especially for those in categories like games, simulation, adventure, and entertainment (e.g. Minecraft, Roblox, Candy Crush) where they monetize by offering virtual goods and collectables. The goal is to create virtual goods that are irresistible and have perceived value. In other words, these goodies need to enhance the user experience enough to be worth the associated cost.
Strategies to increase purchases of digital goods in-app:
Test different price points for the purchase (e.g. charge $0.99 to access a new level versus $1.99).
Merchandise-relevant purchases within the user experience.
The key is to continually merchandise these irresistible virtual goods within the overall user experience. Don't make the users go to a specific section of the app to purchase, as this will disrupt the user flow and minimize the "spur-of-the-moment" purchase effect.
One way to do this is to have the right pop-up appear at the right time, as seen in this example from Coin Splash. It's a low-cost, high-return offer that a new user can easily click on to purchase, or quickly close out of.
In-app purchase example from Coin Splash game app
Source: App Guardians
Transaction fee monetization model
Some mobile apps rely on a transaction fee to monetize — apps like Paypal, Doordash, and Uber. The goal of these apps is to make the user experience extremely simple, easy to use and, most importantly, provide utility.
Strategies to increase ARPU:
There are no major tricks to increasing ARPU for this category, but the most important thing is to retain users, which requires making the app ridiculously useful and convenient.
Experiment with lowering transaction fees to incentivize higher usage rates.
When working on app revenue subscription optimization, focusing on specific areas — like increasing ARPU — is critical to moving the needle in the right direction. As with all mobile marketing strategies, there is no one-size-fits-all solution, as the approach will be different depending on the type of app monetization model.
If this sounds challenging, it's because it can be! Our app growth specialists at App Guardians, the mobile marketing agency division of App Growth Network, are experts at helping app teams identify and tackle their toughest subscription revenue optimization and monetization challenges. Get in touch with our specialists today for a free consultation.