With the burgeoning app market, building a mobile application might be the next big step in expanding your business and gaining the most effective app marketing channel. But what if you are not an app builder and have very little or no experience in app programming software and design?
You can hire an in-house app builder or an external company to build your app. However, you may be a start-up and can't face the costs of full-blown app development. This is where app builders come in.
In this guide, we have listed the top app builders in our directory below along with a summary of what advantages come with hiring an app builder for your mobile application.
What is an app builder?
An app builder is a platform that helps businesses create mobile applications with little to no experience in coding and/or design. The online mobile development tool allows users to go beyond the generic app development process, building mobile apps in a more time-efficient way.
Instead of the usual duration of developing an app, which can take weeks or even several months, app builders can shorten this process with easy-to-use tools and features that will help create a high-quality app, effectively promoting your products and services that will drive user acquisition as well as high engagement levels, and increase ROI.
From idea creation to wireframing, requirement analysis, design, testing to implementation, developing an app can be a challenging process for app and software developers. But app builders use simple tools, requiring only the app type, features, user interaction format, and a rough idea of your preferred design.
A word of caution however: in December 2017, Apple banned apps made from templates from the App Store, only to swiftly backtrack two weeks later when it realized the havoc the decision was wreaking on smaller businesses, which don't have the budget for a fully customized app.
Apple's rules currently read:
4.2.6 Apps created from a commercialized template or app generation service will be rejected unless they are submitted directly by the provider of the app's content. These services should not submit apps on behalf of their clients and should offer tools that let their clients create customized, innovative apps that provide unique customer experiences. 
This means you, the app owner, will have to create a publisher account and publish the app independently as well as paying the publishing fees. Nonetheless, app builders have adapted to the change in rules, and have created upgraded features that will make sure you are the main creator of your content, ensuring your name is listed as a publisher, and, therefore, qualifying to launch your app on the App Store.
Having laid out the main characteristics of what defines app builders, let us now understand how app makers really work, and how you can leave it to them to do the heavy lifting.
How can I build my mobile app?
Championed by original blogging platforms, such as WordPress, app makers allow non-coders to design their application with visual interfaces, by dragging and dropping pre-coded elements and selecting themes, color schemes and designs. Meanwhile, the app making software "codes" the resulting application in the background, ready for review and publication – simple.
Some app builders even go as far as trawling a pre-existing website to import content directly onto the mobile application once your app is made. Making an app with pre-coded elements means the majority of them are coded in HTML5, the mobile-friendly language.
App builders allow your app to be instantly accessible from any mobile web browser. Moreover, if you want apps native to iOS and Android, hiring an app builder to make your app from scratch might be the best way to go. Indeed, only a few app development companies offer native apps "out of the box".
Some of the app maker software is also available if you wish to create and sell applications as a business, offering a price plan to become resellers that use their own software platforms. However, for a small-to-medium sized company looking to enter the mobile market, these concerns might be secondary, and there are a number of app builders out there that will make the perfect mobile application according to their needs.
Today, the most sophisticated app builders offer a number of features on top of the basic app building ones, such as the following:
Reporting
Testing
Debugging
Consulting
Educational programs
Featured App Builders
How can I benefit from app makers?
There are currently more than 6 billion smartphone subscriptions worldwide, with China, India and the United States accounting for the highest number of smartphone users. This number keeps growing year on year, meaning that the need to build apps to maximize success for your business is greater than before.
App builders can help develop a product just in time to boost those conversions and start making revenue.
As mentioned earlier, there are plenty of advantages to templated apps: someone with no coding experience can use the app maker to design, and launch a functioning application in very little time, keeping full control of the creative process, without paying for an entire development cycle.
But let's dive deeper into the benefits of using app builders to understand how useful application makers truly are.
App builders – pros & cons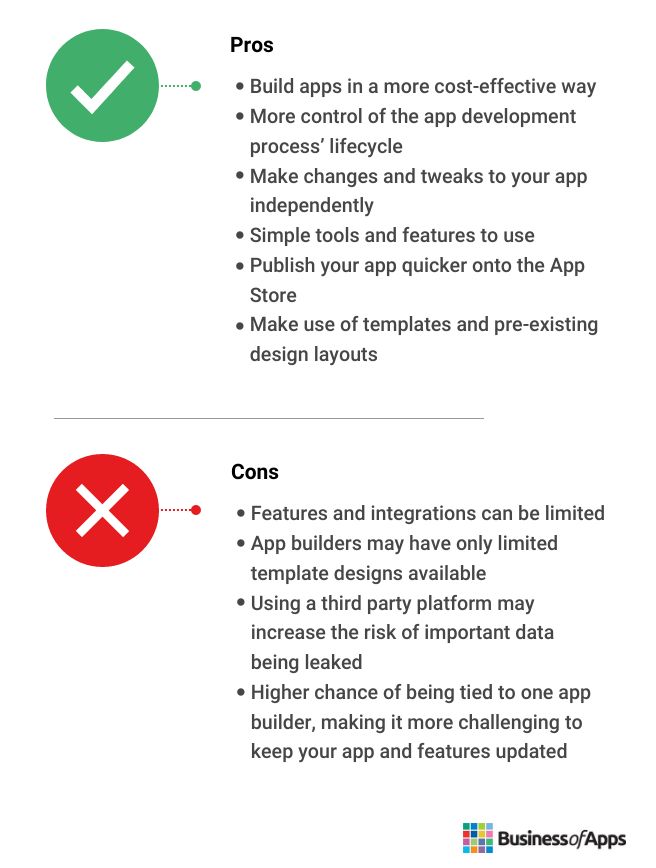 Naturally, there are pros and cons to working with an application maker. Moreover, hiring an app development team can be rather costly, with a sea full of developers to choose from. So, app builders can be extremely beneficial, especially if you are looking to develop a straightforward app for your business.
With the constantly evolving app market, you want to get an app out there quickly to increase user interaction and brand awareness. App builders offer the additional benefit of helping you achieve just that as well as expanding your business opportunities without having to waste your budget entirely on the app development process itself.
So, let's take a look at how much it will actually cost you to use an app builder.
How much does it cost to build an app?
Publishing paid-for applications in Apple's App Store has a yearly cost of $99, while Google Play has a one-time fee of $25 that cannot be avoided. Paid plans provided by such app builders usually range from $159/month for basic
Paid plans provided by certain app builders range from $159/month for a basic growth plan, to $424/month for the enterprise plan. When it comes to managed services the price range goes way up – from $999/month to $7,500/month. These prices are in the same ballpark as paying to a hired app development company.
These numbers are certainly tentative, as several factors come into play when determining the actual cost, including the app type, functionality and complexity. Nonetheless, top app builders offer flexible and affordable price plans for you to choose from, depending on the standards and requirements of your individual mobile app – all you need is to select the best app maker.
What are the best app builders?
App builders are useful if you have little to no coding or design experience, and are looking to get an app up in the near future. They can cut down the typical duration of the usual app development lifecycle, offering a wide range of online app making tools that make it easier to create and design a functioning app that will make your product and services accessible to users quickly.
Here is a list of the best app builders you can work with to create a mobile app. We collected a list that combines a variety of budgets, features and tools that will suit your mobile app and secure the long-term sustainability of your business.
List of the top app builders