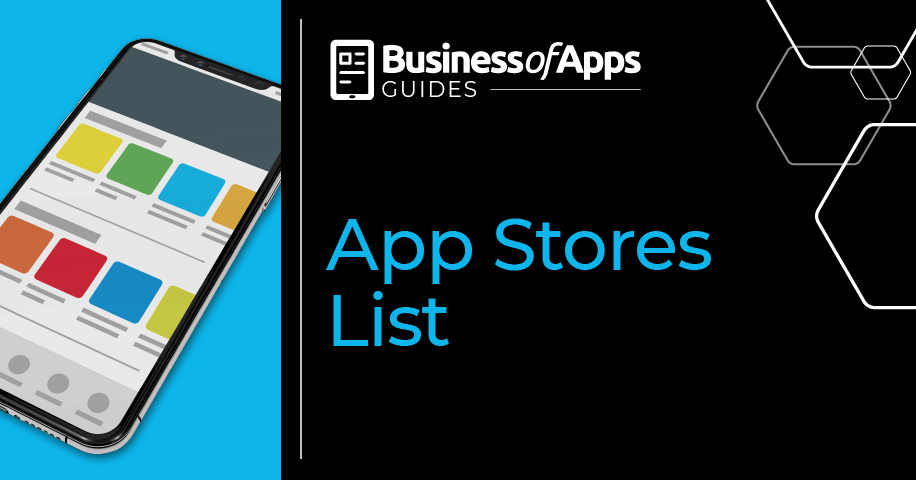 The Google Play Store for Android and the Apple App Store for iOS are the two largest distribution channels for mobile apps, offering almost global coverage to a huge potential audience. However, as competition on the two major stores has grown, developers have found it increasingly difficult to achieve visibility for their apps on these stores. At the same time, a host of new alternative app stores have proliferated, driven by the open nature of the Android platform (which allows third party app distribution) and growth of the Chinese app market, where Google Play isn't officially available but still can be reached. These new app store environments offer a number of benefits for developers and can form an important part of an app marketing and distribution strategy.
Launching your app with these different app stores may fit your go-to-market strategy, if you want to reach a niche audience. Knowing what audience an app store caters to means developers can upload their app with confidence – there will be users that are interested in that type of app. For example, an alternative app store may focus on a specific app genre (e.g. games, utilities, business or one type of user segment). Alternative app stores also allow targeting of national audiences – for example Tencent MyApp,  360 Mobile Assistant (China), and the SK T-Store (Korea) would be key channels for Western developers and publishers seeking to access those markets. In fact, when targeting the Chinese market, there's no choice but to use one of the Top Android app stores in China. You can find more app distribution services and channels in our app marketing directory.
With that number of multiple app stores and app developers constant need to diversify their distribution channels to grow their apps user base efficiently, the online tool to monitor multiple app stores was launched by appScatter team. The tool gives developers a truly holistic view of the entire app stores landscape and provides information about app performance statistics such as downloads, rankings and revenues, as well as competitors app information. appScatter system dashboard presents data for  four types of data – Distribution, Tracking, Performance and Intelligence.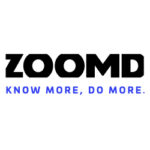 Featured App Store Optimization Companies
To quote the company's market research:
"There are more than 2 app stores. In fact there are over 300 app stores worldwide today and still growing. Distributing, managing and tracking your apps across multiple stores possess significant challenges. Further, the risk of not adhering to your mobile strategy in terms of legal, compliance and governance is tremendous both from a financial and brand reputational perspective."
Now, alternative app stores may also offer a revenue share model that is more favorable to developers than the standard 70/30 split offered by Apple and Google Play. Some app stores may not be as generous with their revenue share model, but do offer the ability to pay for a certain amount of downloads to increase an app's popularity, or even to buy 'featured' placement. This ability to access additional promotional tools is one of the key advantages of using different app stores for independent developers who may find the tight editorial control of the major stores difficult to penetrate.
Alternative app stores can deliver increasingly impressive levels of downloads and user numbers if the right strategy was applied. In this guide we've listed a number of mobile app stores grouped by platform, manufacturer, location and mobile operator.
A quick snapshot of the mobile app industry can be presented with the following scope of data points.
Key App Stores Data Points:
Total number of Android apps on Google Play – 3.3 million
Total number of iOS apps on the App Store – 2.2 million
MyApp (Tencent) market share – 25% of the China's Android app market
360 Mobile Assistant market share – 15% of the China's Android app market
Xiaomi App Store market share – 11% of the China's Android app market
So we're starting our list with Android app stores because they presented the biggest and most diverse segment of the mobile app industry.
Featured App Store Optimization Companies
Android App Stores
With the Android mobile OS Google chose an open platform approach, permitting its apps distribution via multiple app stores. Over time it was  adopted by a number of  OEMs and it lead to Android OS getting a foothold with multiple top mobile device manufacturers, among those – Samsung, LG, Xiaomi, Huawei and others. In terms of the number of apps available, we have 5 stores presented in the following table, with Google Play leading the list with 2.7 million Android applications as of June 2019, 479,000+ on the Amazon AppStore, 850,000+ on the independent app store GetJar that began offering apps starting pre-iPhone era in 2005 and in February 2014, GetJar was acquired by Sungy Mobile.
Number of apps on Top Android App Stores, in millions
| | |
| --- | --- |
| Name | Available Apps |
| Google Play | 2.7 million |
|  Amazon AppStore | 0.48 million |
| GetJar | 0.85 million |
| Aptoide | 0.7 million |
| Opera Mobile Store | 0.3 million |
Source: Wikipedia
And so let's dive into the actual list of Android app stores that are currently operational.
List of Best ASO Tools and Agencies
Our List of Android App Stores

Google Play – the original Android app store operated by Google, it has more than 3.3 million apps, multiple categories, top charts, parent guide and more.
CodeNgo – this app store offers bulk Android app submission, just fill in a single form to submit your app to more than 30 stores, from Google Play, Opera to Amazon, Samsung and more. Also CodeNgo features the section dedicated to Top Chinese  app stores Android app submission.

AppBrain is an online Android market browser store with the ability to enable installations directly to a user's phone. The store was founded by Mathijs Vogelzang and the Zürich-based company AppTornado in 2009. The company has launched an impressive 35 Android apps, which when combined, total 50 million downloads – these apps are published by Swiss Codemonkeys. The store displays the Android apps via search, categories and rankings, and sections such as hot today, all-time popular, top rated and the popularity in a certain country, which help users to locate Android apps more efficiently – at the time of writing there are 1036815 apps available on the Android market.
AppBrain listing example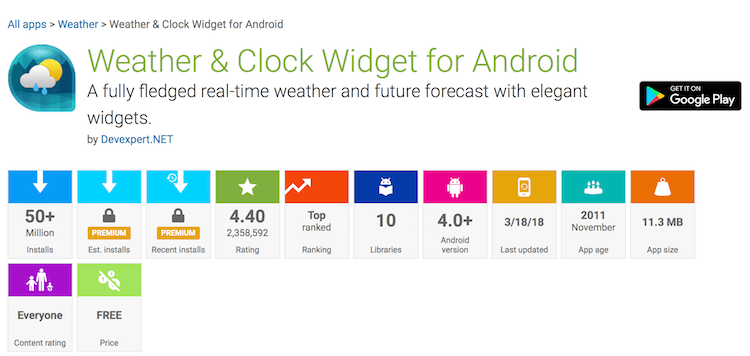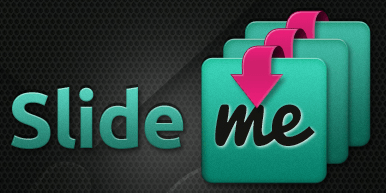 SlideMe is an alternative app store that was founded in 2008 and is based in Seattle. Serving as a marketplace (and featuring a growing community within this), it hosts a variety of Android apps catered to specific audiences. The company says their philosophy is defined on the basis that "one Application Store can't reach everyone, everywhere with the applications they want." They are ranked second to Google Play when speaking in terms of global reach for Android apps – an impressive milestone.
The company provides an "on-device" Application Store for device vendors, and delivers the apps themselves to niche markets through variables such as: geographical location, the device being utilized, the payment method and apps that users can't find in a more conventional manner; SlideMe allows developers to sell their new app globally. In essence, the company is positioned as the place that distributes developers' apps to users who do not have Google Play enabled devices available to them – many of these devices have SlideMe preloaded instead. They also offer custom distribution channels, they have no country restrictions across different Android device types and there is no setup fee for developers.

1Mobile is an alternative app store that provides a collection of mobile apps, games and videos. Multiple mobile formats are catered to on the website, but Google's Android format features the largest library of applications. The apps are displayed in a variety of ways on the website: there is a "Games of the Week" feature at the top that lists the best new apps and games to appear on Google Play within the last week, an editor's choice section where the editors list their favourite 50 games and apps, the top trends of recent times and more. A section of the website is also home to the 1Mobile Market APK– the dedicated 1Mobile store app for mobile devices that allows users to browse, download and install over 60,000 apps wherever they are.
Developers have to go through a standard registration procedure before they can start publishing apps on 1Mobile. Once they have registered for an account, developers submit their app to 1Mobilefor an "AppReview" – if the developer's app is judged to be of a high enough quality to be published, it will appear on 1Mobile within 2 business days. If the app doesn't meet the certain requirements, then the developer will have to respond to the feedback and fix any present errors – it's part of 1Mobile being a store that focuses on providing a selection of quality apps to its users. The revenue share model for 1Mobile is the standard 70/30 split – a special SDK is required for the purpose of in-app billing. 1Mobile is positioned as an app store that is focused on becoming the leading alternative choice for app store sales and distribution.
Aptoide – provides a solution to create an app store within a website own storefront. Currently hosts 199k stores and over 789,000 apps.
Some of Aptoide's clients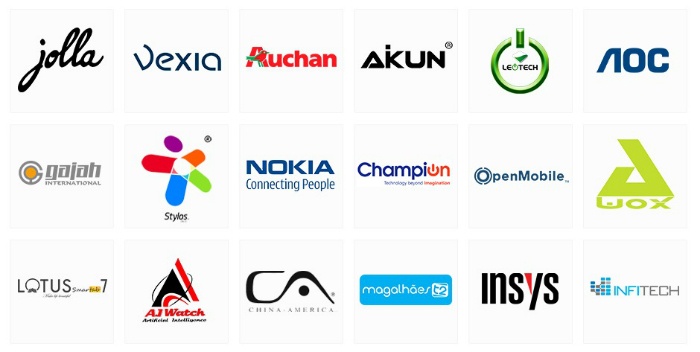 Source: Aptoide.com
Cross-platform App Stores
The mobile app ecosystem isn't limited with just the iOS and Android duo, a lot of app stores are still catering to Windows Phone and Symbian, among other platforms. The Amazon and Windows Phone app stores are the third and fourth by number of apps, with 400,000 and 340,000 applications respectively. Some stores, like Kongregate, have focused on the gaming market, while Opera offers cross-platform apps that also work in its web browser. A fair few of these also double as content stores, offering more than just apps but also music, wallpapers and other products.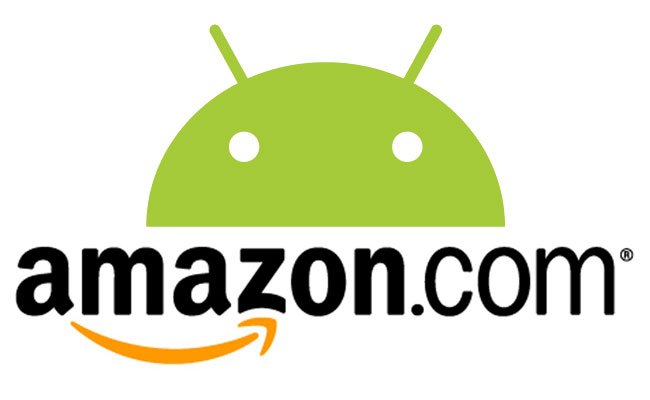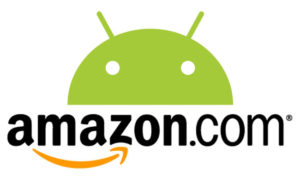 Amazon team launched their own alternative app store for Android developers in 2011 and being a well-known brand has helped the company attract quite a lot of attention to it. The store features a smaller number of apps than some of the other competing stores, this is partly due to their moderation process which has to meet certain quality standards. They offer a free paid app or game every day which can generate a significant amount of exposure for the app developer, and personalized recommendations, customer reviews and 1-Click payment options mean users can find and install a developer's app quickly and easily.
Amazon provides useful services for developers using their app store, such as: an app compatibility test that detects problems for developers automatically – the test will let developers know if their app is suitable for publishing or not; a cross-platform analytics service that analyses user engagement through active devices, sessions and retention; a reward program for developers called the Appstore Developer Select which offers free ad impressions, boosts customer acquisition through Amazon "coins" and offers 25% credit back when purchasing Amazon Web Services products. The company is positioned as one of the largest third-party alternative app stores and they allow for the distribution of developers' apps in over 200 countries in online and mobile store formats.


Founded in 2004 by Ilja Laurs and based in California, GetJar has had over 2 billion apps downloaded since its inception; 3 million apps are downloaded every day. Additionally, over 395,000 developers have registered with the company to distribute their apps. The supported app platforms for developers are Android, the older Windows Mobile, and even iOS, (although Android is predominant here). Users can find a developer's app through a series of categories and top and newer apps are displayed on the front page of the website-store.
On the developer side of things, there is no upfront cost and the requirements to get an app published are minimal. Developers have the ability to target any phone or platform as well, so there is a high degree of flexibility here. Specifically for developers looking to publish Android apps, there is the ability to grow in-app revenue through GetJar's Offerwall system and the option of displaying App deals within an app and offering in-app discounts to re-engage existing users or acquire new ones. GetJar claims to reach over 200 million Android users too – developers can target this audience with free cross-promotion and the company's proprietary Behavioral Targeting technology. They are positioned as one of the largest alternative app stores out there at the time of writing.


The Opera Mobile Store was launched in 2011 and followed the success of Opera Mobile that launched long ago in 2000. The company's popular store boasts support for multiple app formats: Android, Java, iOS, Windows Mobile and provides 170,000 apps and games for 6,000 different mobile phone models. The front of the website-store features the most popular apps, new paid and free software that has just been released and software that has been updated recently. The apps are split into key categories like Business and Finance, Games, Multimedia, Communication and more.
App or game developers can sign up for a developer account which allows them to publish their apps to multiple different formats; a promotional platform is also part of this free account. The store's large range of supported app formats coupled with the fact a developer's app can be distributed to 230 countries, means the platform is positioned as one of the leading places for a developer to reach specific local markets – this is ideal then for a developer who has created an app with a definite market in mind. A new blog has also launched on the store that offers guidance, insight and rewards for new developers with interviews, app reviews, contests and more.
Appszoom – it provides databases of both Android and iPhone apps since 2009, the store gets 7,000 apps tested annually to provide its users the best experience to use apps free of malware. It offers premium profiles to app developers to get more awareness for their apps. The site owners claims it has 3 million unique visits monthly.
Appolicious – it is one of the most established third-party app stores, in operation since 2009. In 2010 it partnered up with Yahoo! to provide high quality iOS app suggestions. It owns androidapps.com directory to cover Android apps within the same framework.
NexVa –  a multi-platform app store that also offers a white label product for mobile operators, OEMs and companies from multiple business verticals. It also works with affiliates to drive traffic via CPI and advertising solutions, as well as proprietary API to support in-app and subscription monetization of developers apps through mobile money transactions. Each app profile provides an app description, rating, screenshots, supported platform and review section.
Kongregate – the app store is popular and famous for its selection of Flash-powered games, this store continues that tradition in offering video games for the mobile web (and thus mostly cross-platform).
Appland – both an app store and an app-store manager, allowing you to create your own. Uploading applications is free, and will showcase your apps on the stores maintained by other devs. Pre-installed on operator 3 mobiles.
Itch.io – an app store that is intended to be used by both game developers and gamers, this is a free and paid-for indie games store that covers all platforms.  Has a very large choice, and also has sections for game assets, development tools and books.
Top App Stores for iOS
In a contrast with Google's Android open model, Apple Inc. has established its App Store ecosystem as a closed, moderated platform that implies having a single app store only – the App Store, that by January of 2017 boasted 2.2 billion iOS apps. The app store online version users can find the same library of apps they can install via the iOS App Store app, after they find them via Google / Bing search engine search. The other distinctive feature of the Apple's iOS ecosystem has been locking iOS driven devices (iPhones and iPads) with specific mobile operators. Since the early days if iOS multiple alternative iOS app stores have popped up that required jail-breaking and unlocking devices to be able to install iOS apps outside the Apple's official App Store. As of 2017 only a handful such app stores exist and the data points to describe each are scarce.
Number of apps on Top iOS App Stores, in millions
| | |
| --- | --- |
| Name | Available Apps |
| App Store | 2.2m |
| Cydia |  n/a |
| GetJar |  0.85m |
| Appland | 0.13m |
Source: Wikipedia
iOS App Stores
App Store – Apple's official iOS application store and this is the only source of the Apple's editors team reviewed apps for iOS running devices such as iPhone and iPad. The current app review time process on average takes about a day. The overall number of apps, iPad and iPhone combined, is over 2.2 million, the total number of downloads for iOS apps from July 2008 to June 2017 – over 180 billion. The number of apps on the App Store has grown from 5,000 in summer of 2008 on its launch to 2.2 million on January of 2017.
Number of available apps on the App Store 2008-2017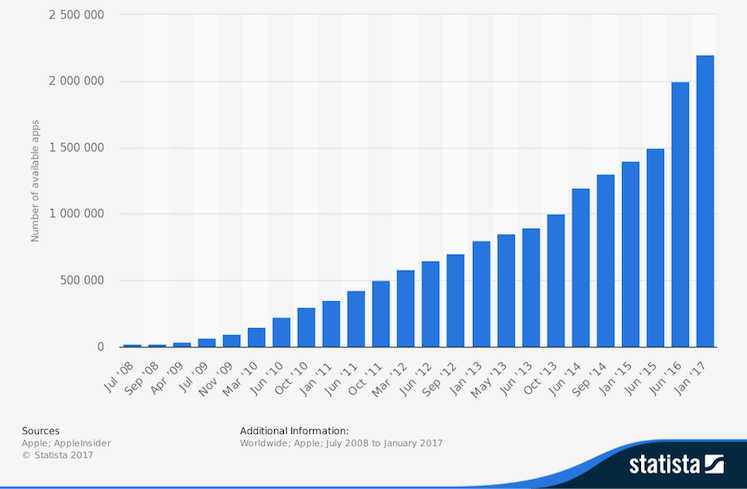 Source: Statista
Cydia – unofficial iOS app store that is only available to users with 'jailbroken' iOS devices. Most apps are offered for free, but there are also paid apps. Claims over 4.5 million weekly users.
BlackBerry OS App Stores
The fifth-biggest store by number of apps, with 130,000, the Blackberry is facing tough times: recently, both Facebook and Whatsapp said their apps would no longer be supported on the Blackberry OS. If you want your apps to be usable on the RIM-brand phones, you'll need to go through these two stores.
BlackBerry World – the official App Store for the BlackBerry platform. Newer phones, however, use the Google Play Appstore, though BlackBerry World is also linked to the Amazon app store now.
Manufacturer-specific App Stores
Following the brilliant example set by Apple with its App Store as a part of a company ecosystem that helps to lock in its customers into a single platform to provide them the best experience, leading smartphone and tablet manufacturers launched their own app stores. None of these stores is close in scale to the Apple's App Store and Google's Google Play, but nonetheless these companies app stores are from where millions Samsung, LG, Lenovo smartphone owners can download and install apps once they get their hands on the device.
Samsung Apps – the official Samsung Electronics app store for apps to run on Samsung Galaxy smartphones, Samsung Gear and Samsung featured phones. It's available in 125 countries and offers apps that can be run on Android, Windows Mobile and Bada mobile operating systems.
LG Smart World – the official app store run by manufacturer LG. It offers Android apps to run on mobile devices and LG smart TVs.
Huawei – Huawei official app store that hosts both games and apps, as well as offers own Cloud storage solution.
Top China App Stores
Thanks to a fast economic growth and equally fast mobile technology adoption, in today's global mobile app economy China mobile market plays a major role. In the fall of 2016 it outpaced US in terms of the App Store iOS app revenue. But on the Android frontier, in a situation when Google Play Market is banned in China, Chinese local giants such as Tencent with its MyApp marketplace that currently holds 25% of the Android OS market in China. 360 Mobile Assistant from Qihoo 360 with almost 15% and hardware giant Xiaomi with Xioami App Store that has more than 11%.
Top 10 Android App Stores Market Coverage in China, July 2017
| | | |
| --- | --- | --- |
| Ranking | Name | Market Share |
| 1 | MyApp (Tencent) | 25.5% |
| 2 | 360 Mobile Assistant | 14.8% |
| 3 | Xiaomi App Store | 11.5% |
| 4 | Baidu Mobile Assistant | 11.5% |
| 5 | Xiaomi Game Center | 10.3% |
| 6 | Huawei App Market | 10.2% |
| 7 | OPPO App Store | 7.2% |
| 8 | Sogou Mobile Assistant | 4.4% |
| 9 | PP Mobile Assistant | 3.6% |
| 10 | Google Play Store | 3.6% |
Source: Newzoo
Antony Chang of AppInChina has to say this about the current state of the app's market in China:
"The Chinese app market's continuous growth has led to numerous changes over the past few years and we should expect this wave of change to continue through 2018. The most likely changes to keep an eye out for will be continued app store consolidation (Alibaba/Tencent acquiring independent stores), tightening app regulations (local government requiring more documentation) and Google's re-entry into China (China-specific version of the Google Play Store in partnership with a local tech company)."
All in all, the market for apps in China is huge and should be part of any mobile app strategy. Here are the major app stores in China to consider.

MyApp from Tencent – currently the biggest app store in China, it holds around a quarter of the Chinese Android apps market. One of the features that makes it different from app developers experience with any Western app store is that with MyApp they need to submit a Software Copyright Certificate along with an app for the Copyright Protection Center of China to review and approve and only than the app can be accepted to the store.
360 Market – One of the biggest app stores in China, it claims to have over 600k apk  app files, 275 million active mobile and 457 million desktop users, 30 billion downloads. Its development program is  also one of the best-translated, the store boasts MD5 detection to provide anti piracy protection.
Baidu – China's main search engine also has an app store and developer tools, and has recently launched an English-language version. One of the key advantages, beyond size, is that apps are displayed as results by the search engine.
PP Assistant – Android and iOS app store from the Chinese tech giant Alibaba. The store also hosts jailbreaking software for iOS and a news section.
HiMarket – an app store from the Chinese leading Search Engine Baidu.
Oppo Software Store – an app store from BBK Electronics, provides both mobile hardware and software. An app submission to the store implies Software Copyright Certificate submission process.
AppChina – Discovery engine, it recommends apps depending on the users location and preferences. Has 30 million users, but no English version.
The AppСhina Storefront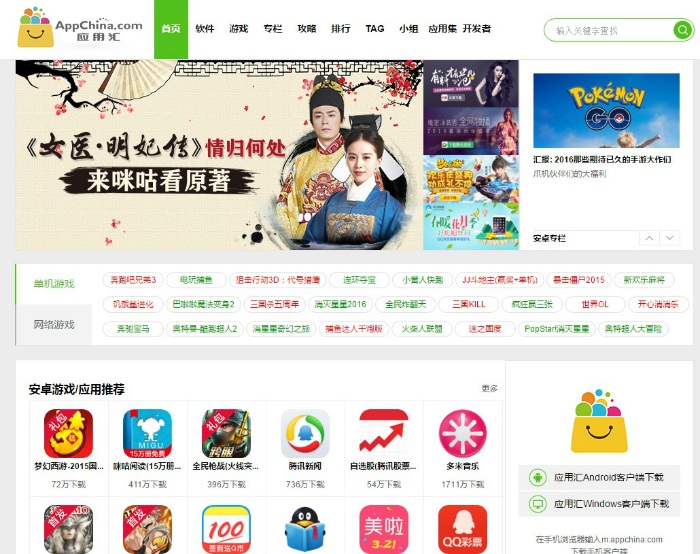 Source: AppChina
Anzhi – Android-specific app store with a strong community: the store allows users to comment on and recommend apps.
HiAPK – focused on Android and implements pre-installs on devices, however once again the language barrier is an issue for anyone who doesn't know Chinese.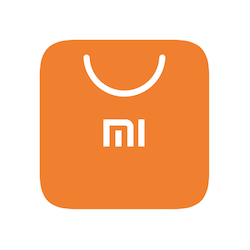 Xiaomi – an app stores for Android apps from one of the top smartphone designer and manufacturers in China.
D.cn – focuses on games and covers all major operating systems.
MaoPao – One of China's biggest app stores, distributing apps across iOS and Android mobile platforms.
GFan – Appears to be Android and Chinese-only, but has 12 million + customers registered to it.
Liqucn.com – Multi-platform app store covering all sorts of apps and games as well as content.
Eoemarket – Belongs to a wireless technology company and is both an app market and a content platform.
91 Market – Hosts all major applications (both iOS and Android) for the Chinese market, with some counting more than 50 million downloads.
Operator and Country-Specific Stores
While many app stores run by mobile network operators have shut down in recent years, there are still a few holding strong, especially in India where Aircel and Airtel are among the bigger app stores thanks to their catering for SMS-triggered app downloads. Other stores are country specific, with a great example being the MTNPlay storefront which covers a large number of countries in Africa, supplying not only apps but also music and other content.
Airtel Srilanka – One of the main mobile phone service providers in Sri Lanka has its own app storefront.
TIM Store – App store for one of the major Italian mobile operators Telecom Italia Mobile, which is also the Italian Netflix carrier. Has free and paid-for apps for all platforms.
AT&T App Centre – Doesn't offer many apps, but those it does target productivity and device security for your AT&T mobile phone or tablet.
T-Store – SK Telecom is South Korea's main mobile service provider, and its store provides apps as well as content for Android devices.
Turkcell T-Market – Turkish mobile provider Turkcell's official store. Apps are for Android and Symbian, and there is also an English version of the marketplace.
MTNPlay – Pan-African content portal run by South African provider MTN – it has customised stores for 22 different African countries and offers music, news, videos and much more content besides apps.
Countries covered by MTN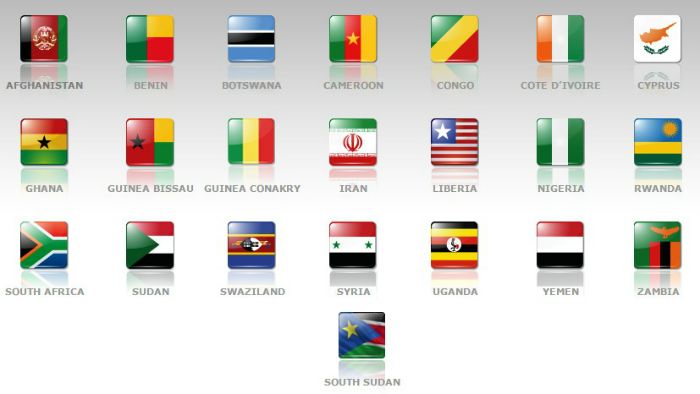 Source: mtnplay.com
Appstor.io – Allows you to create a website for your app before displaying it on their storefront. Covers paid and free apps for both major platforms.
Chillingo – More an app-discovery platform than a store, it focuses on mobile games with high production values.
Panda App – Ranks Android and iOS apps, as well as allowing user reviews. Covers wallpapers and ringtones, and has a Symbian section too.
Final Thoughts
Today mobile app ecosystem is being dominated by iOS and Android mobile operating system duopoly. The major app stores are Apple's iOS App Store and Google's Google Play store. Because of the Android ecosystem open approach Android apps can be installed not just from Google Play store but from a variety of stores. The Chinese market has become an equal rival to the US one and is on the path to leave it behind in the foreseeable future. Android app developers need to follow a smart approach of publishing their apps on multiple stores and do their homework by studying each store specifics.
Have we missed a store you believe should be on the list? Let us know! For more ways to distribute your app check our our directory of user acquisition services.