Social ad platforms sit on top of the major social networks including Facebook, Instagram, Snapchat, Linkedin, Twitter and Pinterest. They offer massive scale and targeting opportunities across a range of platforms and devices.
Social ads themselves help advertisers to reach a ready-made audience. A smart social ads campaign can propel a brand forward because it harnesses the power of platforms like Facebook and Twitter.
Source: Mobile Ads
Social Ads Benefits
Using mobile social media ads is an efficient and cost-effective way of engaging with an audience. The reduced costs of advertising are a significant plus to this method of advertising, along with the ability to reach a vast audience with ease.
Social ads are a vital part of a marketing strategy because potential customers can interact with a brand in the places they know the best. Ignoring social media ads in this day and age puts advertisers at an immediate disadvantage.
When it comes to tracking, social media platforms like Twitter and Facebook offer robust built-in analytics so advertisers can see what did and didn't work. Even just having the option to look at the number of shares, likes and comments can be a useful indicator.
Other benefits include:
These ads help to generate that all-important conversion about your brand.
Call to actions on social media platforms can be very effective.
From in-app landing pages to lead-generating ads, there's a good variety of ads formats and social media ad sizes.
Social Ads example 2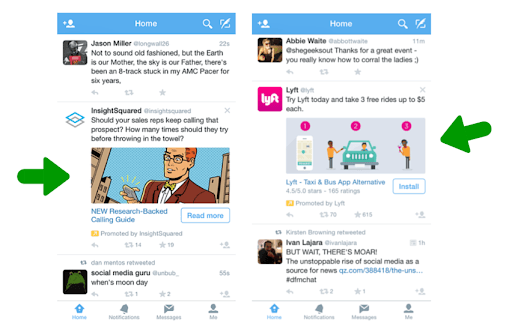 Source: Nanigans
Social Ads CPMs
Here are some of the biggest social ads offers along with their platform, rates and country.
| | | |
| --- | --- | --- |
| Platform/Network | Country | CPMs/Revenues |
| Facebook | US | Around $7 to $9 |
| Twitter | US | $5 to $6 |
| LinkedIn | US | Around $6 |
| Instagram | US | $6.17 |
Source: Falcon.io
Below we've listed the best social media ads networks and platforms so you can get up and running without fuss.
List of social advertising companies