ChartBoost is a mobile advertising network that focuses on direct advertising deals between app developers. ChartBoost solutions work by giving developers a platform to sell advertising space to each other across their apps, allowing them to set their own terms and pricing. ChartBoost also allows single developers to freely cross-promote their own apps internally, as well as sign-up to a more traditional paid ad network model.
ChartBoost was formed by the same developers behind the popular iPhone game series TapTap Revenge. The company is based in San-Francisco.
Access impressions, clicks, installs, money earned/spent in daily and hourly reports to measure results of campaigns
Set CPC/CPI bids, and define daily budgets
Establish partnerships with other publishers to and cross-promote apps and mobile sites for free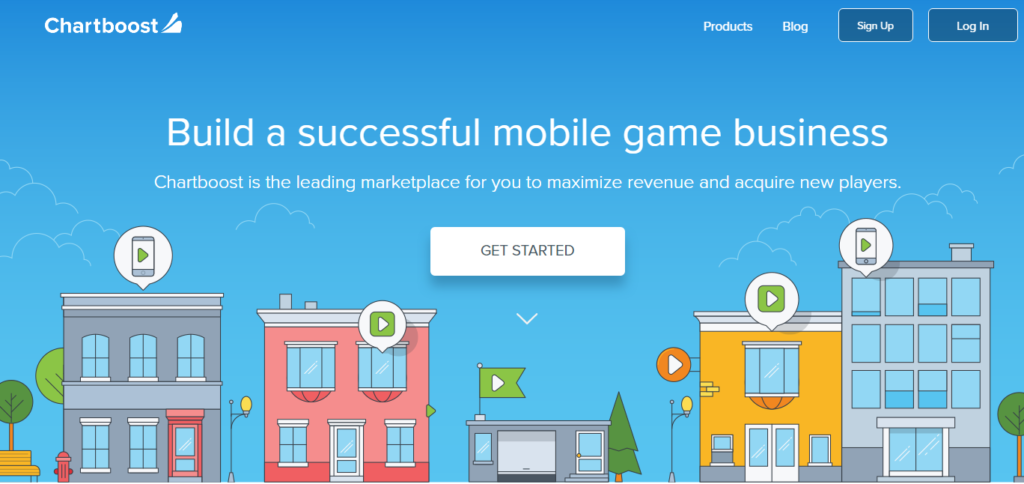 Key Features
Ad experiences that are tailor-made for mobile games
Maximize revenue and capture new players with mobile video ads
Over 1 billion monthly active players
App developers can integrate an SDK with a couple of lines of code
Analytics across all campaigns
Playable ads that engage your audience
Support for the Unity engine
Promote games for free
Global CPI insights that create results
Full transparency so you can make the right decisions
ChartBoost Jobs and Careers
ChartBoost lists available jobs and positions here with openings in their offices in Amsterdam and San Francisco across roles in Business, Engineering and Product Management.
You can find employee reviews of ChartBoost on the company's Glassdoor profile here.
For Publishers
ChartBoost offers publishers and mobile app developers the ability to monetize their audience through a simple SDK. They are used by over 300k games on worldwide basis.
Their ad formats are as follows:
Playable ads
Rewarded video
Interstitials
Animated GIFs
App developers have access to analytics through the ChartBoost Dashboard that allows them to track placements, data and revenue. The SDK to get started can be integrated in five minutes.
For Advertisers
With ChartBoost advertisers get access to over 800 million monthly game users. The ChartBoost ad exchange enables advertisers to reach inventory programmatically and includes:
An in-app inventory with built-in targeting functionality
A mobile gaming audience at scale
A real-time bidding engine with included data and reporting options
Advertisers can also target relevant users with data-driven audience segmentation. Access to analytics is available, including monthly CPI insights on a global basis. Chartboost Influence can connect gaming influencers with brands to create custom video content.
Team
Richard Izzo
Richard Izzo is the Co-CEO & COO at Chartboost. He has been with Chartboost since late 2015.
Office Locations
HEADQUARTERS
Floor 21
One Sansome Street
San Francisco, CA 94104
USA
Paleisstraat 1 5th Floor
1012 RB Amsterdam
Amsterdam
Passeig de Gràcia 7 5th Floor
08007 Barcelona
Spain
Sorry, we don't have these details yet. If you are a ChartBoost representative, please get in touch to add additional information and contact options to your profile.