This guide will walk you through what a paywall service is, how they work, and how to choose the best paywall service for you.
A paywall service is a type of subscription-based model that restricts access to certain content on a website or mobile app. Using the services can help you to generate revenue and monetize your content while still providing high-quality content to your audience.
With a paywall service for your app, users can easily access your restricted content by paying a fee through their mobile devices. This can be a convenient and efficient way to monetize your content while still providing a seamless user experience.
Whether a user becomes a loyal user depends on, among other things, the effectiveness of the paywall itself. And you can find the best paywall services in our directory.
What is a paywall?
A mobile app paywall is a subscription-based model that restricts access to digital content within an app until a fee is paid.
App developers often use the service to monetize their content while, at the same time, providing high-quality content to their audience. With an app paywall, users can access restricted content by paying a fee through their device.
Paywall service example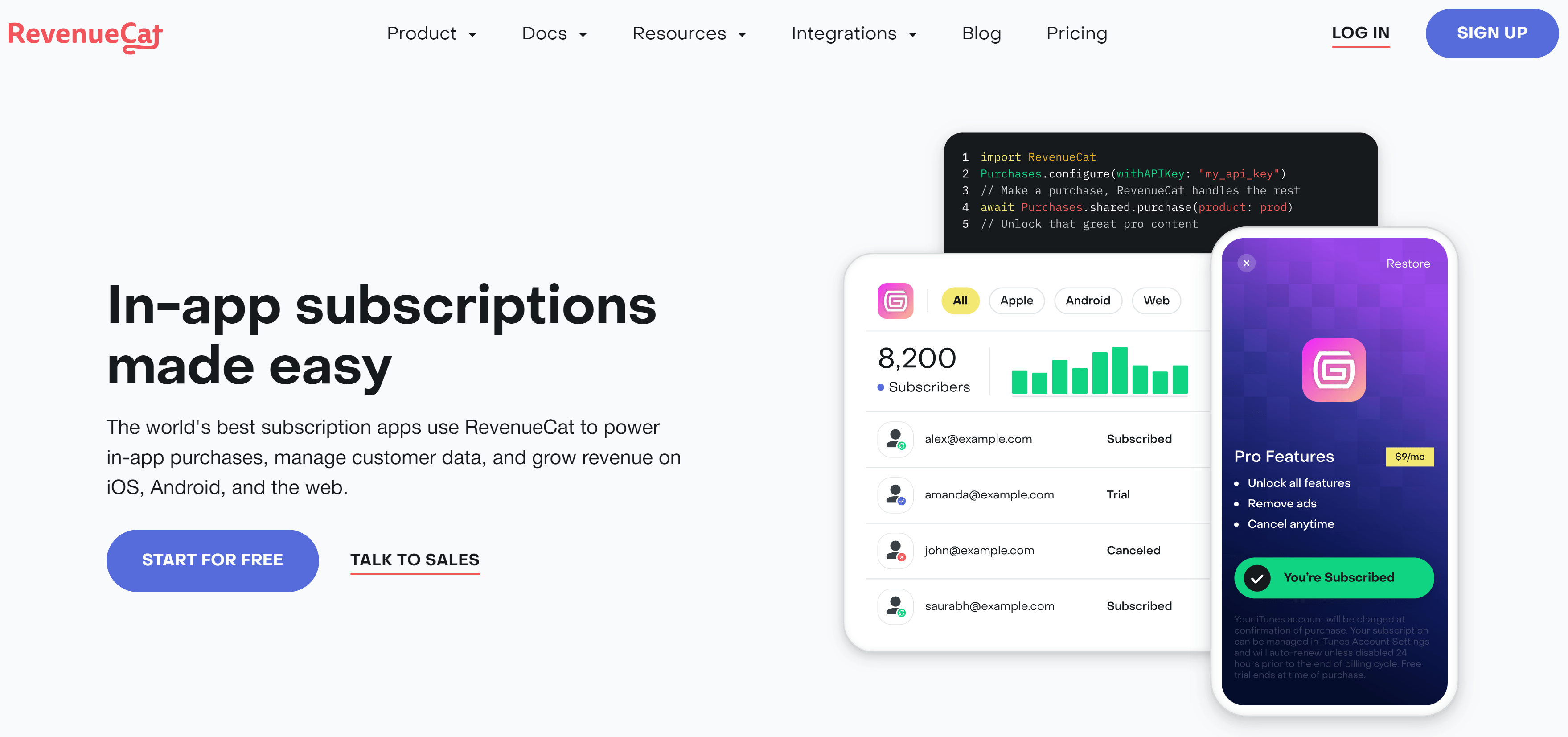 Source: RevenueCat
The best paywall services enable app developers to quickly create and manage their subscription offerings with features such as pricing tiers, trial periods, and promotional offers.
What are the types of paywalls?
There are many different types of paywalls available for you to use. We've included the key ones below:
Hard paywall–A hard paywall is a type of paywall that completely blocks access to an app's content unless the user has a paid subscription or is otherwise a registered member. This means that users cannot view any content behind the paywall.
Metered paywall–A metered paywall is a form of paywall that allows users to access a limited amount of content before being prompted to pay for more. The metered approach is often used by news organizations and publishers to balance the need for revenue with the desire to expose readers to their content.
Dynamic paywall–A dynamic paywall is a type of paywall that allows app developers to adjust the content that is available to readers based on a variety of factors, such as the reader's location, usage history, and engagement levels. This type of app paywall is designed to provide a more personalized experience.
Freemium paywall–A freemium paywall is a type of paywall where a limited amount of content is available for free, but access to premium content requires a paid subscription. This model is often used by app developers to entice users and give them a taste of what they can get with a paid subscription.
Native paywall–A native paywall is a type of paywall that is built into a website or app and requires users to pay for access to content beyond a certain point; with native UI elements, paywall screens need to load quickly and seamlessly.
Paywalls are a key strategy for monetizing your mobile apps and allow you to offer premium content or features in exchange for payment.
Why should I use paywall services?
There are a few reasons why. For app publishers, it can be a way to generate revenue from their content, while for users, it can provide access to high-quality, exclusive content that they might not be able to find elsewhere.
It's important to keep in mind that not all paywalls are created equal–striking the right balance is crucial for your app. If a paywall is too aggressive, users will quickly leave the app. Equally, not using it enough won't generate enough revenue to make it worthwhile.
Below we've listed the key benefits of using paywalls.
Generate revenue
You regularly generate revenue when you create a membership or subscription for your mobile app–if you create a monthly membership, you can expect to see money coming in each month. This can be vital for those just starting out.
Increase app credibility
Paywalls tend to denote credibility, and when others know that customers are paying for your content, it enhances your app's overall credibility. If you're creating content for a specific subject and people are willing to pay for it, you're lifting yourself above the others in that particular space; this builds authority.
Paywall service example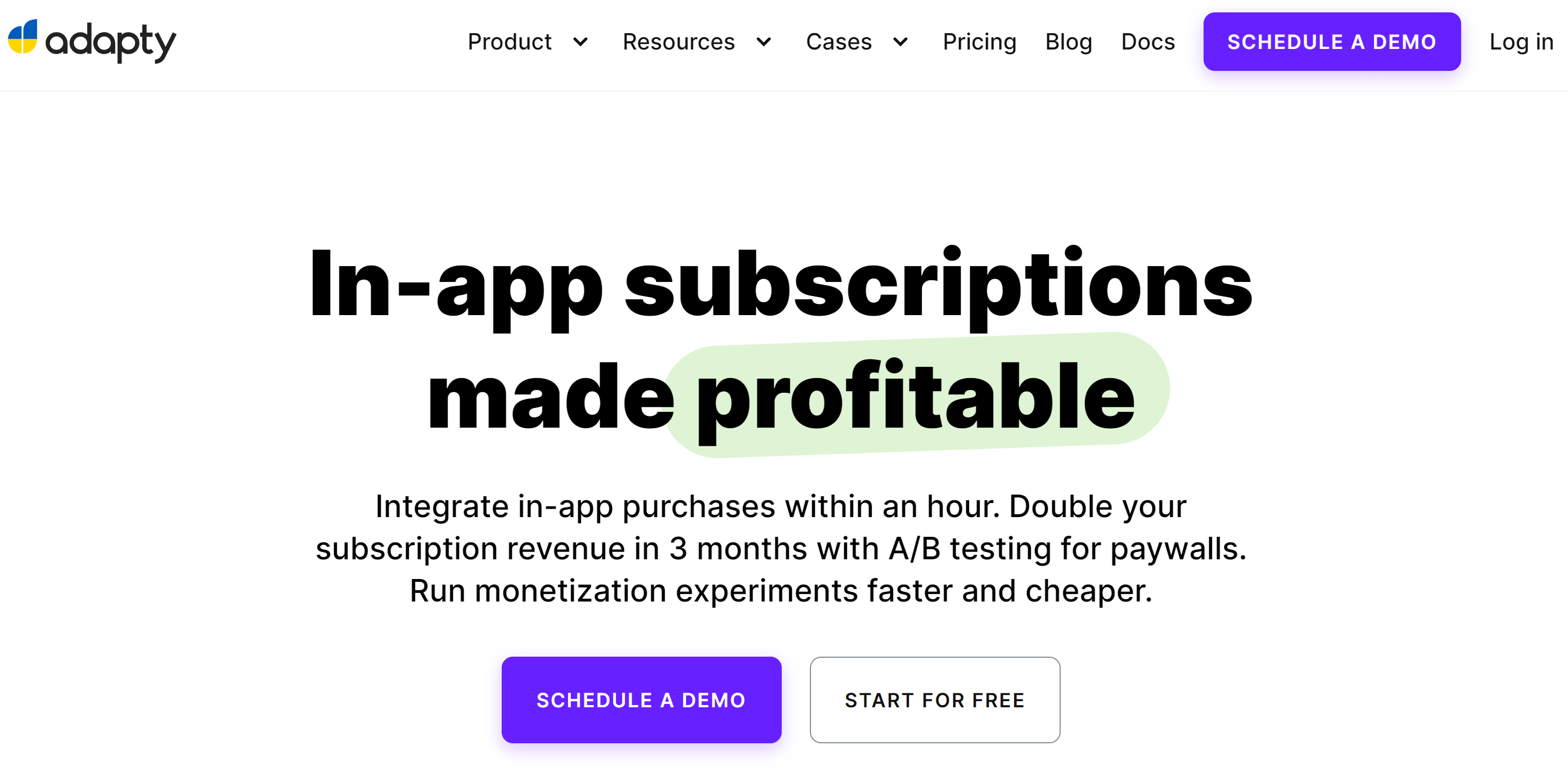 Source: Adapty
Afford higher-quality content
The majority of content online is free, but a paywall indicates the app has higher-quality content and tells app users that you offer something above the standard. The content behind a paywall takes time and research to create, and people rightfully expect a level of professionalism and depth that you wouldn't find in free content.
Improve the user experience
Paywalls can eliminate the need for ads altogether. Most app developers monetize content by placing intrusive ads and popups. With a paywall, you can offer your users that same content without interruption and, in the best-case scenario, a win for everyone.
How do paywalls work?
Paywalls provide app developers with a way to generate revenue from their content. Some paywalls offer a certain number of free articles before requiring payment, for example, while others require payment upfront for any access at all.
We've listed the key paywall examples for you below.
Paywall service example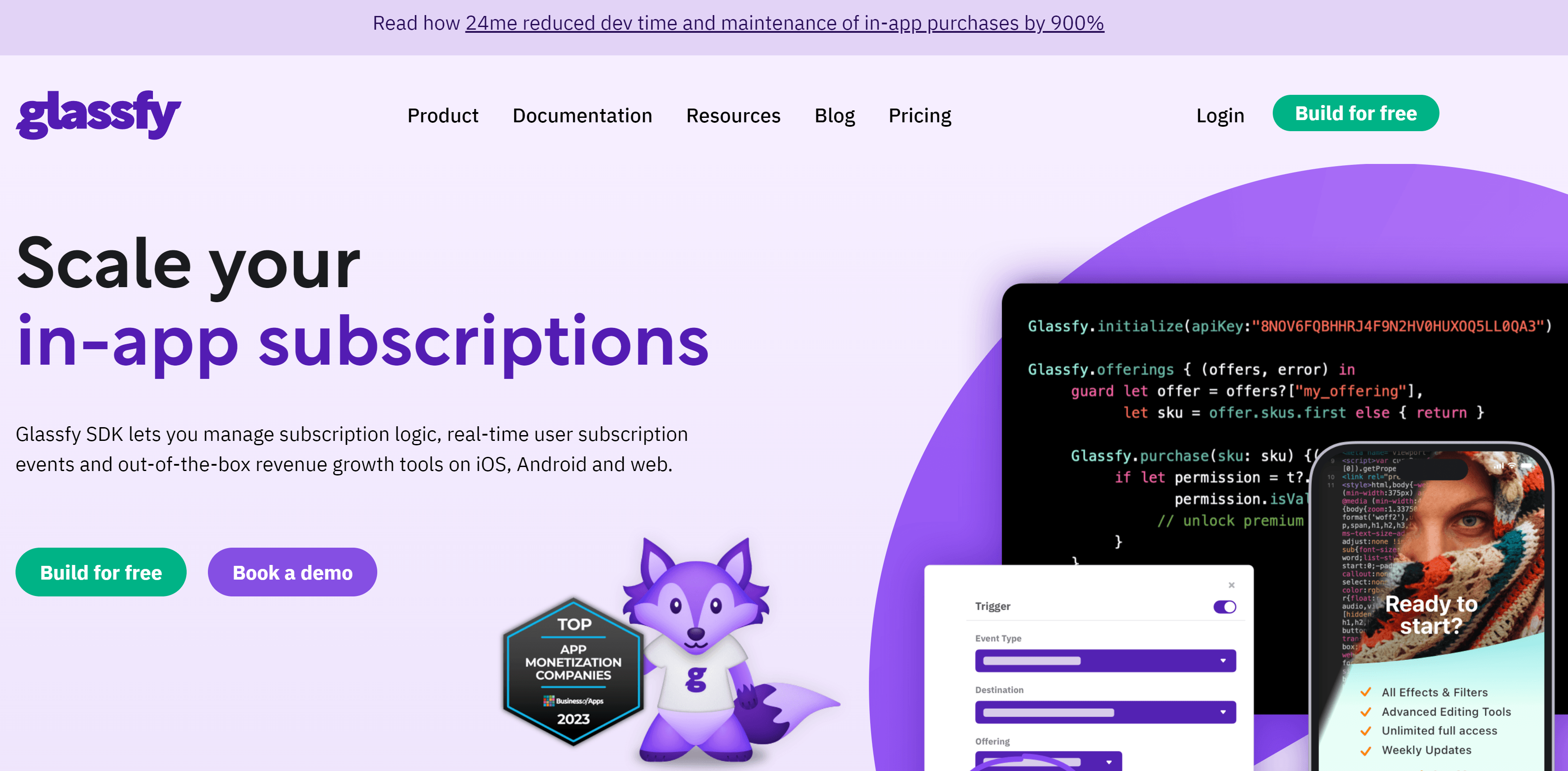 Source: Glassfy
Standard non-scrollable paywall–The standard non-scrollable paywall is a type of paywall that requires payment upfront for any access to the content. All the key information is provided on the paywall immediately.
Landing page paywall–This is where you use a long-form format instead of a single page–think of it like a mobile landing page.
Personalized mobile app paywall–The personalized app paywall is where you pick your most popular user segments and design the paywalls customized for them.
Modal paywall—This is where mobile app paywalls appear as modals or popups, and to proceed, users need to either continue with a purchase on the popup or close it.
Single plan paywall–This is where the app is only available in a single plan. You bill weekly, monthly, or yearly.
Multiplan paywall–This can include offering everything from two to five subscription options for your app.
Donation paywall–This is where an app developer can ask for voluntary contributions. When the user chooses to pay, they're presented with the app's subscription plans.
Whichever format of paywall you use for your app, be sure to think about the user experience first and foremost.
How should I choose the top paywall services?
When it comes to choosing the top paywall services for your app, there are a few key factors you should consider before diving in. We've listed them below for you.
Type of content
You'll need to think about the type of content you want to monetize and what kind of paywall would work best for it.
Monetizing the wrong type of content with the wrong paywall can lead to users leaving your app altogether, so think carefully about this.
Paywall service example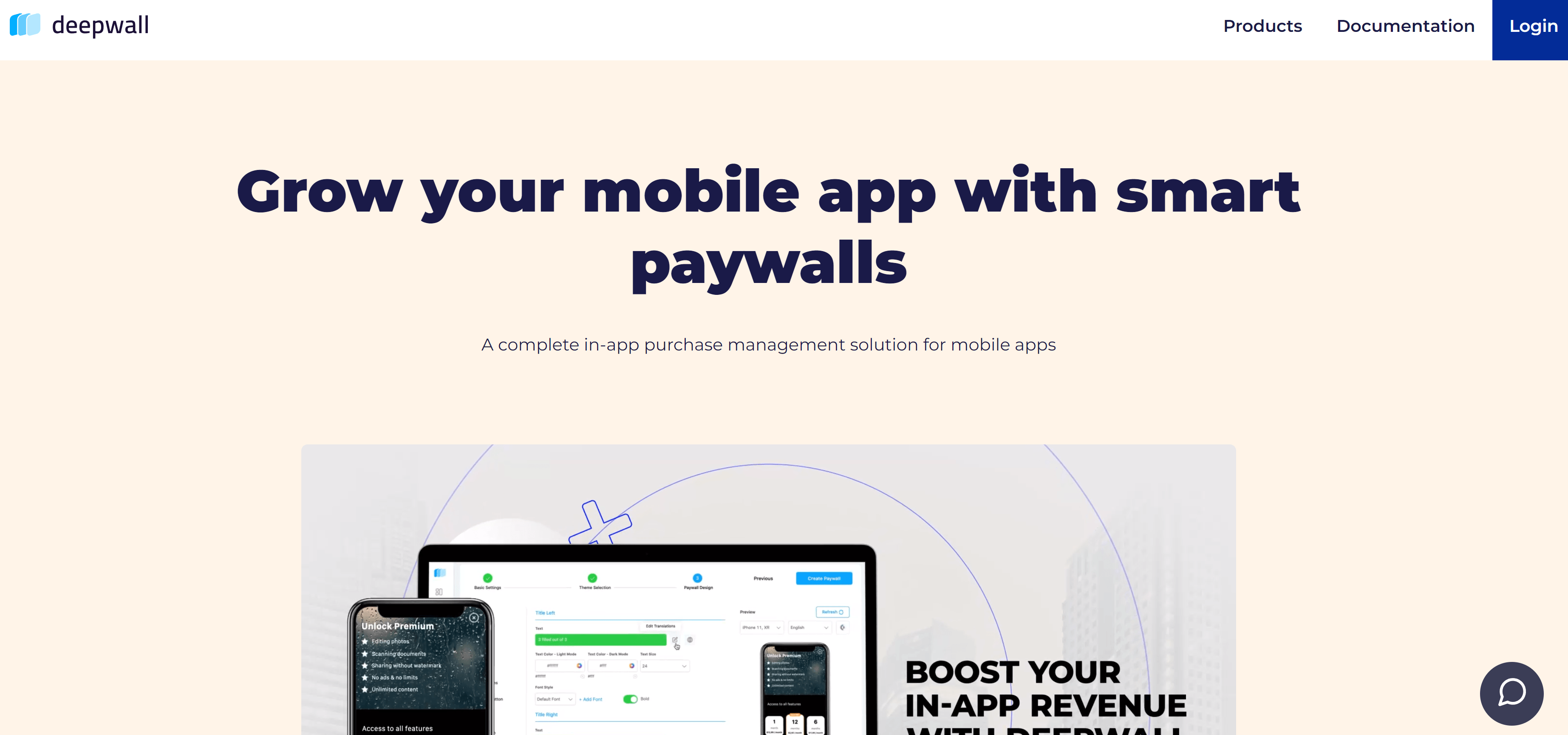 Source: Deepwall
Ease of use
You'll want to look for paywall software that's easy to use and intuitive. For example, are you able to change the flow, look, and price of your in-app purchases without having to push a new update for your app?
Be sure to also think about how the software can integrate with your existing systems to make the entire process smoother.
Pricing and subscription options
It's important to consider the pricing and subscription options available by different paywall services. Does the paywall service, for instance, include detailed analytics or reporting features that can track users as part of the package?
What subscription models are available that you can easily implement into your app?
Ultimately, the best paywall service for your mobile app will depend on your specific needs and goals as a content creator.
Key paywall features
When considering paywall services for your app, there are several key features to look out for.
By keeping these key features in mind, you can choose a paywall service that meets your precise needs and helps you monetize your content more effectively.
Campaign tracking
It's important to look for a paywall that offers analytics and reporting features, so you can track your revenue and understand how your content is performing.
The best paywall software includes advanced campaign tracking that will allow you to do the following:
Track purchases
View revenue calculation
See subscription renewal analysis
Track which users canceled their trials
View canceled subscriptions
Details of any refunds
View the highest-converting countries
Paywall service example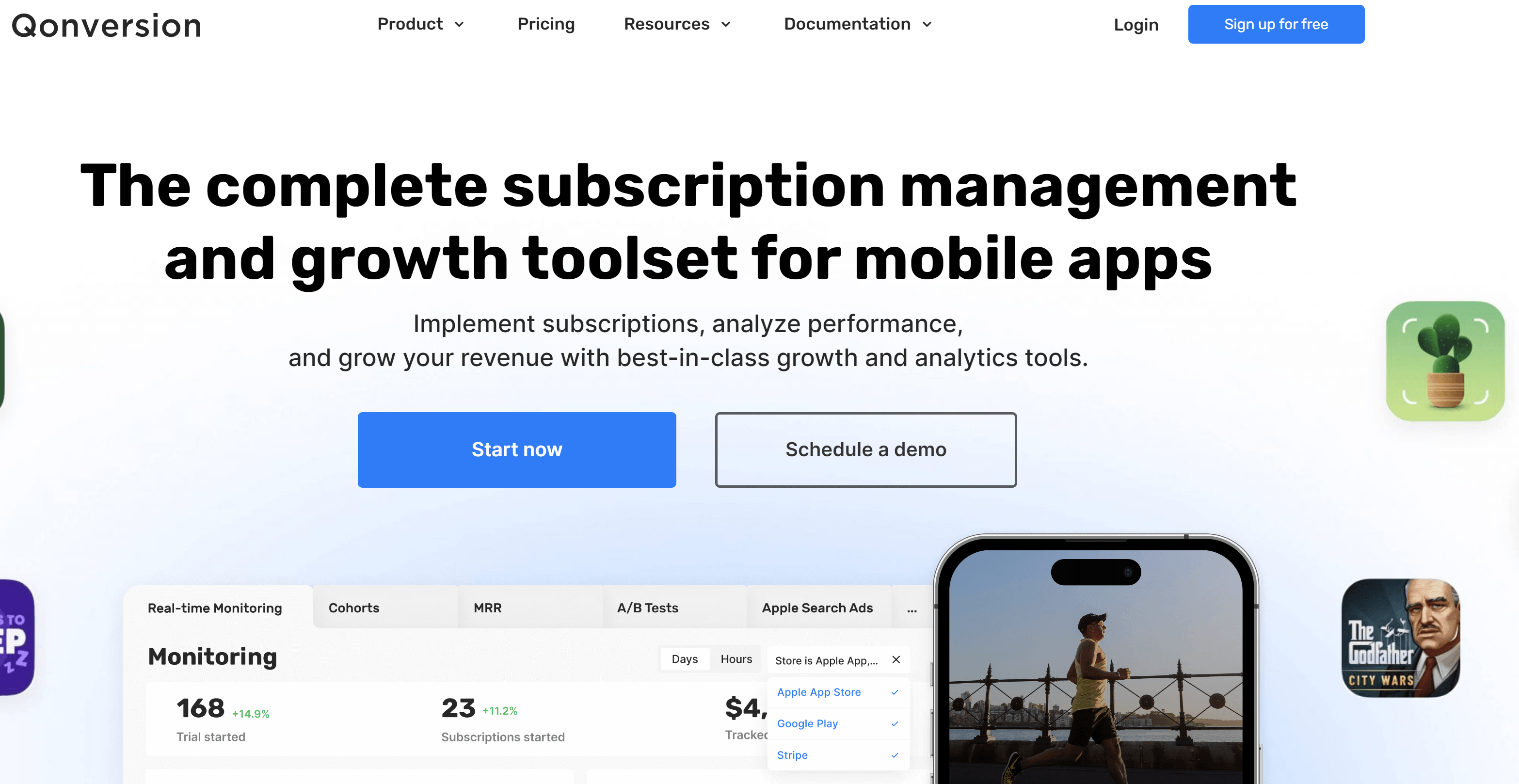 Source: Qonversion
Customizations 
You'll want to ensure that the paywall is highly customizable and allows you to set your own pricing and subscription options with relative ease.
It's worth looking for a paywall service for your app that offers themes out of the box–these allow you to instantly perform some tests without the need for additional code.
Additional revenue opportunities 
The best paywall software enables standard subscription revenue and additionally gives you other options such as member-level access, pay-per-article, group and corporate subscriptions, and paid newsletter functionality.
These additional revenue opportunities allow you to significantly increase your monthly and yearly revenue, so be sure to look out for them.
Work with top paywall software
Paywall services restrict access to specific content in your app and typically require users to pay a fee or subscribe in order to view the content.
They come in various forms, such as hard paywalls that require payment before any content is accessible or soft paywalls that allow users to access a limited amount of content before requiring payment for additional access.
Some paywall software allows app developers to customize their subscription plans and integrate with existing payment systems, as well as make use of analytics to track user behavior and revenue.
Ultimately, using these services allows you to generate revenue, boost your app's credibility, and can improve the overall user experience.
List of paywall platforms and services