The most successful apps in the world – those that not only have the highest MAUs and retention, but also the highest revenue – are doing something right.
To uncover their strategy, AdColony surveyed more than 100 top-grossing global app developers, asking probing questions about their monetization and user experience (UX) strategies and results. Mobile publishers included gaming and non-gaming app developers and averaged at least 3MM monthly average users.
Here's what we found:
Video ads and in-app purchases (IAP) are the pillars of monetization
Among all of the many monetization options, including paid app downloads, native ads and subscriptions, it's clear that video ads and IAP are the most popular methods to earn revenue, with 89% and 68% of publishers using them respectively. Video clearly trumps display, with nearly 3X the adoption. And despite new game subscription services like Google Play Pass and Apple Arcade, revenue from subscriptions is rock bottom, with only 2% stating they use that model.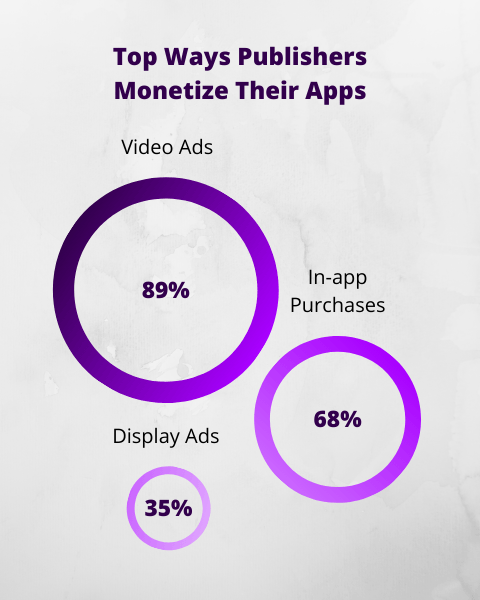 But advertising overall is driving 63% of revenue
They might be popular, but in-app purchases only account for 18% of revenue on average. The vast majority is driven by advertising. The combination of video (35%), display (21%) and native (7%) far outweighs any other monetization method, including subscriptions, paid downloads, affiliate programs and e-commerce.
What's more, both gaming (63%) and non-gaming (66%) apps are similar in the share of average revenue from advertising. The difference is primarily that gaming apps benefit more from video ads, while display is more prominent for others. Both are making comebacks and inroads in the other though; hypercasual games, the big growth category from 2019, features many banner ads, and more non-gaming apps are integrating solutions that include video.
And revenue from advertising is on an upward trend…
Since the previous version of the AdColony Mobile Publishing Survey, the total revenue from advertising has risen eight percentage points.
As is excitement about rewarded video, for revenue and UX reasons
Video ads are what publishers are "most excited" about, with 51% choosing that format. More specifically, publishers are excited about interstitial video, interstitial display and playable ads. Rewarded video, however, got this highest average ratings (4.6) for efficacy, and the highest rating for its positive impact on user experience.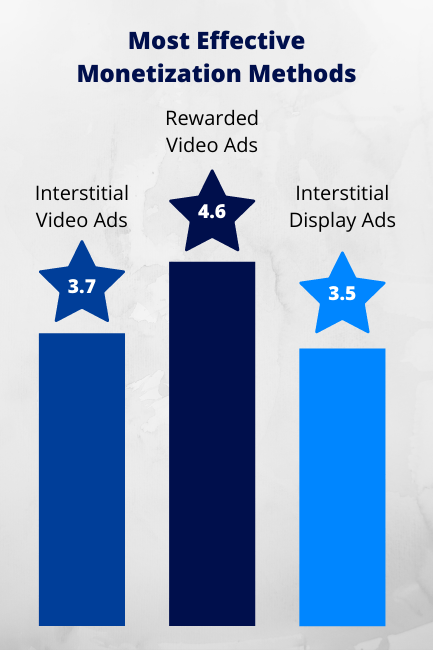 Mobile publishers are embracing programmatic in 2020
Most app developers (59%) are monetizing their apps through direct ad network relationships, or through multiple networks via mediation partners. By the end of the year, more than 60% of publishers will have incorporated programmatic solutions into their monetization strategy. More than 4 in 10 already use it, and 2 in 10 are planning on it. And, 14% of publishers are in the planning stages of their programmatic strategies.
You can download the full study here.
About the AdColony Mobile Publishing Survey
The AdColony Mobile Publishing Survey is the first of its kind provides insights, benchmarks, and trends from the world's top-grossing app developers.