Fyber is a leading mobile advertising technology company with headquarters in Berlin. The mobile ad network by Fyber supports a broad range of parties – app developers, advertisers and agencies, other ad networks and DSPs.  It combines proprietary technologies and expertise in mediation, ad server, RTB, video and audience segmentation to create holistic solutions that shape the future of the app economy. It providers advertisers with programmatic ad formats that are IAB-standard compliant (Open RTB 2.3, HTML5, VAST). With Fyber app developers can run video, interstitial, engagement and install campaigns.
Fyber recently fully merged its three previous acquisitions: Heyzap, Inneractive and Fyber RTB (formerly, Falk Realtime), and is now operating under one single brand. It is publicly traded on the Frankfurt Stock Exchange under the symbol FBEN.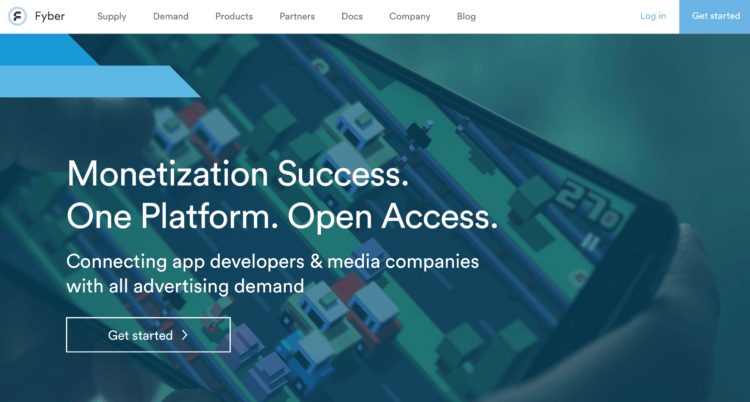 Key Features
App developers can maximize their revenue
Direct access to over 180 DSPs
Drive installs and boost your userbase
Over 7,500 direct integrations with mobile app developers
Fyber is integrated with key attribution partners
Ad formats include: rewarded video, interstitial, offer wall, banners
Connect with global brands
Increase retention and sell inventory
Real-time reporting that hits KPIs
API data from each network
Fyber Jobs and Careers
Fyber lists available jobs and positions here with openings in their offices in Berlin and New York, across roles in Developer Relations, Operations, Solution Engineering, Client Services, Engineering, Finance and Legal, Sales and Business Intelligence.
You can find employee reviews of Fyber on the company's Glassdoor profile here.
For Publishers
With Fyber, publishers can maximize their monetization with high quality ads from global brands. Advertising partners connect with publishers via programmatic and managed campaigns.
The following ad formats are available with Fyber:
Rewarded video
Offer wall
Banners
Interstitial
With Fyber Ad Serving publishers can increase their retention and sell inventory directly. They are able to run multiple campaigns across direct, programmatic, and mediated networks to drive maximum revenue. They can also cross-promote other apps from their portfolio to users to increase lifetime value beyond a single app.
Access to analytics and reporting allows publishers to discover ad monetization opportunities as well as break down data by app, country, ad format and more. User segmentation tools help publishers categorize audience based on app usage, behavior, and demographic data.
For Advertisers
The publishers network that Fyber offers provides advertisers with integrated possibilities for audience engagement. Fyber offers the following types of advertising campaigns:
User Acquisition
Interstitial
Performance
Video
Advertisers are able to choose what region they desire, as well as being able to manage the age and gender of the targeted users. Account managers can also help advertisers with their campaigns, from planning and testing, to optimizing.
Team
Andreas Bodczek 
Andreas Bodczek is the Co-Founder and Chief Executive Officer of Fyber. He is a passionate entrepreneur with a proven track record of managing high-growth businesses.
Office Locations
HEADQUARTERS
785 Market St. Suite 1200
San Francisco, CA 94103
USA
Johannisstraße 20
10117 Berlin
Germany
Sorry, we don't have these details yet. If you are a Fyber representative, please get in touch to add additional information and contact options to your profile.