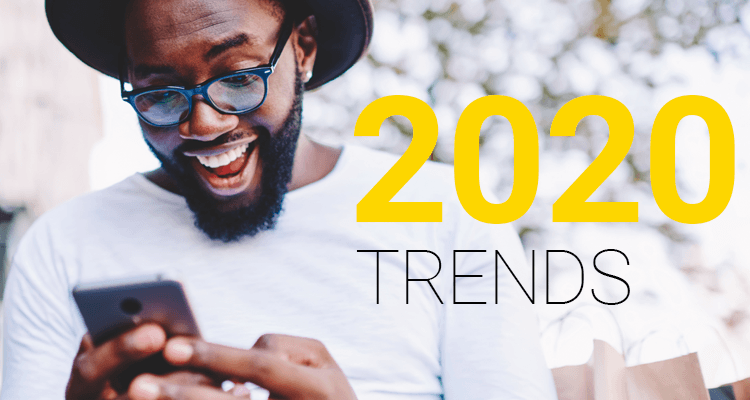 2019 has certainly been a year of uncertainties, but our industry has a lot to celebrate: more widespread adoption of in-app programmatic by the major publishers, efforts to improve campaign measurement and a more diverse set of sellers, to name but three. These are all signs that we're gunning for the big time, and especially gunning for revenue from the big brands. Of course as any industry grows, it also morphs: essential pivots due to regulations and new business models are just examples of the challenges we, along with most growth industries, have to face. Fyber president Offer Yehudai gives an insight into what these will lead to in the 12 months to come…
Trend 1: In-App Programmatic Buying Reaches the Masses
In 2019, programmatic became a commonplace component from a technology standpoint by the major publishers – some offerings are more advanced than others, but you can start to see it becoming commoditised. So, while publisher adoption hasn't exploded like we'd want this year, this broader support by all major platforms means publishers are more likely to adopt programmatic during their next launches or updates in 2020.

Then on the other side, ad network adoption of programmatic has historically been very slow. Ad networks are now bidding – but they are only bidding into their own platform. However, that limits their ability to scale their ad network, and so there will be increasing pressure to start buying across competing platforms in order to achieve the growth they need.
Trend 2: Bringing Desktop Advertising Benchmarks Into The App Space
Measurement remains one of the biggest barriers for brands for advertising in-app – especially those big brands that are critical to success. Creating a level playing field for this has often been a holy grail – the lack thereof isn't helping the perception of the app market as niche. However, a key collaboration under the IAB umbrella might help bring brands in-app a little bit faster. Called Open Measurement, this should allow web-style measurement in-app, thereby giving some uniformity between the two mediums, and hopefully enticing big brands in. While it started in 2017, it's just starting to reach maturity – and given it tends to take 18 months for education processes to seep through, we're likely to only see whispers of this happening in 2020. So while this isn't solely being driven by the app market, the aim to make it as seamless as possible to measure a campaign across multiple environments should be an exciting catalyst as we progress into 2020 and beyond.
Trend 3: Increased Diversification in Buying Channels to Aid User Acquisition
User acquisition is the number 1 spend for app publishers, the challenge is to get the best ROI from traditional means such as Google and Facebook, but also diversify buying channels to reach new audiences. To unpack this somewhat: we know that Google and Facebook provide scale and data advantage – and can act as a black box: put in your budget, let it do its work and you see the results. Using other channels is more complex and needs more attention and a larger budget, and as we see inventory being increasingly traded programmatically, publishers need to consider how they can best access this programmatic inventory.
Ad networks are not yet fully adopting programmatic, so there are options like Liftoff, Moloco and CrossInstall, and as they get better and better access to inventory, they offer app publishers an intriguing new set of channels to buy from.
Trend 4: Gaming Subscription Services – the Fallout
Of course, the advent of subscription services is a big move. But as it's in its nascency, the extent of the impact this will have is relatively unknown: with in-app purchases at just 2-4% of users, even with some enticing exclusive titles (mostly on Apple), how many will pay a monthly fee and what will that pickup in subs do to the marketplace? When it comes to the hardcore fans, while a subscription can provide a huge saving, some enjoy the combination of both playing to win, but also sometimes the thrill of paying to beat opponents; some may not want to lose that part of the experience. For developers, deciding on the best financial model for each of their games has become even more complex: to join in the subs model, Google offers engagement-based compensation and Apple a flat fee, the latter potentially hugely slashing revenue should the game become popular. So: lots of uncertainty but lots will become clear in 2020.
Trend 5: Increasing Privacy Regulation
The increase in global privacy regulations is more than just an adtech trend – it's a fact affecting our whole app publishing ecosystem. For example, EU's GDPR regulation wasn't just one-off kerfuffle for 2018, but a sign of things to come; and due (at least in part) to a low level of education around requirements, a huge human and legal resource was needed to follow the letter of the law. As even the largest app publishers keep headcount relatively low, access to legal counsel can be rare or expensive, and so it can be easy to miss new regulations and so slip into non-compliance. Big buyers and DSPs won't buy from you if you don't comply, you can miss out on revenue (and sometimes not even be aware of why), so the impact can be significant. It's worth noting this includes traders outside the EU, trading in.
So what does this regulatory pressure mean for 2020? Many regulations target Google, Facebook, and Amazon, and so indirectly forces them to change their app store policies without fully declaring why. Then if, for example, these changes force a publisher to know the age of users such as the young, the lack of internal resource in governing regulation may mean they have to cut that age group out of the app entirely. This can result in the loss of huge swathes of ad revenue from brands that wanted to target that demographic.