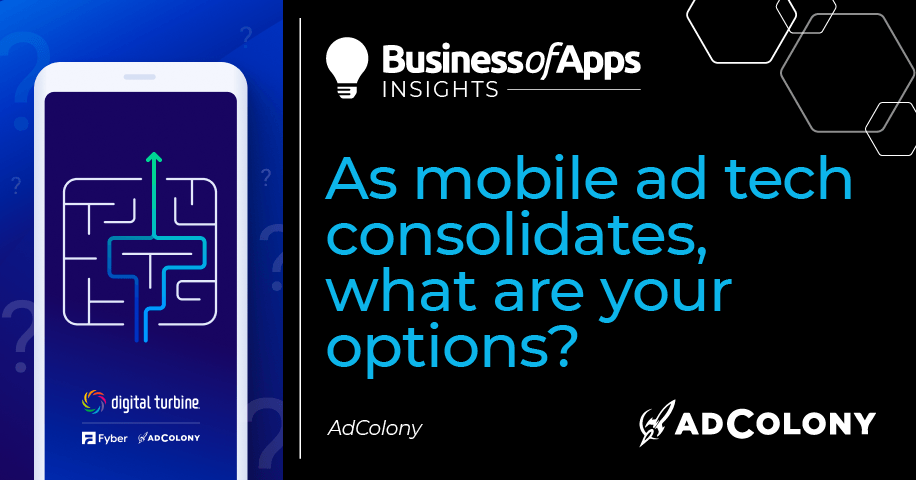 Mobile app monetization is changing fast in three ways: the nature of mediation, importance of data, and consolidation of demand. Mediation, for instance, was built for managing a waterfall and different SDKs – but now waterfalls are going away because of the adoption of SDK bidding. Here are what I believe are the most important considerations that mobile app developers and publishers must take into account as they make decisions about how to manage their data, users/customers, and overall monetization.
The Power of Aggregated Data
The number of top ad networks fell by a third last year, according to Singular's 2022 ROI Index, thanks to the 90 (!) major ad tech M&A deals that happened in 2021. These mergers allow companies to aggregate more first-party data, which is now extremely important as publishers figure out their mediation strategy.
Having strong first-party data and working with platforms that can leverage your data in standardized, scalable ways results in a more meaningful way to drive revenue, earning more ad spend from brands. With a privacy-compliant way to gain a stronger understanding of their audience, app publishers can generate deeper insights into their users, improving targeting and ultimately resulting in higher performance for brands – and therefore more value.
Additionally, there is the unique value-add of data enrichment that the platform provides. An example of this is carrier-provided data, which can help you close the loop for users on your app vs. users on devices. The UA-mediation flywheel is also becoming more important, as a potential opportunity to leverage data from mediation activities to feed your UA strategy.
What About IDFA?
Yes, Apple's big privacy moves last year threw everyone for a loop, and one of the reasons first-party data became so valuable was this ominous threat of fewer users being identified, thus reducing access and enablement of targeting. But our industry is innovative and the lack of one method simply means others will spring up. Without the presence of that one signal (IDFA) to find the audience, mediation platforms had to evolve their algorithms to start taking into account other contextual signals and triangulate on what will perform well. That is, what is happening with the user that can help the buy side make sense of who they are actually looking for? What we've seen is that algorithms are already starting to get stronger and filling in those gaps. Audience targeting isn't going away, but algorithms are getting so good that they can compensate through what we could broadly term contextual signals.
A Return To (Brand) Performance KPIs
Most, if not all, campaigns drive toward some performance-based KPI, even for brands. UA advertisers have the install as their conversion metric, and yes, they have had to (and will continue to have to) adapt to Apple's attribution system, SKAdNetwork (SKAN). Publishers with access to demand from brands, however, have other ways of measuring success; a click, another kind of CPA, a conversion event like registrations and purchases.
As mobile becomes more of a tool for e-commerce, for instance, and users can buy products from within the ad itself, we're going to see not only more purchases (through the removal of friction and third-party players) but also more clear attribution. As audience targeting gets more complicated to do cleanly for advertisers, they will embrace contextual methods and every campaign will put more importance on a performance KPI. The doors are now open to more direct ways of reflecting the value of your audiences to brand buyers and user acquisition marketers alike.
What's Next in Mediation
Mediation is so critical to monetization in that it defines the ads shown to users and the revenue earned that most publishers know that if they simply go to their vendors and give them their wishlists, they should be able to get what they want. Today, app publishers can customize things that are typically standard and closely align with their partner to meet their outcomes in a personalized way.
But what kind of partner should you look for? At the risk of sounding trite, you need a thought partner: a business team that has experts embedded across all areas: mediation, programmatic, on-device, data and user acquisition. There is huge currency in knowledge within such a competitive space, to execute seamlessly and create the highest yield.
Another key item to consider as you are awash with choice is to pick a partner who is obsessed with the same metrics that you care about. For example, who knows how to balance the nuances of user experience as you introduce new placements into your app. A partner that plays by the same rules as you will soon start to feel like simply an extension of your own business – and that's a good thing.