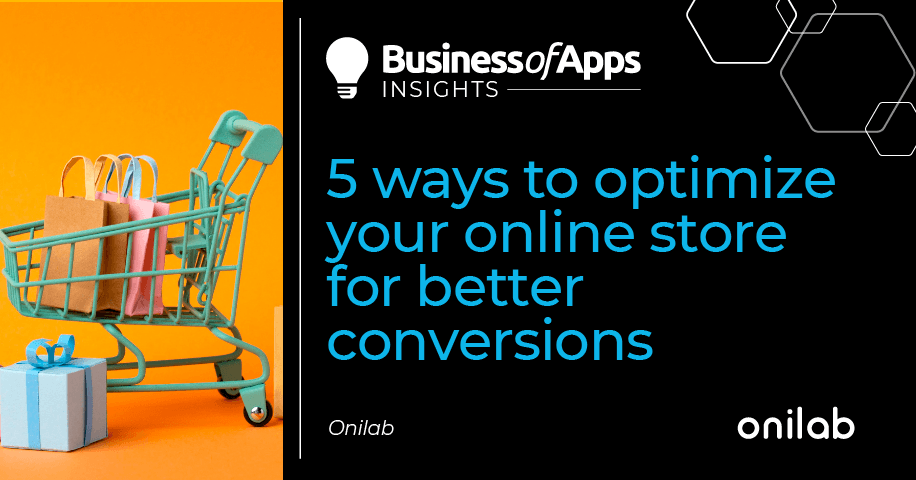 So, you're thinking about what to sell in your online store, how to develop a website, run ads: in short, putting a lot of effort into business growth.
But does that really help turn the traffic into sales?
Spoiler alert – NO.
In the highly competitive eCommerce world and with the high expectations of today's customers, it's hard to grow your business because conversions won't come unless you optimize the store.
No matter what methods you use to bring people to your online store (content marketing, advertising, etc.), every visitor who leaves without placing an order is a missed opportunity. That's why it's essential to use conversion rate optimization (CRO) techniques to increase sales and, therefore, profits.
In this article, I'll introduce you to five effective methods that will help optimize the online store, so the number of conversions steadily increases. And to show how they work in practice, there will be some successful examples from different online stores.
Conversion in eCommerce: What is it?
If we're talking about online stores, a conversion is when a user performs the action you want on the site. These include:
Placing an order;
Adding items to cart or wishlist;
Subscribing to the newsletter;
Filling out an online form, etc.
In other words, the conversion rate in eCommerce is a KPI metric that shows the percentage of website visitors who become customers in a certain period.
If every 2 out of 100 people visiting your store took the desired action, then the conversion rate is 2%.

What kind of conversion is considered good?
Conversion rate depends on many factors, including the specialization of the online store. You can see the average CR by different eCommerce stores' categories in the screenshot below.
Of course, these are just average values. Every business is different, so the conversion rate varies anyway. But there is no limit to perfection, which means you can continuously improve the CR.
Online shopping conversion rate in selected verticals worldwide in 2021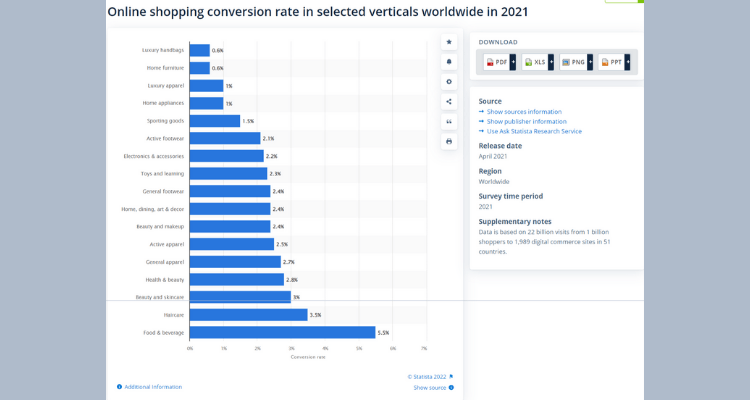 Source: Statista
Of course, these are just average values. Every business is different, so the conversion rate varies anyway. But there is no limit to perfection, which means you can continuously improve the CR.
How do you do it?
First, measure your current conversion rate and set a near-term achievable goal. For example, if the current value is 2,1%, set a goal to reach 2,4% within two months.
Next, choose the tools and tactics with which you plan to increase conversions. Below we will discuss some of them.
5 techniques to increase conversions in your online store
1. Website speed optimization
Optimizing an online store's loading speed helps to enhance usability. This will reduce the bounce rate and positively affect the number of conversions.
It is worth keeping in mind that CR will decrease if the site's loading speed is low. So it is essential to optimize this indicator. To begin with, check how fast your online store is loading. If the speed is low, you should fix the problem.
The screenshot below shows an example of the Ikea website load speed check.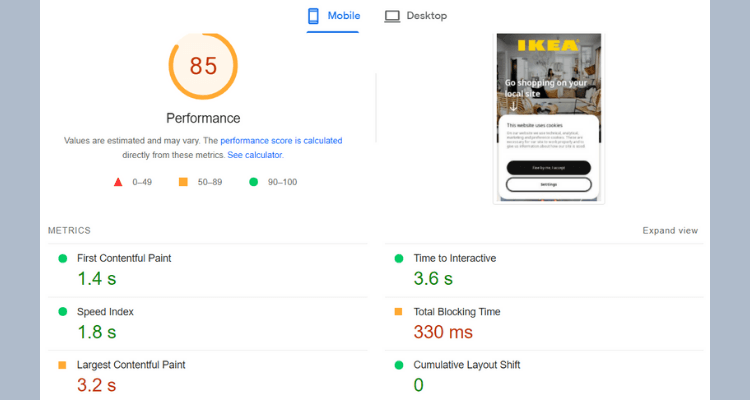 Source: PageSpeed Insights
How do you optimize the process of loading the site?
Start by compressing the pictures.
Use a cache to store a version of your site that can be downloaded on demand.
Consider creating a more advanced and optimized solution, such as headless commerce (study this guide on the headless commerce architecture for more information) or a progressive web app.
2. User-friendly design and functionality
Make sure that the design of your site is both attractive and user-friendly. A high level of usability means it will be faster and easier for customers to find what they want and place an order. This leads to sales increase and a decrease in the number of orders abandoned in carts.
The fact is many potential customers leave the site without purchasing because of the site's confusing functionality or errors in its operation.
For example, be sure to optimize the search bar because over 30% of visitors to online stores use this function. And the more convenient the search function, the higher the probability that the customer will find the right item and place an order.
Let's look at the search function on the Fossil brand site. As you can see in the screenshot below, you can open a brief description of products in the search results without switching to their pages.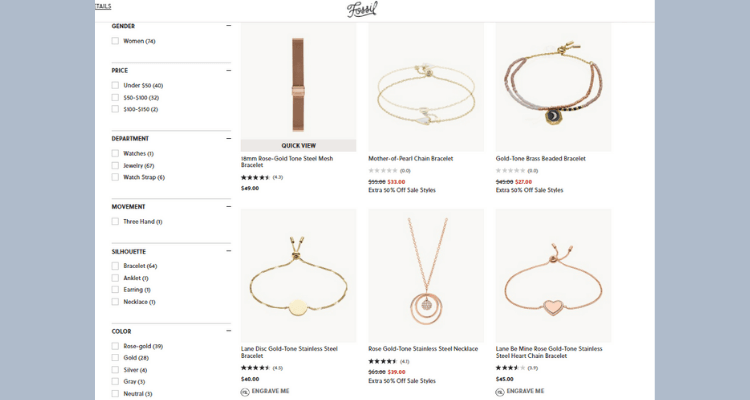 Source: Fossil
Products can also be sorted for the user's convenience using several filters:
Gender;
Department;
Movement;
Silhouette;
Color;
Case color;
Material;
Pick up in-store.
3. Website optimization for mobile devices
As you can see in the screenshot below, in 2020, 71% of global retail traffic came from mobile devices. They also generated 57% of revenue.
Traffic and revenue by device
Source: Wolfgang Digital
What does this mean for online store owners? That it is necessary to optimize eCommerce sites for use on different devices and go mobile-first. This is the only way to reach the maximum number of customers.
Therefore, be sure to check whether your site is displayed perfectly on both PCs and smartphones and ensure all its functions work correctly. Failure to optimize for different devices will result in fewer conversions.
4. High-quality photos and videos in item descriptions
Don't forget to add quality photos to product descriptions and post useful videos. This will make it easier for your customers to find exactly what they're looking for. Therefore the likelihood of purchase will get higher.
How exactly can you improve item descriptions?
Provide interactivity for browsing product photos. For example, allow users to zoom in and use 360° pictures.
Photos of products should be placed on the page to draw the attention of potential customers to them.
Use high-quality photos.
Photos should efficiently and in detail show the product from all perspectives.
Be sure to take advantage of videos. Videos are the best and most vivid way to demonstrate all the benefits of products. If you haven't put videos in product descriptions yet, definitely do it, and soon the CR will increase.
Take a look at the product card from BioLite's online store. In addition to the many quality photos that positively show the product, the page also has videos. All this makes it easier for the buyer to make a choice.
The only thing is that the seller could also add the function allowing visitors to view the photos interactively.
Source: BioLite
5. Reminder letters about items left in the cart
All online store owners are familiar with when customers abandon items in the cart without paying for them. To reduce the cart abandonment rate, it's a good idea to send emails reminding customers that they forgot to check out.
Reminder emails can be sent to users who have added items to the cart, entered their contact information, including email, and left the site. Don't pass up an opportunity to get more income: send follow-up emails to such clients.
A great idea would be to offer a coupon for a discount on an order, free shipping, or other bonuses.
As an example of an email about abandoned items in the cart, here's an email from the Dyson brand. It says that you can only place an order on promotional terms for a limited time. The call to action button, placed twice in the email, suggests visiting the site and completing the order.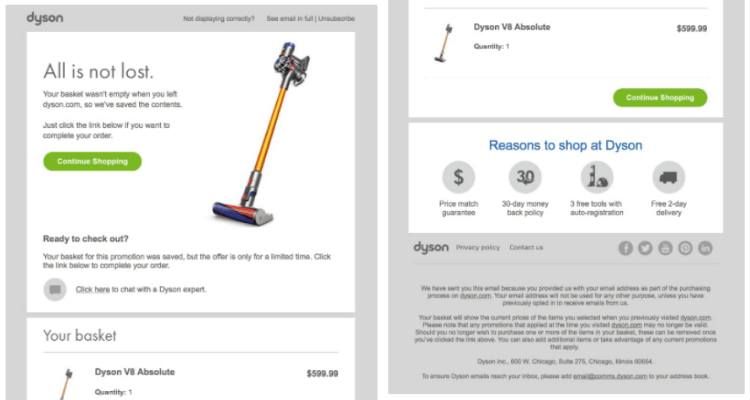 Source: HubSpot
Final word
Developing an online store in a highly competitive market is a complex task. So what aspects should you focus on?
The main thing to keep in mind is personalizing the shopping experience and improving your website by making it more user-friendly. Then the conversion rate will steadily increase.
We hope this article will inspire you to optimize the online store to get even more conversions as a business owner. After all, optimization is the secret to the success of your business as a whole. So make the most of this opportunity!