Estimating mobile game marketing costs involves a thorough review of many factors. Because revenue comes in via app installs and in-game activity, successful mobile game marketing plans should include CPI, CPM, and costs from in-game purchases and in-game advertising.
To help you understand more about mobile game marketing, this research guide outlines the many factors that can influence gaming cost. It details research and data on aspects such as average CPI, market trends, and potential marketing channels. With a better sense of the average mobile game development cost, you'll be better able to drive high ROI from mobile games and lower your mobile game advertising cost.
Mobile gamers spent $110bn on app store games in 2022. And global revenues are eclipsing that of traditional gaming formats. By reading this guide, you'll stay up to date on the latest research, statistics, and data, and understand more about how much mobile gaming app marketing costs.
Key data points
Mobile gaming is the biggest app vertical at 90bn global downloads.
Revenue from mobile gaming makes up over 50% of total global gaming revenue.
In-game advertising revenues may reach $32.5bn in 2023 (Statista).
Android game app installs experienced a growth rate of 7.9% in 2022 whereas iOS installs dropped to -5% (Statista).
In-app purchases account for almost 50% of all mobile app earnings.
iOS users are more willing to spend on in-app purchases than Android users (Liftoff).
The market size of mobile gaming will grow from a current value of USD 141.71bn in 2023 to USD 300.47bn by 2028 (GlobeNewswire).
Over 70% of mobile gamers are happy to see ads in gameplay (IronSource).
The top gaming genre for ad spending was Match games which accounted for almost 20% of total gaming spend (AppsFlyer).
The average cost of building a gaming app ranges from $20,000 to $200,000.
Bigger revenue-generating AAA games may now cost around $1bn to develop (Xfire).
The average global CPI for casual gaming apps is 0.98 USD (Statista).
Strategy games have the highest CPM of all categories at $21.58 (SocialPeta).
Mobile game marketing definition
Mobile game marketing is an app user acquisition technique. It targets high rates of mobile game app installs and drives revenue from in-game activity. It's a specific marketing strategy to help increase gaming app market share via game app installs, in-game purchases, and in-game advertising.
Mobile gaming first emerged as an engagement technique with Nokia's 'Snake' in the 1990s. Then–with the arrival of smartphones–games like Angry Birds expanded the market potential. Today, mobile gaming is the biggest app vertical with 90bn global downloads last year for titles such as Candy Crush Saga, Honor of Kings, and Royal Match.
Mobile games have also become an important consideration when planning how to market your video game. Since they now offer a comparable user experience to traditional video game formats, mobile gaming revenue has surpassed that of PC and console and now makes up over 50% of total global gaming revenue.
The growth of mobile gaming is also reflected in increasing levels of investment. Studies suggest total global spending on mobile gaming advertising will grow from around $40bn in 2021 to $130.8bn by 2025.
Mobile gaming advertising spending worldwide from 2020 to 2025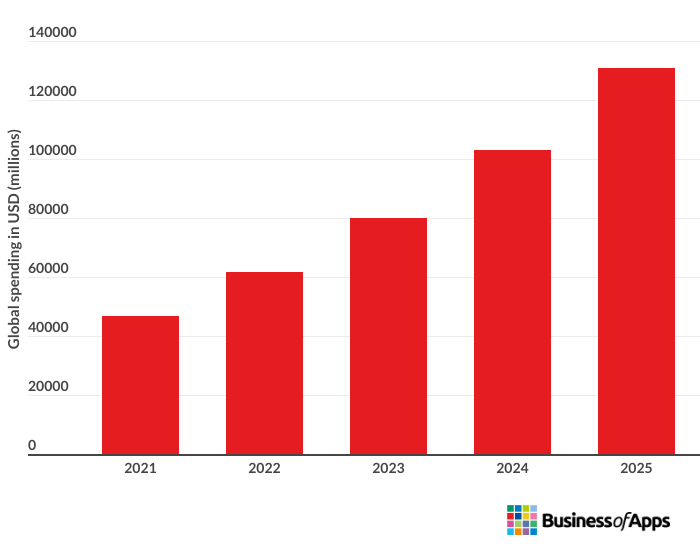 Source: Statista
Mobile game marketing channels
Mobile game marketing includes traditional UA channels such as Paid and Organic advertising. But it also includes organic techniques like affiliate partnerships with gaming influencers, building communities, Apple Store Search Ads, and App Store Optimization.
Marketers should focus on CPI and CPM metrics when planning how to calculate a mobile game development cost. But there are other ways to generate strong ROI from mobile game marketing too like In-App Advertising (IAA) and In-App Purchases (IAP) aka in-game advertising and in-game purchases. Both approaches are vital app monetization strategies when it comes to planning a gaming cost. And they often result in huge additional revenues, like Genshin Impact which generated over $25bn in a single year.
IAA reflects the level of revenue generated from in-game advertising space. And IAPs can facilitate extra revenue from activities that enhance playability and engagement like in-app paywalls and offerwall ads.
In-Game Advertising Revenue 2023 – 2027
Source: Statista
According to recent research by Statista, in-game advertising revenues may reach $32.5bn in 2023. Plus, forecasts suggest how total in-game advertising revenue will show an annual CAGR of 9.10% between 2023-2027 and reach a market value of $46.06bn by 2027.
Mobile game marketing in the app stores
Recent economic downturns have led to lower growth for iOS and Android in 2022. Despite this, game app makers still spent a total of $27 billion on gaming app advertising.
In terms of the impact that had on installs, Android game app installs experienced a growth rate of 7.9% whereas iOS installs dropped to -5%. And this lowered growth rate for Apple is a reflection of consumers' attitudes towards the introduction of Apple's privacy arrangements. The 'State of Gaming 2023' report by AppsFlyer also revealed how the US market experienced the largest increase in app installs for Android at 19% compared with a 1% drop for iOS installs.
Year-on-year % change in overall gaming app installs 2019 to 2022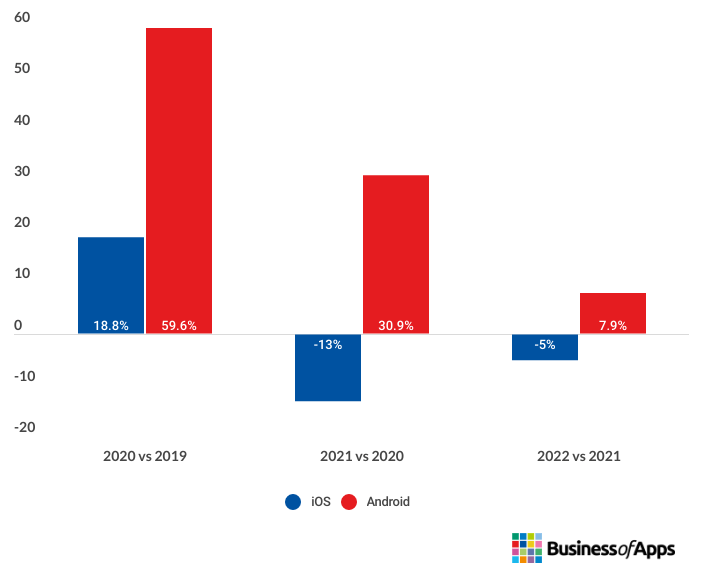 Source: AppsFlyer
Benefits of investing in mobile games
With increasing levels of global investment going into mobile gaming, it is now a lucrative market. With a broad choice of gaming genres on offer, game app marketers have an opportunity to appeal to a wide and diverse target audience.
To outline this further, here's a handful of benefits worth considering.
Competitive market
A recent study by ReportLinker, via GlobeNewswire, suggests the market size of mobile gaming will grow from a current value of USD 141.71bn in 2023 to a staggering USD 300.47 bn by 2028.
The report also revealed that the mobile game market in North America is especially competitive. New and established developers are grappling to take the largest market share on growth. And longstanding companies like EA, Nintendo, and Activision Blizzard are seizing hold of increasing accessibility and sophistication in mobile design to release more playable games. Plus, continual improvements to mobile hardware, graphics, and connectivity are all stimulating a competitive market for driving high ROI and market share.
High revenues from in-app activity (IAPs and IAAs)
In the same report by ReportLinker, in-game purchases offered major revenue-generating opportunities. More convenient payment methods allow for gameplay monetization. And, by featuring in-game opportunities for players to gain points, power, or other privileges, it's an effective engagement strategy.
Business of Apps previously reported that in-app purchases account for almost half of all mobile app earnings. But estimates also suggest 79% of game apps are using IAPs to generate revenue.
2020 and 2021 data from Statista also shows how Casino app users spent the most on In-App Purchases out of all gaming categories and came in at an average of $12.28 per in-app transaction. Plus, according to a report by IronSource over 70% of mobile gamers are happy to see ads show up in gameplay.
Average spend per in-app mobile game transaction worldwide in 2020 and 2021, by genre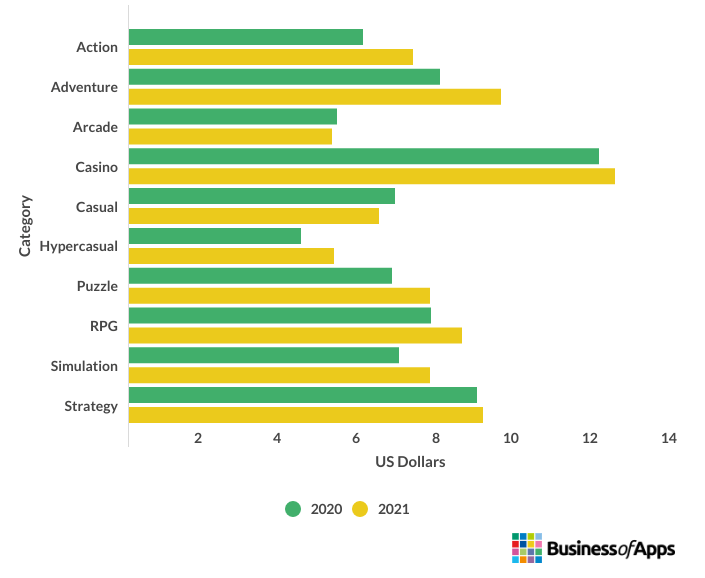 Source: Statista
Reach a wider audience
Mobile game marketing has become an advanced market. And it appeals to a wide range of gamer demographics and target audiences. Key mobile app gaming genres include:
Action/Adventure
Casino
Casual and Hypercasual
Kids
Simulation
Strategy & brain training, e.g. Puzzle, Match
Role Playing Games (RPG)
In the AppsFlyer report 'State of Gaming 2023', the top gaming genre for ad spending was Match games, accounting for almost 20% of total gaming spend.
Share of gaming app install ad spend in 2022 by genre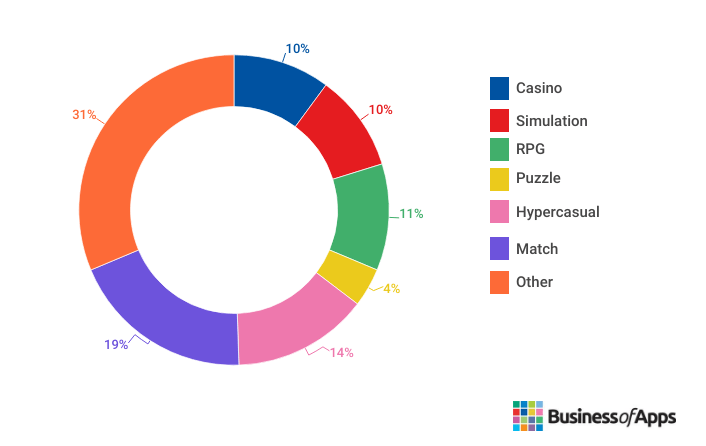 Source: AppsFlyer
Enhance brand presence
Established brands like EA or Rockstar Games can use the growing gaming app market to release new titles and reach new audiences. For instance, Konami worked with mobile game agency Famesters to attract new users from Tier 1 regions such as Germany, France, and the UK. But they also did this to increase Konami's global brand awareness. Using influencer marketing channels like Twitch and YouTube, Famesters helped Konami generate over 30% of traffic to their new game landing page.
Lesser-known brands seeking greater exposure can also capitalize on the 90bn download rate by releasing new games using gamification strategies. Mobile game marketing can also support app remarketing in the form of advertising new games via IAA.
How much does mobile gaming app marketing cost?
In this section, we'll take an in-depth look at both the average mobile game development cost and the average mobile game advertising cost. Bear in mind that costs can vary depending on different factors. These include app monetization strategies, regions, and platforms.
To outline some general figures, what we can say is that studies suggest the average cost of building a gaming app ranges from $20,000 to $200,000.
Games with more advanced features are likely to incur higher costs. One of the most expensive games available today is Cyberpunk 2077, which totaled $174M in game app development cost over a decade. With the expansion in popularity and advances in technology, some commentators suggest the bigger revenue-generating AAA games may now cost around $1bn to develop. And while such valuations are likely to include development across all gaming formats–such as PC, console, and gaming app–it does reflect the potential revenues from AAA mobile gaming apps too.
Whichever scale or size a developer is aiming at, getting a grip on mobile game marketing costs starts with a review of CPI rates (Cost-Per-Install) and the categories and variances they're influenced by. So let's take a look at them now.
CPI
Mobile game advertisers can drive app installs through CPI campaigns. But investing in CPI campaigns often means paying a UA agency a fixed or flexible rate per install. CPI campaigns aim to drive high ROI, with the following calculation:
ROI = (net revenue from new users/total ad spend)*100
Studies show that download rates for paid-for, premium apps have declined. And with them, so have CPI rates. What's become more popular is where users download a free app and developers drive revenues from advertising and in-app purchases. Taking the form of hyper-casual games, this is proving to drive high ROI for IAA.
CPI for casual and hyper casual gaming genre
Download rates and CPI rates vary when it comes to specific mobile gaming genres like RPG and Match. But recent years have seen increased popularity for casual or hyper casual games. And, as the market becomes more competitive, hyper casual games are likely to evolve and create deeper long-term engagement.
By collecting data from 390 billion impressions, 16.7 billion clicks, and 100 million installs, Statista showed the average global CPI for casual gaming apps as 0.98 USD. And this is a reduction from previous years, reflecting Apple's introduction of ATT.
Cost per install (CPI) of casual gaming apps worldwide from 2019 to 2023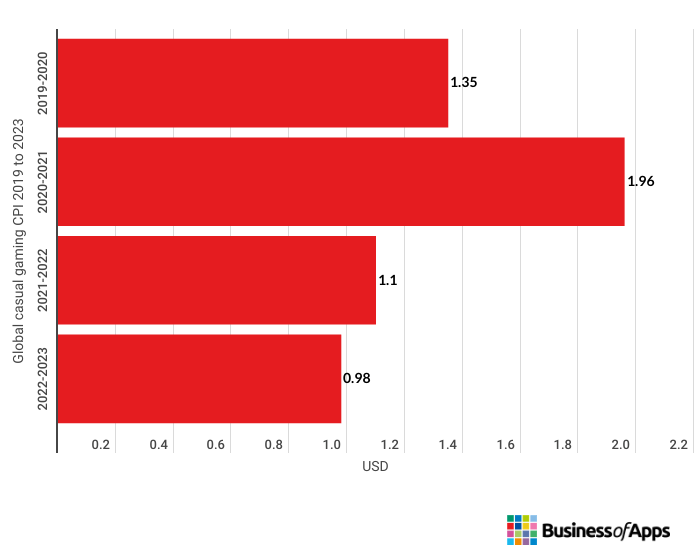 Source: Statista
While casual and hyper casual games fall into a genre of their own, in the '2023 Casual Gaming Apps Report' by Liftoff they list out the average CPIs by category:
Lifestyle – $1.32
Simulation – $0.59
Puzzle – $0.90
CPI by category
The 'State of Gaming 2023' report from AppsFlyer reveals further CPIs for specific categories, divided into each operating system. These include Match CPI: iOS – $5.74, Android – $1.45, Casino CPI: iOS – $11.45, Android – $1.14, RPG CPI: iOS – $7.7, Android – $3.04, Simulation CPI: iOS – $3.07, Android – $0.66, Puzzle CPI: iOS – $2.32, Android – $0.69.
App'sFlyer's State of Gaming 2023: CPI by category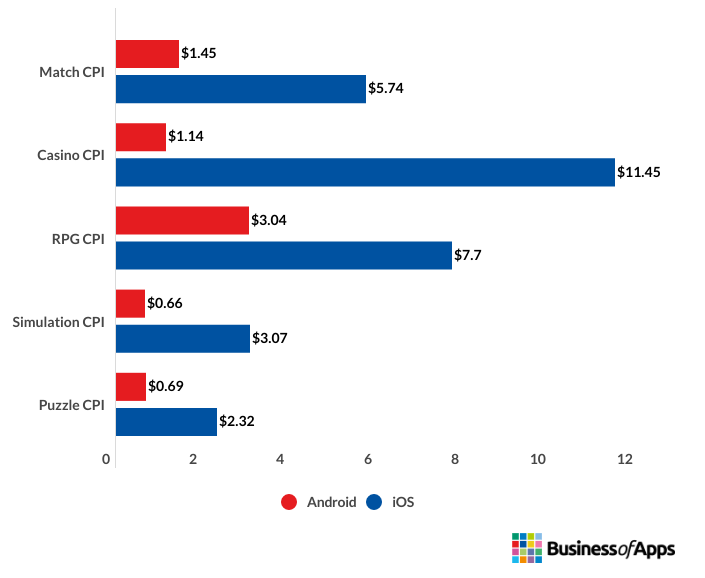 Source: AppsFlyer
CPI by platform
Liftoff's report also shows how iOS users are more willing to spend on in-app purchases than Android users. And since they have less chance of deleting an app, iOS user acquisition tends to be more expensive than Android user acquisition.
iOS – $2.23
Android – $0.63
CPI by region
Liftoff also shows variations in regional CPI, as outlined below:
North America average CPI – $3.59
EMEA average CPI – $0.90
Latin America average CPI – $0.55
CPM
CPM refers to the effective cost an advertiser pays for every thousand impressions made within a publisher's game. Unlike CPI where marketers pay for each install as a result of an ad, CPM results in advertisers paying for wider exposure through advertising.
CPM therefore benefits in-app advertisers by giving them guaranteed revenue for sharing thousands of ads with their users. And because it gives gaming app advertisers better exposure for their app it tends to be the chosen approach for boosting brand awareness.
Ad Intelligence platform SocialPeta published its H1 2022 Mobile Game & App Marketing White Paper in 2022 which revealed average CPI rates up as high as $19.31. The USA charged the highest CPM rates followed by Australia and Japan.
The report also showed how strategy games have the highest CPM of all categories at $21.58 followed by Simulation ($19.22) and Puzzle ($18.47).
Mobile game advertising costs
Mobile game marketers are using Meta's social media platforms and Google's suite of apps to gain high CPI rates. SocialPeta's 2022 report highlights how Meta platforms housed 135,000 game advertisers, with monthly advertisers on Facebook averaging 16,500. Google-branded advertisers of mobile app games included AdMob and YouTube. And the casual puzzle gaming category features as the most advertised on Google platforms at 4,000 advertisers.
There are also a variety of ad formats to consider. According to SocialPeta 2022's CPI rates for Playable Ads offered the best value, and particularly when marketing to Android users.
Global CPIs of different ad mobile game ad formats in 2022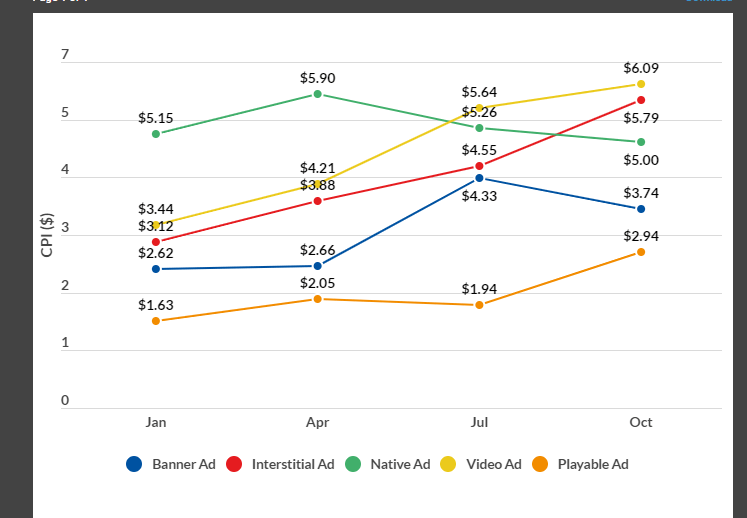 Source: SocialPeta
Factors that influence mobile game marketing costs
There's a lot to consider when planning a cost-effective strategy for mobile game marketing. And especially in the social media-dominated landscape. Today there are multiple marketing channels and UA routes to help gain CPI's. And it's important to review all of them before deciding which one is best for game distribution.
To help with that review, here's a list of the key elements to consider.
Genre, category, and target audience
Different game categories will attract different audience demographics. And this can influence marketing choices when it comes to planning UA and marketing activity. Plus, it can help to determine the investment value of mobile game marketing. For instance, data.ai's 2023 gaming report reveals younger gamers tend to gravitate towards Party and Simulation games. However, older gamers prefer Puzzle and Match games.
User acquisition costs
As highlighted in the CPI and CPM rates, variations in the approach to User Acquisition will influence costs. Marketing agencies who take a holistic approach can help to drive high rates of User Acquisition for game apps. This may include validating concepts through A/B or multivariate testing. Some examples include:
Marketing channels and strategies
Knowing how to market your video game relies on several mobile game marketing strategies. Today, Gen Z has a preference for online interactions, online communities, and social gaming cultures. And, with their powerful approach to influencer marketing, it's platforms like YouTube, Twitch, and TikTok that offer some effective ways of generating app installs within any ecosystem.
Core strategies and channels to consider when marketing your app include:
Mobile game creatives: Short visual snippets of gameplay or playable ads can drive higher numbers of app installs. Marketers have various options to bring these to life in a way that's appropriate to their type of game, e.g. RPG, Simulation, Casino.

Playable and Immersive Ads: Due to their non-intrusive nature when embedded in other games, playable and immersive ads can often generate higher eCPMs.
Story Ads: Story ads appear on social media platforms like Snapchat and allow a social media user to visit a product page and install an app.
AR Lenses: Snapchat is a popular channel for AR interactions in mobile game creatives and can capture users' imaginations in effective ways. One example is 'Revenge of Sultan' which drove a 120% increase in brand awareness and higher ROI from AR lenses and Story Ads.

Influencer marketing: As mentioned, gaming influencers offer a powerful way to promote new games. Gamer Streamer influencers have a powerful ability to influence Gen Z consumers, with individuals like Techno Gamerz gaining over 27M subscribers by streaming on YouTube.
Community Management: Several platforms can help mobile game marketers build and manage a community of players around their game. This may include online forums and social media groups and examples include Discord, Steam, and other online platforms.
AI Personalization: While this is a nascent approach to mobile game marketing, it's emerging with strong potential to engage and excite gamers. Davin Miyoshi, Co-Founder and CPO at Skillprint suggests AI personalization will improve game player retention rates and may appear in playable ads as a popular method of mobile game marketing.
Game complexity
Another aspect of understanding a potential game app development cost is game complexity. Classifications of games tend to fit into different categories, which sit at different price points. We've outlined these below along with some descriptions of each type of game.
Mobile game development cost chart
| Type of Game | Cost to develop mobile game |
| --- | --- |
| Mini-Game (e.g. 2048) | $1,000 - $2,000 |
| Small Games (e.g. Subway Surfer) | $1,500 - $30,000 |
| Medium Games (e.g. Among Us) | $2,000 - $60,000 |
| Large Games (e.g. Clash Royale) | $50,000 - $2,000,000 |
| AAA Games (e.g. Call of Duty) | $2,000,000 - $5,000,000 |
Source: Glowid
Mini-games: Single-player mini-games are easy to play and simple in presentation. Often without special effects and in 2D, they may be puzzle or match-type games.
Small games: Defined by having multiple players and mixing 2D and 3D elements. They also feature in-app purchases. They're often immersive and playable mobile games.
Medium games: These will have more complex designs and structures and feature different levels, characters, storylines, and appealing visuals. A popular example would be Angry Birds.
Large games: Games in this category can take time to develop but will offer users different levels, characters, plotlines, and high-quality visuals that promote strong engagement. They're often a starting point to aim towards AAA status.
AAA games: Large and established game publishers with financial backing can power premium quality gaming experiences and increase their chances of high install rates and ROI. By generating revenue from in-app purchases and in-app ads, these games offer immersive, playable, and rewarding experiences and high ROI. Examples include The Sims, Call of Duty, and Genshin Impact.
Game engine and testing
Another key influence in any gaming cost is the type of game engine to develop the game in. Game engines are software frameworks that can create basic game elements like visuals, sound, and animation, or even AI features.
Some popular game engines include the following:
Unity: This technology lets developers collaborate on multiple projects at a time and supports platforms including Fire OS, Android, iOS, and Windows Phone.
Titanium: This includes features such as modular development and a unified codebase. And it supports Android, iOS, Hybrid and HTML.
CryEngine: Available for platforms like Android, iOS, PC, PS3, PS4, Xbox 360, Xbox One, Wii U.
A further consideration to make towards any gaming cost is pre-development costs such as the formation of a Game Design Document (GDD). This is a living, evolving briefing document for all stakeholders to refer to. While it can change over time, it should include conceptual artwork, game story, UX/UI features, genre, key features, and any accessibility requirements.
App developers can create their own GDD or hire a game producer to help. Research suggests a GDD production will cost from $2k to 8k and will vary based on the details of the concept.
Understanding the cost of mobile game development stages
When developing a gaming app, it's important to factor in the potential for mobile game marketing and in-game monetization too. Development decisions can impact advertising and monetization opportunities. And so app developers and marketers should work together at every stage to maximize marketing and development potential.
Each of those stages will of course incur different costs. And we've provided further detail on these stages and some potential costs below.
Market research
Extensive market research is essential to successful game app development. Knowing which audience you're targeting, which category your gaming app falls into, and how you'll market your app are all key factors to plan for.
Cost estimates for gaming app market research suggest the average market research cost can be between $5,000 and $15,000. So, when carrying out this process, it's critical to determine audience needs and design a game to meet them. Plus, it's imperative to research your competitors to ensure your game is distinct and has unique appeal.
Development
After testing and development using feedback from potential users, well-researched gaming app ideas can move into the development stage. And costs should include high-quality UI, UX, and wireframing. Developers will also need to factor in costs for backend support and servers.
Our previous research showed how app development costs can fall into different stages:
Basic complexity: Cost estimations for basic app development range from between $16 to $32k. This could apply to simple 2D games with basic features and no need for in-app advertising or IAP features.
Medium complexity: Gaming apps in the Small and Medium complexity categories will need a development budget of at least $16k to $32k.
High complexity: Since general app development needs a minimum budget of $72,000 or more, this category will likely apply to Large Games and AAA games.
Testing and soft launches
Most mobile gaming apps will need to move through the same stages as any other app, for instance, PoC, Prototyping, and MVP app development stages. This is important to gain funding and investment but also to test a game's potential playability.
Mobile game testing is different from testing in standard mobile app development. Establishing high levels of game performance, presenting engaging graphics, strong playability, and multiplayer functionality are all vital considerations. And research from Glowid suggests the cost of mobile game testing support ranges from between $30,000 to $50,000.
Official launch and post-launch marketing
Launching an app requires pre-launch, launch, and post-launch marketing activity. So putting together a gaming app marketing plan will help. Within that plan, it's important to create a separate budget focused on potential marketing channels, influencer marketing, gaming community activity, paid ads, PR, and so on.
In particular, an app launch event should focus on gaining high CPI rates during this period.
Monitoring, maintenance, and reviews
There's a need for maintenance and ongoing review post-app launch. This will include hosting, marketing, and licensing. For most apps, the industry average maintenance cost is up to 20% of the original development cost.
Final thoughts
Mobile game marketing is a complex area that can lead to massive revenue generation and huge global downloads when it's done well. With better playability in games across all categories–from Casino to RPG and Match–mobile app gamers expect to have rewarding experiences that encourage loyalty but also offer in-app purchases and advertising.
Since CPI rates vary across different categories, mobile gamer marketers must ensure they develop the right games to meet their audiences' needs. And, with this foundation in place, it's easier to determine mobile game marketing costs.
Visuals, playability, and in-app activity will all count towards a successful gaming app, so marketers should also factor these into development costs. This foundation will also offer better indications for relevant approaches to marketing and UA strategies such as ASO and the use of influencers.
Calculating a gaming cost is no easy task. But with these guidelines, marketers, and developers can work together to review the potential of the game idea, its level of complexity, potential revenues from downloads, and in-game activity and weigh this against CPI and development costs.
With a strong approach to mobile game marketing in place, developers can keep a gaming cost to a minimum while optimizing marketing efforts and launching a mobile gaming app with plenty of buzz and excitement.