App messaging is growing to be the preferred communication tool to drive user engagement and conversions within a mobile app. Marketers are taking advantage of app messaging in the form of push notifications, and email and SMS marketing to enhance user experience, keeping them hooked to their apps' services for the longer term.
In-app messaging platforms help you interact with users more efficiently, whilst accurately segmenting your users, and personalizing your messages and notifications accordingly.
Send users relevant messages just at the right time – when they are actually engaging with your app, avoiding falling in the 'how to turn off notifications for this app' list.
Working with in-app messaging platforms can benefit both your users and your business, integrating personalized experiences via in-app messaging, allowing users to feel seen, prioritized and rewarded for choosing your mobile app.
Discover the top app messaging platforms to team up with, and take your mobile app to further heights.
What is an in-app messaging platform?
An in-app messaging platform offers productive solutions in order for mobile marketers to deliver high value app messages that motivate action and further engagement. They help you recapture the attention of your active users by sending them targeted notifications.
App messaging platforms also give you the ability to customize messages as any format that suits the nature of your app best, including banners, images, animation or modals. These personalized messages can entail highlighting a sale, giving clues or tips, or encouraging a like or share.
With the right in-app messaging platform you can tailor the notifications to your users' demographic and in-app behavior, creating relevant copy and visuals to enhance user experience and satisfaction. So, you can nurture your most valuable users, and trigger messages based on their particular and unique interests.
What are the key capabilities of app messaging platforms?
In-app messaging platforms help you create messaging formats. These notifications are also designed to support cross-sell or upsell initiatives and gather user reviews and feedback too.
With the overall functionality of app messaging platforms, let us dive deeper into their key capabilities and what they can do for mobile marketers.
Send engaging & contextual messages
In-app messaging platforms allow you to set automated notifications when they are needed. So, while users are using your app they will receive a message promoting an upcoming, big sale, or the unlocking of a new level in your game app.
In-app messages with contextual significance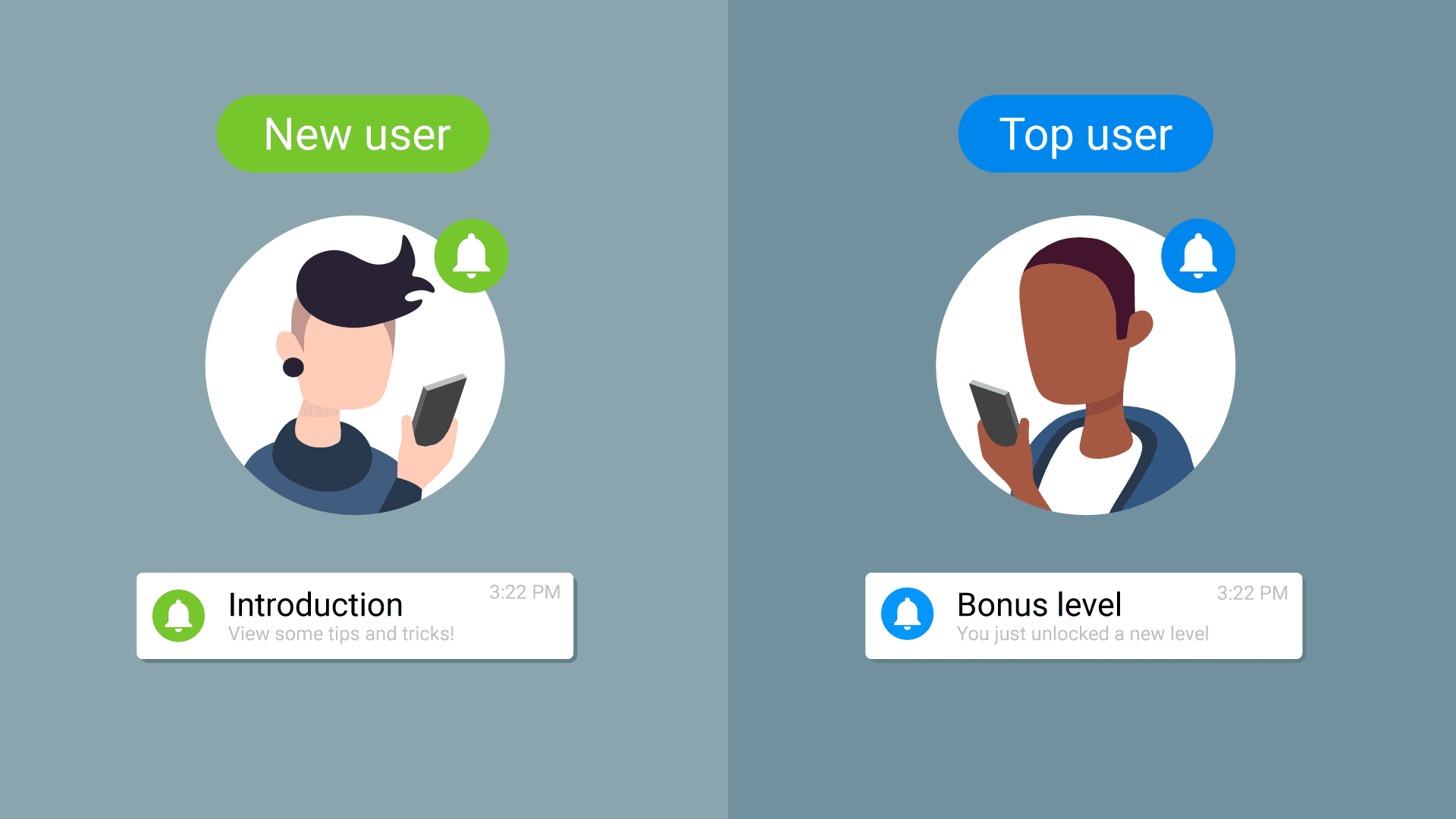 Source: Firebase
These messages are relevant to consumers, and can provide higher value to the overall user experience in order to keep your app engaging and satisfactory.
Create flexible & personalized notifications
App owners can customize and personalize not only the copy, but also the style, animation and any display triggers when working with top platforms, and that too all in just a few clicks.
Furthermore, these platforms also give you the power to send messages to users based on their most common actions as well as their interests. Thus, they make these notifications highly accurate and significant to conversions, as they appear as a direct result of user behavior.
Get insights into analytics & performance
The most important capability and feature that messaging platforms offer is their collaborations with the right app analytics tools. In-app notifications platforms track impressions, clicks and conversions consistently, so mobile marketers can monitor campaign performance accurately.
Getting insights into key data allows app owners to make informed decisions on how to tweak and improve campaigns for better results.
App messaging platforms vs push notifications services
You may have noticed we have been throwing around the terms 'messaging' and 'notifications' in the same context – which they are, but not quite, depending on how you use them.
While the two concepts are often used interchangeably, the key difference lies within this very fact:
In-app messages vs push notifications

Push notification services can help with creating effective strategies that target users through automated messaging, prioritizing relevancy of the notifications to re-engage consumers with your mobile app. Moreover, they can also help to reduce the risk of users leaving their purchase or app usage on hold by sending reminders to complete their actions, or suggestions on alternative options.
In essence, push notifications platforms promote your app's features and services, motivating consumers to further discover your product, while increasing retention levels too. They are dedicated to retargeting users when they are offline.
App messaging platforms, on the other hand, work actively towards grabbing the attention of users while they are using your app services and features. Whatever activity they are doing on your app at the very moment, they can send accurate messages with the right context.
In Airship's latest Mobile Engagement Benchmark Survey, it was found that in-app messaging typically receives 8x the direct response rates of push notifications. This is highly due to the fact that app users are already engaging with your app at the very moment they receive the message, leading to higher retention rates.
Why are app messaging platforms important?
Working with in-app messaging platforms can be of great advantage to mobile marketers and across a range of marketing channels too. In fact, mobile marketers that utilize in-app messaging tactics experience 3.5x percent higher user retention, and 27% more app launches than those that do not.
These platforms can help build effective app messaging campaigns, accurately targeting users with personalized messages, based on audience behaviors, various personas, and on how far along they are in the customer journey.
There are many more reasons why you should partner with app messaging platforms, so let us dive into the most crucial benefits.
Brand control
Customizing messages according to the demographic of your target users will give you complete brand control. The in-app messages will be able to capture the attention of users at the perfect time, when they need that extra nudge to complete their purchase, or unlock the next level of the game app.
User retention
When users receive relevant notifications, including offers and recommendations based on their in-app actions, it will enhance their experience and speak to them on a more personal level. Whether the in-app messages come in the form of full-screen pop-ups, top banners or overlays, you can target specific user segments for increased engagement, and thus, user retention.
Increase customer lifetime value
In-app messaging platforms can enhance customer lifetime value (CLV) by taking active measures and implementing well sought out strategies that can help retarget existing customers and keep them satisfied. This will help cultivate the relationship between your brand and the user, extending the average customer lifespan for your mobile app.
Featured In-App Messaging Platforms
What is an example of in-app messaging platforms?
There are several in-app messaging platforms to choose from in our directory below that will help you create the right messages to send to your active users. Moreover, they will allow you to track and analyze the interaction with these messages, and provide insight into whether your strategies are actually paying off.
So, what are some examples of efficient in-app messaging platforms?
Firebase In-App Messaging
Firebase In-App Messaging is a proactive tool that helps mobile marketers engage their users by sending them targeted messages, with contextual significance that resonate with them. Users are encouraged to keep using the app features with in-app messaging tactics curated, with the support of Firebase.
The platform encourages exploration and discovery of various aspects of your mobile app, from getting users to subscribe, complete a game level or purchase a product.
Firebase In-App Messaging Features
The way the platform works is you first connect your mobile app by adding Firebase to it in the Firebase console. Then you integrate the Firebase SDK using built automation tools for software development, such as CocoaPods or Gradle.
You are then all set to create, customize and target your first in-app message.
Core capabilities of Firebase In-App Messaging 
With Firebase, you can also curate notifications with templates that are specifically designed for creating engaging messages. Message templates include all in-app messaging formats mobile marketers need, ranging from Modal to Banner templates.
Firebase also allows mobile marketers to target specific users based on their behavior, language, location and engagement levels. For example, you can target audiences with a 'Last app engagement' that occurred between one to seven days to assess their activity. Then you can send them a message asking if they are enjoying your app, and if they respond positively, you can deep link to Google Play for a review.
'Last app engagement' feature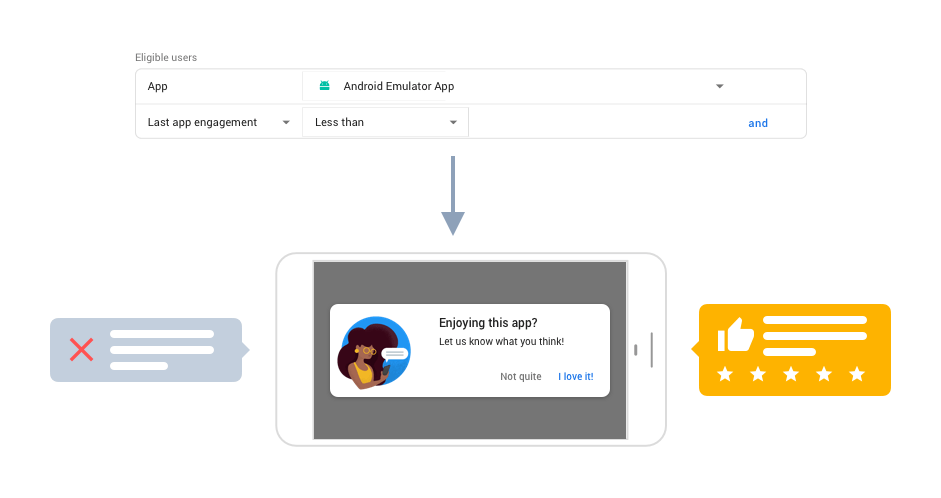 Source: Firebase
Firebase also provides you with the abilities to schedule messages with contextual triggers as well as to track your app's performance. When you combine Firebase with Google Analytics you can get insights into important data about your users' behavior, preferences and satisfaction with your app.
You can also track your users' interactions with the in-app messages as well as how many users received the messages and clicked on them and how many completed the conversion event. Furthermore, monitor the more important and 'formal' notifications, like terms of service update, tracking which user agreed to your terms and conditions.
In-app messaging platforms best practices
In-app messaging platforms can help you build lasting relationships with your customers by satisfying their needs while they are actively browsing through your mobile app.
These platforms provide a variety of tools to make the in-app messaging process more efficient, including productive UI templates based on the type of user communication as well as a tailored style of message triggering that is based on your users' interactions to create a seamless progression, from the initial session to the preferable conversion.
Here are some of in-app messaging platforms' best practices:
Personalized messages
Segment users
Encouraging interaction and conversation with users
Use of graphics
Focus on CTAs
A/B testing in-app messages
Partner with in-app notification platforms to maximize user engagement, and to guide users to check out your most valuable mobile app features. Enhance your download and install rates, and improve app retention, usage and customer lifetime value instantly with the efficient strategy that is in-app messaging.
List of in-app messaging platforms