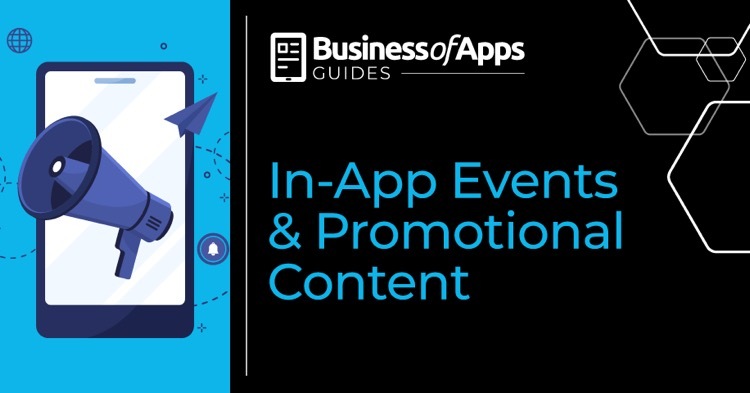 Intro
Among the vast number of mobile apps on the App Store and Google Play, there are many apps that need to introduce timely app updates to the app users, to meet that need Apple and Google introduced respectively in-App Events and Promotional Content. The spectrum of their use is broad – to launch a game competition for your mobile game users, announce a movie premiere, let your app users know about the upcoming livestream, a new fashion collection launch, and much more.
The COVID-19 pandemic dramatically increased popularity of mobile apps for hosting virtual events. The portfolio of such events may include online performance, lectures, conferences, summits, and more. In-app events are a great app marketing tool to introduce specific events to audiences in multiple places on the App Store and Google Play store.
Let's dive deep into what advantages in-app events bring to app developers and brands.

Significance for app developers
One of the challenges that many app marketers face on a daily basis is to keep their user engagement high and ideally increase it over time, as well as combat the users' churn. Your app users' attention span is always divided between multiple apps and a number of things in their life that have nothing to do with the apps,  hence a constant need to strategically remind about your app.
Obviously, there is always a danger to annoy your user base and here the in-app events come to rescue. Because app users interact with these in the search results on the App Store or Google Play, within the product page of apps or in the editorial sections of the stores, in-app events serve as a delicate reminder and not an annoying popup in the app.
One of the reasons why people may loose an interest to your app is that its novelty wears off and the initial excitement it sparked isn't there anymore. To address this problem and to improve your app users' experience you introduce new features, engaging content or update existing features. All these occasions are a perfect fit for using in-app events. Using a combination of a text, image or video you can essentially create an ad that introduce these updates to your existing or potential users while they browse the App Store or Google Play.
Last, but not least, is the in-app events potential to increase your app's sales via in-app purchases or subscriptions. If you plan to roll out a new tier for your subscription or introduce a new paid feature, in-app event is a great way to present it to your current or potential users. It's important to remember that both Apple and Google make a distinction between paid ads and in-app event cards and hence app users do not perceive these events as just a new type of advertising but an extension of the app's presence on app store.
To get a real example of how in-app events help apps to grow, watch the recent presentation from the App Promotion Summit NYC that features Louisa Kinoshi of Bumble talking about "Building Connections and Community through In-App Content"
Featured App Store Optimization Companies
Ok, it's time to talk about how you can create an in-app event for either iOS App Store or Android Google Play.
Creation and Management
First of all, a few general tips that are applicable for creation of both – in-app events on the App Store and Promotional Content, the Google Play's equivalent of in-app events.
Images and videos
When looking at your in-app event or a piece of Promotional Content, in most cases, people will be paying attention to its graphic first. In the world full of so much information for people to process daily, images and videos become more and more the major focal point. Deciding on what specific graphic or video clip to use for the event, make sure you choose a visual that will quickly and intuitively introduce your audience to what that event is about.
Text
Given what we've just said about the graphics, it's paramount to have text creatives for the event that are to-the-point, concise and compelling. It's not by accident that both platforms limits the amount of text for the events – the shift of people's attention towards visuals is well-established and so you really need to make sure the text you have on your event cards or Promotional Material items deliver.
Durations and schedules
Certainly a specific duration and timing of your either in-app event or Promotional Content item is defined by your specific needs.
Generally speaking, duration-wise all events can be divided between three buckets:
short-term – last from hours to days, they are effective to create a sense of urgency and should be used to quickly engage your app's audience;
mid-term – last from days to a week, provide your app's users opportunity to engage with your app's brand multiple times;
long-term – last from weeks to months or more, these are good for ongoing campaigns, seasonal events or other type of events that require sustained engagement of your app's user base.
When it comes to scheduling here is what you should always factor in:
time-zones – if your event is intended for a specific geo location, make sure your event's launch time will align with you users active day time;
events overlapping – by creating a number of events, make sure you avoid their overlapping in time to avoid confusion;
user behavior – having your app analytics data in hand, allows you yo identify peak usage time you should consider scheduling your in-app events.
Now, let's switch to how you can create and manage events, starting with the iOS in-app events. Apple was the first to introduce in-app events alongside with iOS 15 in 2021 and hence it gets to be covered first in this guide.
Featured App Store Optimization Companies
iOS
There is a special section in the App Store Connect dedicated to creation, submission and management of in-app event cards for iOS apps. Creating an in-app event, you need to specify its internal name, metadata – short and long descriptions, image / video, event badge and regional availability. The App Store Connect allows you to create and submit up to 10 in-app events at a time and a dedicated API will allow you to speed up metadata upload and submission.
Out of these 10 you can publish up to 5 in-app events at a time to highlight for your app's audience challenges, competitions, or content launches. Along the occasions that do fit the purpose, Apple also points out what candidates are not ok for in-app events, such as repetitive activities daily tasks and rewards, price promotions are simply a price point change with no new content, features, or goods introduction.
Every in-app event comes with a badge that identify its purpose:
Challenge – a good example of such a challenge can be completion of levels in a game, meeting a goal in a fitness or diet app;
Competition – launching a competition between the app's users to rank the highest or to win a reward – for example, a competition between users of an environmental app to help to combat the Climate Change;
Live Event  – to announce hosting a live event for your brand or organization and let willing participants to register;
Major Update – to commemorate a milestone update in the app such as introduction of significant new features, content, or experiences. This type doesn't cover minor updates or bug fixing for the app;
New Season – to build on existing media content, which can be a special episode of TV series, a sport event or themed content in a game;
Premiere – specifically to introduce a premiere of a movie or song;
Special Event – this type covers all other occasions that aren't covered by other types like a collaboration announcement or release of a product or service.
As we mentioned earlier, a metadata for each in-app event consists of event name, short and long description, and event card and event details media (image / video).
Event name – it should accurately represent the event, using its actual name (within the 30 characters limit) and not a general tagline or call-to-action.
Short description – it's meant to describe event briefly within 50 characters, make sure you deliver the geist of in-app event because this information displays on your event card;
Long description – a 120-character long description to provide more information about the event, this information displays on your event details page;
Event card or event details media – images or video clips to represent an event visually on an event card or details page;
in-app event card example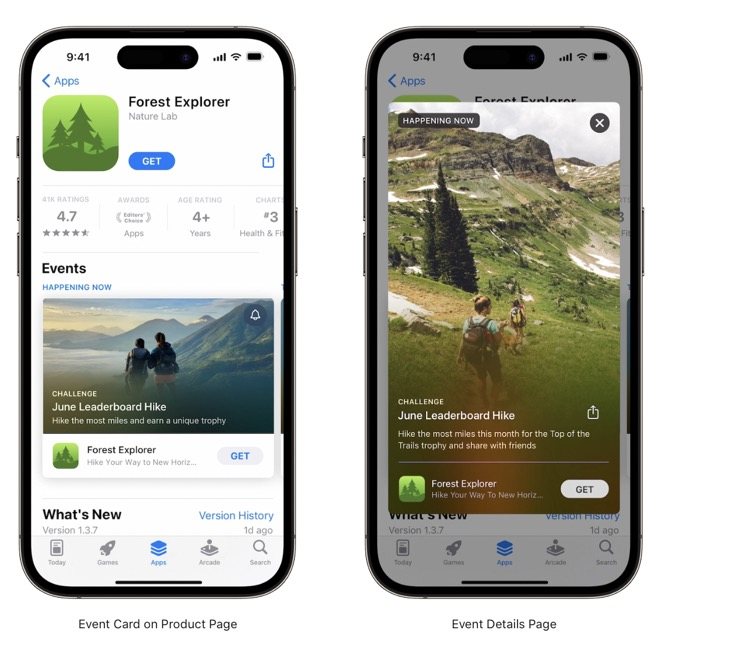 Source: Apple, Inc.
Apple has the following best practices in place for developers to follow to avoid in-app events rejections by the App Store Connect team:
Don't use all capitals for any piece of text, keep the use of exclamation points minimal or avoid altogether;
Don't make claims that can't be verified or sensational ones, like "the #1 app", "the best in class" or similar;
Don't mention pricing in your metadata to avoid misleading people because pricing can vary and be changed independent of your in-app event;
Do your best to avoid using text of logos in your media, in particular when they include your app's name or the in-app event name;
Borders or gradients shouldn't be used in your media. Crops and gradients are automatically applied to your media in order to ensure consistency across the App Store;
Use similar colors and illustration style to make sure you create visual continuity across your event card and event details page
Only use content for your metadata you have a license to use
Once your you're done with picking a specific type and uploading metadata for your in-app event, your next step is to define a few attributes that will impact how it displays on the App Store.
The attributes are the following:
Event availability – to specify the date and time it becomes available on the App Store and any date and time within the next 31 days to turn it off. The App Store Connect allows you to promote an upcoming in-app event up to 14 days before its release date. You can also specify certain regions and timing for each region where and when the in-app event will be available;
Deep link – to provide a deep link to a specific content in the app linked to a particular in-app event card or its detail page. Always be mindful about the landing page you're linking to with a deep link. If the link leads to the event that is not yet live, its landing page should build anticipation and invite people to return once the event is live. Apple suggests do not use link shorteners to avoid issues with extra redirects and, of course, double check each deep link before adding to your in-app event card or its details page;
Event purpose – this attribute is meant to help Apple to display a relevant recommendation for your app users, based on where they are in the interaction cycle with the app – all users, new ones, active users, and lapsed ones. Because all users of your app can move from one of these categories to another, to respect the app user's privacy, this attribute is processed on the device;
Event priority – all in-app events are displayed on the app's product page chronologically but you can designate a high priority for a particular event(s) to be displayed above the normal order;
Select cost – to indicate if an in-app purchase is required to participate in an event.
App Store Connect has the following specifications for the In-app events graphical metadata.
Image and video specifications
| Media type | Supported extensions | Aspect ratio | Min size / resolution | Max size / resolution |
| --- | --- | --- | --- | --- |
| Event card image | .jpg, .jpeg, .png | 16:9 | 1920x1080 px | 3840x2160 px |
| Event card video | .mov, m4v, .mp4 | 16:9 | 1920x1080 px 30 fps or 60 fps | 3840x2160 px 30 fps or 60 fps |
| Event detail page image | .jpg, .jpeg, .png | 9:16 | 1080x1920 px | 2160x3840 px |
| Event detail page video | 9:16 | .mov, .m4v, .mp4 | 1080x1920 px 30 fps or 60 fps | 2160x3840 px 30 fps or 60 fps |
Source: Apple, Inc.
And now, let's switch from iOS to Android and review the steps to create and manage Promotional Content items for Google Play store.
Android
In 2022, following the same incentive – to help app developers to boost awareness of their in-app events, offers, and major updates, as well as to increase engagement, interactions, and purchases with the app's existing users, Google launched Promotional Content. Quoting Google internal research, using this tool developers should expect 2% more monthly active users and generate unto 4% more revenue compared with developers that don't use it.
Boiling down the Promotional Content purpose – it is to help Android app developers to increase their apps' engagement outside of the apps and help them to retain their app users.
To create a Promotional Content item you need to provide the following metadata:
Title – a short sentence-long piece of text to draw app users' attention;
Description – a detailed description of the promo content, it includes highlighting its features and benefits;
Images and videos – high-quality still image or video clip to showcase the promotional content;
Duration – the start and end date and time for the promotional content;
Target audience – specific user segments or demographics the particular promotional content is intended for;
Promotion type – type of a promotional content, see the list of types below;
Promotion terms – terms and conditions associated with the promotional text;
Call-to-Action – a strong and clear call-to-action a particular Promotional Content is designed to entice app users.
Promotional Content example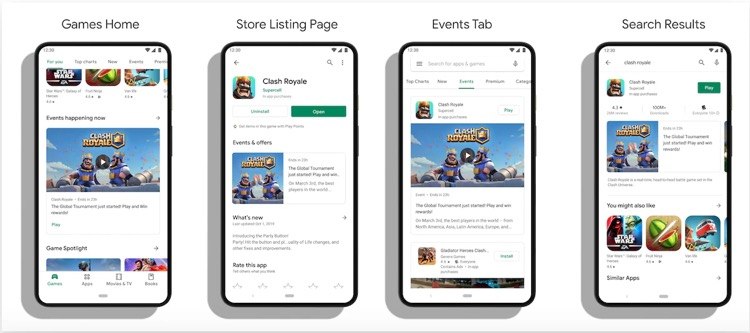 Source: Google Play
To create your Promotional Content items, use the following Google Play requirements for text and graphical assets.
Promotional Content assets requirements
| Promotional Content information type | Requirement and guidelines | Promotional Content text or image type |
| --- | --- | --- |
| Event name | Name of the event | No restrictions |
| Tagline | Descriptive and specific to your event | Max. 80 characters |
| Description | Should be as relevant and expressive as possible | Max. 500 characters |
| Images | Relevant to the event and helps users to visualize the event | Primary: 1920x1080 px, 16:9 aspect ratio; Square: 1080x1080 px, 1:1 aspect ratio |
| Video | Not required, but highly recommended | YouTube video, but without monetization and ads |
Source: Google Play
Just like with the in-app events on the App Store, Promotional Content for Google Play is displayed on the number of places on the Google Play store.
Promotional Content can be located at:
The Apps and Games tab, Search results, and Store listing pages to feature Promotional Content globally;
Events tab (within the Games tab) to feature Promotional Content for the limited number of locations – Australia, Brazil, Canada, France, Germany, Hong Kong, India, Indonesia, Italy, Japan, Korea, Mexico, Russia, Taiwan, Turkey, UK, US;
 Special Offers tab – to feature this content to selected locations
On par with the Apple's App Store, there are several types of Promotional Content for Android app developers and brands to use:
Offers – it allows to offer giveaways, discounts, bundles and such for a limited period of time (up to 28 days) or indefinitely if it's required;
Events – to announce the app or game event for a particular time, it can't contain any kind of offer we've just mentioned for the previous type;
Major update – with a week-long duration, it's meant to announce a new piece of media content such as TV series, a movie or game release;
Crossover – to feature a crossover between mobile games and IP collaboration events;
Pre-registration announcements – to show new content, a mobile game demo, rewards to pre-registered game players.
Having both in-app events for the App Store and Promotional Content for Google Play creation and management described, it's time to talk about promoting these events to app users and it's the topic of the following chapter.
Featured App Store Optimization Companies
Promotion to app users
A general plan to promote either an in-app event or a piece of Promotional Content has three major components: increasing their visibility on Google Play or the App Store, promotion using tools to introduce them to the app users in the app or on social media and, finally, the use of event badges, exclusive rewards, or virtual currency to incentivize app user participation. Let's unpack the first two.
App Store visibility
The low-hanging fruit for in-app event or Promotional Content item promotion is its location on the app's product page. This is the place where any iOS or Android app users can spot the events and immediately either click to learn more information or install the game or app first and then dive into what that event is about. As you can see on the example below, only a single event is visible at a time and therefore if you need to feature a specific event, that isn't the newest one, you need to assign it the Event Priority attribute, as we discussed earlier.
Rush Royale: Tower Defense HD in-app event example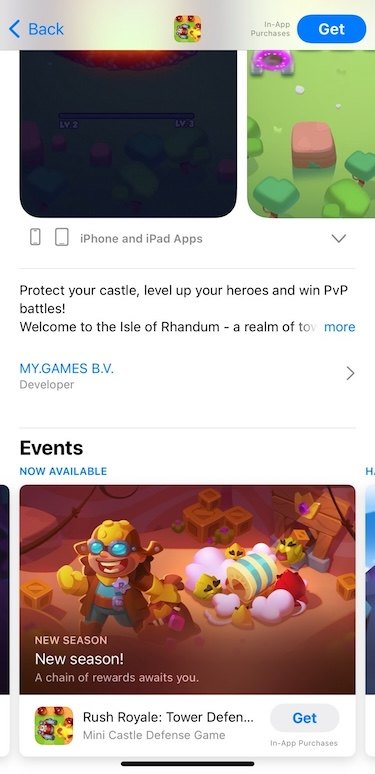 Source: the App Store
Personalized Recommendations are the App Store or Google Play wide marketing tools to feature specific app(s) to highlight their relevance to a particular holiday, cultural event, sport events, movie releases, and more.  If you want to increase the chances of your app being featured in these recommendations, make sure you have a visually appealing and relevant metadata for your events for the App Store or Google Play editorial team to feature your app.
Switching from an app store to mobile app centric marketing tools.
App users awareness
Another way for iOS or Android app marketers to promote in-app events or Promotional Content items is to use push notifications, in-app messaging or social media marketing.
With push notifications you can reach out your existing app user base and introduce them to the event when they are not in the app. For example, you are due to release a new  game and you've created an in-app event to announce it. So you want to invite your current game user base to check out this new one. You can send a push notification to your user base and put it on their radar with a short and to-the-point message. It's important to understand that having a website as a point of contact with your user base is important but nothing can beat push notifications stay-in-touch wise.
As for the In-app messaging – it is your direct communication channel to invite your app or game user base to check out an in-app event on the App Store or Promotional Content on the Google Play store. Just like with push notifications, the rule of a thumb is to deliver with your message a brief chunk of information – enough for your app users to be aware of an in-app event or Promotional Content item to check out.
When it comes to social media marketing, think of your event card either on the App Store or Google Play as a landing page you're composing messages to post on Facebook, Instagram, X (used to Twitter) or other platforms. Your goal is to invite people, you're reaching out via those platforms, to check out your event and engage.
Switching gears to cover the final important ingredient of any digital marketing activity – measurement and optimization.
Measurement & Optimization
To measure in-app events and Promotional Content performance, understand user engagement and make data-driven decisions for the events' optimization, app marketers have a choice of the following tools (to name the best ones) – Google Analytics, Firebase Analytics, Mixpanel, Amplitude and AppsFlyer.
To measure events performance Google Analytics provides app marketers with detailed insights into event impressions, conversions, and user feedback. Using this analytical platform, app marketers and brands can assess the efficiency of the metadata used to design a specific in-app event or Promotional Content card.
All above-mentioned analytical tools allow app marketers to measure these key metrics – event impressions, conversions, and user feedback.
The purpose of events on the App Store or Google Play is to drawn app users' attention to upcoming events and therefore the number of impressions each event card is getting is essential. The way app marketers can impact how the app events will be represented in custom recommendations on the App Store or Google Play and hence increase the number of impressions they're getting, is to come with an eye-candy combination of a static image or video and text.
Just like with mobile app product page views, having lots of impressions for in-app events or Promotional Content is mandatory but not enough to have an impactful event cards. It's about the conversion rate and ultimately user feedback. The best way to optimize the conversion rate of your events is to apply A/B testing to metadata you use for each in-app event or Promotional Content card.
Key takeaways
Summing it all up, in-app events for the App Store and Promotional Content for the Google Play are powerful app marketing tools for app marketers and brands to use. To acquire new users for their apps app marketers can either run paid advertising campaign, focus on driving native traffic with App Store Optimization techniques or do both (which we strongly recommend).
Events are the latest app marketing tool in the toolbox added by Apple for the App Store in 2021 and 2022 by Google for its Google Play store. It has a great potential to help app brands to drive app engagement, increase user satisfaction and ultimately facilitate their business growth.