This guide will cover everything from being a sweepstake affiliate, how you stand to benefit from getting involved, and how to choose the best sweepstake affiliate programs.
Top Sweepstakes Affiliate Networks
Sweepstake affiliate networks connect publishers with affiliate programs that allow them to promote sweepstake-related offers.
The chance of winning top prizes means publishers (affiliates) can drive traffic through exciting sweepstake offers.
Entering to win the latest Samsung Galaxy smartphone, for example, could boost sales conversions and revenue for publishers.
Our directory has a collection of the top sweepstake affiliate networks for your mobile marketing strategy.
What is a sweepstake affiliate?
Traditional sweepstakes are where visitors sign up to win something, and the winners get chosen randomly.
When it comes to affiliate marketing, however, sweepstakes get used for almost all offers where users have to sign up to participate.
A sweepstake affiliate marketer is someone who actively promotes these offers through channels of their own.
The sweepstakes vertical is one of the longest-running niches in affiliate marketing and has shown favourable results for years.
Top Sweepstakes Affiliate Networks
C3PA Network - High-tech network of affiliate pay-per-action programs
Olavivo - Boutique Affiliate Network & Agency
GoldLead - Your Best Affiliate Network
Below you'll find the main pros and cons of sweepstake affiliate marketing:
Pros
Affiliate marketers can earn a steady income each month through the vertical alone

.

A variety of models allow affiliates to choose the best one for them–mobile subscription offers are just 

one 

of many that get used

.

Both mobile and desktop are suitable for user acquisition in this vertical, so there are plenty of opportunities

.

Dedicated account managers can help you improve your game and focus on specific offer

s.
Pop traffic is relatively inexpensive and works well for sweepstake campaigns.

Sweepstakes offers involving email lists are highly effective, especially if you already have one set up

.
Sweepstakes affiliate program example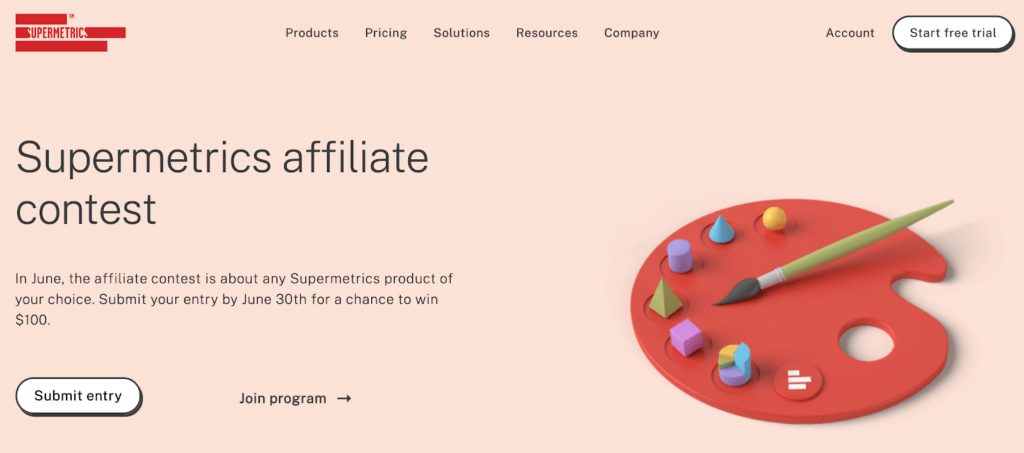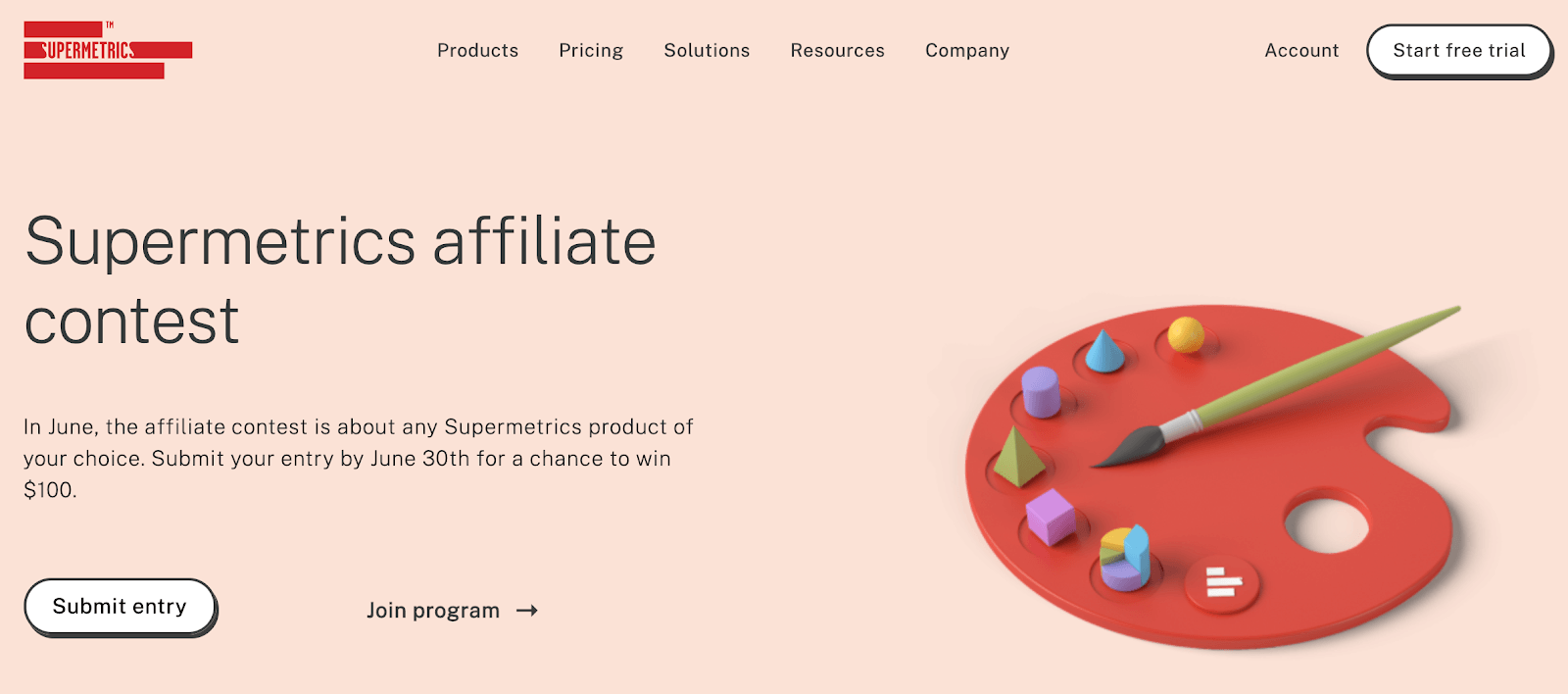 Source: Supermetrics
Cons
Without targeted lists and the right approach, it can be tough to succeed in the vertical.
Pop traffic has low retention rates–overall traffic quality can be poor, too, so campaigns need a lot of thought.

Maintaining a consistent income level is difficult, and the available offers change quickly

.

Facebook is not a good place to start running sweepstake offers; you'll have to deal with account bans regularly

.
However, sweepstake affiliate networks can be more than worth your time.
With names such as 3snet and GuruMedia offering great offers, there's a lot of potential for affiliate marketers and brands that want to get involved.
How does sweepstake affiliate marketing work?
Sweepstakes affiliate marketing is a type of offer where users have to sign-up or complete an action to win a prize.
Some of the most common prizes are travel vouchers, iPhones, home consoles, gift cards, and other new gadgets.
There's a timing to things. For instance, the iPhone giveaway does far better around Apple's events and when they release new models, as you might expect.
It's the job of affiliate marketers to promote these offers through targeted campaigns–in turn, they receive ongoing and passive revenue for their efforts.
It's a beginner-friendly vertical overall, converts relatively easily, and there's an appeal for the offers all year round–this benefits both affiliates and advertisers.
If you're new to affiliate marketing in general, the vertical is more than worth a look before moving on to others.
Sweepstake affiliate network example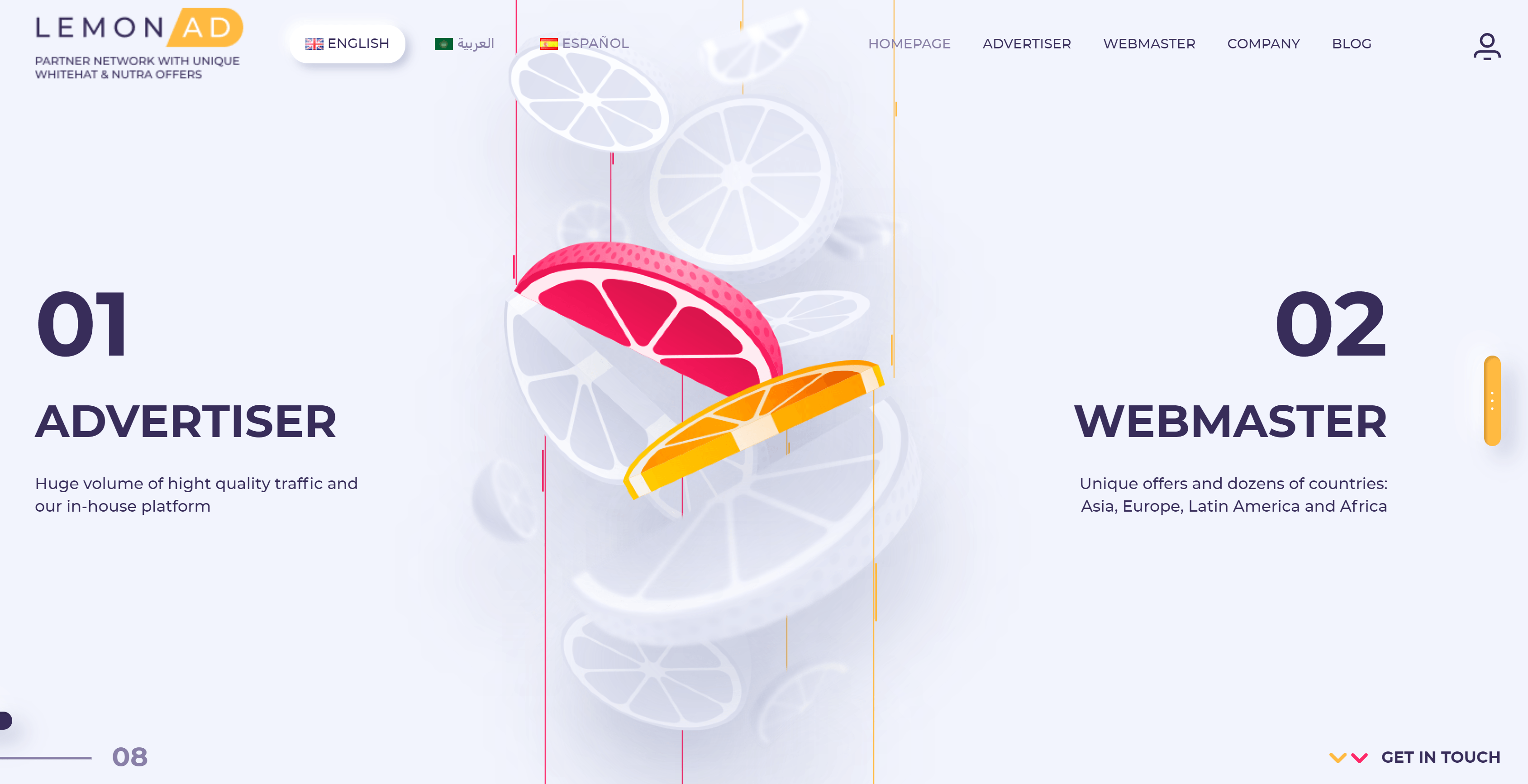 Source: Lemonad
Sweepstakes get typically divided into two main categories: credit card info submits and email submits. Each of these comes in the form of two subcategories: payment or free trials and SOI and DOI.
Here are the four main categories affiliates will need to consider before getting started:
CC Submit Payment–The user must submit their CC details and gets charged a small amount of money at once. Later, between 7 to 14 days, they get charged the total amount.
CC Submit Free Trial–Users need to submit their CC details and won't get charged anything; after 7-14 days, they get charged the total amount.
Email Submits SOI (Single Opt-In)–The user needs to fill in their contact details such as first and last name, email address, and occasionally their physical address.
Email Submits DOI (Double Opt-In)–The user needs to fill in their contact details, typically first and last name, email address, and sometimes their physical address, and then verify the email address provided.
The sweepstakes vertical is one of the most popular verticals for push advertising and includes survey, lead generation, and voucher offers.
How can you benefit from sweepstake affiliate networks?
As with other verticals in affiliate marketing, there are many benefits once you know how things work.
The sweepstakes vertical, in particular, is an evergreen industry that's profitable at any time of the year.
In other words, there's no right or wrong season for advertisers to run these types of offers and for affiliates to receive a commission for their efforts during their campaigns.
The average payout of sweepstakes offers is somewhere between $0.50 to $40–keep in mind that the SOI offers are generally on the lower end of commissions.
Alternatively, CC submits and mobile subscriptions often have much higher payouts, although they come with more challenges for new affiliates.
The landing pages for sweepstakes are crucial to success and help prepare the user to leave their information; the best part for affiliates is that you can get creative with them.
In fact, some of the best sweepstakes affiliate networks offer a healthy range of marketing tools like banners, landing pages, and even exclusive codes to help you advertise to your audience.
The flexibility of the job and the ability it gives you to earn passive income is one of the most popular perks.
Sweepstake affiliate network example
Source: AdsEmpire
Test running sweepstakes campaigns using Pop traffic is vital when starting; the good news is that affiliates can benefit from using the following sources right away:
Adcash
Adsterra
PopAds
PopCash
Zeropark
Not only that, but there are a lot of different campaigns you can run in the sweepstakes vertical.
For example, sending SMS campaigns can be highly effective and allows you to deliver your message directly to recipients. SMS campaigns often have very high open and engagement rates.
An SMS sweepstakes promotion will provide recipients with text promoting the offer–affiliates can significantly benefit from using them.
It's especially worth getting involved with sweepstakes affiliate marketing if you already have a suitable audience in place.
Whether it's a blog, YouTube channel, popular social media account or something else, sweepstake offers can do very well with the right audience, and you can quickly start earning.
Put in the time and effort, and the benefits of using sweepstake affiliate networks will become apparent.
What to look for in sweepstake affiliate platforms?
How do you choose the best sweepstake affiliate program with so many available? We've listed some critical areas to look at before signing up.
Payment threshold
Payment thresholds vary per platform, so it's always a good idea to check before you sign up.
The best sweepstakes affiliate networks offer easy-to-achieve withdrawal amounts, and it's not uncommon to see $5 as the total needed.
Other networks go up to $300 and beyond, so pick carefully.
Supported verticals
While you want the network to support sweepstake offers, the best networks have offers in multiple different verticals, such as dating, gambling, gaming and crypto.
Having more than just sweepstake offers is a smart bet as it enables you to keep a reliable amount of revenue coming in each month.
Payment schedule
Payment schedules for each network vary greatly.
The best networks can offer weekly payments via several different payment methods, including PayPal, bank wire transfer, and an array of cryptocurrencies.
Other standard payment schedules include biweekly and monthly; consider what works best for you before signing up.
What are the biggest sweepstake affiliate offers and their platform?
Here are some of the biggest sweepstake affiliate offers along with their platform in the table below.
| | | |
| --- | --- | --- |
| Platform/Company | Affiliate Offer | Payout Data |
| 3snet | Up to 7% commission | Payments made monthly |
| GuruMedia | Up to 5% commission | Monthly payments |
| Leadbit | $10 per lead | Choice of payments |
| Total Access | $30 per sale | Monthly payments |
| PayPal | $2.45 per lead | 30-day payments |
| Smartlink | $80 per lead | Monthly payments |
Here we've put together for you the best sweepstake networks that cover offers for all major mobile operating systems.
Get started with the best sweepstake affiliate networks
Sweepstake affiliate networks allow you to earn steady passive income and afford a great deal of flexibility.
If you have a channel you can use to promote sweepstake products and services, they're more than worth a look overall.
Check out our top sweepstake affiliate networks list and start boosting your income. We've put together the best sweepstake affiliate networks below.
List of sweepstakes affiliate programs and offers
Boutique Affiliate Network & Agency
Olavivo is a boutique affiliate network, with a focus on the Cryptocurrency, Health & Beauty and Cannabis verticals.
Key features:
 Full transparency and multiple goal levels that will provide essential data for your campaign optimization procedures.
 Solid payouts.
 Trendy, top converting, worldwide CPA offers (50+ GEOS in 10 different languages).
 Net 7 weekly / bi-weekly / monthly payments.
 Multiple payment methods.
 Cutting edge tracking system.
 30 – 90 day conversion cookie life span.
 Fully professional and well experienced account managers that will support you daily.
 Awesome referral program!
 Good Karma and unlimited positive energy.
Learn more about Olavivo