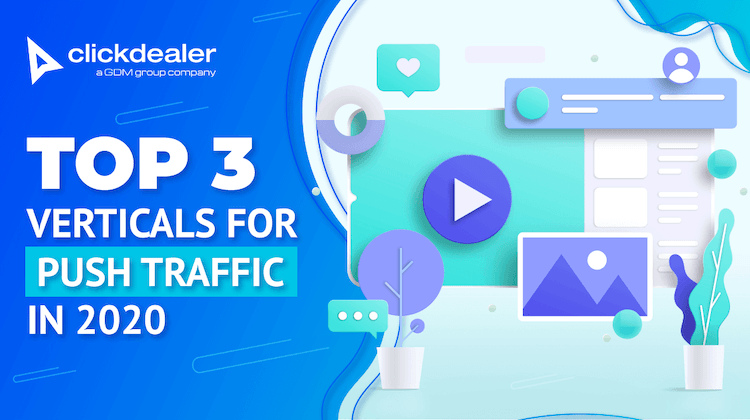 Since push notification ads burst on the scene in 2017, mobile marketers have been limit-testing their capabilities in many different verticals. High CTR averages relative to other traffic types and the ability to reach users anytime coupled with detailed audience segmentation that's available on mobile create a uniquely versatile fuel for monetization. An average US smartphone user receives 46 app push notifications daily, so there's plenty of volume to work with as well. So what verticals are affiliate marketers having the most success with using push traffic? There are three verticals that stand out in terms of performance.
Sweepstakes
Sweepstake offers require a user to opt in for a chance at winning one of the latest gadgets from popular tech brands and other various kinds of branded merchandise. They come in a wide range of flows from SOI all the way to CC submits, easy to optimize and lots of angles to test. Push traffic campaigns on sweepstakes benefit from improved targeting, bringing predisposed users to landing pages featuring goods that they are likely to opt in for. There is also a lot of SOI offers you don't need a big budget to get started on, making this combination a great option for beginner affiliate marketers.
E-commerce
During the initial push traffic boom, there had been no question a ton of successful e-commerce campaigns were going to spring up from it. Years later, they are still springing up and there's no wonder why – push notification ads are intuitively suited for e-commerce. You can be extremely versatile in how you approach promoting a product to a certain audience, and the context in which push ads are delivered is pretty conducive to impulse purchases. Whether you're promoting a store or a certain kind of product, push ads can be a valuable addition to your strategy.
Utility
Push notification ads inspire a unique sense of urgency that other that other formats can't seem to achieve. That is what makes them effective on utility offers that leverage this exact sense in order to convert users. Nothing says your smartphone needs maintenance quite like a notification, and promoting software that helps people do exactly that seems like the next logical step. Affiliate marketers have taken that step and found it to be very profitable with the right approach. You will likely be working exclusively with Android devices, but you'll have to scale pretty far before you start noticing the missing Apple users.
Push traffic is versatile, plentiful and affordable. It has quickly become an entry point for people trying to find some footing in affiliate marketing, and ClickDealer has already seen careers in this field get started from a low budget push traffic campaign. With the right kind of offers, the potential to scale is limited only by traffic sources and available budget.

The former is nearly a non-issue due to the amount of push notifications networks popping up to offer their services, and the latter sorts itself out once a campaign gets going, so let us take care of the offers and witness push ads' potential first-hand.