Localytics is an application analytics software which can scale to track up to 100 thousand monthly active users and 12 million datapoints, keeping track of granular analytics, user flows and funnels. The software package comes in two different types, either analytics or analytics and marketing, and both present the option of having a dedicated account manager, customised packages and API access.
High profile clients of Localytics include MyFitnessPal, A+E Networks and American Media. Based in Massachusetts, they have been backed by investors Polaris, Foundation Capital and New York Angels.
Free to use up to 10k MAUs (1 million data points)
Free trial available
Scaling price plans all include events, funnels, analytics and filters.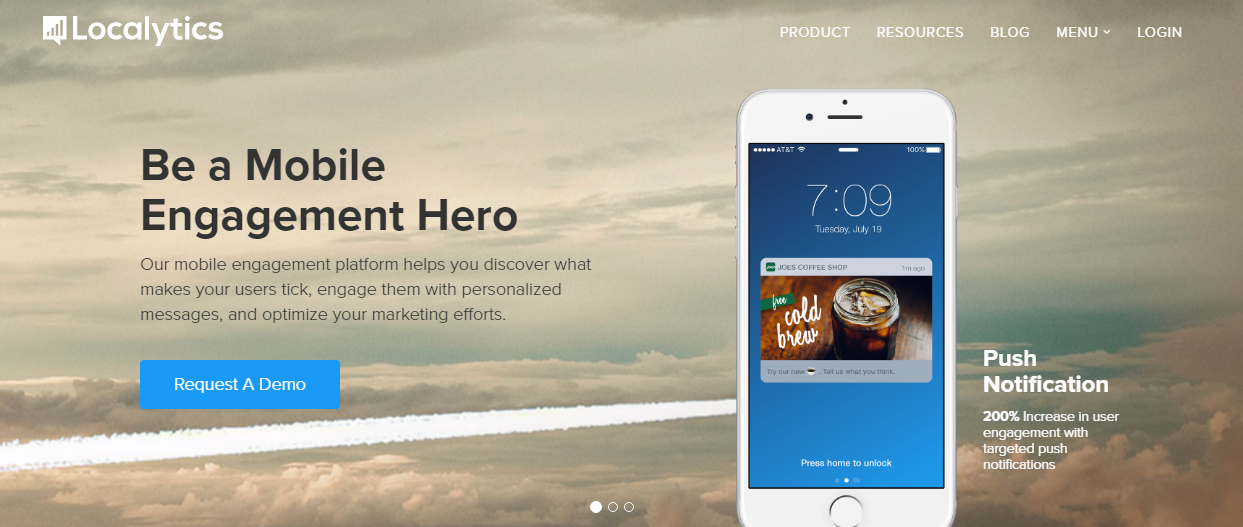 Key Features
Multiple channels of marketing
Push notifications, in-app messages and more
See how your users react and adapt your strategy with analytics
Optimise your audience with funnels and more
Make a collection of your user profiles
Track the source of your users on iOS and Android
Predict your users' every move
Target your users with precise ads
App developers can see who uninstalled their apps
Integrate Localytics with a variety of platforms
Localytics Pricing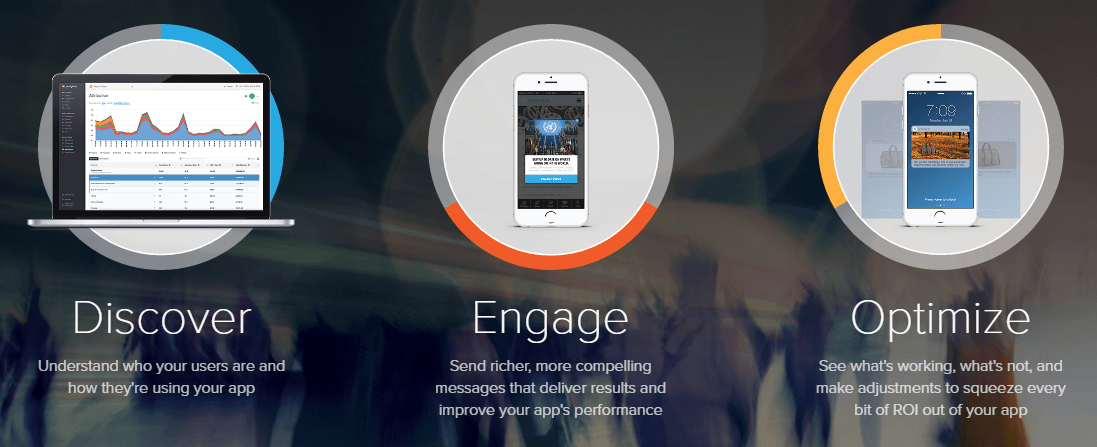 Free trial available from three options: Discover, Engage and Optimize (no credit card required).
There are two pricing options and the pricing model is subscription based:
Analytics
Up to 10,000 Users – Free
Up to 25,000 Users – $200 per month
Up to 50,000 Users – $350 per month
Up to 100,000 Users – $600 per month
Marketing and Analytics
Up to 10,000 Users – Free
Up to 25,000 Users – $400 per month
Up to 50,000 Users – $700 per month
Up to 100,000 Users – $1200 per month
Localytics Case Studies
Here are a few Localytics case studies:
Movember
Localytics Alternatives and Competitors
Other options that provide similar services to Localytics include the following:
Appboy is a mobile app marketing automation and analytics software package with a focus on managing your campaign and promoting your business and use of your application.
Mixpanel is an advanced analytics platform with nearly 3000 clients including miniclip, AirBnB, WordPress and Match.com.
Urban Airship is a mobile marketing company covering myriad solutions to monetise your app, from mobile marketing automation to mobile analytics and audience segmentation.
Leanplum …
Localytics Offices
UK
22 Long Acre
London, England WC2E 9LY
United Kingdom
US
2 Center Plaza
Boston, Massachusetts 02108
United States
Key People
Raj Aggarwal – Chief Executive Officer and Co- Founder of Localytics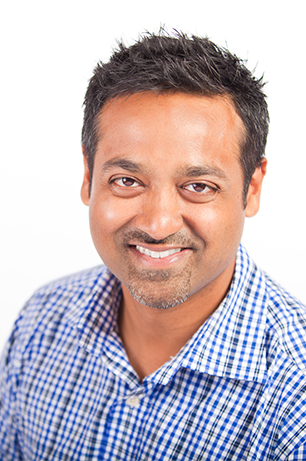 A recognised industry expert, Raj frequently lends his knowledge on mobile, big data and analytics at industry conferences and has been quoted in USA Today, CNN, and Mashable on the topics of mobile, analytics, big data and entrepreneurship. Prior to Localytics, Raj spent 12 years building a variety of technology companies.
Localytics Jobs and Careers
Localytics lists available jobs and positions here with openings in their offices in Boston, San Francisco, and London across roles in Customer Success, and Sales.
You can find employee reviews of Localytics on the company's Glassdoor profile here.
Localytics Resources
There are a wide range of places to get information on Localytics:
Localytics Features
Business Operations
HR & Legal
Marketing
Project Management
Localytics Info
| | |
| --- | --- |
| Platforms: | Android, BlackBerry, HTML5, Unity, Windows Phone |
| Types: | - |
| Groups: | App Analytics |
Localytics Competitors and Alternatives
Sorry, we don't have these details yet. If you are a Localytics representative, please get in touch to add additional information and contact options to your profile.