The $100B fitness industry was one of the hardest hit of the COVID-19 crisis, with thousands of gyms closing their doors. 
While some, like Gold's Gym, 24-Hour Fitness and Crunch Fitness were somewhat prepared and already had mobile apps with audio and video-based workouts, these are for members (or "free to all for a limited time") so they don't fully save their full revenue stream. 
Others, like OrangeTheory, quickly built set up live channels and offered services on Zoom, Instagram and Facebook Live – while a handful of digital-first (and specifically, app-first) companies seemed perfectly positioned to grow during the stay-at-home orders. By late March, for instance, BeachBody's new subscriber signups had jumped 200% and Neo U's average daily subscribers had gone up 600% (Yes, six hundred percent).
The question now is, will this trend continue? As some lockdowns loosen, and eventually, in a post-pandemic world, will consumers be abandoning their Pelotons and Mirrors and heading back to the studio or gym?
To understand exactly how consumers are using mobile fitness services now, AdColony gathered more than 600 responses (ages 14-75 years old) to a survey about mobile device use for health and fitness. You can see highlights and the infographic in the full blog post, or download the full study here. Top-level findings were also published here when the study was released.
Based on the findings, here is what I believe will happen in the coming months, and likely in the coming years, to the fitness industry:
The fitness mobile app market will boom like we've never seen.
Before the COVID-19 outbreak, half of mobile app users were using a mobile device to fulfill their health and fitness goals. That number is now 75%, and nearly 4 in 10 (38%) of respondents said their mobile usage for fitness and nutrition has gone up since the Coronavirus pandemic. That seems completely normal, of course, as there is no in-person option, and mobile is the clear choice for fitness. Many activities, like jogging, are "on the go," and those who are working from home likely have desktop fatigue so even home workouts would take place on mobile vs. their laptop.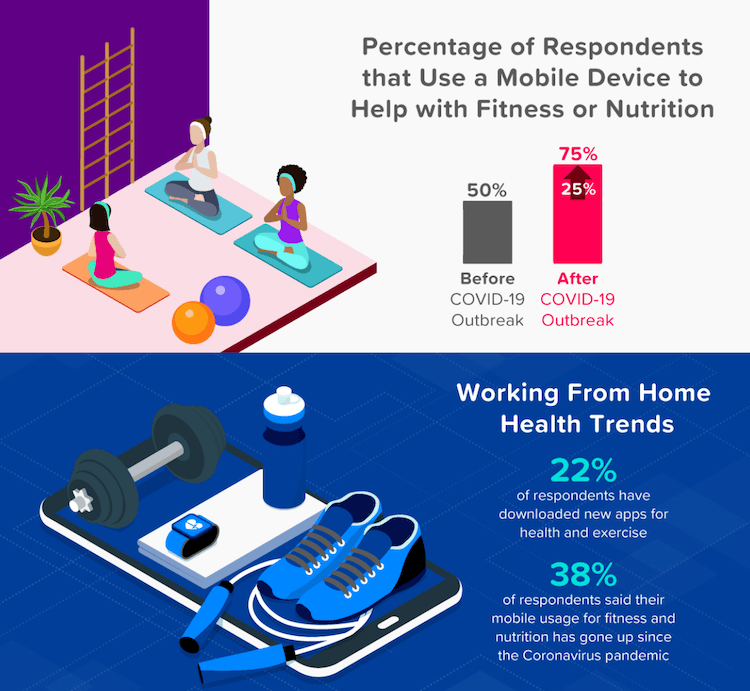 But it's not just about increased use; this trend is also about new habits that are forming, namely, new types of apps people are using. Some 22% of those surveyed downloaded new apps for health or exercise. And while retention levels of fitness apps could be as difficult to maintain as new gym memberships, I believe that activities like using exercise videos (vs. in-person training) are seeing rates of 28% and those could easily stick. As of now, predictions stand that the global fitness app market will reach nearly $15 billion by 2026, and I think that is realistic.
The fitness & health category will become more diverse.
In the past few years, when you said "mobile fitness" to someone, the first thought they might have is "Fitbit." True, fitness trackers were the driving force behind mobile fitness at first, but that moment of domination is over. Today's top apps are MyFitnessPal, Fitbit and Samsung Health. The definition of "tracker" has expanded from steps to more sophisticated combinations of diet, exercise and even sleep. Just a few years ago, there were about 50 unique sleep trackers in the app stores, now there are thousands. Furthermore, one of the biggest jumps we saw during past few months, other than fitness tracking, has been consumers looking up new workout routines and recording meals, calories and water intake. This indicates a new level of awareness of personal health, as well as a need for variety and exposure to new types of physical activity.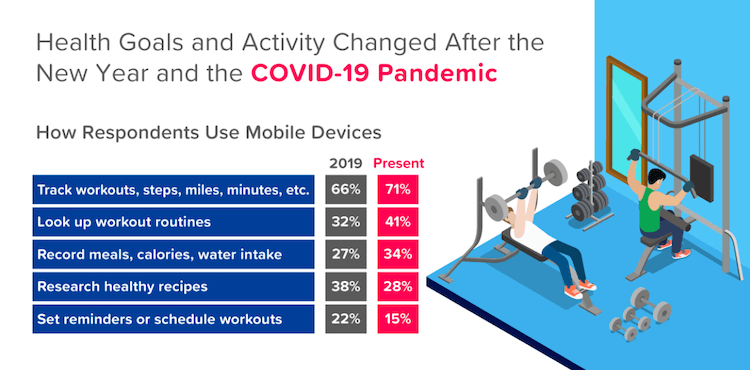 To paraphrase Steve Jobs, who once paraphrased another certain titan of industry, people don't know what they want until you show it to them. Now that consumers have had exposure to all the different ways mobile can help them with their health and fitness, they will always want more diverse types of apps to fulfil those (new) needs.
We will get even more "multi-tasky" than ever.
Imagine being in a spin class or a HIIT training bootcamp and busting out your smartphone to start reading your social media newsfeed, or to play a few rounds of CandyCrush. Would you get some strange looks? Even though there are certainly new social norms around smartphone use in the oddest of places and situations… I would wager "yes." But what about when you're in the privacy of your own home, or in the grass field of a local park with only a few people around? You can use your phone for whatever you want!


In our study, we found that consumers are definitely multitasking – or rather, multi-entertaining.
The majority of smartphone users are streaming content like music (70%) or movies and TV (21%) to keep them entertained while working out. And, we found that while social media (19%) and reading books are news (18%) are common, more users (20%) tend to play mobile games.
Given the addictive nature of many mobile games, this doesn't surprise me. And, as many mobile games are only growing in quality and stickiness, I believe that as long as we can acceptably use smartphones while exercising, that activity will continue to be popular.
About the AdColony Mobile and Fitness Survey
The study was created to understand user behavior regarding fitness goals, mobile usage, and changes in behavior after New Year resolutions are put into place. The survey was distributed twice, once during December 2019 and another during February 2020. As COVID-19 began to make a global impact, a supplemental survey was distributed in March 2020 to obtain updated insights.