TikTok a short-form video app with over 800 million monthly active users, in 2018 launched a beta version of its ads platforms. The 6th most popular app globally available on both iOS and Android, spanning over 150 countries has become the premier choice of entertainment for millennials and gen-zers. It's increasing popularity has put it on the radar for big brands eager to use the platform to advertise. Not only has TikTok surpassed Twitter and Snapchat in popularity, but it is also less saturated by ads than it's older counterparts, hence the time to enter the TikTok marketing revolution is now.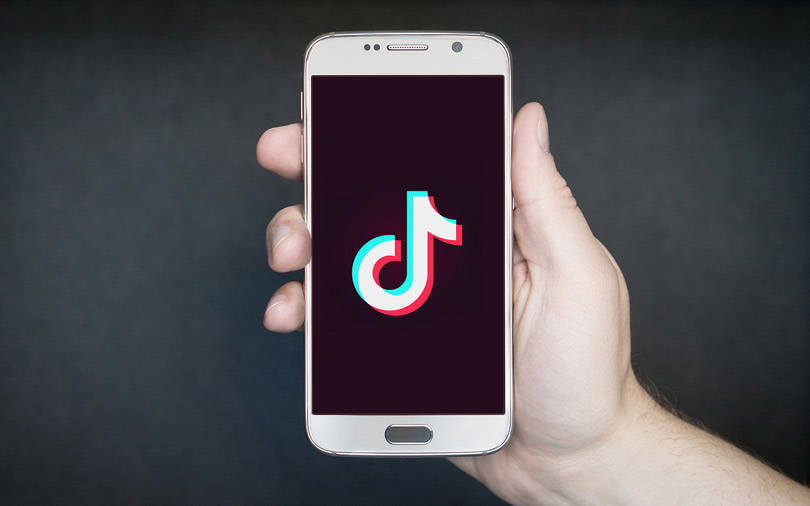 Since the launch of the beta version of TikTok's ad platform, big names like Apple Music, Nike, Fenty Beauty and GrubHub have created visually-compelling campaigns to promote products. Universal Pictures used highly effective influencer campaigns on TikTok while promoting their upcoming film by starting a Hashtag Challenge themed #FindYourMagic, and having key influencers post videos on it.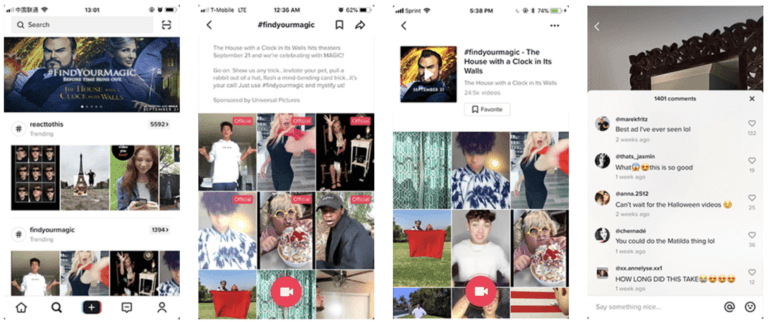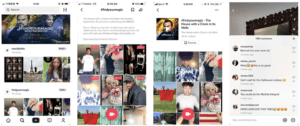 Types of TikTok Ads:
TikTok offers several options on its platform for advertisers to choose from: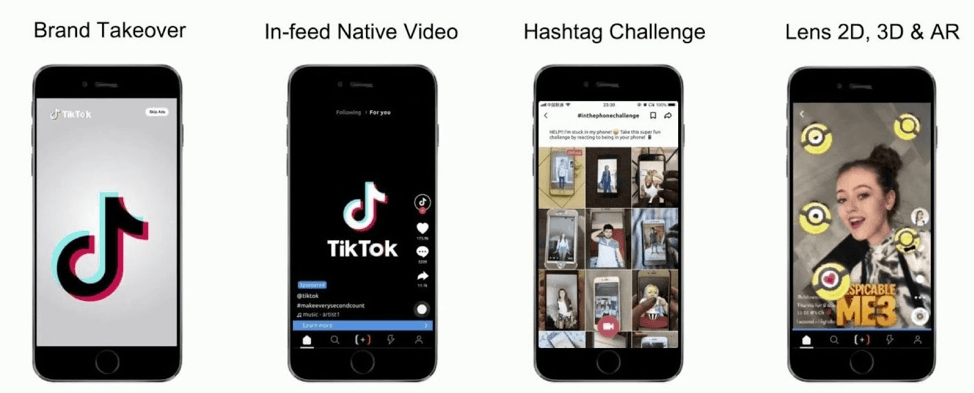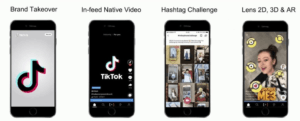 In-Feed Video: In-feed ads are native ads placed either at the bottom of organic TikTok videos or in the feed as part of the video queue, depending on the type of product. These ads also redirect to your website or app. On average, they cost $25,000 minimum per campaign.
Brand Takeover: A brand takeover ad will appear instantly when a user opens TikTok. The ad can then be redirected to an internal or external link—either another video on TikTok or an external website or app. Currently, this ad type is limited to one advertiser per day and costs £50,000.
Hashtag Challenge: You can partner with TikTok's marketing team to create a sponsored hashtag challenge that encourages users to share content on TikTok on your brand's behalf. Challenges generally last for 6 days and costs $150,000.
Branded AR Content: Ad appears as branded lenses, stickers, and other 2D/3D/AR content for TikTok users to use in their videos and cost $80,000 – $120,000 based on the complexity of the lens design.
Custom Influencer Package: Ad appears as part of sponsored content created by a TikTok user with influence in your market, the cost of this ad varies upon the influencer, however, it is sources claim it may cost $600 – $1,000 per post.
| | |
| --- | --- |
| TikTok Ads | Prices |
| In-Feed Video | > $25,000 |
| Brand Takeover | $ 50,000 per day |
| Hashtag Challenge | $150,000 for 6 days |
| Branded Lenses | $ 80,000 – $ 120,000 |
| Customer Influence Package | $ 600 – $ 1,000 per post |
Source: https://blog.hootsuite.com/tiktok-advertising/
How To Start?
Now that you're familiar with TikTok's creative advertising options, it's time to talk about how to get started creating TikTok ads. To create your first ad campaign, visit the TikTok Ads home page and click on the Create an Ad button.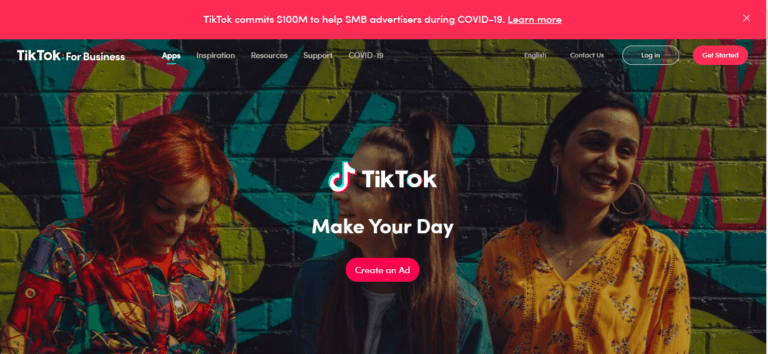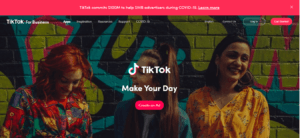 Because TikTok Ads is still in beta, the process of setting up ads isn't entirely online yet. When you click the button, a form pops up requesting details to set up your account. After you submit this information, a representative will get in touch with you to set up your TikTok Ads account.
It can take up to 48 hours to receive your account. Once you do, the process for creating ads is relatively straightforward.
Start Creating
TikTok allows you to organize your ads using three levels: campaigns, ad groups, and ads.
1. Campaign is the top level of TikTok ads, this defines the primary goal of your ad. You can choose from three options: Traffic, Conversions, and App Install. You must also set a budget at the campaign level, select either the Daily Budget or Total Budget option under Settings. Note that both the daily budget and total budget must be at least $500.


2. Under a campaign, you will find one or more ad groups. You will define ad groups with ad placements, target audiences, budget, and schedule.
One of the most useful features of the TikTok Ads dashboard is that it lets you select the exact platforms you'd like to run your ads on. These include not only TikTok but also its entire family of apps like Vigo Video (India only), BuzzVideo, News Republic, and others.
There's also an option for automatic placements, where TikTok determines where your ad would perform best and places it there.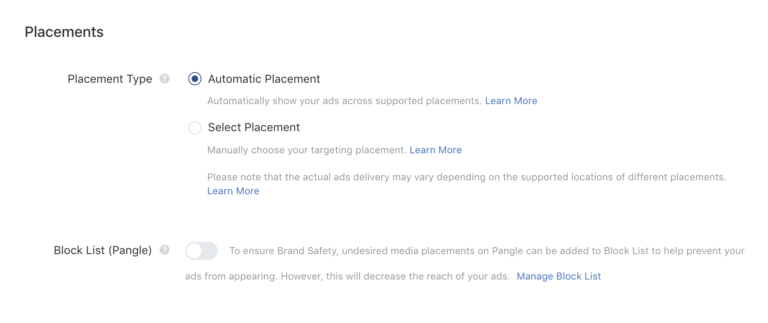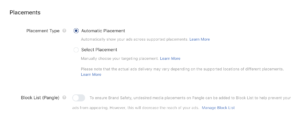 Once you've selected your preferred placements, follow the prompts to enter all of the details necessary to start running your ad, including any relevant URLs, display names, images, and categories. You can also select up to 20 keywords to describe your website or app, which will then be used to match your products with the right audience.
The Targeting section lets you define the target audience for your ads. Set parameters for location, age, gender, languages, interests, devices, and more to attract the right audience for your ads.
3. After specifying your ad group, you will have to actually create a video ad for TikTok. When it comes to designing the creative assets for your ad, the process is fairly straightforward. TikTok ads can be horizontal, vertical, or square videos and images. The best thing about the ads platform is a tool called the Video Creation Kit, which provides video and image templates you customize using your existing images. It also comes with 300+ options for free background music.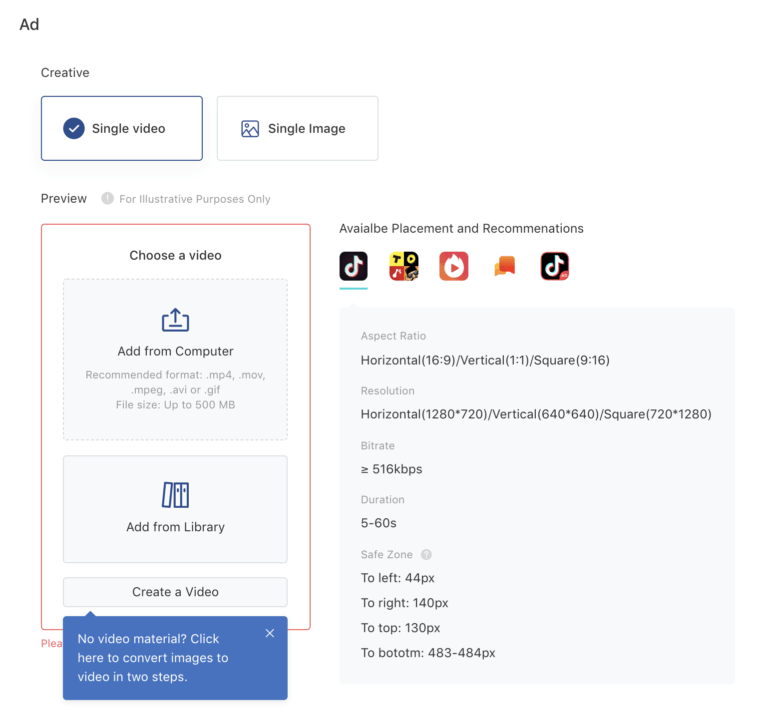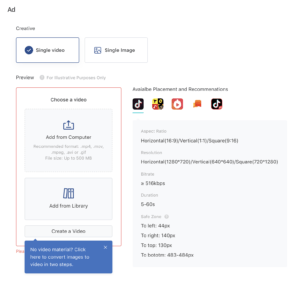 Once you have finished creating your ad, you can use TikTok's ad preview tool to see how your ad will look on mobile devices. You may continue to create more ads and ad groups for your campaign.
Succesful TikTok Ads
You can't create a successful TikTok advertising campaign if you don't know what TikTok audiences like. Here are some businesses that are advertising their products, services, and apps on TikTok and what you can learn from them.
Clean & Clear in India ran a Hashtag Challenge campaign to introduce a new limited-edition design to a teen audience. It ultimately generated 2.62 million user-generated videos and over 10,400 new fans for their brand on TikTok.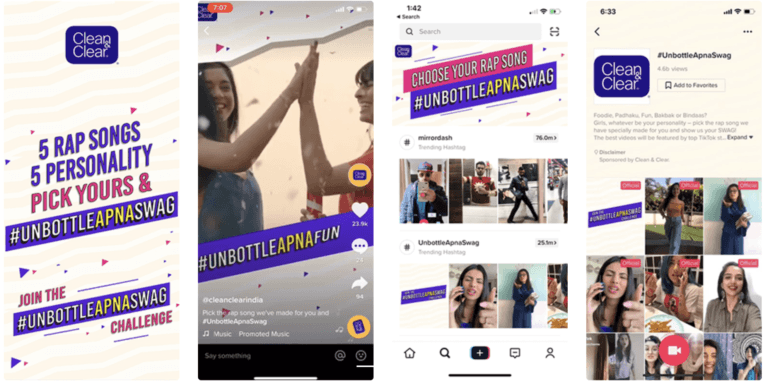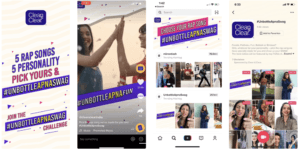 Too Faced ran a Brand Takeover campaign to introduce a cruelty-free lip-plumping gloss. It ultimately generated 7.6 million impressions and 1.3 million clicks—an 18.38% click-through rate that exceeded expectations.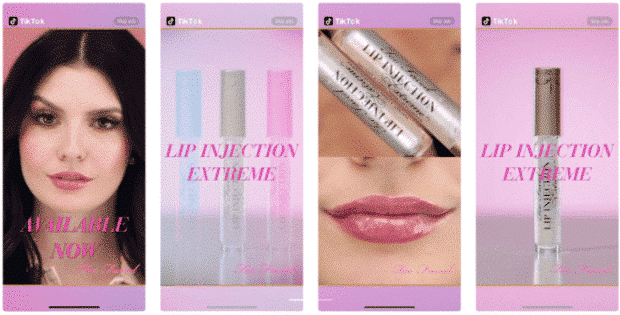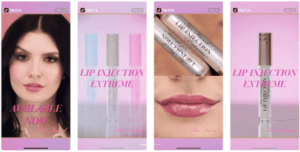 As you browse through their current sample of successful ad campaigns, the big takeaway is this: get to know your target audience on TikTok. To create the best native ad content, you have to recognize the best native content.
Headquarters
TikTok has offices in Los Angeles, Culver City, Mumbai, Jakarta and others.
HQ
Los Angeles, US
Santa Monica Blvd
Sorry, we don't have these details yet. If you are a TikTok Ads representative, please get in touch to add additional information and contact options to your profile.