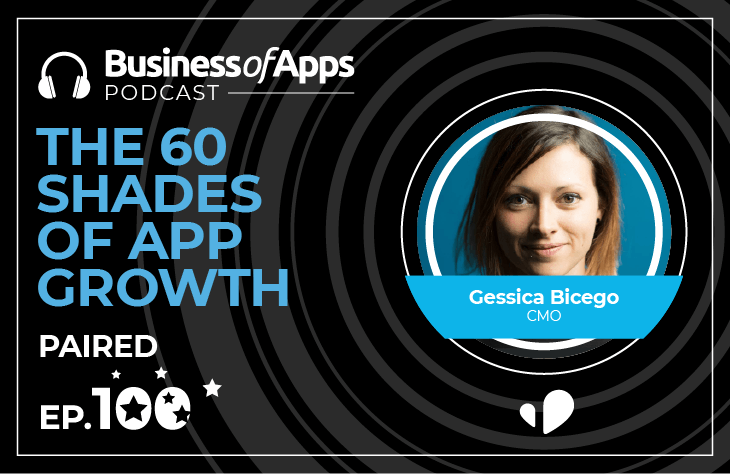 This week is a special one – the Business Of Apps podcast has reached episode #100.
For this special occasion we've invited Gessica Bicego, one of the most well-known mobile app marketers, with years and years of experience in app growth, and talk about what we call "The 60 shades of App Growth". During the conversation, we cover what it takes to increase a mobile app user base and, of course, the revenue it generates. Every app marketer and every brand that launches a mobile app is focused or should be, on its growth. A brand new app brings a bunch of challenges to an app marketing team, a well-established app has its own challenges that somewhat overlap with the former but for the most part, are unique.
Today's Topics Include:
Gessica's background
What is Paired app
Growing well-established app versus a brand new one
What app marketing channels Gessica considers the most effective
TikTok Ads
The impact of Apple's ATT and Google's Privacy Sandbox on app marketing
Gessica's parting word for app marketing newbies
What features would Gessica miss most leaving his smartphone at home? Google Maps, Instagram
Links and Resources:
Quotes from Gessica Bicego:
"I would say that there is no such thing that is like the best app marketing channel. I think it really depends on the product you are advertising.
I have this passion of working for mobile products that are building something new. And so the issue is that people are not really looking for what you do.
TikTok for me is like this question mark platform, I open it once a month – I get lost in it. I watch like a thousand videos about dogs and I close it again and I forget about it."
Follow the Business Of Apps podcast