With App Campaigns, Google provides app marketers with a single platform to promote iOS and Android apps via Google Search, YouTube, Google Play and more. The platform's dashboard offers quick and easy-to-use interface to create an ad or set of ads, choose daily budget and define goals for the platform's ML algorithm to define the rest to optimize an ad campaign performance.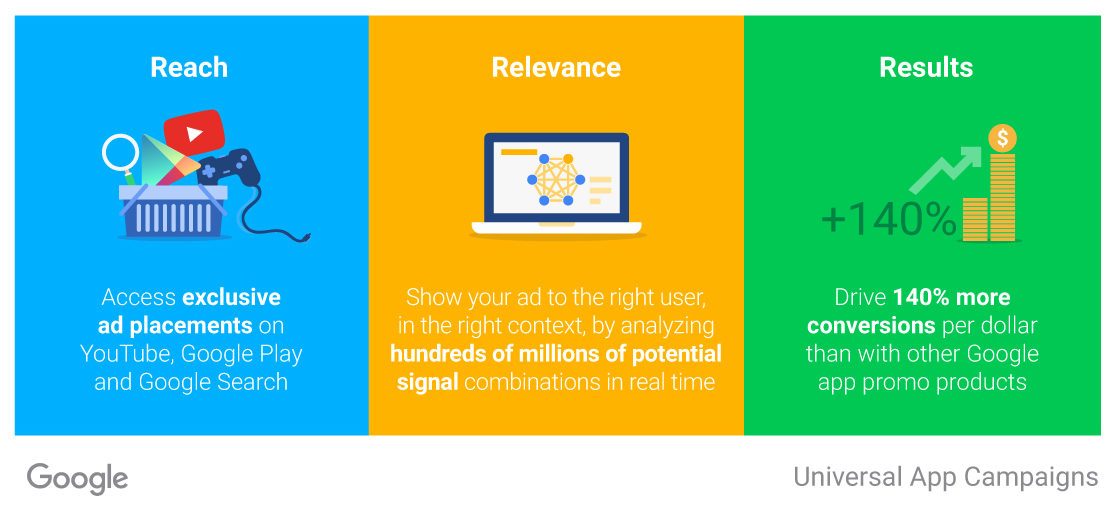 Key Features
Unlike most Google Ads campaigns, you don't design individual ads for Universal App campaigns
Your ad text ideas and assets from your app's store listing are used to design a variety of ads across several formats and networks instead
Google will test different combinations and show ads that are performing the best more often, with no extra work needed from you
Google Ads automates the targeting and bidding
You can optimize your campaign targeting to focus on finding valuable users based on actions you care about
Universal App ads are generated on the fly by Google's system
The system rotates your ads and adjusts bids automatically to get the most downloads for your app
Your ads will be eligible to appear across major Google properties
Google can show your ads to people who search for terms and apps that are relevant to your app
Numbers & Revenue
70.7% of the internet company's revenue came from advertising through Google Sites and 14.7% through advertising via Google network sites
Revenue at Google's parent company rose 25% during the second quarter of 2018
Google said its revenue had grown 22% between Q1 of 2016 and Q1 of 2017
Google claims you can drive 140% more conversions per dollar than other Google app promotion products
Google Uac Ad Formats
Ads with Google Uac will be eligible to appear across Google's properties. This includes the following:
Google Search and Google Play
YouTube
The Google Display Network
AdMob
Google Search Network
Google matches your ad to search terms that are relevant to your app or its category.
Google Play
Google can show your ads to people who search for terms and apps that are relevant to your app.
YouTube
Google Ads can show your ads on YouTube where they're most likely to be clicked, and your app is most likely to be downloaded.
Google Display Network
Your ads are eligible to appear where they're most relevant on the Google Display Network and within other apps.
How To Use Google Uac To Scale Your Mobile App (Video)
Sorry, we don't have these details yet. If you are a Google App Campaigns representative, please get in touch to add additional information and contact options to your profile.