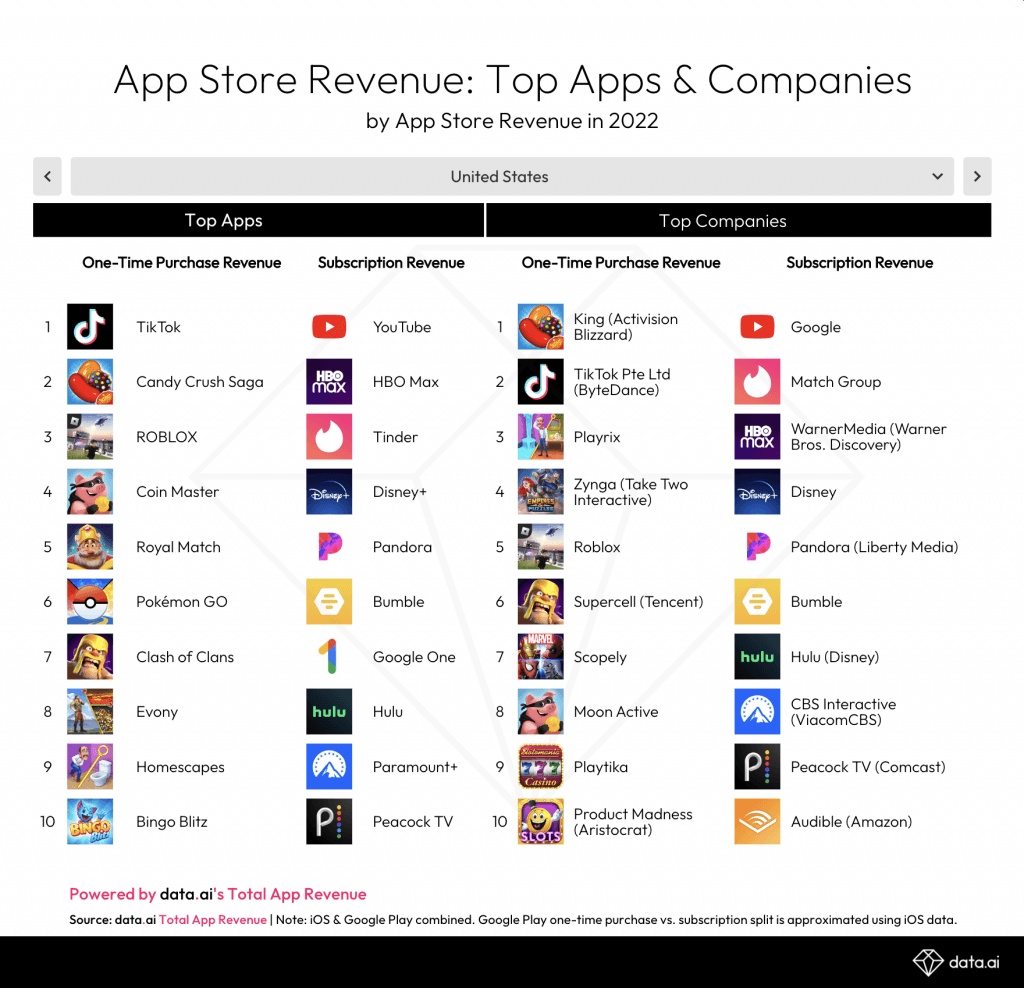 TikTok has become the first-ever app to exceed $1 billion in consumer spending within a single quarter. That's according to new data from mobile app experts data.ai. Let's dive in.
One-time purchases can still succeed
TikTok amassed $1 billion in consumer spending in Q1 2023, followed by Honor of Kings, a popular game, which saw $570 million in global consumer spending across iOS and Google Play platforms. YouTube secured the third position with an impressive figure of over $530 million in consumer spending.
TikTok stands out as a true unicorn in the realm of in-app purchases, going against the grain when it comes to consumer spending trends. Unlike non-game apps, where subscriptions account for nearly 70% of in-app purchase spending, TikTok distinguishes itself by relying on one-time purchases, a model typically more popular in the gaming industry.
Subscription vs non-subscription spending on iOS app
Source: data.ai
TikTok users have the option to purchase gifts for their favourite streamers, and this unique approach has propelled TikTok to the top of the charts. In fact, TikTok is the only non-gaming app among the top 10 in the United States in terms of revenue generated from one-time purchases, surpassing popular titles like Candy Crush Saga, Roblox, and Pokémon GO.
Thanks to its large and devoted fan base, TikTok has been able to forgo the subscription model and instead accumulate billions of dollars through the sale of TikTok coins. This success is likely to have captured the attention of other social platforms that have yet to crack the code of monetisation beyond advertising. The ability of TikTok to achieve such remarkable financial success through in-app purchases demonstrates its strong position as a social video giant.
Changing landscape of in-app spending
As mobile devices dominate our lives and apps become our go-to source for entertainment, health, fitness, and even dating, consumer spending habits undergo an evolution.
Subscriptions, riding high on their popularity, cater to the demand for affordable options, providing the convenience of auto-renewal and ensuring developers a steady stream of revenue.
In the world of in-app purchases, price sensitivity takes centre stage. In Q1 2023, a staggering 70%+ of non-gaming in-app purchase revenue in the US stemmed from purchases priced between $10 and $100, marking a 6-point surge from Q1 2022.
iOS consumer spending share in the US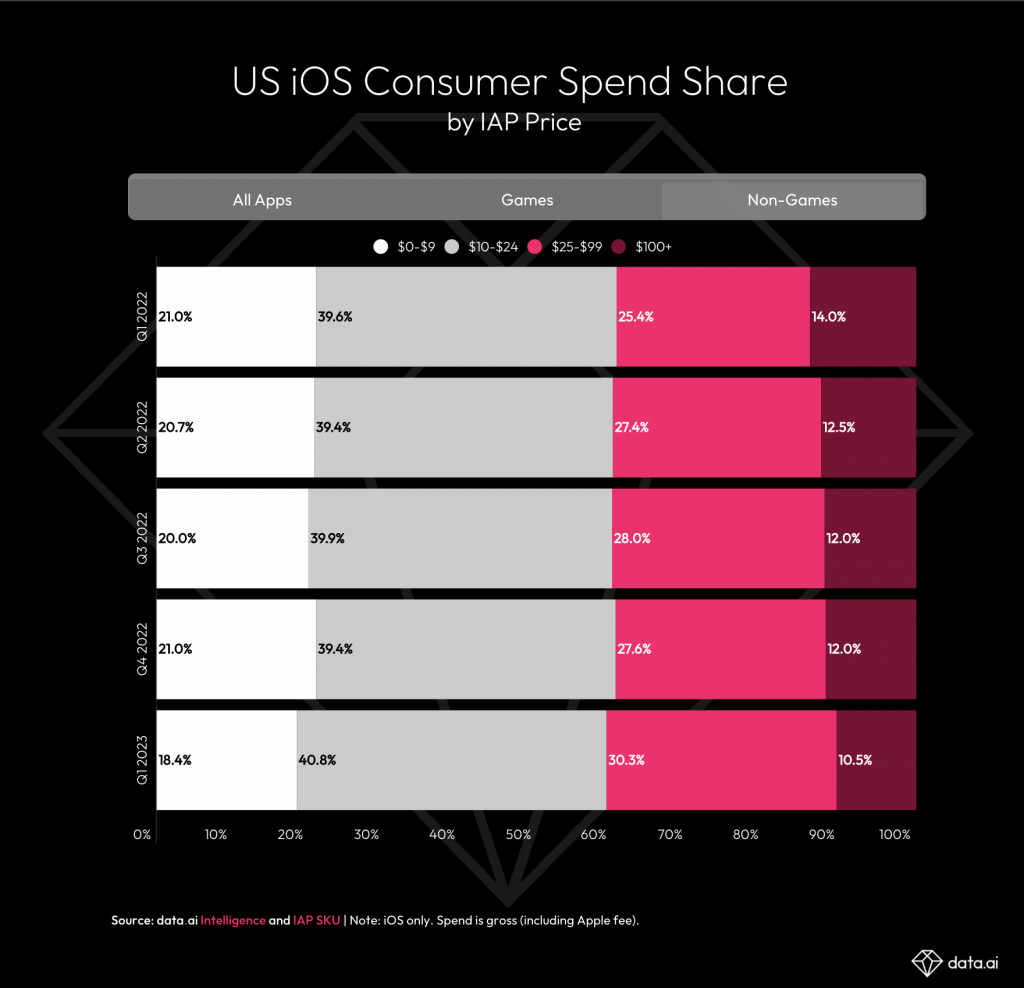 Source: data.ai
This shift highlights consumers' recognition of the value and affordability within this price range. The tide of consumer spending is changing, prompting both users and developers to adapt to this dynamic app economy.
In mobile games, mid-tier in-app purchases ($10 – $99) make up 42% of spending. Consumers tend to favour low-priced items or splurge on high-priced purchases above $100.
About 45% of game in-app purchase revenue in the US comes from purchases under $10, while a significant portion is generated by purchases priced over $100.
Case example: Hinge
Hinge, the dating app, revamped its monetisation strategy to achieve a 60% year-over-year revenue growth in the US during 2022. Recognising the need to stay ahead, Hinge introduced Roses (akin to Tinder's Super Likes) as an enticing one-time purchase option alongside its subscription services in late 2020. This in-app purchase proved to be a success, contributing to over one-third of Hinge's revenue in the US on iOS by Q1 2023.
Hinge US revenues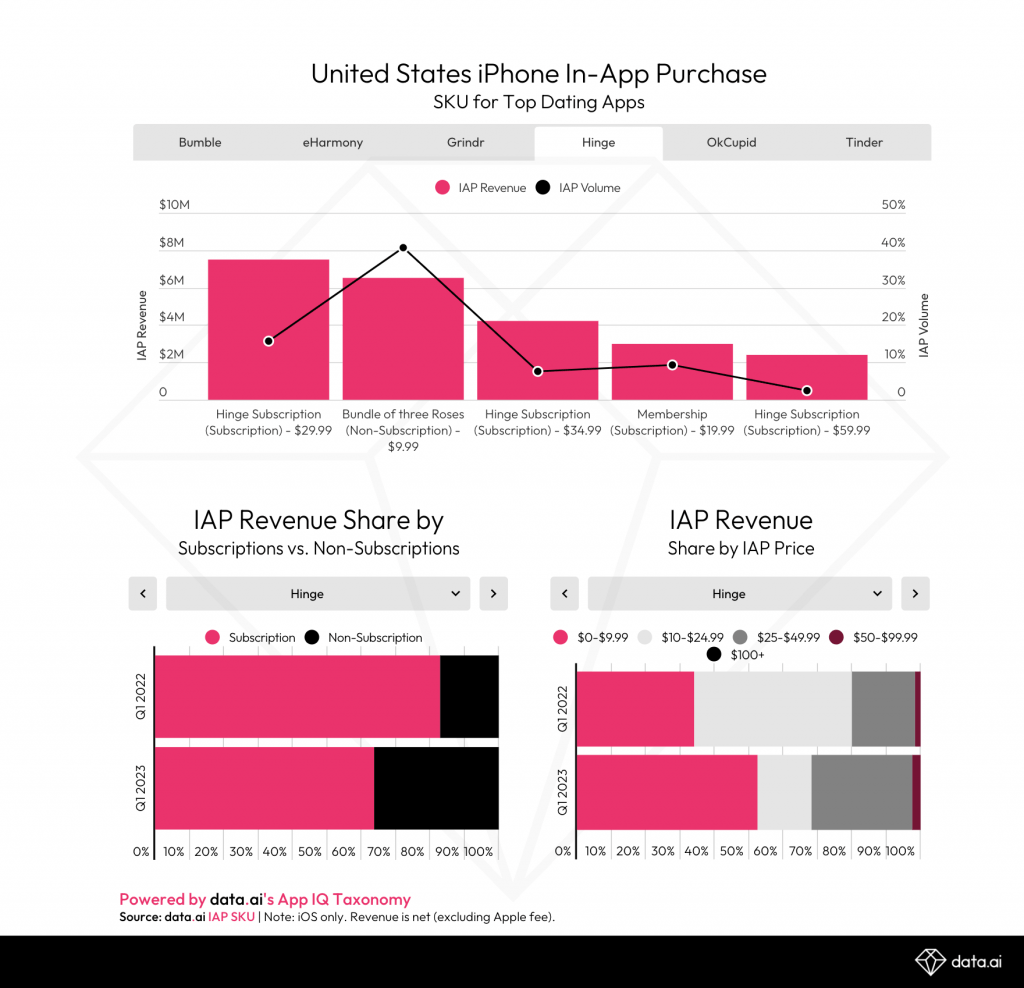 Source: data.ai
Hinge also recently expanded its membership levels to cater to these preferences. Earlier this year, the dating app introduced a $60 per month subscription option, which garnered significant attention. Moreover, it witnessed an upward trajectory in popularity for its most sought-after subscription option in Q1 2023, priced at $30, up from $20 the previous year.
Key takeaways
TikTok shatters records with $1 billion in consumer spending, leveraging one-time purchases and a devoted fan base
Subscription models dominate non-game app spending, but in-app purchases priced $10-$100 see significant growth
Mid-tier in-app purchases make up 42% of in-app consumer spending