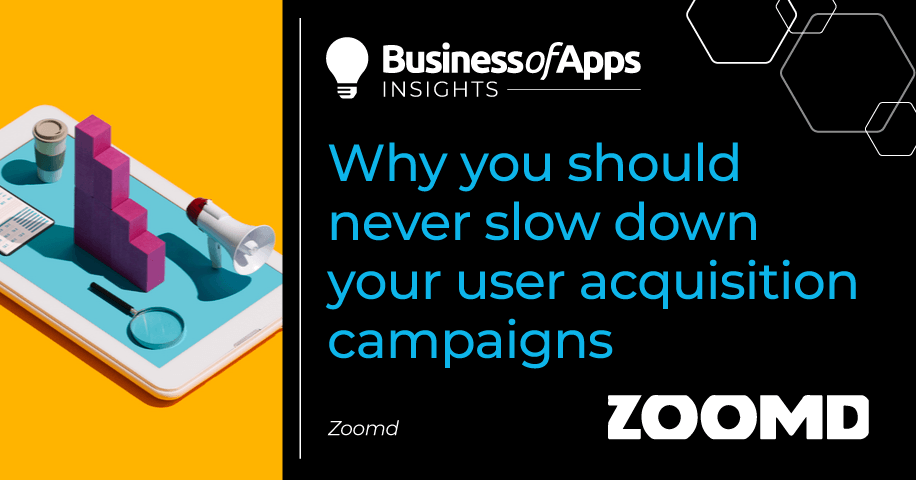 After a successful launch and growing the company, it can be tempting to slow down your user acquisition campaigns and take some time to rest on your laurels, but this is the ideal time to double down and expand your user acquisition activities. Success breeds success and using your current trajectory as a jumping board for future campaigns can prove to be an extremely successful strategy. User acquisition activities are designed not only to grow your user base during a launch period but to introduce your product to new batches of customers constantly. There is no better time to get all eyes on your brand than during a period of growth, and by adopting the "always on" strategy, you can ensure your customer base is constantly expanding.
So why is it essential to maintain these campaigns and have the "always on" strategy even after achieving success?
The challenges of complacency
Unlike its title, user acquisition isn't just about getting customers to click on an ad and register for your offer. Marketing places more of an emphasis on getting the customer interested and engaging with materials. In contrast, user acquisition looks at what happens after you've caught the attention of potential customers by creating ads that drive revenue rather than recognition.
While recognition is one of the key priorities during the initial stages of an organization or product's development, revenue is critical at all stages of the lifecycle. Expanding your user base is always a priority and essential for taking your organization to the next level.
There are two primary paths for continuous user acquisition:
The Retention Path – This refers to activities and campaigns focused on retaining your existing customers by ensuring they remain happy with the product and engaged with your organization
"Always On" User Acquisition- this path focuses on expanding your customer base to include new customers at every stage of your organization's development.
UA and Retention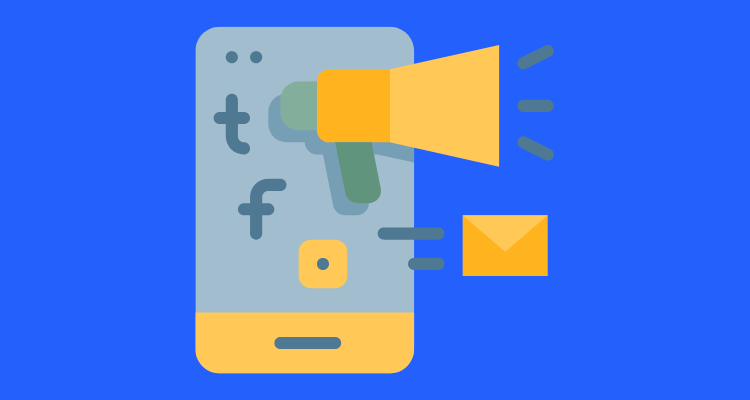 Source: Zoomd
Both paths are critical and work in parallel to bring in new users and retain them for as long as possible.
Neglecting user acquisition activities can significantly impact the organization's bottom line, but continuously investing in consistent user acquisition campaigns prevents customer loss and encourages expansion. This translates into a consistent rise in revenue and creates a solid foundation for continued success.
Expanding to new channels and diversifying existing content
Skipper by Zoomd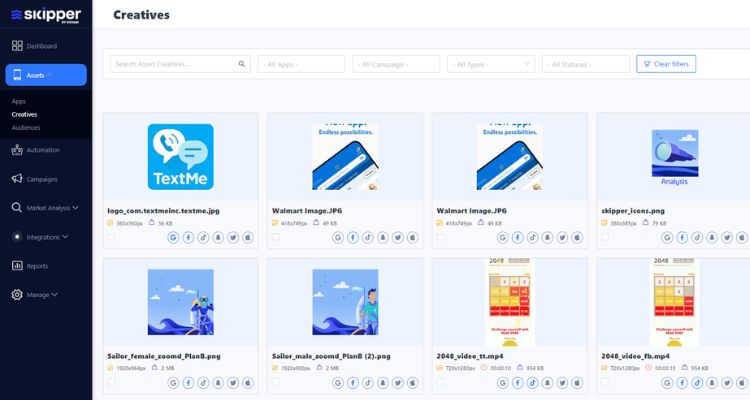 Source: Zoomd
While many organizations prefer to stick with social media channels that they are already established on, expanding operations can be one of the most effective ways of reaching a new customer base. Before jumping onto every social media platform, it's important to consider where your customer base is most likely to consume content, what channel your product is most suited for, and which demographics frequent each platform.
Here are a few tips you can use to make the most out of your diversification:
Use real-time data to make your campaigns more effective
Diversifying your campaigns by expanding to new platforms won't provide the increase in customers you want if you don't have an effective campaign strategy to back it up. Campaigns that worked in the past or on other platforms may not resonate as well with a new audience. That is why it's critical to constantly keep an eye on the data that gives you the insights you need to gauge your campaign's effectiveness. Observe how users respond to each post and which posts get the most engagement and use this information to plan future campaigns so you can tailor each campaign to meet your audience's expectations- and guarantee its effectiveness.
Optimize your budget
You can diversify your activities without breaking the bank by focusing your budget on the aspects that really matter, such as creating quality campaigns over a number of activities. Additionally, tools such as Skipper include budget allocation features that help you stick to your budget without compromising on your user acquisition activities. Skipper allows you to choose your own budget in a pre-set KPI so that you can easily navigate your budget across channels, making diversification affordable and realistic.

Look at the bigger picture of your campaigns
When running multiple campaigns at once, it's easy to lose sight of the forest for the trees. Focusing on the details of a campaign is essential to ensure its success, but you can also gain insight from viewing the campaign's performance as a whole and looking at the big picture. Seeing the overall performance of each campaign makes maintenance and optimization less overwhelming and comparing the performance of campaigns on different channels may reveal campaigns that need to be adjusted, optimized, or maintained. This can be challenging, especially when running multiple campaigns concurrently. Platforms like Skipper can provide you with tools such as dashboards and actionable reports that simplify the task.
Skipper platform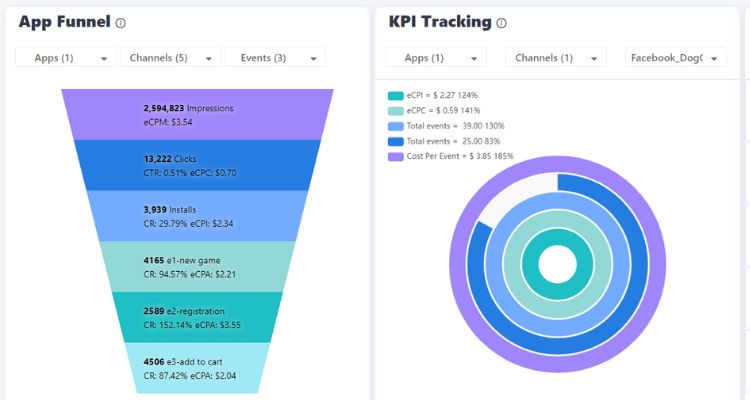 Source: Zoomd
Maintaining campaigns with Skipper
Now that we've examined the challenges of complacency and the importance of "always on" growth, let's look at how our platform can help you continue a growth trajectory with minimal effort. Zoomd's new Skipper platform allows app developers and advertisers to create, manage, automate, and optimize their user acquisition campaigns on multiple channels, all from a single dashboard – saving a lot of time and with no need to be a "social media master"
Many organizations struggle to juggle several campaigns simultaneously, particularly when spread out across various platforms. The entire set-up, optimization, tracking, and maintenance of campaigns can be both complicated and time-consuming. Skipper allows you to create and maintain engaging ads and multiple campaigns across all the most popular social media channels, including Facebook, Instagram, Google Ads, TikTok, Apple Search, Twitter, Snapchat, and more. By providing continuous accurate reports, Skipper allows you to keep track of all your campaigns concurrently and gives you extra insights into your campaign's effectiveness and the performance of your user acquisition and marketing materials.
Skipper Reports Center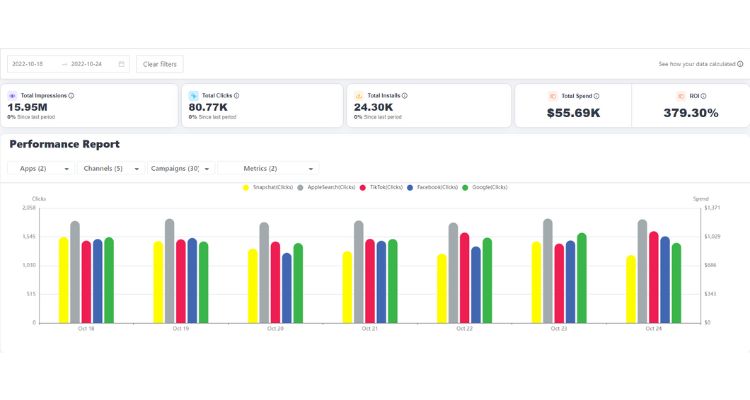 Source: Zoomd
While focusing on managing your existing campaigns may make you feel like you have little time to implement the above strategies, implementing management tools can make maintaining and even expanding your campaigns a breeze. Skipper is the perfect option, as, like you, even after a successful launch, we're continuing to grow, evolve, and develop our product. We are constantly adding new features to meet our customers' needs, and so far, we've already added data collection and market analysis features. We're focused on meeting our customers' present and future needs, so check out our platform today to learn how we can help you build on your success.