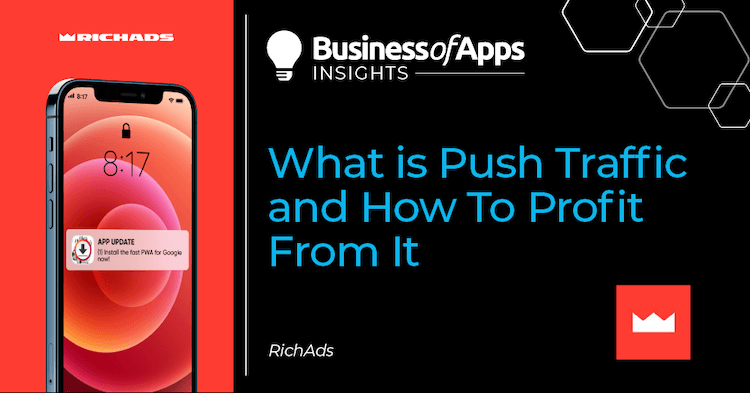 Push traffic gained its popularity back in 2018. It was the time when marketers started using push notifications as a new advertising channel and launched their first campaigns to drive cheap and quality leads. 
Push traffic has its advantages and disadvantages, so below we're going to show you if it's worth testing this channel in mobile marketing (based on RichAds advertisers' experience).
What is push traffic?
Push traffic comes from Push Notification ads. They are personal-like messages traditionally sent to the user's browsers on both mobile and desktop. On RichAds, 90% of push traffic is mobile. This ad format allows driving traffic from both iOS and Android devices. 
Users are opt-in to receive push ads after visiting certain websites. After that, they continue getting your notifications in the browser until they unsubscribe. When a user clicks on an ad, it takes them to an advertiser's page which can be a landing page or app store.
Push ads
A push ad consists of a title, ad description, icon, and main image. The main image is what the user sees on the desktop, so it doesn't matter much for mobile advertising.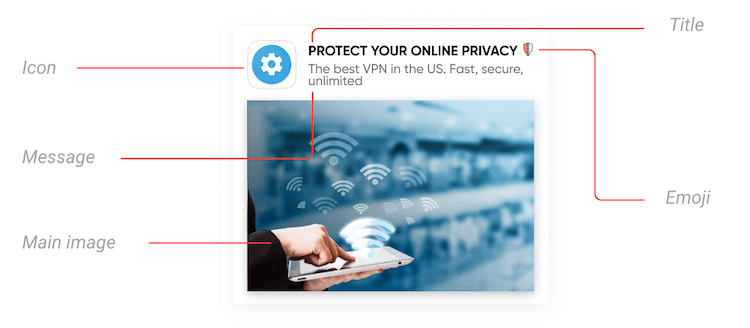 Source: RichAds
As you can see, visually, push notification ads are quite similar to the usual push notifications sent from mobile apps. This is the main advantage that differentiates them from other ad formats which are mostly ignored by an experienced audience (due to banner blindness, ad blockers, and e-mail filters). 
Also, there are 3 most popular types of push advertising:
Web push notifications
In-page push
iOS Calendar push ads
Benefits of the push traffic: how to make the most of it
Reliable personalized looks and high CTR
We have already covered the ad's similarity to a usual push notification from apps. It helps to gain the user's trust and attention. Besides that, you can personalize your ad with relatable names, locations, holidays, or occasions. 
To harness the power of this advantage, make sure to avoid popular mistakes:
There is still a lot of buzz around push notification advertising, so the competition grows. Stand out from others by making your own creatives – do not copy them from spy tools without a single edit.
The best strategy is to set 1 impression per user per day. The higher frequency at the start can make your CTR fall and get you out of the bidding.
Uploading 1 creative only
As for other advertising, a/b testing is a must. Don't forget to upload at least 3-5 creative for push ads, too.
 Placement with a 100% visibility
Push ads always appear in the user's center of attention above other tabs. On mobile devices, they resemble personal alerts from messengers like Facebook Messenger or WhatsApp. 
Source: RichAds
The advertiser's goal here is to make the title catchy or even aggressive. This element is the first thing users see. Be as creative as possible!
Cost-effectiveness
Compared to the cost of advertising on Facebook or other ad channels, push notification ads are much cheaper. And it doesn't mean the low quality. Even though there is no targeting by interest, it's a great way to drive conversions at a low CPA to popular verticals. Besides, as push traffic is often bought at the CPC (cost-per-click) model you do not overpay for the irrelevant audience. For example, the minimum CPC in the United States is $0.159.
It makes push advertising a smart option for both direct advertisers and affiliate marketers to scale ad campaigns.
All niches allowed
As you can see, users who subscribe to push notifications can have mixed interests and backgrounds. So, push ads are considered to perform best with the wide-targeted general verticals. Here are the examples of the most popular niches:
VPN, Antivirus
E-commerce
Games
Nutra
Subscriptions
Mobile
Betting
Gambling
Dating
Finance
Sweepstakes
Binary options
To narrow your reach, you can optionally set targeting options in your campaign, for example, to target certain devices, OS, or mobile carriers. 
No bots
Nowadays advanced ad networks implement third-party services to verify push traffic. They block fraud or low-quality leads from deceitful websites. So, you drive traffic from the real users who subscribe to receive notifications themselves.
How to increase ROI from push traffic
The easiest way to drive traffic from push advertising is by joining one of the ad networks (like RichAds). There are a great number of them these days, but keep in mind to check the quality and volumes of traffic.
If you're only starting, contact the network's account manager to learn what works best in their ad platform or even ask for a whitelist for your offer. You can also request creatives and assistance with your campaign setup.
Next, testing is the key. After you launch ads and see that some sources perform well, you can optimize for higher profits. Use automated rules and micro bidding to blacklist or change bids for non-performing campaigns, creatives, and targeting options.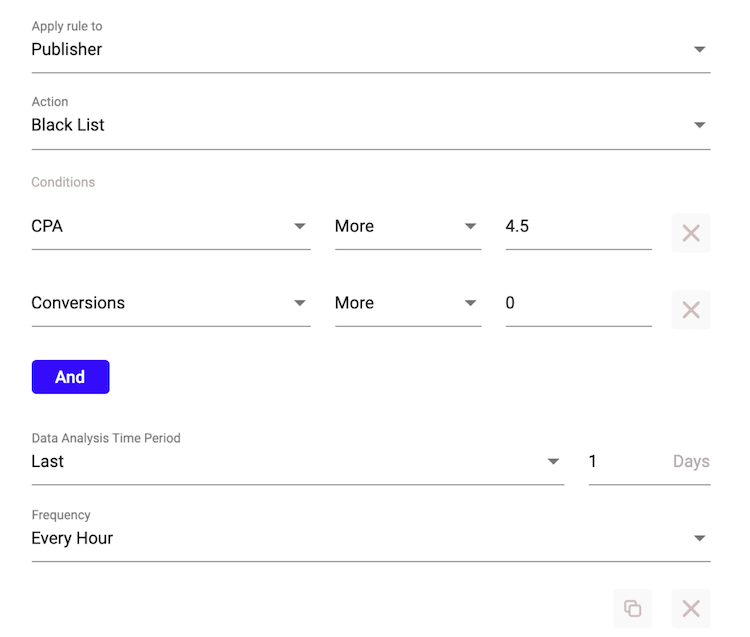 Source: RichAds
After that, you can scale advertising campaigns. There some popular scaling strategies:
increase the budget;
connect to new subscriber lists (groups of sources);
increase the bid for the best-performing sources;
launch another ad format (popunder, for example).
If you already have some expertise in push ads, you can go beyond driving traffic from push ad networks and build your own assets. One of the common practices is to collect your own e-mail list and retarget them with other advertising channels.
So, generally, push traffic has a lot of benefits and allows advertisers to reach a wider mobile audience at a low cost for higher ROI. 
Test and scale the premium push traffic with RichAds ad network. Start a campaign now