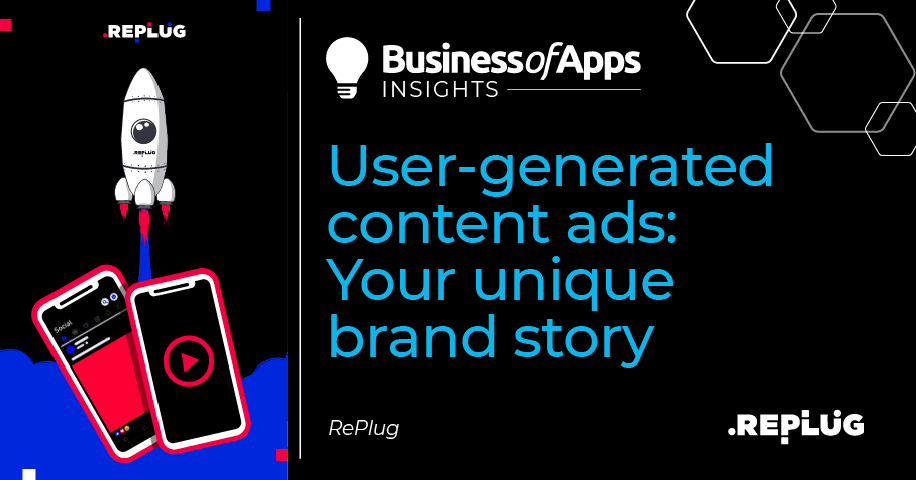 With the rise of short-format video content on social media platforms, user-generated content has become the new way to communicate with the outside world. TikTok has initiated this trend, allowing users to publish raw, unpolished, and "honest" video content. Following its success, other platforms have quickly aligned, providing more avenues for users to express themselves.
Today, video content is king. Over 65% of people refer to video content as their number one source of information. Do you want to know whether your next holiday destination is as cool as they write about? You go and check a YouTube video by a content creator talking about that place. Are you searching for the most interesting stock to buy? You check a piece of user-generated content on one of the many video platforms about stock investment.
You name it, there's someone out there talking about it, and most likely promoting some brands.
Video has always been there. Before on TV, yesterday on your laptop, today in your hands with 75% of all the video content consumed on a mobile device. What's different about today is that brands are in users' hands (or we should maybe say voice).
What is user-generated content?
User-generated content (UGC) is content (not only video) created and published organically by individual users rather than brands or well-known influencers. In its origin, UGC was, and still is to a certain extent, original and honest content that users would post online for the public. Since the explosion of video-based social networks, however, marketers have recognized the power of this type of format and the so-called user-generated content ads or UGC social media advertising has increased in popularity.
ODXClub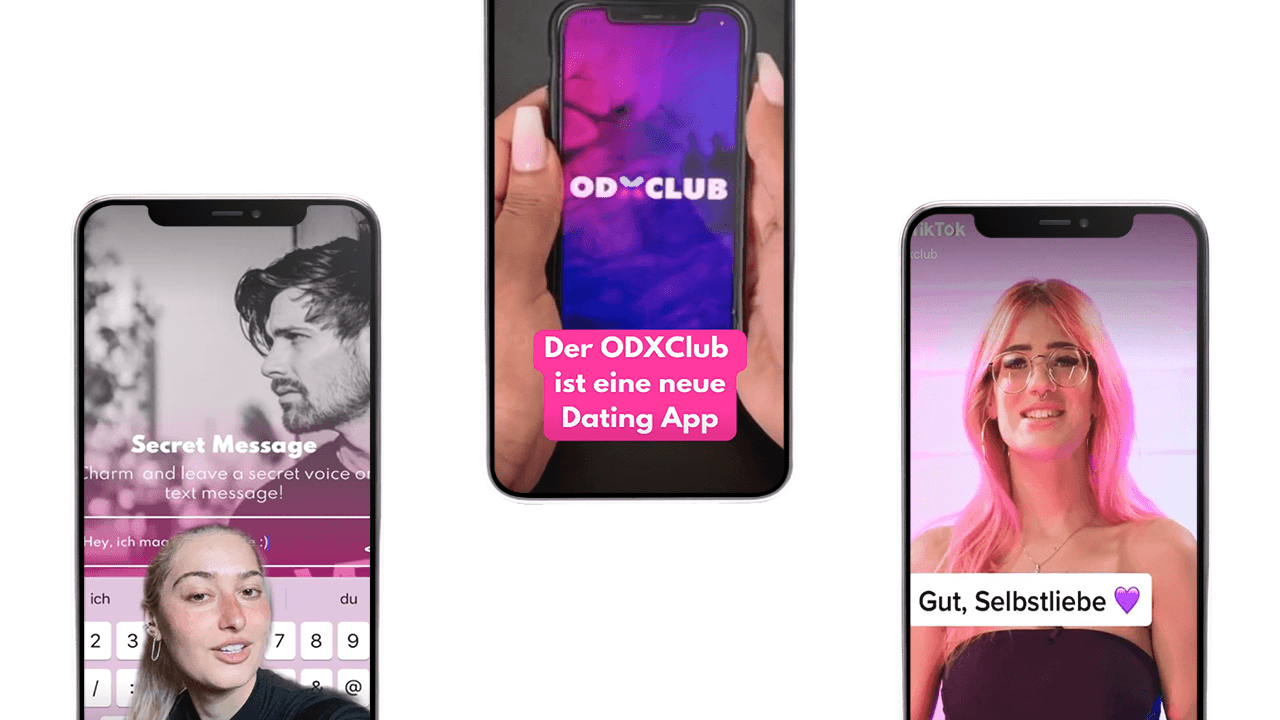 Source: REPLUG
Why is user-generated content valubale for (app) marketing?
There are several reasons why UGC ads have quickly become an integral part of the media mix for many brands.
It's, first of all, inexpensive compared to traditional video production. It's not necessary to work with popular (and very expensive) influencers, as a matter of fact, micro-influencers and content creators are enough. Moreover, a single content can be used across different platforms, decreasing production costs even more. It's also more trustworthy compared to normal ads, after all our brand is being endorsed. It can be more informative and, at the same time, funny or engaging, compared to other ad formats.
How to create UGC ads that work
Contrary to what one might think, user-generated content used for social media advertising needs planning and testing. A lot of testing, actually. UGC can be difficult to manage, especially for traditional brands with a lot of restrictions or tight branding guidelines.
To successfully create a winning user-generated content ads strategy, marketers need to leave the right space for creators to think, create, and deliver concepts that align with their styles and the social media platform used.
A traditional approach won't work for UGC. The key to successful user-generated content for promotional purposes is to be hands-off and don't try to impress the audience with your marketing tricks. TikTok says it very clearly "Make TikToks, Not Ads".
Video Ad (1)
Source: YouTube
Scaling app growth through user-generated content ads
Contrary to popular belief, UGC advertising is not only for branding purposes. User-generated content ads, if used correctly, can be the key to scaling efficiently on a performance basis. At REPLUG, we have known this for some time and have seen the power of this type of format for some of our partners. In 2020, we managed to scale massively and in a cost-effective way, beyond the traditional acquisition channels, thanks to a tailor-made UGC ads strategy on TikTok.
Although in the early stage, UGC ads were mainly used on video-focused social networks, with time, marketers have been experimenting with this format, also on other, more traditional SNS, such as Facebook.
Today, more than ever, information is consumed fast and users are looking for truthful sources for app discovery, and that's why user-generated content should take a special place in mobile marketers' creative strategy.
Cost efficiency also for limited geographical areas
Depending on the growth stage or serviced areas, some mobile apps might have the need to advertise exclusively to limited locations. Advertising through traditional creative formats, such as banners, carousels, and even videos can result rather expensive when limiting the geographical reach of a campaign. This is even more true when looking at video-first advertising platforms, such as TikTok, where the creative approach becomes crucial for success.
When working in these conditions, marketers must rethink how they approach their media mix and carefully consider their CAC. At REPLUG, we have been working for the past few months with a newly launched dating app in the German market, specifically Berlin, called ODXClub.
The dating space is highly competitive, with many established players using a wide range of activities and channels to reach users. The objective is one and only: to be the first relevant choice to find the perfect date.
ODXClub launched just at the perfect time, a few months before Summer. This gave us enough time to prepare from a communication and creative point of view, and perfect, over time, our approach. As our Paid User Acquisition experts started their activities, they decided to test a few different approaches to then narrow down to the best-performing channels and concepts.
The main channels where creatives played a significant role were TikTok and Facebook (with Instagram included). The approach tested were:
Classic static creatives (banners and carousel portraying features, and benefits of the app)
Classic video ads (focusing on the experience that the app would provide)
User-generated content (having the creators produce videos that could potentially be used also on their organic page)
ODXClub ads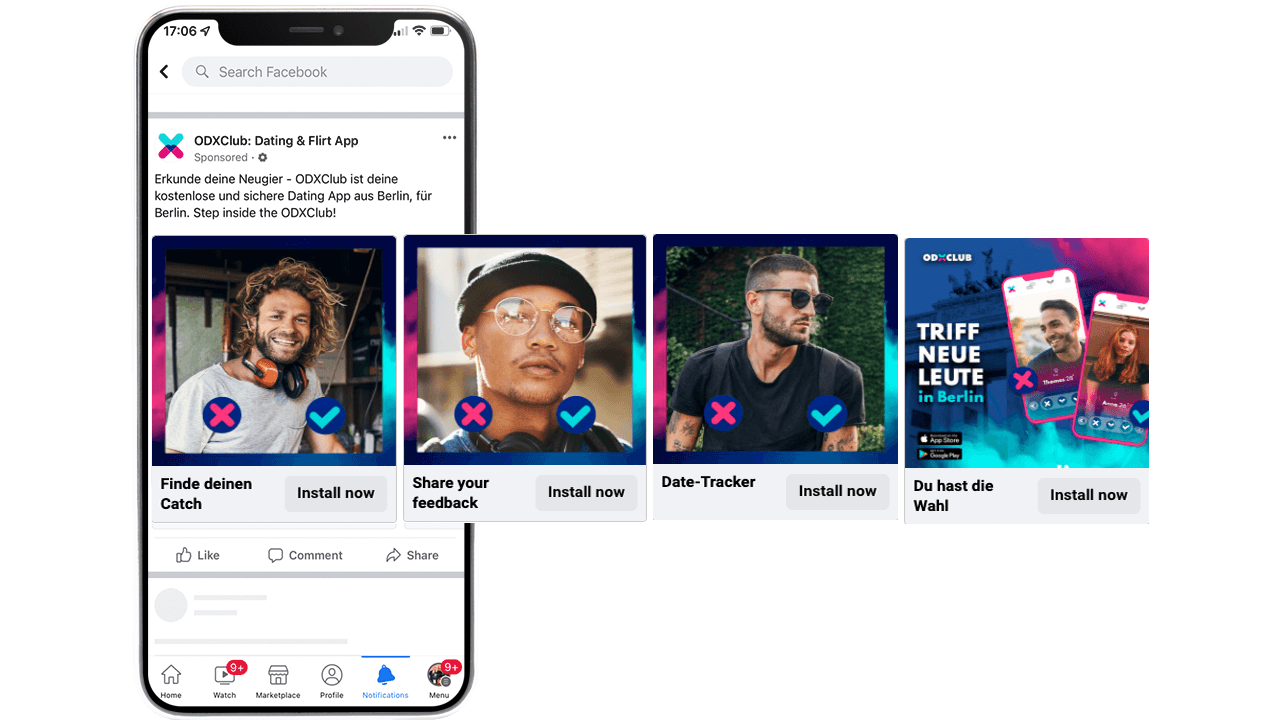 Source: REPLUG
"From the very beginning, the REPLUG team insisted on taking advantage of user-generated content, as in their experience this would have brought great results. Thanks to a coordinated effort between the teams, we achieved the "impossible", bringing a healthy ratio of male-female in the app from the very beginning at incredibly low costs, considering the limited geographical radius."
Phillip Schacht – Head of Marketing at ODXClub
As we started scaling spending across different advertising platforms, we noticed that User-Generated Content was performing considerably better than traditional creatives. When looking at the results achieved, we observed that UGC ads played also a significant role in decreasing the cost of acquisition on non-video social networks, such as Facebook.
CPI vs CPA on Facebook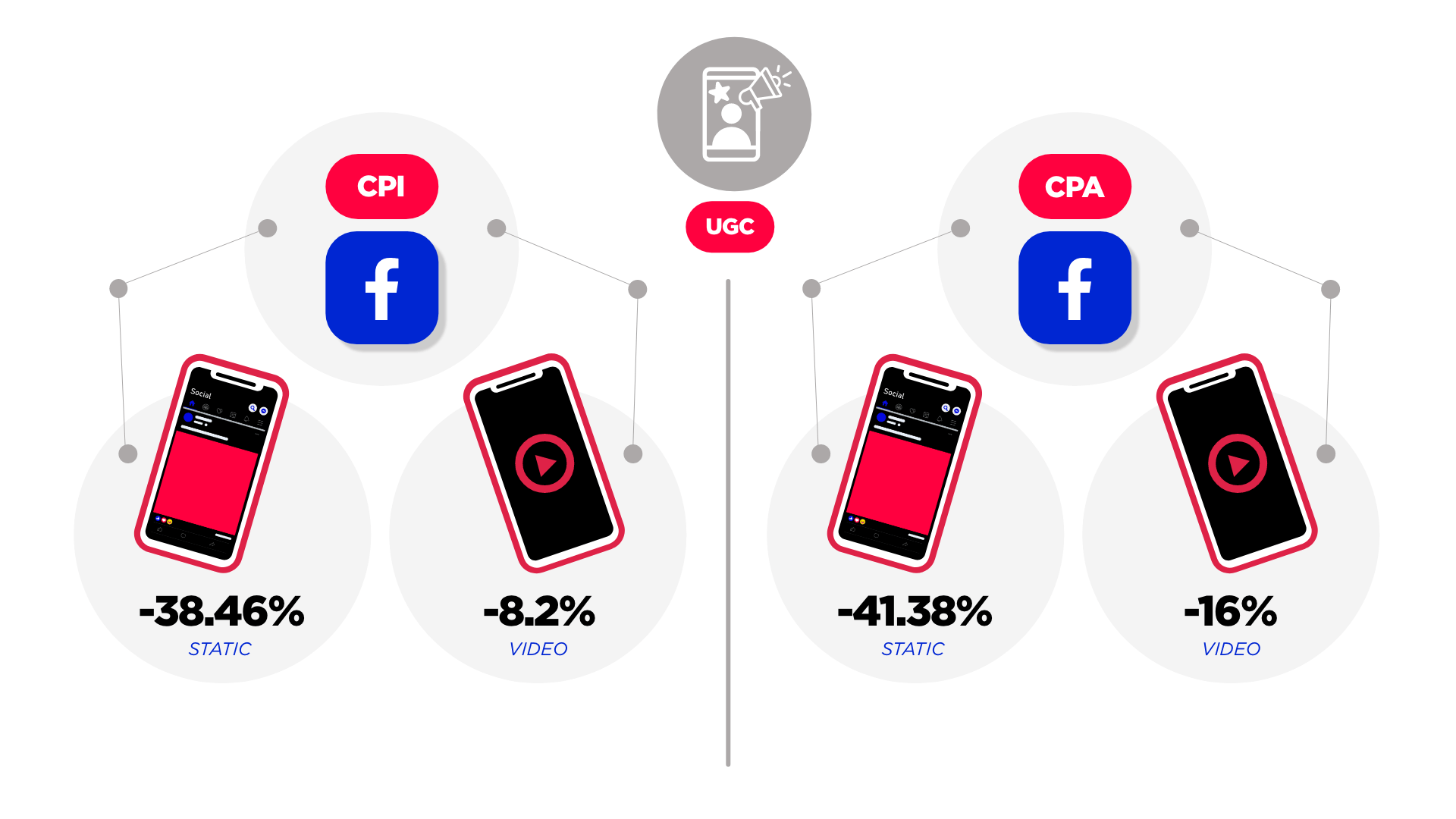 Source: REPLUG
More specifically, on Facebook and Instagram, the cost per install (CPI) was 38.46% lower than the static format, and 8.2% than a traditional video format. At the same time, when looking at down-the-funnel metrics, UGC ads also brought better users, with a decrease in CPA of 41.38% compared to static ads, and 16% to video.
When looking at TikTok, we noticed the same trend. User-generated content was (and still is) outperforming video ads on the Chinese Social Network, with an average improvement of CPI of 44.3% and CPA of 49.2%.
CPI vs CPA on TikTok
Source: REPLUG
With campaign data in our hands, we were able to confirm our knowledge, seen also with other partners, that UGC ads perform much better than normal videos on TikTok. However, most interestingly, we noticed that this type of content when used on Facebook also created a positive uplift in performance-based activities with clear improvements in cost per acquisition.
Video Ad (2)
Source: REPLUG
Tell your story in a unique way
When it comes to user-generated content, brands and marketers need to have a different approach than traditional creative assets creation. Creators need to be free to produce content in their own way and style. Here, we collected a few suggestions based on our experience and results seen with some of our partners:
Adopt a "dedicated" approach to user-generated content. Marketers should not guide or restrict content creators too much.
Forget about traditional marketing and communication strategies. UGC ads need to speak a different language.
Refresh content continuously. Marketers need to have a wide pool of content to test and choose from, as the ad fatigue is higher than in other formats.
Test. Analyze. Scale. Repeat.
Are you looking for alternative ways to scale your paid user acquisition activities? Get in contact with Luca Mastrorocco, REPLUG Co-founder & Head of Growth, at luca@rplg.io.