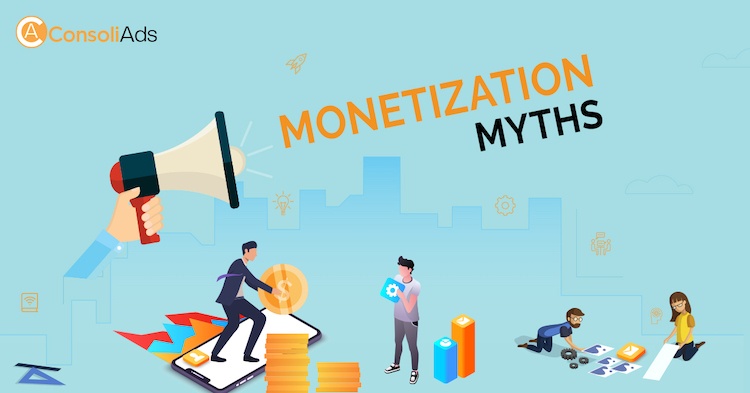 The mobile app market is thriving with over 2.7 billion smartphone users around the globe. With robust smartphone penetration in emerging markets of MENA and APAC, mobile app usage is growing at a rapid pace.
According to recent data by Statista, 2.8 million mobile apps are available on Google Play Store alone as of September 2019. Meanwhile, overall mobile app revenue across the globe is set to cross $190 billion mark by 2020, as perApp Annie's predictions.
It is pertinent to mention here that mobile app and game developers use an effective business model to convert their users to a stable stream of revenues and this process is called app monetization. Some app developers rely on one specific app monetization model while others incorporate multiple strategies.
There are some common misconceptions developers unwittingly believe about mobile app monetization. In this feature, we'll discuss a few misunderstandings that developers have about app monetization and why they should be ignored.
Myth 1: To make millions through app monetization, You need million users !
It's not utterly wrong to say that if your app has a wider user-base, you would generate more revenue. Given the statement is true, it is not the only determinant in generating a stream of revenues. Optimized App monetization is achieved with an amalgamation of many factors few of which are Ad placements, the Ad format and of course the app genre i.e. how relevant is your ad to the customer. It's also important for developers to offer valuable content and with the addition of paid content subscriptions, they would be able to take monetization to a whole new level.   
Sometimes we fail to understand how ad formats and revenues go hand-in-hand. It must be noted that some ad formats have higher conversion rates than others. For instance, the average CTR of in-app video ads is 7.5x higher than static display ads, according to a recent ad pricing research. Not only this, opting for the right ad network is of similar importance like other factors. Mobile Ad networks like ConsoliAds offers visually appealing multiple ad formats including video and rewarded video ads that can help app developers to increase users' engagement and earn more revenue. 
Myth 2: Analytics are only meant for advertisers. Monetization is another game!
It's also a common misconception that analytics are only meant for user acquisition. Though data analytics help advertisers with better targeting to maximize ROAS, it can also enable developers to elevate their monetization. Ad networks offer advanced analytics that can help developers optimize their app monetization considering multiple factors such as ad placements in terms of which ad format performs exceptionally well at a certain placeholder while that very format might not perform that well at some other placeholder and same goes for different regions and the type of audience you are catering. Analytics is not just meant for Advertisers but is equally important for Publishers given they need to optimize their monetization, and be able to maneuver the relevant factors like eCPM's, regional diversification and much more to drive monetization revenue to the maximum.
Myth 3: Users cannot stand In-App-Ads
In-app advertising has long been criticized for compromising user engagement and experience which is not entirely true. The fact of the matter is that users actually don't hate ads, but they do hate bad ads. The point that needs to be understood here is that, ads can be shown without interrupting on to the user experience. We need to alter our approach of "we need to stop interrupting what people are interested in and BE what people are interested in.
Having said that, the placement and content of an ad is of crucial importance here. The ad should feel so seamless that the user mustn't know he/she had been served with an Ad. As an illustration, if you integrate an Interstitial or Rewarded Video Ad between two levels of your gaming app, it will be non-intrusive or even desirable as players need pauses at certain points.
Mobile ad networks offers an interactive dashboard for publishers that enables them to have more control over the look and feel, size, and placement of ads. App developers can adjust the ad size, font, background color, button borders and can get various other optimization features such as ad filters that enable app publishers to filter out unwanted ads from the content-sensitive apps to get unremitting user experience and higher user engagement.
No matter which app monetization method you use, it's always important to find the right balance across multiple factors that could impact your monetization. Developers need to constantly monitor and optimize their monetization. A weekly analysis of eCPM's, ad formats performance evaluation, engagement rate and ARPU can help you analyze what's not working.
Publishers can sign up with ConsoliAds as their trusted monetization partner to avail highest eCPMs, Cross Promotion, Auto Ad mediation and various other useful features.