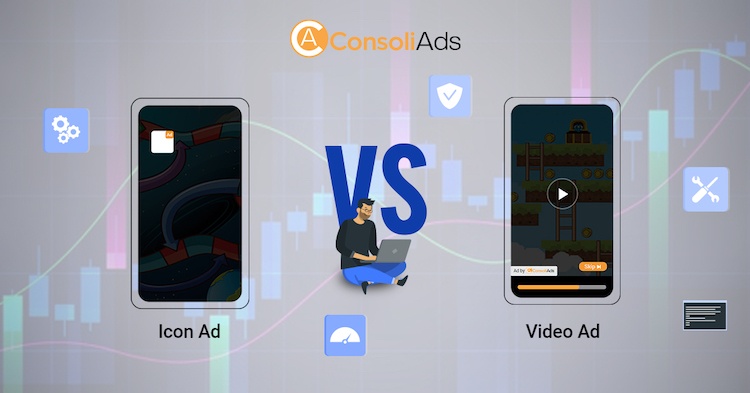 The bigger the better vs diminutive yet effective
Nearly half a decade back, AdColony survey results suggested that Video Ads are the most effective Ad formats for In-App Monetization. Unsurprisingly, 93% of top publishers partaking in the survey told Video Ads is the Ad format they rely on for achieving campaign objectives. That being said, now 5 years down the lane, evergreen Video Ads are still in the headlines and that too for all the right reasons. But does that end the debate that this highly immersive and expressive Ad format is still the showstopper?
Let's dig it in!
"There is nothing permanent except change." Heraclitus
In the world where users spend 2 hours and 11 minutes using Apps daily on average, in-App Advertising is getting rave reviews for conversion, acquisition and then retention as well. This poses heavy responsibility on different Ad formats to work for the advertiser rightly and in exchange bring loads of revenue for the publishers. As easy as it sounds, the out-of-the-box Ad creatives and ideas seem to be the only savior for the App users. The similar Ad formats even with different video creatives may fail to grab their attention.
The publishers who have been using these Ad formats over and over will second the importance of new and innovative Ad format. Not negating the results these video Ads bring with the excellent videography, but now the overall potential of this Ad format isn't the same.
ConsoliAds Launches Icon Ads
ConsoliAds as one Top Ad Network and App Monetization Solution provider introduces a new Ad format known as Icon Ad. This different yet effective Ad format has brought in eye-opening results with 2.1% CTR on average. Though Icon Ad isn't a direct substitute of Video Ads, still it is one much-needed Ad format to ensure maximum outreach even in less budget.
Especially, at the time when many famous brands are cutting their Ad budgets, these icon Ads can make these brands relevant to the scenes without spending big. Icon Ad, exclusively an Ad format by ConsoliAds also solves an everlasting requirement of a non-intrusive Ad format. With all those tick-boxes, Icon Ads is one of the most effective Ad formats of 2020.
Icon Ads vs Video Ads
Video Ads are enticing Ad format even for the App users, which ensures the retention, engagement and conversion most probably if the user connects. But that's only the one side of the story as video Ads are highly intrusive, and can be annoying in certain conditions.  However, when used as a Rewarded Video Ads, the users watch them for incentives but most of the time they never look on the screen for that time. That's because they are more focused about using the App at the moment than watching the Ads that hijack their screens over and over.
Apart from that, creating a video Ad creative requires a handsome amount to hire a skilled video maker and editor. Once done, next on the card is paying extravagantly for the Ad placement which mainly relies on the Ad Sizes.  In short, you got to have a huge budget to get things to move your way using these Video Ads.
In contrast to that, Icon Ads are small to the extent that they are the best Ad format when it comes to staying non-intrusive. But being small never means, they get overlooked quite often. Instead, this graphical representation or a pictogram gets the attention and leaves users intriguing to click this one. Icon Ads not only increase your App Monetization revenue but help you start a comprehensive campaign in a small budget, hence, this Ad format is light on the pocket, it can also help you do rigorous testing with changing variants accordingly again and again.
Final Say
Icon Ad is one of the latest ad formats for modern-day app monetization solution. It is matchless in terms of affordability and ensuring UX of App. Last but not the least, Icon Ad also offers high CTR.
 What's your take on that?  Choose ConsoliAds Icon Ad for your app.