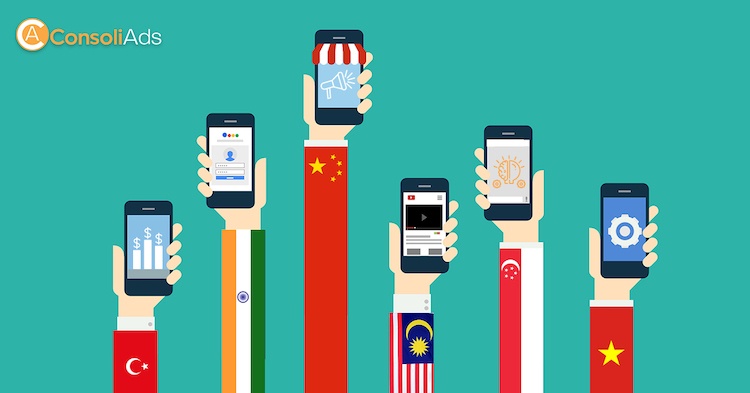 ConsoliAds capitalizes on the APAC's strong growth
Mobile in-app advertising is currently the fastest growing form of digital advertising across the globe. According to a report by data analytics firm PubMatic, mobile advertising will exceed $200 billion by the end of 2019 and is projected to grow at an exponential rate through 2022.
Keeping in view the fascinating developments in the smartphone industry, it's quite important to gaze over one of the most lucrative regions for mobile apps and games i.e. Asia Pacific region. Having extensively growing markets like China, India and other Southeast Asian countries, APAC is deemed as the leader in both scale and growth rate of mobile apps.
Despite the fact that growth of app installs driven by marketing activities will be quite effective in the coming years, the growth rate is expected to keep pace with the rise in media costs. Mobile Growth Map report released by Adjust has revealed that APAC is leading the global mobile app growth index having three countries i.e. Vietnam, Singapore and Malaysia in the top 5 fastest growing markets.
APAC's explosive growth in App Installs
APAC is the most rapidly growing mobile-first market as the combination of better telecom infrastructure and the rise of budget-centric smartphones has contributed to an explosive growth in the region's app install market.
According to a recent research by AppsFlyer, APAC has shown significant potential for the next few years. Mobile users in APAC will account for 50% of global app installs by 2020, which is three times more than in any other region across the globe. APAC is predicted to grow 1.8x from 2018 to reach $30 billion in 2020.
App install Ad Spend, in Billions USD (2017-2020)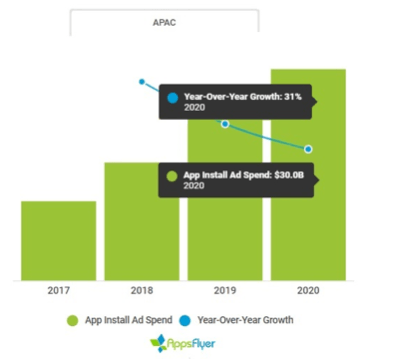 Moreover, APAC is also projected to produce game revenues of $72.2 billion, accounting for 47% of global games revenue by the end of this year, according to a research by Newzoo.
ConsoliAds recognizes the potential of APAC's strong growth
By capitalizing the overwhelming potential of APAC, ConsoliAds has emerged as the top mobile ad mediation and promotion platform in the region. The ad network offers mobile apps and games publishers a complete ad management solution to boost their revenue. Meanwhile, the platform has immense potential for advertisers to promote their digital content and assets in advanced and effective ways.
The platform's Auto Ad Mediation ensures that an ad is served through best available ad network from multiple ad networks integrated with its portal, as detailed in this blog post. Auto-ad mediation enables publishers to get 33% average increment in their Fill Rate. Meanwhile, Auto App Integration removes the hassle of complex ad-network registration process.
ConsoliAds provides ad mediation for over 20 renowned digital ad networks including Google Admob, Unity Ads, IronSource, and AdColony. The platform has over 350 publishers on board from across the world including APAC's most rapidly emerging markets like India, Japan and Australia. ConsoliAds' growing mobile ad mediation platform has served billions of ad impressions during past six months.
Enabling Publishers to Elevate Monetization with Simplicity
ConsoliAds enables mobile app and game publishers achieve up to 20% revenue increments. Notably, a publisher's scalable growth is based on how well the underlying mechanism of the platform serves the mobile users, and that's what sets ConsoliAds apart.
In addition, the platform offers visually appealing multiple ad formats that can help publishers to increase users' engagement and generate more revenue. Publishers can sign up with ConsoliAds as their trusted monetization partner to avail highest eCPM's through Auto-Ad mediation.
With its continuous struggle of expanding into regions other than MENA and APAC, ConsoliAds aims to become the leading mobile ad mediation platform across the world. ConsoliAds is spending more capital on its internal R&D in order to improve automated ad mediation technology with the use of Machine Learning.