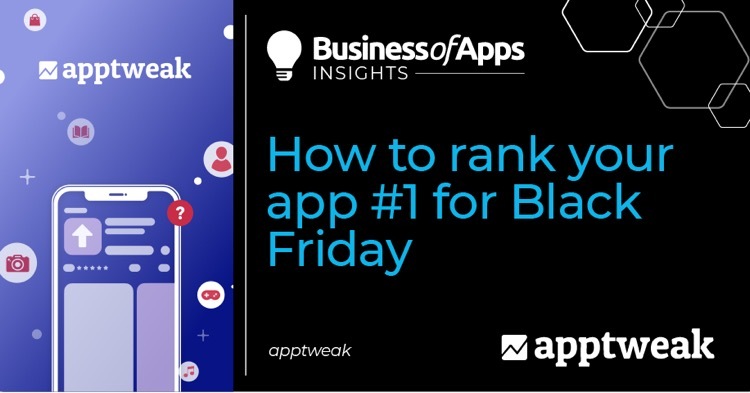 As we approach the end of the year, November greets us with Black Friday just around the corner. This year Black Friday falls on 26 November, which officially marks the advent of the holiday shopping season for 2021. Retailers are set to augment their marketing strategies by making tons of exclusive sales and deals available online. Black Friday serves as a kick-off for e-commerce promotions and drives a huge number of downloads to shopping apps on both the App Store and Google Play. 
This article discusses at length the best practices to follow to rank #1 for the keyword "Black Friday", including:
Adding relevant keywords to app metadata
Updating app creatives
Leveraging Apple's in-app events to boost visibility
Add "Black Friday" Keywords to App Metadata
To start ranking higher for Black Friday, make sure to add relevant keywords to your app's title, subtitle (iOS), keyword field (iOS), and short and long descriptions (Android). In the past years, keywords such as "Black Friday," "discounts," "deals," and "coupons" have typically seen increased popularity during November. However, avoid including keywords that promote deals or discounts to apps in Google Play as mandated by the new Google metadata policy in September 2021.
"Black Friday" Search Volume Trends
In the US, the hype for Black Friday has begun – the keyword's search volume already increased at the beginning of September! In 2020, the search popularity for the keyword "Black Friday" in the US reached a volume of 52 at its peak. With the search volume already at 48 on October 25, 2021, it is all the more important to promote your app to customers. These peaks create a unique opportunity for apps to show their responsiveness to their communities and capture part of this search traffic by optimizing their metadata.
Search volume for the keyword "Black Friday" on the App Store in the US and UK (2019–2021)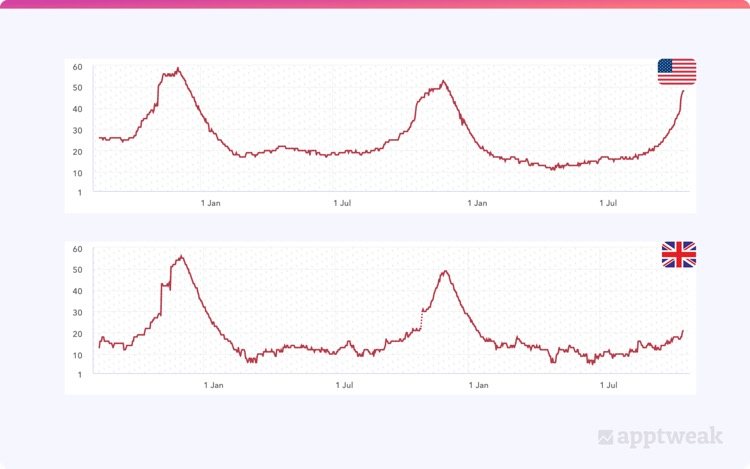 Update Metadata for Black Friday
To better understand how shopping apps can successfully leverage the potential of Black Friday, we used AppTweak's ASO tool to take a look at the fastest-growing apps in November last year. These 2020 Black Friday winners represent best practices to boost your app visibility for Black Friday 2021.
Fastest-growing shopping apps on the US App Store and Google Play (November 2020)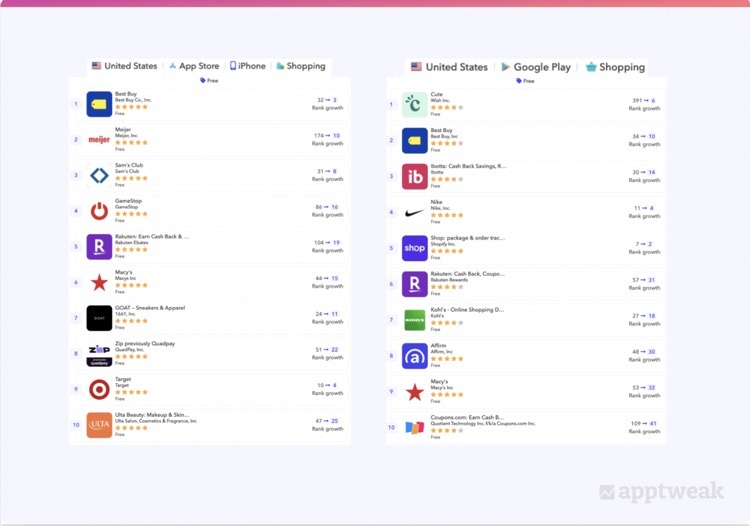 The aforementioned example shows us that Best Buy, Cute, and Rakuten emerged as the big winners of Black Friday 2020 on the App Store, as they experienced the largest category growth throughout November. The success of these apps on Black Friday relied on a well-prepared and well-funded marketing strategy. 
Rakuten went the extra mile by updating its metadata on the app stores. For instance, on Google Play, Rakuten updated its title on November 24 to "Rakuten: Black Friday & Cyber Monday 2020 Deals." Even though Rakuten did not manage to break into the top 10 search results for the keyword "Black Friday," it is still a good idea to update your app title to make it more relevant. If Rakuten runs ads promoting their Black Friday deals, showing "Black Friday deals" in the title will make their app seem more pertinent. Matching your metadata with seasonal campaigns is a good practice to optimize conversion rate and overall downloads. 
Rakuten's ranking history for the keyword "Black Friday" (2020)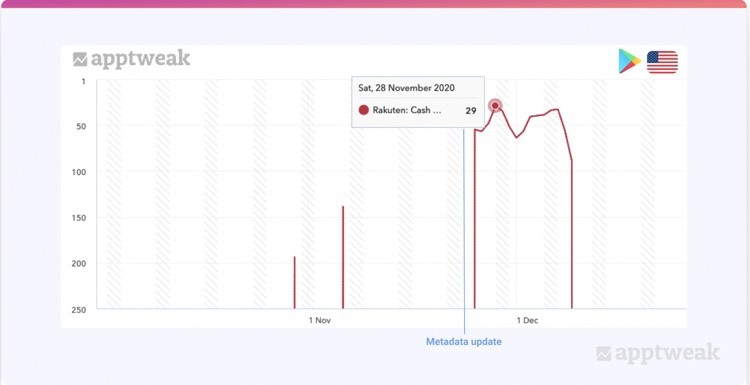 On the App Store, the impact of adding seasonal keywords to the metadata is more outspoken than on Google Play. In 2020, the app that ranked highest on "Black Friday" in the App Store was Flipp. The app managed to reach the 8th position on the app store. Also, Rakuten and Slickdeals rose to the top for the keyword "Black Friday" by adding this keyword to the keyword field. To really take advantage of the increased search volume for Black Friday, apps should be willing to experiment and add the keyword "Black Friday" to their title.
Ranking history for the keyword "Black Friday" (2020)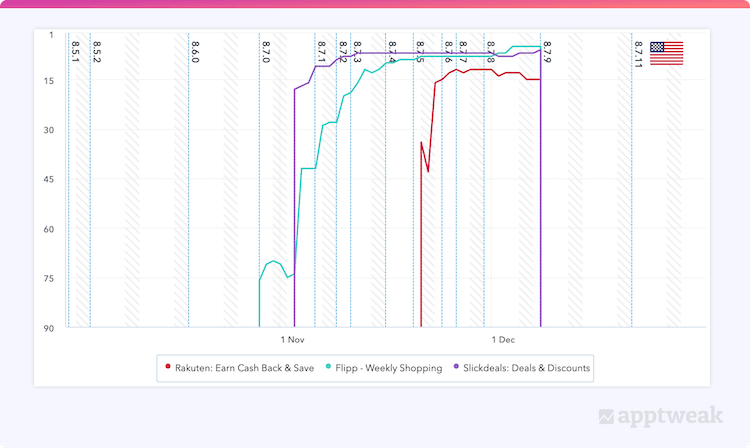 Reminder: It is no longer allowed to add keywords indicating "deals," "ads," and such like to your app's metadata on Google Play. You can still implement "Black Friday" in your title, but make sure to avoid any prohibited words.

Remember to Update Promo Text (iOS)
Don't forget to also update your promo text (iOS). You can change your app's promo text whenever you like (these changes don't require an entire app update) and you are able to promote whatever you like (promo text is not indexed). This can be a great way to increase engagement from customers by promoting special features, deals, and more.
Update App Creatives (Icon, Screenshots, etc.) for Black Friday
To prepare for the additional influx of traffic and maximize your conversion rate, be sure to update your app creatives (app icon, screenshots, etc.) to promote similar messages as those in your ad campaigns.
We see below that in 2020, Rakuten implemented promotional messages by adding "Black Friday" to the callout text on its screenshots. Furthermore, the app's short description and featured image were also updated to align with advertising campaigns and highlight specific Black Friday offers. These seasonal adjustments led the Rakuten app to be ranked 29th for the keyword "Black Friday," whereas its top competitors in the Shopping Category were ranked outside the top 50.
Rakuten's metadata updates for Black Friday promotions on the US Google Play (2020)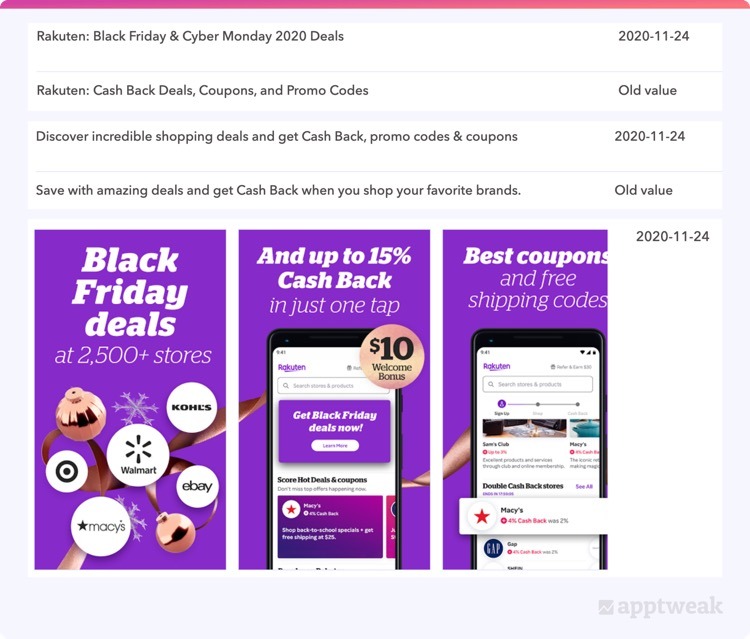 Utilize Apple's In-App Events (iOS 15)
Try using Apple's in-app events and optimizing your event cards for Black Friday. In-app events are a great way to reach new users, engage current users, or reconnect with lapsed users. They might also help your app get featured on the App Store and gain an extra visibility boost. Black Friday is a great opportunity to play around with Apple's new in-app events, as the feature promotes exceptional events and out-of-the-ordinary activities, such as challenges, live events, or major updates.
For instance, when users search for Black Friday discounts or festive offers in the store, event cards can appear in the search results alongside their respective apps. The information provided on the event card, such as the event name and short description, is indexable and provides developers with a whole new method of increasing their apps' visibility by targeting or adding keywords related to Black Friday.
Example of an in-app event store featuring Black Friday promotion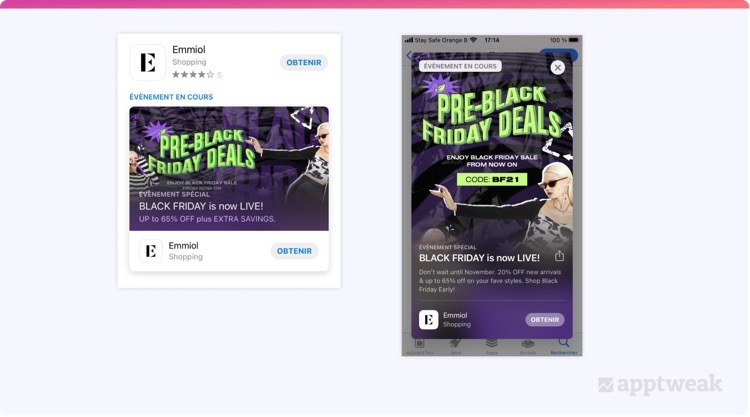 Not surprisingly, Apple is giving a little boost to this new feature. When searching for "Black Friday" in the App Store, the in-app event "Black Friday is Now Live!" is the first auto-suggestion showing up in the search bar. 
Auto-suggestions for the keyword "Black Friday" in the App Store
Conclusion
Black Friday is a major day for retailers in November, so apps have a key opportunity to attract users by ranking for Black Friday related keywords. To rank in the top searches for the keyword "Black Friday," here's what you need to do:
Include the keyword in your app metadata (title, subtitle, etc.) to boost your chances of ranking for the term.

Update screenshots to feature valuable deals in the first positions and maximize conversion. Since your app icon is the first graphic an app store visitor sees, you could even consider temporarily changing its color. For apps on Google Play, just make sure that you are not violating the new metadata policies mandated by Google.

Update your creatives to align your app's messaging, promote Black Friday deals within the store, and encourage consumers to download your app.

Use Apple's in-app events to inform users about events and possibly get featured on the App Store.

Finally, your app must be ready to handle an increased number of users. Avoiding app malfunctions and bugs is key for customer satisfaction; you don't want to lose any potential customers just before the Christmas period!