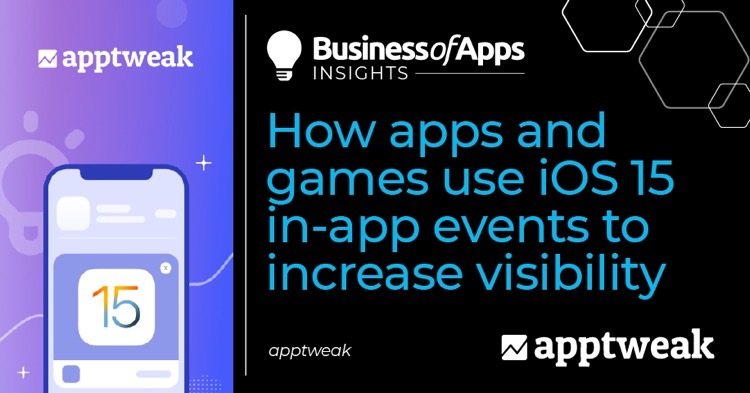 Announced during Apple's Worldwide Developers Conference in June 2021 and officially launched in October the same year, in-app events (IAE) represent an exciting opportunity to promote events on the App Store with iOS 15.
This new marketing tool allows app marketers to showcase special events, such as competitions, challenges, or movie premieres, to reach new users, engage current users, or reconnect with lapsed users on the store.
In February 2022, AppTweak became the first ASO tool to provide insights on in-app events. The tool detects when apps have in-app events running and allows you to view the frequency and duration of in-app events throughout the App Store.
With these valuable insights into app visibility strategies on iOS, we've taken a look at how different apps and games have implemented IAEs in their app growth strategies. By looking at real examples, we've been able to collate our top tips and best practices to help you maximize your own app visibility with in-app events. Read more below!
What are iOS 15 in-app events?
To recap, in-app events are live events that take place within iOS apps, such as challenges, competitions, live events, major updates, new seasons, premieres, and special events. IAEs can be discovered through event cards throughout the App Store, including on the app product page, in search results, or in featuring positions.
These event cards contain basic information about the in-app event, including the event name, short description, and an image/video. Users can then tap through to view the event details page which contains a long description and further information (e.g., whether a subscription is required to participate in the event).
How can in-app events impact your App Store Optimization?
In-app events represent a great opportunity for app marketers to increase app visibility and improve user engagement. In particular, they allow you to:
Increase your app visibility in a variety of locations across the store
Rank for additional keywords (the event name and short description are indexed by the App Store algorithm)
Increase user engagement (and potentially even encourage users to upgrade)
Target the right audience for each in-app event based on country and language
👉 Discover our strategies and best practices to craft effective metadata for in-app events
Keeping an eye on your competitors' in-app events is a valuable way to strengthen your understanding of their app growth strategies with iOS 15 and get ahead of the game. For example, when we take a look at the games Homescapes, Fishdom, 8 Ball Pool, SimCity Buildit, and CSR 2, AppTweak detects that 4 out of the 5 games are simultaneously running in-app events on the US App Store.


A closer look at the event details shows the following:
Homescapes: Running two in-app events at the same time: one ("special event") scheduled to last 10 days, the other for a whole month (31 days; "new season")
Fishdom: Running an in-app event for 27 days ("new season")
8 Ball Pool: Running an in-app event for 24 days ("new season")
CSR 2: Not running any in-app events
SimCity BuildIt: Running an in-app event for 5 days ("special event")
This analysis allows us to quickly check which type of events competitors are running to better understand best practices among peers. For instance, we see that "new season" (and also "special event") IAEs are particularly common among the above games. We are also able to observe that these games leave "new season" events running for a longer period of time than "special events." After viewing this information, 8 Ball Pool could, for example, decide to extend its current in-app event to stay visible for longer.
Some games could also get inspired after seeing Homescapes run 2 in-app events at the same time. This strategy allows the game to diversify its communication and allow more users to engage with one type of event or the other. Furthermore, running multiple events at the same time could help boost your chances of appearing in multiple spots across the store.
In the example above, we also see different strategies between how Disney+, Netflix, Prime Video, and Hulu run in-app events, in terms of frequency and duration. We see that Disney+ began running in-app events before its competitors and consistently publishes and promotes in-app events on the App Store (as does Hulu). On the other hand, we could assume that Prime Video prefers to publish a new event after a (3-day) break from the previous one. Finally, we see that Netflix has not yet promoted an in-app event on the US store, which may represent a missed opportunity to increase its visibility even further.
How do apps and games use in-app events in their app growth strategies?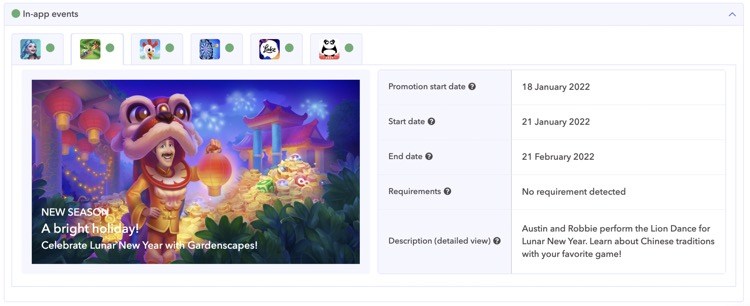 For the Lunar New Year, many puzzle games like Gardenscapes launched in-app events to promote "new seasons." Here, we see that the game took advantage of this cultural event to reach new users and/or engage with existing users by showcasing that the app stays up to date with seasonal periods outside the store. Furthermore, by including the keyword "Lunar New Year" in the event short description, the game was able to maximize its visibility for store visitors interested in or observing this celebration.
Bazaart: Photo & Video Editor took advantage of International Women's Day 2022 to run an in-app event on the App Store. Interestingly, the app chose to add a video to the event card instead of an image. This allowed it to stand out even more among competitors on the store.
With the IAE mainly running over the days leading up to the event, the app took this opportunity to increase its visibility for relevant keywords, position itself as socially aware, and attract one of its target demographic of store visitors. For app marketers on iOS, think—what (inter)national holidays would my target market be interested in? If these events are also aligned with your app's branding, they may be a great opportunity for promotion through IAEs!

The Meetup app organizes local groups and events around the world. On the App Store, the app uses in-app events as a new, innovative way to attract users by bringing real-life experiences inside the store. Above, we see that the app capitalizes on popular topics—blockchains, NFTs, and the Metaverse—to promote a "live event" (while also benefiting from increased visibility for these trending keywords).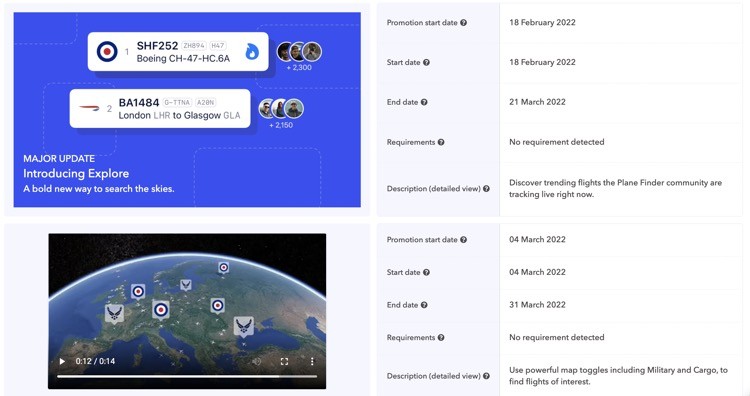 Plane Finder – Flight Tracker is currently running 2 in-app events at the same time on the App Store. Despite not being an app we would conventionally expect to utilize in-app events, the app capitalizes on this marketing tool to promote a "major update" in the form of new features. Having one in-app event creative as an image and the other as a video may also allow the app to compare how well each type of graphic resonates with store visitors.
How to select the right in-app event type
Each in-app event can be created for a specific purpose. Here is a list of all the badges you can pick along with each definition, provided by Apple:
Challenge: Activities encouraging the user to achieve a goal before the event ends (e.g., a fitness challenge in a workout app or beating a certain number of levels in a game).
Competition: Activities in which users compete against one another for the highest ranking or to win rewards (e.g., a tournament where players battle to win the most matches).
Live Event: Activities that occur in real-time that all users can experience simultaneously (e.g., a sports match or live-streamed concert). These events should provide users with new content, features, or goods.
Major Update: Introducing significant new features, content, or experiences (e.g., the launch of new game modes or levels). These events go beyond minor enhancements like UI adjustments or bug fixes.
New Season: Introducing new content, storylines, or media libraries to build on established content (e.g., a significant sporting event, a battle pass or themed content in a game, or a special episode of a television show).
Premiere: Introducing new content or media for the first time (e.g., a movie debut or newly released audio). These events should focus on the introduction of this unique content, rather than promoting general awareness about your app's content or service.
Special Event: Limited-time events that are not captured by another event badge, possibly spanning multiple activities or experiences (e.g., an event featuring a collaboration). These events should provide users with new content, features, or goods.
Conclusion
In-app events are big for leading apps and games, which is why we prioritized providing these insights before any other tool! By monitoring in-app event data over time, you are able to:
Understand your competitors' in-app event strategies
Get inspired by your competitors' in-app event metadata and creatives
Learn which special events competitors take advantage of to promote in-app events
Discover for how long and how frequently your competitors run in-app events