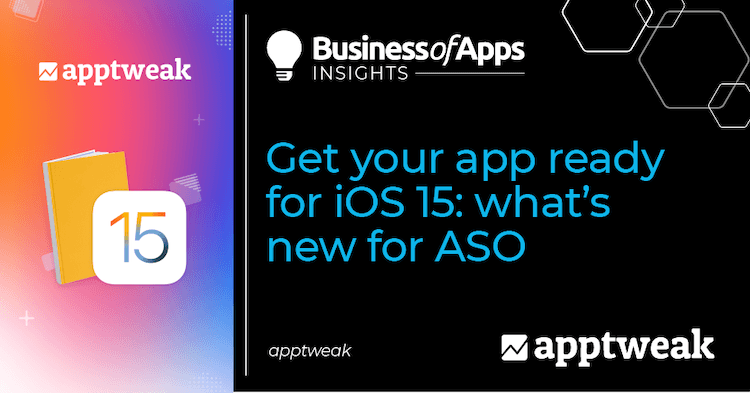 With iOS 15 released to the public on September 20, 2021, this latest Apple software update provides app developers with a plethora of ways to optimize their App Store pages. In this article, AppTweak has gathered everything you need to get up to speed with the most significant new features for your App Store Optimization (ASO) and help your app succeed with iOS 15.
In-app events
First, Apple's in-app events will help app developers maintain user engagement by promoting events (challenges, competitions, major updates, new seasons, etc.) directly within the App Store. To promote these exceptional, 'one-off' events, app developers will be able to create event cards that will appear on product pages, in App Store search results, and in editorial content (i.e. in the Today, Games, or Apps tabs).
Each event card will include an event name, short description, and image or video. Users will then be able to tap through to an event details page to discover more information about the event (for example, details on whether or not an in-app purchase or subscription is required to participate in the event). From this page, users can also opt-in to receive notifications when the event starts and share the event with others.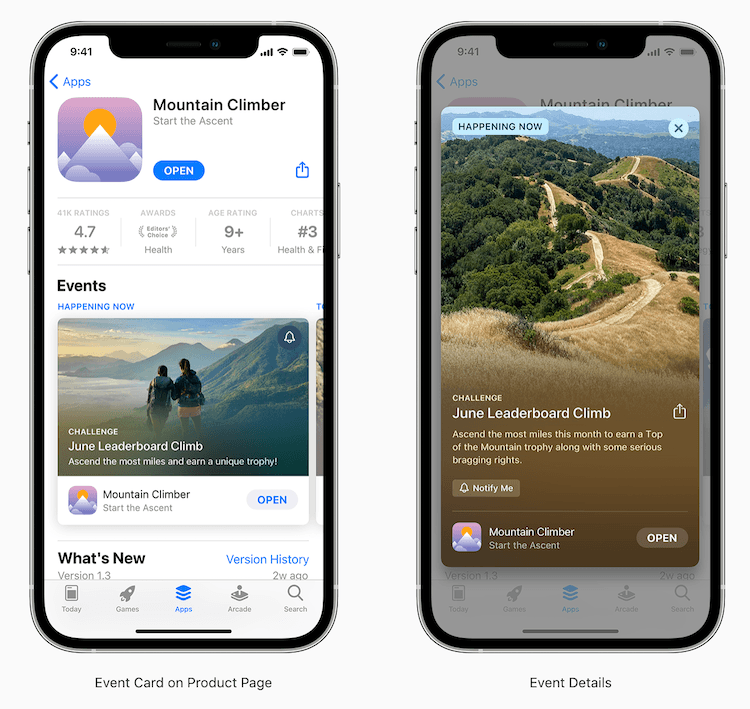 Source: developer.apple.com
App developers will be able to create up to 10 in-app events; however, only 5 events may be published on the App Store at one time. App developers will also be able to promote the event page URL via email, social media, or other advertising channels.
How will in-app events impact your ASO?
When users search for a specific event (e.g. a new movie release), the event card will appear in the search results alongside the app. This means that the information provided on the event card, such as the event name and short description, will be indexable and provide developers with a whole new method of increasing their apps' visibility by targeting core keywords or adding new ones.
When users search for an app, the event card will replace the screenshots in the search results for users who have already downloaded the app. This provides developers with a new opportunity to increase engagement with their current users. It's also worth noting that an early A/B test of the iOS 15 beta showed that search results may no longer show the screenshot gallery of apps that users have already installed. Should the test be applied to the iOS 15 release, in-app events could be a way to maintain your app's visibility in search results for existing users (thus preventing competitors from capitalizing on any increased visibility).
In-app events will also appear in editorial and curated collections in the Today, Games, and Apps tabs, and can provide a huge boost in visibility. Upcoming events that are featured in the Today tab can also appear in the new iOS 15 App Store widget.
Checklist: In-app events
Sync with your product teams on new features and content releases.
Cross-reference your list of upcoming LiveOps with the event types announced by Apple.
Conduct keyword research on your various event topics to prepare your event card metadata.
Register events over 2 weeks before they start so you can build anticipation ahead of the event.
Read this in-depth guide to in-app events and their impact on ASO
Product page optimization
With iOS 15, Apple will finally release a native A/B testing feature that allows app developers to test up to three versions of their app page to see which one resonates best with their target market. For example, the feature will allow you to identify whether changing the style of your app icon converts more store visitors compared to your original icon. Unlike Google Play Experiments, app developers will be limited to A/B testing their icons, screenshots, or app preview videos on the App Store. As such, Apple's product page optimization will serve to provide important insights that fuel your creative optimization and organic growth strategies.
Product page optimization will be available in all locales on the App Store, meaning that developers will be able to create tests for localized app pages whereby the different treatments will only be shown to users in that particular locale. In all cases, app developers will be able to choose which percentage of their audience will receive the A/B test treatments instead of the default app page. To monitor the performance of these tests, Apple will provide data on app impressions, downloads, conversions, and improvements in App Analytics. If a certain treatment performs better, developers will be able to apply it to the app's default page.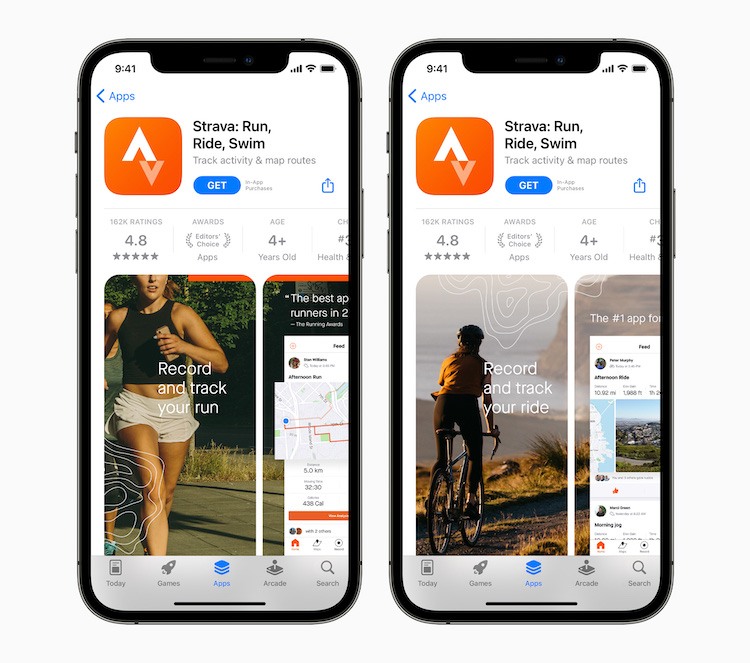 Source: developer.apple.com
How will product page optimization impact your ASO?
For now, we are unsure whether your A/B tested elements will be visible in App Store search results or only on the product page. Such details would impact the visibility of your variants and also alter the way in which your testing strategy combines with ASO.
While A/B tests can have a significant impact on your ASO strategy and help you understand the most effective ways to engage your audience, don't forget to consider the statistical reliability of your results. There are a number of confounding variables, such as seasonality, that can cause you to see false positives; as a result, you should pay attention to the ways you could improve the reliability of your A/B tests on the App Store.
Checklist: Product page optimization
Research creative best practices within your category. Tip: Use an ASO tool to spy on your competitors' A/B tests and understand when, what, and for how long your competitors run A/B tests!
Define your A/B test hypotheses and identify your goals.

 

If you already use Google Play Experiments on the Play Store, consider which hypotheses are most likely to deliver different results based on player differences.
Plan your tests carefully – only test one hypothesis at one time to get results for which you can easily identify the cause.
Validate your testing protocol with all stakeholders.
Align your test calendar with your release schedule since a new version of the app needs to be released when you want to test icons.
Prioritize asset productions based on design costs including localization and scalability.
Read this blog to learn more about product page optimization on the App Store
Custom product pages
Apple's third new feature is custom product pages, set to be released some time after the release of iOS 15. These custom product pages are alternate versions of an App Store product page and will allow app marketers to showcase different app features, functionalities, and content compared to their default app page, thus targeting different segments of their target audience. 
With these custom product pages, developers will be able to create up to 35 customized variants of their product page and change their promotional text, screenshots, and/or app preview video with each variant. Custom product pages will be accessible via a unique URL. As a result, traffic driven to the custom product page will come from referrals, thus helping app marketers adapt their message to audiences coming from outside the App Store. This will also help marketers improve the performance of their efforts, such as paid ad campaigns or influencer marketing.

With a maximum number of 35 custom product pages and no limit to the number of pages per country (unlike Google Play's Custom Store Listings), Apple provides developers with many opportunities to target specific user personas throughout the store. As a result, developers can consider implementing custom product pages to highlight different user preferences, promotions, referral sources/mediums, or app features/benefits. 
For example, where the social networking app Bumble is divided into three main functionalities (Bumble Date, Bumble BFF, and Bumble Bizz), custom product pages would allow Bumble to showcase each functionality to different demographics depending on its market research. Games that want to re-engage users could also create custom product pages featuring new characters, new storylines or the latest features. By introducing custom product pages, Apple gives advertisers the right tools to make their app page more relevant and ultimately improve conversion.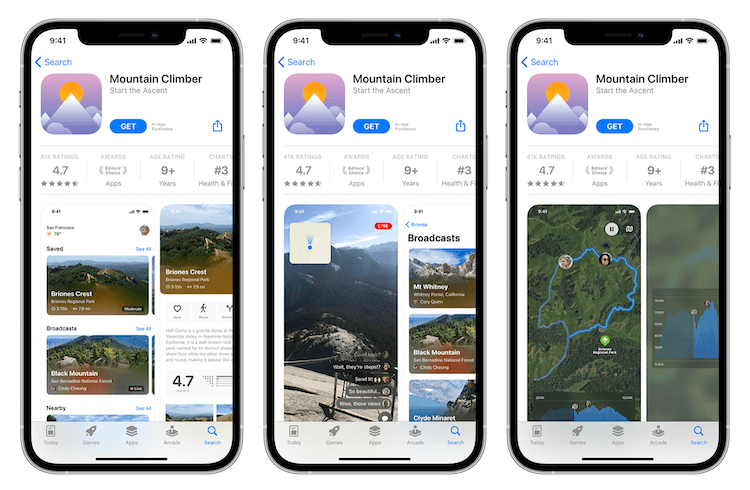 Source: developer.apple.com
How will custom product pages impact your ASO?
As custom product pages will not offer the possibility to change an app's title, subtitle, keyword field or category, they will not have a direct impact on app indexation. However, marketers should understand that their impact on ASO will not be null since they will help boost the download velocity and conversion rates of apps and games that implement them well. This means that the most successful apps in custom product page implementation could see organic rankings increase as the aforementioned criteria act as signals towards Apple's ranking algorithms.
As custom product pages are expected to be compatible with Apple Search Ads, they could also be beneficial to keyword-specific conversion rates which play a major role in organic keyword rankings. Overall, while much of the challenge will lay in the hands of the referrer and the efficient segmentation of consumers, ASO teams will play an important role in understanding the potential of different sources of referral traffic, and accurately creating store-appropriate assets for these custom product pages to match the relevant user personae.
Checklist: Custom product pages
Set goals and have a clear objective in mind before creating custom product pages.
Consider the content and engaging features your app has to offer and think of creative ways to highlight them.
Conduct user research to identify user segments and their main motivations for installing your app or game.
Organize regular syncs with your marketing teams to flag initiatives that require a custom product page.

 

Prioritize asset productions based on design costs including localization and scalability.
Conclusion
With iOS 15, Apple is providing app developers with multiple ways to optimize App Store pages, increase user engagement, and improve conversion rates. At AppTweak, we develop features with the main objective of helping your app succeed in the constantly-changing mobile market. For example, our App Page Preview feature will allow app developers to visualize their custom product pages on a real iPhone X, while our Metadata Timeline feature will highlight when, how, and for how long app competitors run A/B tests on the App Store.