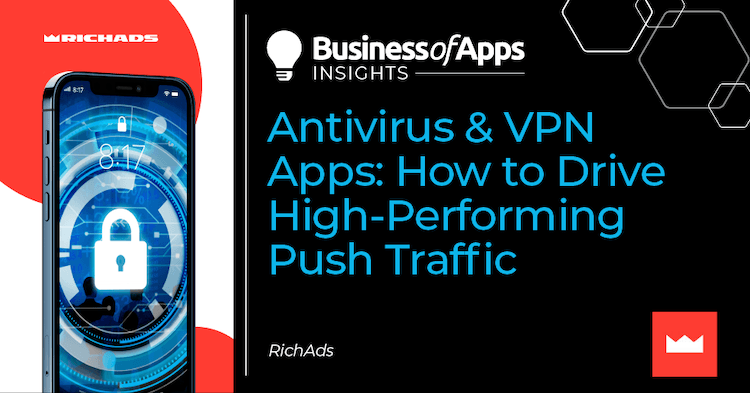 During the COVID-19 pandemic, more and more people started using VPN & Antivirus apps. An increasing amount of time on the Internet set the record of the security issue straight. Lots of users work remotely, watch webinars, educational materials, and buy goods online. Antiviruses and VPNs are an essential part of all these processes. 
RichAds ad platform dwells on how performance and affiliate marketers run Antivirus & VPNs offers on push traffic and profit.
Antivirus & VPNs vertical in 2021
Antiviruses & VPNs apps are created to optimize the performance of your device and provide the necessary security of your Internet sessions. 
The vertical is quite new and very popular, especially now, during quarantines and lockdowns. People who have started using security services will hardly ever give up on them. After the end of the trial, users start downloading subscriptions, and here the earnings of advertisers may be up to $100 per one download. 
Moreover, the global economy is quite turbulent in 2021. That's why everything may change due to many factors (including the season of the year). But this peculiarity won't affect antiviruses & VPNs.
What is the best traffic source for VPNs & Antiviruses?
Many traffic types work with the vertical, but push ads are probably the best for both mobile and desktop. 
Mobile push notification appears on the locked screen of your device even if you don't use your phone right now. So, it's impossible not to notice them (unlike standard banner ads). Also, push ads appear at the low right corner of the desktop if we speak about the web version.
If you are afraid you won't be able to launch push ads on iOS devices, there is also a way out. There are such formats as in-page push and calendar push that work on Apple smartphones.
Push notification ads had the highest CTR rates right after they appeared in 2018. But even now, push ads continue to perform well in terms of CR and traffic cost. 
Push notifications are a cheap traffic type compared with Facebook ads. Advertisers can choose the GEO based on their budget and offer type. The minimum cost per click on push is $0.003 at RichAds. Traffic volumes vary depending on GEO. 
Here are RichAds top 5 GEOs by Impressions Daily:
India – 614M 
Indonesia – 185.7M
United States – 104M
Thailand – 92M
Germany – 86.7M
How to choose an offer?
Choosing an offer is as important as choosing the right traffic type. Here are some points you should pay attention to.
Promote an offer with a clear and attractive USP
The landing page is everything. Remember that this page should approve everything you added to the creative. This tip is especially important if you use viral threat statistics or shocking stories. One of the most effective approaches to the landing page is telling the story of somebody who didn't install antivirus and lost his private photos.
Check whether the GEOs of the offer are relevant for your budget and goals
CPC for countries from different Tiers may differ radically. For example, the cost per click in Brazil is $0.03008, while in the USA, this rate is $0.21856 but it can pay off more. So, pay attention to the costs of traffic and ROI in certain GEOs.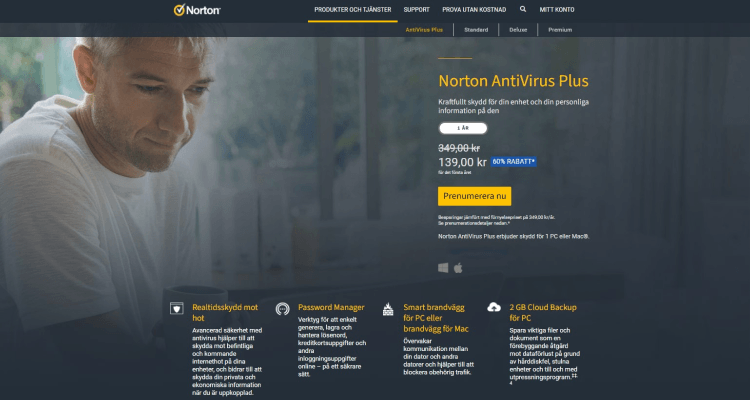 If you are an affiliate, choose an offer attractive to broad audiences
 Explore the most popular antiviruses notorious for people in your GEO. Speaking about local services, double-check all the versions not to waste money. For example, the most popular options of VPNs around the world are NordVPN, Atlas VPN, HotspotShield, and TunnelBear.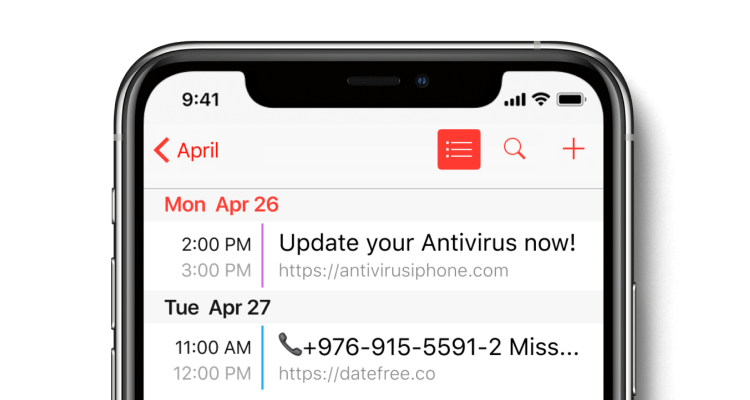 Don't forget about the freshness of the offer
If you are an affiliate, don't choose the newest offer as it may not have the necessary statistics to evaluate its performance in the affiliate program. A good old offer is also not the best option as it could have been already used by many webmasters and lost its relevance and uniqueness. 
We recommend choosing offers taking into account the current trends and pains of the users. Use spy tools and recommendations of ad managers to choose an approach.
How to choose a GEO?
Choosing Tier 1, 2, or 3 depends on two major factors: budget and offer type.
While in Tier 1 countries, the audience is solvent and payouts are high, in countries of Tiers 2 and 3, you will get less for the target action, but traffic volumes are higher and cheaper.
Here are the top 8 countries that work best with antiviruses & VPNs at RichAds: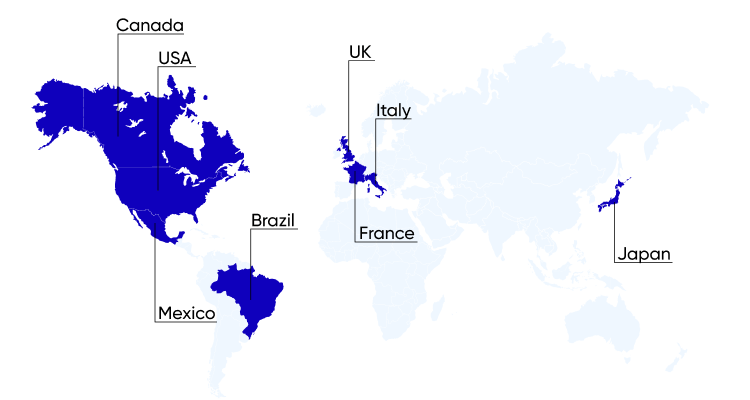 Approaches to antiviruses & VPNs creatives
In this section, we focus on the performing creative approaches to mobile ads as this is where Antiviruses and VPNs perform best now.
Imitate the article with top antiviruses & VPNs.
People always like to find useful information in one place – give them this opportunity. Let users think that after clicking your push notifications, they will see an article with top services. 
Choose popular series from famous companies (Netflix, HBO, Amazon) and offer users to download VPN to watch them. Use pictures from the series as the main images or logotypes of the companies as icons.

Scare users, letting them know that their device is in danger.
 Use emoji, phrases like "Your phone/computer is in danger", and offer to download antivirus after.
Use Android while making creatives.
It's especially a great approach if you run mobile campaigns targeting Android. Use Android icons and frightening phrases to fall into users' pain points.

Focus on famous services.

 
Use the icons of famous antiviruses or VPNs. Familiar names will attract users. You can also show a special discount or trial period for certain services if there are any. This approach is especially useful for affiliate advertisers.

The optimization checklist
As soon as you see a positive ROI for a few days, it's time to optimize your campaign. 
 You can do it in three different directions: optimize creatives and landing pages, change targeting settings, optimize traffic sources.

Set up conversions tracking. We recommend using postback for it as it helps not only track conversions accurately and effectively but also allows using flagship features for automatic optimization.
Speaking about optimizing creatives and landing pages, you should remember that creatives tend to burn out, so it's necessary to update them according to the results of a/b testing. Test at least 3-5 combinations of creatives and landing pages to find which one gives as many conversions as possible.
Check targeting by devices, OS, and browsers. Split desktop and mobile campaigns (if you have both) to see what brings conversions. Also, we recommend targeting only new versions of Android and Windows OS, and the Google Chrome browser. If you want to reach iOS devices, launch in-page or calendar push formats in a separate campaign.
What concerns optimization of traffic sources, you can turn off non-converting or too expensive ones with the Automated rules feature, which helps to optimize campaigns with the help of artificial intellect. To not cut off traffic, you can decrease bids for the sources with less conversions via Micro bidding within the same campaign.
Launch profitable push ads for Antiviruses & VPNswith RichAds ad platform, scale campaigns on huge volumes, and make a profit.