Globally, around 11 percent of the population are estimated to have a mental health disorder. Factors including social stigma, limited healthcare access and cost can prohibit those with mental health issues from receiving support. However, wellness apps have offered another route through self-help.
Users turn to wellness apps to help with stress reduction, reduce burnout and improve sleep. To do this, companies offer tools such as mediation guides and daily affirmations. There are estimated to be between 10,000 to 20,000 mental wellbeing apps available.
Many of the apps focus on quick daily engagement, with a morning affirmation, a regular goal or updated guided mediation. These sometimes include traditional mental health services like interaction with a therapist, although generally they focus more on mindfulness.

Traditional talking therapies struggle with affordability and access. The demand for in-person mental health services outstrips the capacity of therapists and health services, further driving more people to wellness apps. Services offered by apps have expanded to cover some of the gap left by conventional treatment. In 2021, Headspace merged with mental health company Ginger to create a more holistic programme including video therapy. However, there is little regulation around these apps, they are not a replacement for professional services and user data can be highly sensitive.
At the beginning of the coronavirus pandemic, downloads of Calm and Headspace shot up and with it their revenue. Anxious and stressed people faced with worldwide uncertainty and restricted access to in-person, conventional mental health and wellbeing support, turned to wellness apps. Between 2019 and 2021, the market increased by 54.6 percent. There were over 1.2 billion installs of the top 100 wellness apps in 2020.
This sudden growth has tapered off but the outlook remains positive for the sector. While the region generating the most revenue in mental wellbeing apps remains North America, the Asia Pacific region is forecast to experience the most growth over the next decade.
We have collected data and statistics on the wellness sector. Read on below to find out more.
Key wellness statistics
The wellness sector had an estimated revenue of $2.7 billion in 2022 and is forecast to reach $9.9 billion in 2030
Mediation app Calm generated $200 million in revenue in 2020
Calm also topped the in-app revenue chart in 2022 at $85 million
North America spends the most on wellbeing apps at 37.4 percent of total revenue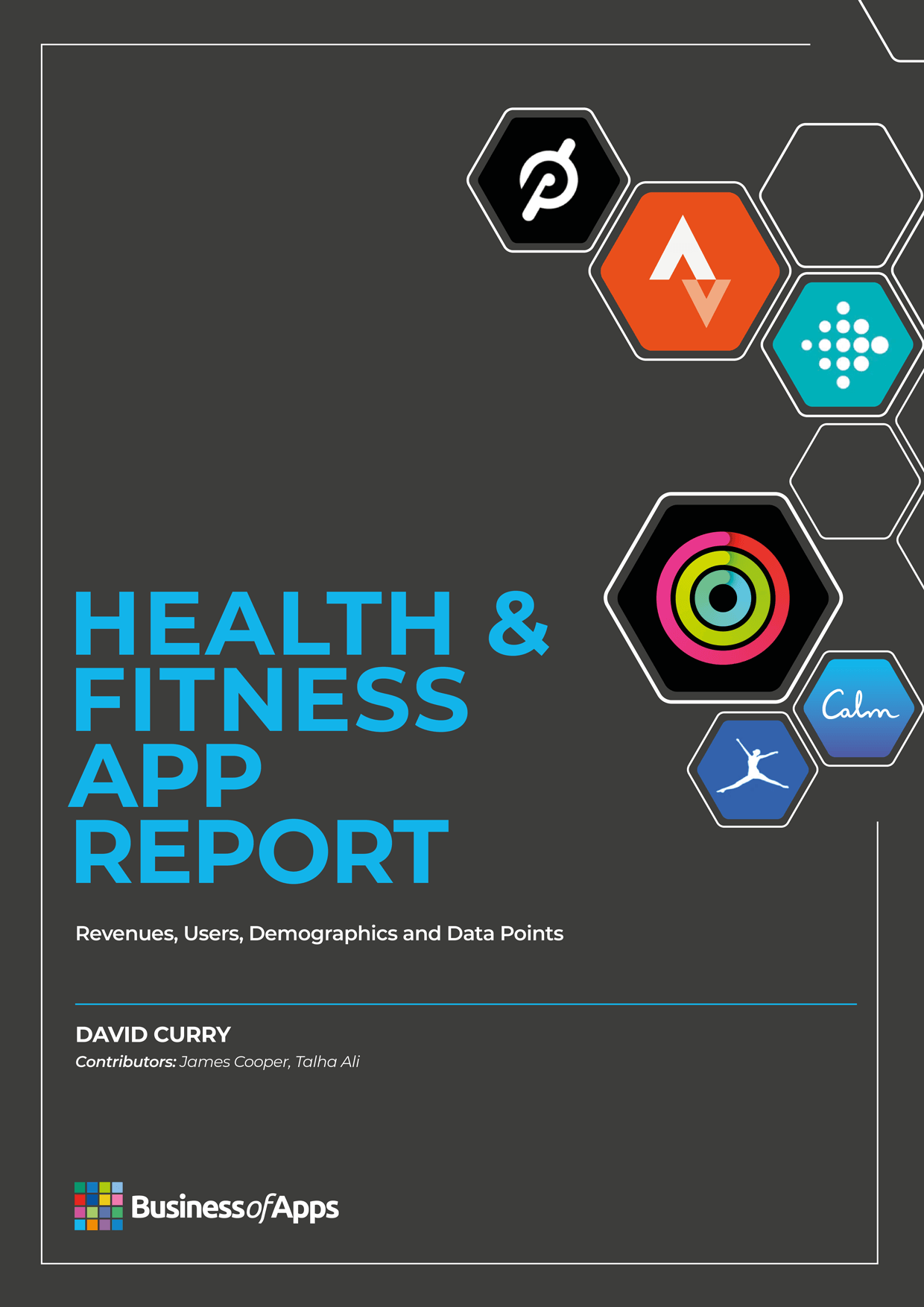 Top wellness apps
App Name
Description
https://betterme.world/
BetterMe
BetterMe markets itself as a healthy lifestyle programme without extreme weight loss, focusing on wellbeing
https://www.bettersleep.com/
BetterSleep
Formally known as Relax Melodies, BetterSleep analyses users' chronotypes, tracks sleep and creates bedtime routines
https://www.businessofapps.com/data/calm-statistics/
Calm
Calm includes mediation tools, sleep aids and video lessons on gentle stretching
https://www.thefabulous.co/
Fabulous
A self-care coaching app to build daily habits such as drinking water, exercising and focused working
https://www.businessofapps.com/data/headspace-statistics/
Headspace
Mediation app Headspace offers courses for stress, anger, depression and work performance, as well as programmes for sleep and exercise
https://iamaffirmations.app/
I Am
I Am centres on daily affirmations to build self-confidence and change thought patterns
https://apps.apple.com/gb/app/relax-app-meditation-sleep/id1554339016
Relax
Users have access to exercises and programmes to improve mindfulness and mental health
https://www.sleepcycle.com/
Sleep Cycle
With an alarm based on sleep patterns, sleep analysis and recordings of snoring and sleep talking, Sleep Cycle is intended to improve users' sleep
Wellness App Revenue
The wellness app sector was valued at $2.7 billion in 2022 and this is forecast to rise by a compound annual growth rate of 17.7% until 2030.
Wellness app sector annual revenue 2017 to 2022 ($bn)
Wellness app sector forecast annual revenue 2023 to 2030 ($bn)
Wellness Revenue by Region
North America spent the most on wellness apps in 2021, with 37.4% of total revenue coming from that region. Europe represented 29% of all revenue.
Wellness app sector revenue by region 2021 (%)
Wellness Revenue by App
Calm and Headspace both experienced significant growth in 2020 with a surge in pandemic interest in mental wellness.
Wellness in app revenues 2022 (%)
Calm and Headspace annual revenue 2016 to 2021 ($mm)
Wellness App Usage
There were an estimated 95 million users of wellbeing apps in 2020, a record high for the sector. The number of users has reportedly declined since the start of the coronavirus pandemic.
Wellness app sector users 2016 to 2022 (mm)
Wellness App Sessions
The number of sessions completed on meditation apps fell from 5.9 billion in 2020 to 3.5 billion in 2022.
Wellness app annual sessions 2018 to 2022 (bn)
Wellness App Subscribers
Calm has four million subscribers, twice the number of Headspace. About 3% of Headspace users subscribe to premium services.
Wellness subscribers by app 2022 (mm)
| App | Subscribers (mm) |
| --- | --- |
| Calm | 4 |
| Headspace | 2 |
| Sleep Cycle | 0.9 |
Sources: Sleep Cycle, Tech Crunch
Wellness App Downloads
Of the top ten most downloaded meditation apps, total downloads have dropped quite considerably from 80 million in 2020 to 41.5 million in 2022.
Meditation app annual downloads 2018 to 2022 (mm)
Wellness Downloads by App
Downloads of Calm and Headspace increased to 30 million and 18 million respectively in 2020 but these have fallen to pre-pandemic levels in the last two years.
Wellness annual downloads by app 2018 to 2022 (mm)
More Health & Fitness App Data