Keeping track of your health is, for many people, a continuous task. Monitoring what you eat, how often you exercise and how much water you drink can be time-consuming. Seeing a market there, apps began to appear and there are now tens of thousands of apps covering diet and exercise, reproductive health, water consumption, heart health and other health concerns.
The cost of gym memberships is prohibitive for some, and the flexibility offered by apps desirable. Google searches relating to weight loss spike around the first of January each year as people get started on New Year's resolutions. Around summertime, users are more likely to take a break from health goals, and so the process repeats itself. Weight loss apps grew in popularity following coronavirus-related restrictions, with many people gaining weight as a result of reduced activity, a lack of access to gyms and stress.
Although some weight loss apps advertise themselves as providing personalised diet and fitness programmes, there is a limit to how much computerised plans can take into account individual circumstances, such as underlying health conditions, work and family requirements, financial considerations and mental health.

Facing criticism about promoting unhealthy diet restrictions, extreme exercise programmes or rapid weight loss, many apps have incorporated a wellbeing segment to offer a holistic programme. BetterMe, for example, explicitly markets itself as a healthy lifestyle programme without dangerous practices, while Noom emphasises its work in cognitive behavioural therapy to treat chronic and non-chronic illnesses.
In a tightly packed field, some businesses have attempted to incorporate additional features to stand out from the crowd. Fastic combines elements found in other weight loss apps with a programme of intermittent fasting.
Other apps focus less on weight loss and more about health and behavioural change – Waterlogged specifically aims to increase users' water consumption by setting goals and reminders.
Wearable health technology has evolved significantly since the launch of tracking sensors, which were dominated by Fitbit before smartwatches began to command the market. Fitness trackers evolved with the addition of sensors to track heart-rates, temperature, sleep, menstrual cycles and other health information. However, the broader appeal of smartwatches – which can make payments, access social media, open maps and track health – has overtaken the focused fitness trackers.
The data collected by health apps is particularly sensitive and personal, and the management of this data by some apps has been controversial. In 2019, the Wall Street Journal reported ovulation and period tracker app Flo had passed in-app activity data to Facebook, including when users were attempting to get pregnant. Flo settled with the US Federal Trade Commission in 2021 over the allegations without admitting wrongdoing.
We have collected data and statistics on the health app sector. Read on below to find out more.
Key Health App Sector Statistics
The health sector revenue is forecast to grow to $35.7 billion by 2030, up from $8.21 billion last year
Flo was the most downloaded app in 2022, with 35 million downloads
MyFitnessPal had 200 million users when sold by Under Armour in 2020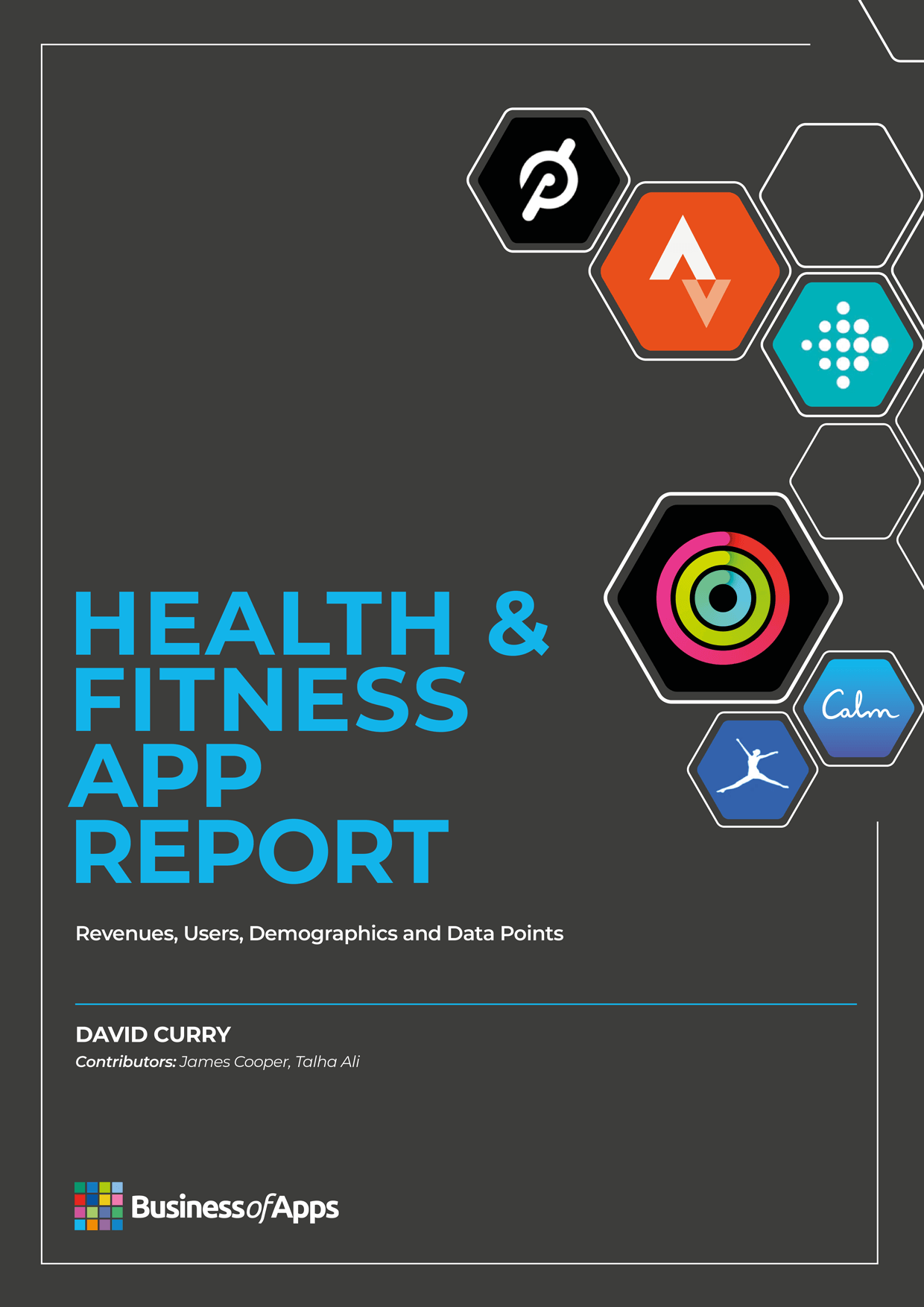 Top Health Apps
App Name
Description
https://www.apple.com/ios/health/
Apple Health
Apple Health collects health information from iPhones, Apple Watches and other devices, sets medication reminders and organises health records
https://www.businessofapps.com/data/myfitnesspal-statistics/
MyFitnessPal
MyFitnessPal contains a database of food items with nutritional values and a fitness segment
https://www.businessofapps.com/data/fitbit-statistics/
Fitbit
Fitness tracker Fitbit includes sensors to track heart-rate, Electrodermal Activity, temperature, sleep and menstrual cycles
https://betterme.world/
BetterMe
BetterMe markets itself as a healthy lifestyle programme without extreme weight loss, focusing on wellbeing
https://noom.com
Noom
Weight management business Noom has extended into behaviour change programmes for chronic and non-chronic health conditions
https://www.loseit.com/
Lose It!
Lose It! tracks food and water intake for users to meet diet goals and lose weight
https://www.weightwatchers.com/us/
WeightWatchers
Weight loss programme WeightWatchers converts nutritional information into a points system to track calorie intake
https://flo.health/
Flo
Flo is the most popular ovulation and period tracker, fertility calendar and pregnancy assistant app
waterlogged.com
Waterlogged
Water tracking app Waterlogged allows users to set goals on their water consumption and receive reminders to drink
https://fastic.com/
Fastic
Fastic promotes weight loss through a programme of intermittent fasting, mindfulness, improved nutrition and sleep
Health App Revenue
Revenue from health apps was estimated at $8.2 billion in 2022 and is forecast to grow to $35.7 billion by 2030.
Health App Sector Annual Revenue 2018 to 2022 ($bn)
Health App Sector Annual Revenue Forecast 2023 to 2030 ($bn)
Health Revenue by App
MyFitnessPal generated almost 30% of all in-app purchase revenue in 2022 through subscriptions to its premium service, which offers more precise nutrition goals, food analysis and workout routines.
Health Sector IAP Revenue by App 2022 (%)
Health App Usage
Calorie tracking app MyFitnessPal reported the most users in 2020 at 200 million. In total there were 560 million health users in 2022, an 22.5% increase from the previous year.
Health App Annual Users 2015 to 2022 (mm)
Health Users by App 2022 (mm)
| App | Users (mm) |
| --- | --- |
| MyFitnessPal | 200 |
| Fitbit | 111 |
| BetterMe | 110 |
| Flo | 48 |
| Noom | 45 |
| Lose It! | 40 |
| WeightWatchers | 4.9 |
| Fastic | 1.6 |
Note: MyFitnessPal and Fastic as of 2020. Fitbit and WeightWatchers as of 2021. Sources: Company data, EU-Startups, BBC, Market Watch, Think with Google
Health App Downloads
Downloads of Flo have grown consistently since 2018, while other apps such as BetterMe have experienced a downward trend in recent years.
Health Annual Downloads by App 2018 to 2022 (mm)
More Health & Fitness App Data