Snapchat is an image and video messaging app, developed by Stanford University students Evan Spiegel, Bobby Murphy, and Reggie Brown in 2011. It allows users to capture and send so called 'snaps' that are only viewable for a set duration of 1 to 10 seconds or until closed by recipient, after which they are automatically deleted. These were originally just photos, though video capability was added in 2012.
Evan Spiegel has stated in interviews that the smartphone camera was at the very heart of the Snapchat concept. There were many other apps that were centred on pictures,  the most prominent being Instagram, but only Snapchat let users communicate solely through pictures. This novel concept allowed gave the app its USP.
A number of additional features have been added to complement this. In 2013, Snapchat introduced 'Stories', allowing users to package a series of chronological snaps – a feature since replicated by Instagram. While these are time limited, lasting for 24 hours, Snapchat users now have the option to save specific Snaps onto a private storage area with the 'Memories' feature.
Users can use the map feature to share the location of their snaps with other users, while the 'Crowd Surf' feature allows Snapchatters to see video footage from different vantage points when a high concentration of users is filming in the same place at the same time. The latest innovation in 2018 takes Snapchat away from user-generated content. Snapchat Originals features original video content shot for Snapchat specifically. Names like NBCUniversal (with which Snapchat co-owns a studio), A&E Networks, the BBC, ABC, Metro-Goldwyn-Mayer have been mentioned in connection with Snapchat Originals.
Snapchat has been a real pioneer in bringing augmented reality to the mainstream through its filters; AR features opened up to external developers for the first time in 2018. In 2016 Snap Inc., Snapchat's parent company, began to sell Spectacles, glasses with a built-in camera capable of recording 10 seconds of video and posting it online via paired smartphone. Snap Inc. also owns Bitmoji, and Zenly.
A controversial redesign of the app in 2018 was publicly criticised by Kylie Jenner. Jenner's tweet instantly knocked $1 billion off the value of the company. Later in the year saw the first drop in user numbers posted by Snapchat since launch. CEO Evan Spiegel received a petition signed by 1.2 million users calling for the redesign to be reversed.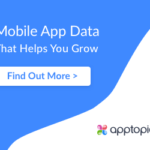 On March 2, 2017 Snap Inc. went public, 6 years after its creation in 2011.
Snapchat image and video messaging app
Source: 9to5Mac
Continue reading to see our compilation of Snapchat user and usage statistics, as well as Snapchat revenue statistics and comparison stats between Snapchat and key rival Instagram.
Table of Contents
Snapchat vs. Instagram Statistics
Snapchat Key Data Points
US penetration rate among 12-17 years olds – 92% (Source: eMarketer)
US penetration rate among 18-24 year olds – 94% (Source: eMarketer)
27% of US adults use Snapchat (Source: Pew Research Center)
53% of Snapchat US users are under 34 years old (Source: Statista)
28% of Snapchat US users are 18-24 years old (Source: Statista)
59% of Snapchat users globally are female (Source: Statista)
77% of college students use Snapchat (Source: Mashable)
50% of college students use the app as a means of communication (Source: Mashable)
55% of US college students use Snapchat as a news source (Source: Engadget)
Snapchat daily users worldwide – 186 million (Source: Snap Inc.)
Snapchat US DAUs: – 79 million (Source: Snap Inc.)
Snapchat Europe DAUs – 59 million (Source: Snap Inc.)
Number of snaps sent daily – 3 billion+ (Source: Variety/Snap Inc.)
Estimates for average daily time spent of the app vary, from 27 minutes to 50 minutes (Sources: eMarketer/SimilarWeb)
Snapchat users send an average of 34 snaps per day (Source: Daily Beast)
25% of Snapchat DAUs post a Story every day (Source: TechCrunch)
Snapchat daily video views – 10 billion (Source: Mashable)
Snap Inc. net revenue Q3, 2018 – $298 million (Source: Snap Inc.)
Snap Inc. current market cap – $8.4 billion (Source: Yahoo Finance)
Snapchat Discover ad pricing – $50,000+ a day (Source: Wallaroomedia.com)
Snap Ads are available for $3,000 month (Source: Wallaroomedia.com)
Advertisers can also buy sponsored lenses for $450,000-$700,000 a day – people play with these for an average of 20 seconds (Source: Wallaroomedia.com)
Snapchat User Statistics
How many people use Snapchat? In Q3 2018, there were 186 million Snapchat daily active users. As of Q2 2018, the app had 188 million active users. These figures represents the first quarter on quarter declines in Snapchat daily active users in its history (Q1 2018 user figures were 191 million), following a controversial redesign of the app in early 2018. The figures are up year-on-year – however, the DAU figure now stands at below the reported figure for Q4 2017 (187 million). If this trend continues, therefore, this will not remain the case.
Snapchat user growth was strongest between 2014 and 2017. In Q1 2014 Snapchat users numbered slightly over 40 million, the bulk of whom were in North America. By Q1 2015 the company doubled its user base to 80 million and by Q1 of this 2017 it managed more than double this number again (166 million). Growth has been more steady since then.
Snapchat daily active users worldwide, Q1 2014- Q2 2018
Snapchat demographics 
At present North American Snapchat users account for 79 million of the app's user base, with Europe next at 59 million.
Over Snapchat's history, the healthiest Snapchat user growth has taken place in North America, rising from 26 million to 79 million today. Snapchat user growth in Europe has been more steady, growing from 14 million in early 2014 to today's figure. In percentage terms, the rest of the world boasts the strongest growth figures over this period – 6 million to 47 million: a near 8-fold increase.
Snapchat users in the US
Snapchat is one the most-popular social media channels in the US, with over a quarter of American adults stating they used the channel in 2018 – putting it ahead of LinkedIn, Twitter and WhatsApp.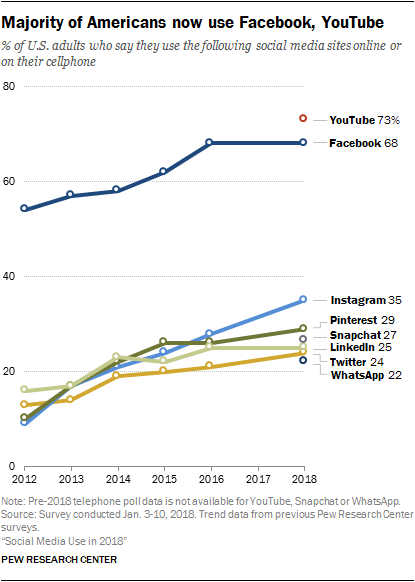 Snapchat users by age
The core user group of Snapchat are Millennials and Generation Z. Recent eMarketer data reveals that 94% of American young adults aged 18-24 use Snapchat, overtaking those aged 12-17 (92%). The penetration rate for those aged 25-34 is 56%. A greater percentage of females use Snapchat, commensurate with global trends.
Source: eMarketer
The Snapchat demographic is typically young, and the app has long been considered the preserve of Millennials and Generation Z. Growth in older Snapchat users has, however, increased in recent years, and is predicted to continue to do so. Snapchat user growth is predicted to be more steady among younger people. Spiegel has commented that targeting older users is the best way to ensure Snapchat continues to thrive. Indeed, the redesign was seen to have had a positive effect in terms of the retention of older users.
Snapchat users by age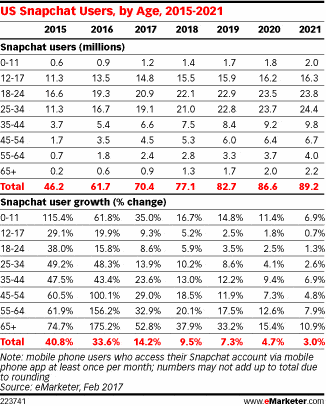 Snapchat users by gender
Globally, Snapchat users skew female, who account for six out every 10 users, according to Statista,
Global Snapchat users in October 2018, by gender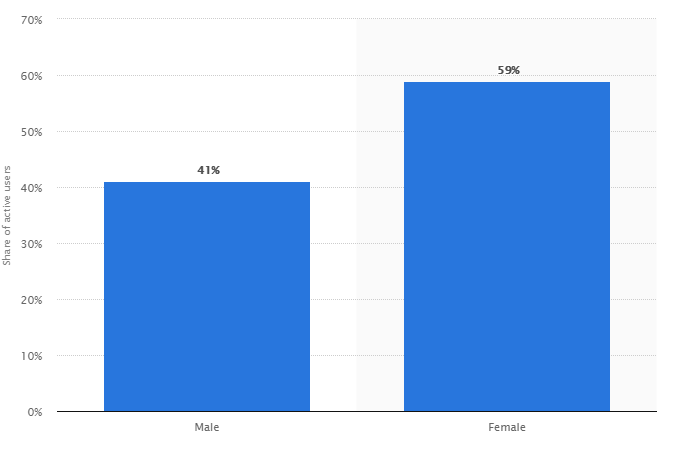 Source: Statista
Snapchat Usage Statistics
Over 3 billion snaps are sent every day. Snapchat Stories are reportedly viewed 10 billion times a day  These stats, however, date to 2017 and 2016 respectively, with no more recent data available.
To put this number in perspective, Twitter users send about 500 million tweets a day, while on Facebook 293,000 statuses are updated, and 136,000 photos are uploaded every minute. According to Statista, we saw a 0.5 million leap in snaps between Q3 2016 and Q1 2017.
Snapchat daily usage figures
According to Daily Beast Snapchat statistics, users send an average of 34 snaps per day, and spend 35 minutes per day using the app. Snapchat is secretive about the dissemination of such usage data, and the Daily Beast figure is based on confidential data, covering April-September 2017.
The lack of official figures mean that there is huge variance the figures reported on these metrics. For instance, eMarketer reports the average time per day on Snapchat is a mere 27 minutes, though their figure cover US adults only. On the other end of the scale, Similar Web report that the average US user spends just short of 50 minutes per day using the app.
As you might expect, the younger the user, the more frequently they log in to check their Snapchat. Nearly half of 18-29 years log in daily, declining rapidly as we climb age groups.
How often do US users check Snapchat, by age?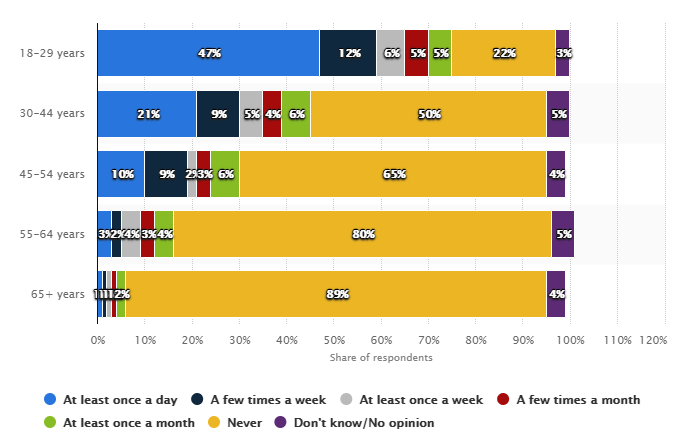 Snapchat usage among college students
Snapchat statistics collected by Sumpto, who surveyed over 1,600 social media users across US colleges, found that 77% of college students use Snapchat at least once a day with evenings being a prime time for 81% of users as well as weekends (70%).
US college students' Snapchat usage
Source: Mashable.com
Of these users, 37% say they engage with Snapchat creatively, followed by 50% who are using the app as a means of communication. 2% admitted being involved in sexting through Snapchat.
What do Snapchat users use the app for?
Source: Mashable.com
In addition, 35% of students believe Snapchat to offer more privacy compared with other social networks, an important criteria for many users in the wake of the spate of highly-publicised data leaks seen in recent years.
A recent study conducted by the Knight Foundation, published on Engadget, revealed that 55% of students at 11 US universities used Snapchat as a news source – putting it behind only Facebook in this respect. Across the wider US population, it is less prominent in this regard; 5% reported using Snapchat as a news source to the Pew Research Center.
Marketing on Snapchat
The aforementioned Sumpto research finds that marketers targeting youth markets can reap dividends from using Snapchat. It shows that 45% of college students would  open a snap from an unknown brand and 73% of them would open snaps from a brand they knew. Another 69% of students would even add a known brand as their friend on Snapchat, opening up brands to a more personal stream of engagement with their customers. Promotions such as sales offers (67%) and coupons (58%) were the preferred information that students wish to be sent from brands.
Brand engagement on Snapchat 
Source: BusinessInsider.com
Snap Inc. Revenue
Despite the drop off in users, the third quarter of 2018 represented a record three months for Snapchat revenue. In its quarterly statement, Snapchat revenue stood at $298 million – $90 or 43% million higher than the figure reported in Q3 2017.
Revenue for 2018 so far stands a $791 million, while the figure for trailing 12 month period is $1.1 billion – 53% up on the equivalent figure of 12 months previous. Snap Inc. predicts that it will shatter the record again in Q4, with revenue of $355-380 million. Historically, Snapchat revenue increases through the year, before dropping substantially in Q1. It's safe to say that Snapchat revenue growth has been substantial since 2015 (the year in which advertising was introduced in earnest to the platform), in which Q1 revenue was below $4 million.
Snapchat continues to run at a loss, of $325 million for the quarter, and $1.1 billion of the year to September. Both figure represent a considerable improvement on the preceding year, where the equivalent latter figure was very close to three times as much.
Snapchat costs and revenues, Q3 2017 vs Q3 2018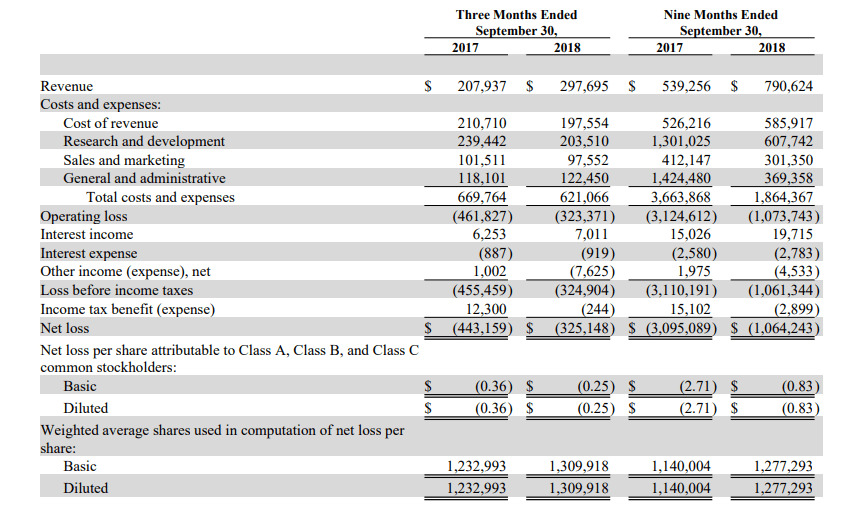 Snapchat quarterly revenue history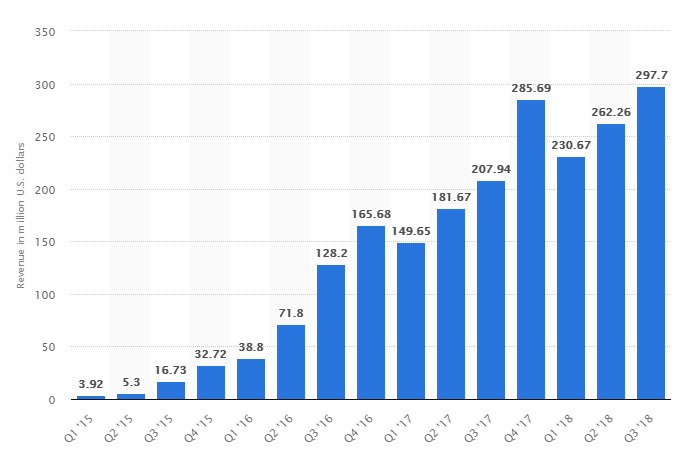 Snapchat funding rounds
The company initially raised $485,000 in 2012, with Lightspeed Venture Partners leading the charge. This was followed by multiple rounds throughout 2013 and a substantial $485 million D series in 2014 from August Capital, Yahoo, GIC and Kleiner Perkins Caufield & Byers. In February 2015, it was reported that Snapchat was seeking to raise $500 million, taking it a valuation of $19 billion. In 2016 Snapchat raised $1.8 billion in a Series F round. On March 2, 2017 the company went public.
In November 2017, Chinese investment holding conglomerate Tencent acquired 12% stake of the company in the open market. Tencent does not have voting rights. 
Snapchat advertising
Snapchat began to monetise its platform by introducing 'Discover' in 2015 – the feature that allows publishers to advertise their third-party short-form content. With Discover, users can browse media content from partners such as CNN, Cosmopolitan and others. The pricing for these has fallen dramatically, with the previous rates starting at $750,000 per day. They're now available from as little as $50,000.
Snapchat now also allows advertisers to purchase short video ads, called Snap Ads, at a much lower price point – the click-through rate for these ads is around five times as high as those for equivalent platforms, according to Wallaroo Media. Sponsored lenses are now the most expensive offerings – starting from $450,000, rising to $700,000 for special occasions, such as the Super Bowl. Taco Bell's sponsored lens was viewed 224 million times.
Despite these options, however, sales figures have been on the decline since Snap Inc.'s IPO, according to analysts. Sales were estimated to have been as high as $539 million in March 2017, falling to $283 million in September 2018. A modest client base is seen to be the issue, with Snapchat selling advertising at auction.
Snapchat advertising sales
Snapchat market cap
Snapchat went public in early 2017, trading on the NYSE, and enjoyed a honeymoon period during which it was routinely valued at far higher levels than brands like American Airlines, HP, and Target. After its first day of trading in March 2017, it was valued at $30 billion (the IPO was $24 billion). Indecently that's the same amount as Facebook reportedly considered buying Snapchat in 2016. Its first reported earnings, however, two months later saw a huge amount of value
However, Snapchat's market cap has plummeted since then, standing $8.4 billion in later October, after months of record-low levels. Various reasons have been suggested for this decline in fortunes – slower-than-expected sales (as above), a crowded market (need we mention Instagram?), the declining user base, and the departure of various high-ranking executives. Let's not forget the redesign, and Kylie Jenner's tweet which knocked over $1 billion off the valuation. Jenner is the not the only celebrity who's caused Snapchat to lose $1 billion in 2018. Rihanna also called out the app for hosting a poll which made light of her domestic abuse at the hands of Chris Brown.
While the current stock price for Snapchat is 60% lower than at IPO, Snap Inc. did enjoy a 45% spike in February 2018, after reporting an extremely positive Q4 in 2017. While shares were above $20, this was still 17% lower than the IPO. In October 2018, stock price had fallen to less than $6.
CNBC, however, have predicted that the stock price could soon bounce back by as much as 20%, indicating that the worst may be over.
Snapchat stock price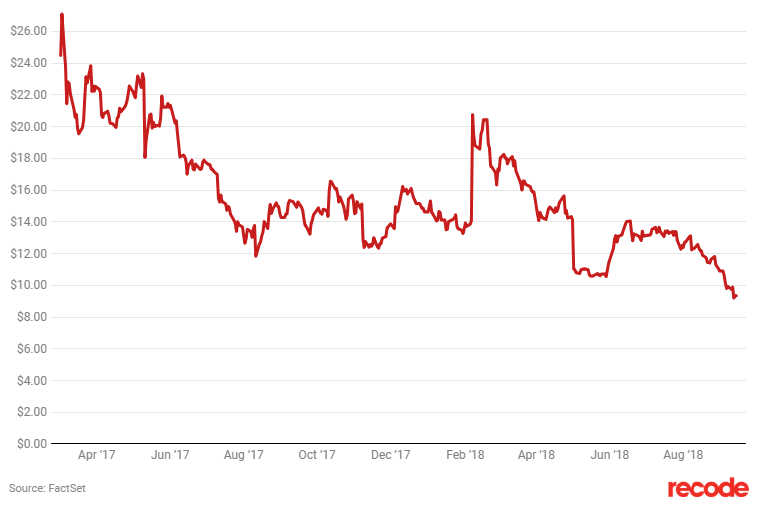 Snapchat vs. Instagram Statistics
The history of Snapchat has been inextricably intertwined with the other major player in the image-based social media world: Instagram. The latter was purchased by Facebook in 2012 for $1 billion.
Getting that kind of attention from Facebook in the first place is a pretty good indication of the strength of the Instagram brand. That Facebook has has added a number of features to Instagram since then that parrot those made on Snapchat is good indication of Snapchat's. Snapchat features that have made it to Instagram under Facebook include Stories, direct messages, filters and more.
Unfortunately, just getting there first is not enough. Since launching in 2016, Instagram Stories has gone from strength to strength. Indeed, by mid-2017, it had more than double the number of daily active users than Snapchat as a whole.
Instagram Stories vs Snapchat total users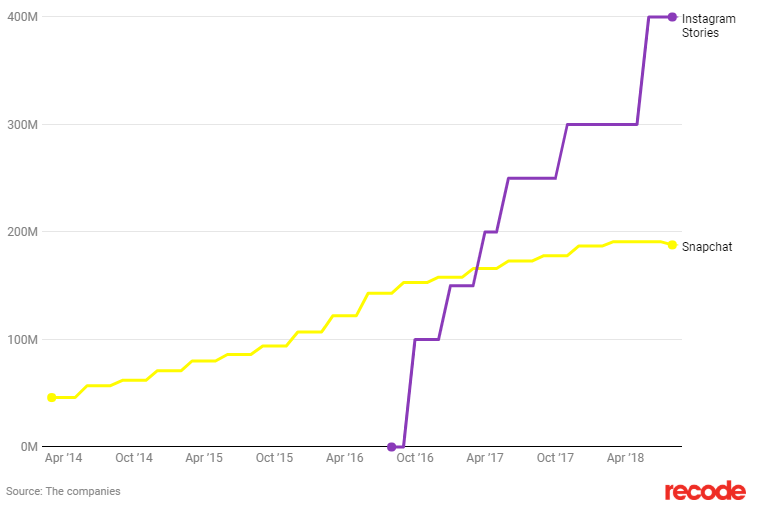 Leaving aside Stories for a moment, it's clear that Snapchat is perhaps never going to be able to compete with the Facebook-owned Instagram's total user base of 500 million.
It's not all one-sided, though. In a comparison between the respective merits of the two apps for marketers, Hootsuite determined that in some respects you'd be Snapchat was better for marketers.
In their approximation, Instagram boasts a bigger audience, a higher rate view for Stories (28%) due to the autoplay feature, cheaper ads, and better discoverability. Snapchat, on the other hand, has better filters (and AR capability), and allows for wider sponsorship campaign reach – giving the example of Gatorade's Super Bowl campaign. This involved a lens that allowed users to appear to be soaking themselves in the sports drink. It was viewed 168 million times and resulted in an 8% increase in purchase intent. It also notes that 70% of posts on Instagram are simply never seen.
Given Snapchat's declining user base, however, it seems unlikely that Instagram will be looking over its shoulder any time soon.
Final Thoughts
It seems to be a difficult time for Snapchat, which increasingly lives in the shadow of the everpresent Instagram. With rock-bottom stock prices, ad sales floundering and a declining user base, things have looked better for the app.
It's not all doom and gloom, however. Snapchat revenue streams seem to be rising, and net loss levels falling. Who knows whether we might see a Twitter-like cross into profitability? Indeed, perhaps we may see resurgent Q4 stats leading to another spike in Snapchat stock price.
Perhaps the key to growth for Snapchat is its strong position in terms of augmented reality. Its Spectacles, for example, could yet be a market-changing innovation, or the Crowd Surf function that allows Snapchat users to stitch together videos shot from different vantage points, allowing forms of creativity that were not possible before.
Apple's iOS 11 release marked the world's biggest company's entry into the augmented reality market. Snapchat has been alive to this, with filters and lenses available exclusively for iPhone X users. With AR seemingly becoming more and more ingrained in our lives, could this be how Snapchat remains relevant?