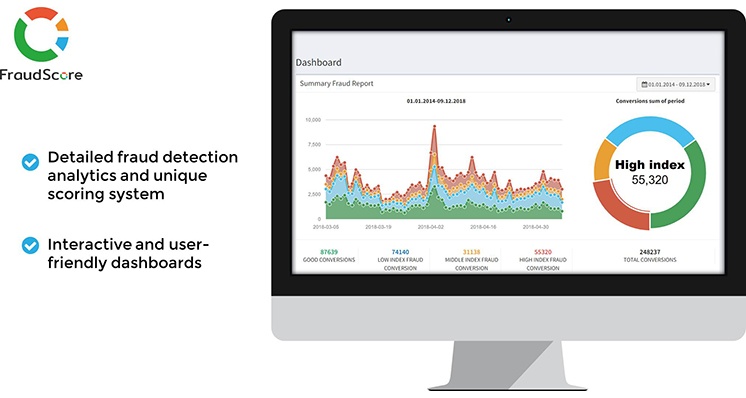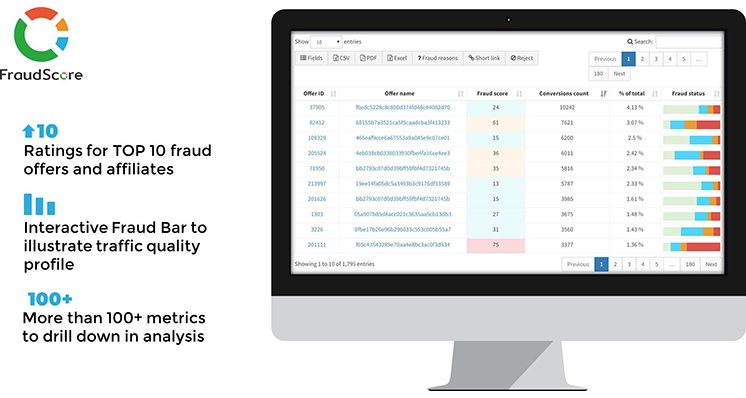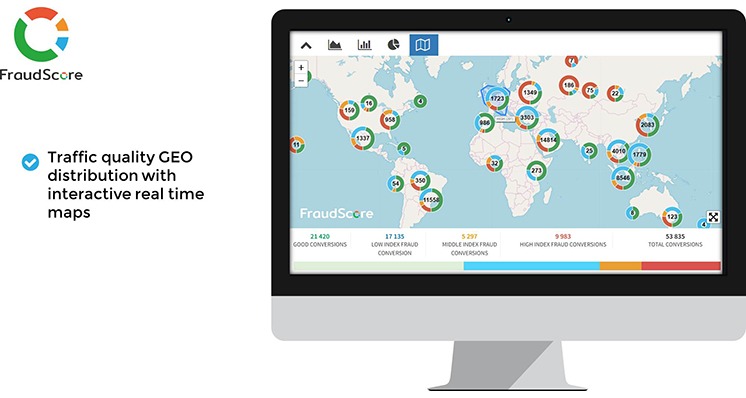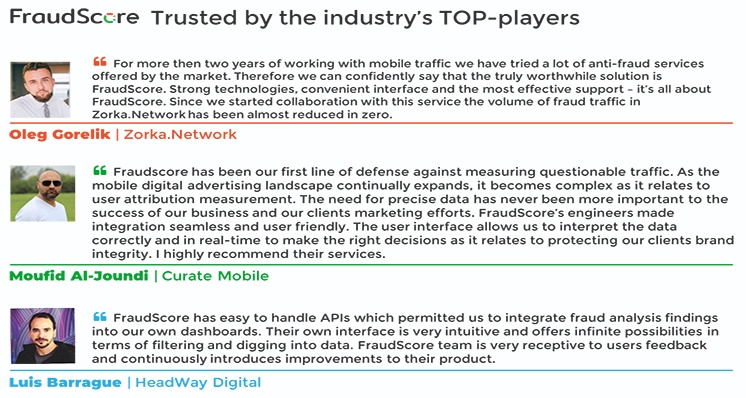 FraudScore is an independent antifraud solution that evaluates the quality of mobile and web traffic in advertising campaigns.
FraudScore clients are direct advertisers and ad agencies, ad networks & mobile developers from all over the world.
FraudScore offers antifraud solutions for all steps of ad campaign funnel: from DSPs, to CPI, CPM, CPA and CPC.
FraudScore is well known to be effective in combat against click spamming, bot, malware and adware, click injection, bot farms and many more.
How your traffic is analyzed by FraudScore?
FraudScore has a unique approach to traffic quality evaluation. The system doesn't use a binary approach (when there are only two possible variables – "fraud" and "not fraud" and no room for negotiations), but applies a know-how "fraud score" method.
Each conversion, channel, traffic source, offer etc gets a specific "fraud score" – an evaluation that shows the probability of ad fraud in each particular case.
FraudScore analyses 150+ metrics and fraud algorithms that are applied to processed traffic and gives results divided into four traffic quality categories: Good traffic, Low Index Fraud, Middle Index and High Index.
This unique approach gives clients a reliable way to build strong fraud cases and explain their position for every conversion with comprehensive and detailed data about detected fraud patterns.
SafeClick – Click Fraud Prevention with Realtime Blocking
SafeClick solution was developed in response to increased demand from ad networks for realtime fraudulent clicks prevention.
SafeClick is able to either block fraudulent clicks from getting into campaigns statistics or detect all the fraudulent clicks and mark them with "fraud score" evaluations to help understand clicks traffic quality.
Detect ad fraud in CPI, CPA and CPL campaigns (conversions, installs and events analysis)
FraudScore fraud detection solution is effective for CPI, CPA, CPL traffic analysis and is widely used by Advertisers, CPA Networks and Advertising agencies. The product identifies fraud and gives evidence to reject fraudulent conversions. ML algorithms are constantly scoring conversions and detect fraudulent patterns across the whole platform – that helps FraudScore provide one of the most reliable fraud detection solutions on the market.
Real Results:
WHY FRAUDSCORE?
Unbiased results

– FraudScore is an independent antifraud solution provider that provide unbiased results in fraud detection. The team takes active part in fraud cases breakdown and helps in negotiations.

All the stages of ad funnel are covered

– starting from prebid & impression-level blocking to clicks & conversions, including post-install events analysis, FraudScore works as a shield to prevent and detect ad fraud.

Mobile and Web traffic analysis

– FraudScore is an antifraud solution that works with both mobile and web traffic, including  in-app & video campaigns.

ML algorithms

– specially developed and trained to detect and analyse fraud patterns across all the platform. Constant updates in fraud protection level for every client.   

Personal manager and experienced assistance in building fraud cases –

Each FraudScore client gets a personal manager and in case the customer needs an explanation or support in reading the report and using FraudScore data in arbitrage – FraudScore analytics team joins the arguments and helps in negotiations as a third-party anti-fraud provider. 

5 minutes ready-made integration

with industry's lead platforms (HasOffers, Affise, Offerslook, FuseClick, AppsFlyer, Adjust, AppMetrica, RedTrack.io, Cake, Everflow)

Comprehensive and deep fraud reports –

there are options to drill down the fraud reports from various slices: from affiliates, offers and advertisers to all sub-affiliates, or different GEOs, detected fraud types or sources and many more.
Key Features
Fraud prevention on click level

Fraud detection on conversions level (installs, conversions, event-analysis)

Fraud protection for both mobile and web campaigns

150+ fraud patterns analysed for every type of traffic

Personal manager for every customer

Comprehensive and interactive fraud reports

ML algorithms trained to detect new fraud patterns as they appear at the market
Office Locations
HEADQUARTERS
Dimofontos, 39 3rd floor, Flat/Office 301
1075, Nicosia
Cyprus
FraudScore Data
| | |
| --- | --- |
| Founded: | 2015 |
| Employees: | 11-50 |
Sources: Company Data, Press Reports, Linkedin, Twitter, Owler, SimilarWeb
Sorry, we don't have these details yet. If you are a FraudScore representative, please get in touch to add additional information and contact options to your profile.