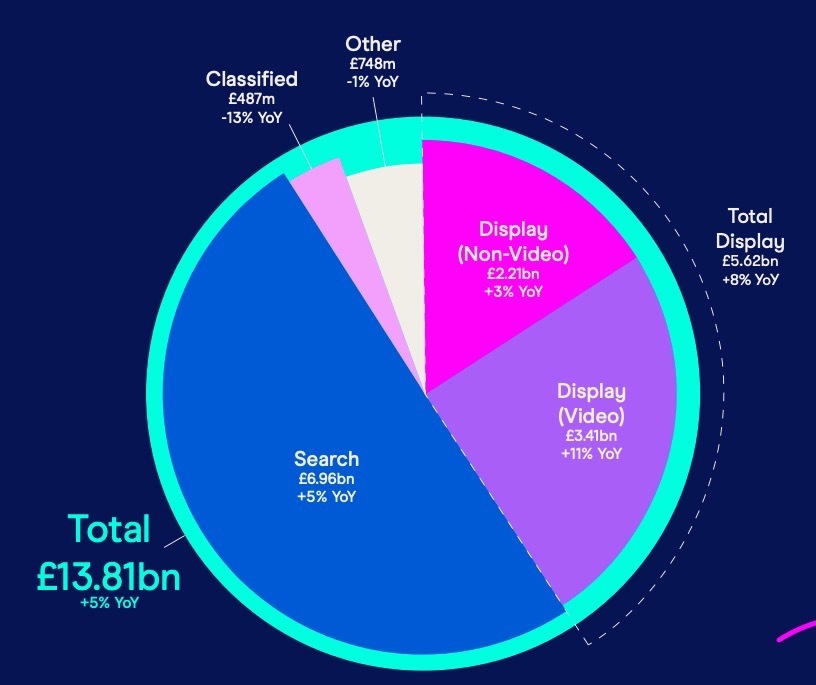 The mobile and digital advertising market in the UK saw an uptick of £13.8 billion in spending during the initial six months of 2023. That's according to new data shared by IAB UK and PwC.
Mobile video highly resilient
Despite the UK's economic fluctuations, the digital advertising arena remained robust in H1 2023, with a substantial investment of £13.8 billion. Notably, the mobile and video advertising sectors demonstrated remarkable resilience and growth during this period.
Video advertising experienced the most substantial surge, with an impressive 11% increase. Advertisers are obviously recognising the potential for brand building with this format, aligning with the surge in popularity of short-form video content.
Mobile share reached 60% in H1 2023


Source: IAB
According to Ofcom's Media Nations report, more than a third of UK adults now watch short-form online videos daily, with a staggering 68% of 15-24-year-olds following suit. In the broader context, overall spending on display formats, encompassing both video and non-video elements, also expanded by a noteworthy 8% year-on-year.
Jon Mew, IAB UK's CEO, said: "It's particularly encouraging that video formats are seeing strong investment. Advertisers are increasingly harnessing the creative power of digital channels to bring campaigns to life and deliver long-term results, and we see this reflected in robust video investment. As we head into the final months of 2023 and the lead up to Christmas, advertisers should be doubling down on a digital-first approach to make an impact, drive results and resonate with consumers where they're choosing to spend their time."
Mobile grows 9%
In terms of device-specific spending, mobile ads saw a robust 9% growth, while non-mobile formats remained relatively stable.
Conversely, search ads continued to dominate the market, constituting 50% of the total expenditure. This category sustained a steady 5% growth, amassing nearly £7 billion in the initial half of 2023.
Search revenue nearly reached £7bn in H1 2023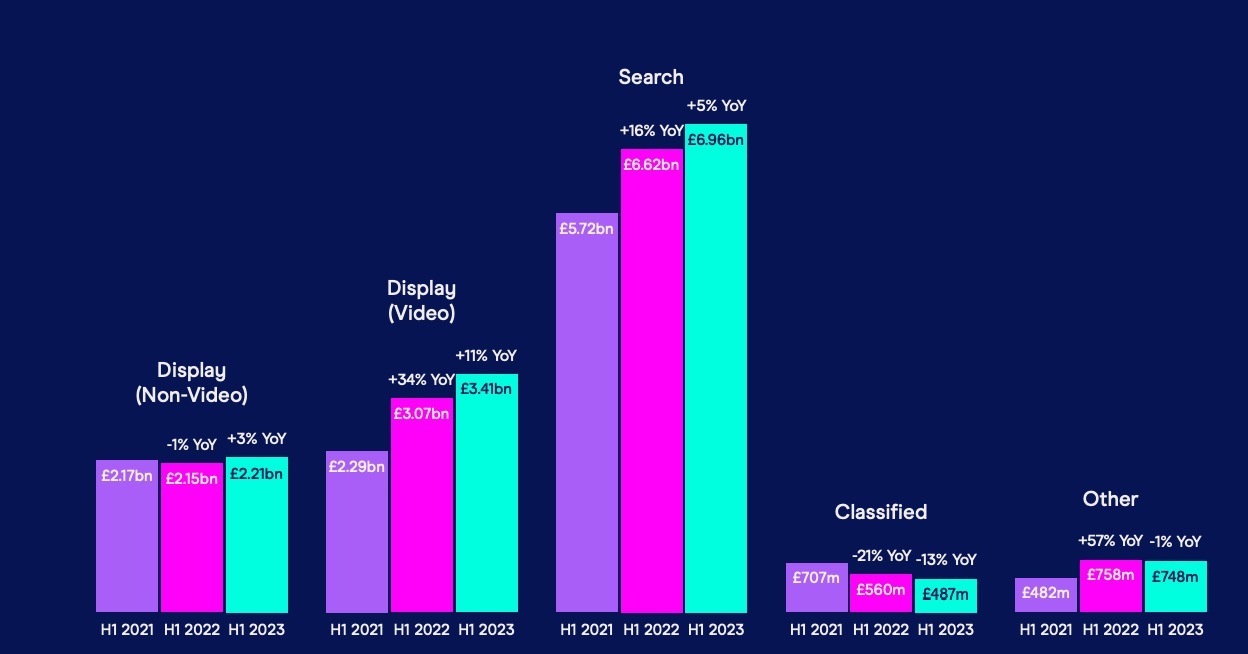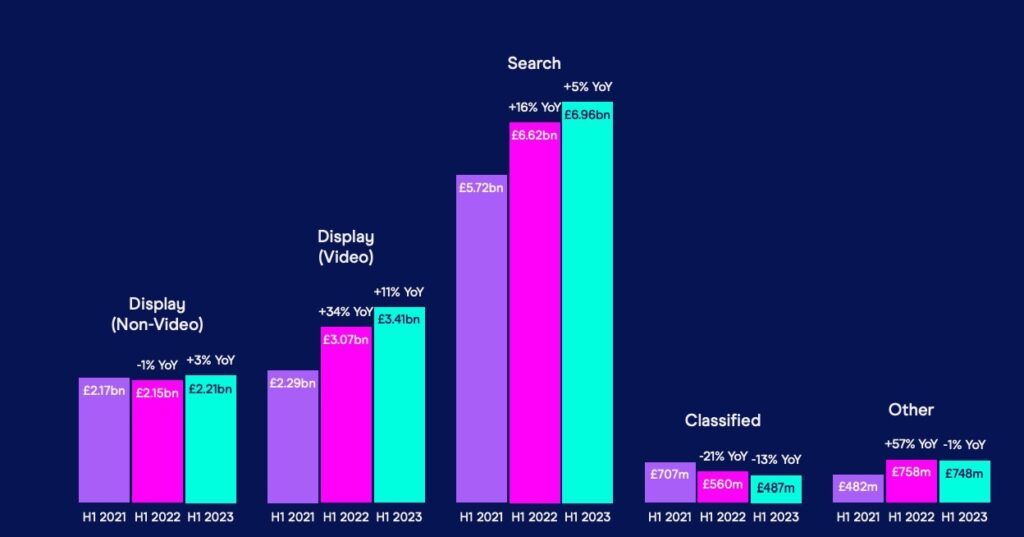 Source: IAB
On the other hand, classified ads saw a decline in spending, albeit less pronounced than the 21% drop observed in H1 2022, with a 13% decrease.
"The results […] reflect two things – that the digital ad market isn't immune to wider economic pressures, but also that it's repeatedly resilient in the face of challenging circumstances," Mew added "Over the years, we have become used to seeing extremely strong growth and there is no getting away from the fact that spend has slowed so far this year. And yet the industry is still growing despite the UK's soaring inflation, the threat of recession, and the impact of structural changes."
Key takeaways
Video advertising saw notable 11% increase in spending during H1 2023, reflecting advertisers' recognition of its brand-building potential
Mobile advertising grew 9% in spending, indicating the increasing importance of mobile platforms in ad campaigns
Despite economic fluctuations, the UK's digital ad market remained resilient, attracting £13.8 billion in spending, showcasing the industry's adaptability in the face of challenges